By a show of hands I'd like to know how many of you expected Ryan Villopoto's win streak to be ended by Andrew Short?
By a show of hands I'd like to know how many of you expected Ryan Villopoto's win streak to be ended by Andrew Short?
Photos by: James Lissimore
A few weeks back I asked on Twitter for opinions on who, if anyone, could end the proposed streak. While one or two of you did answer with "RV himself", which incidentally did happen, the record books will show otherwise.
SX2 Class
It's been a long time since San Diego, the race where all of that apparent Eli Tomac impenetrable dominance suddenly hit a brick wall. Actually, a manly set of whoops. In a split second the title which appeared to be a foregone conclusion was back on like Donkey Kong. Dean Wilson made up 24 points to take the advantage by 2 and with Eli nursing a jacked up elbow from the crash, the two riders had essentially traded moods and mindsets on lap 7, which would last 8 weeks. 8 grueling weeks of what if's and recuperation for Tomac and 8 weeks of boats n'hoes for Dean. You know what I mean.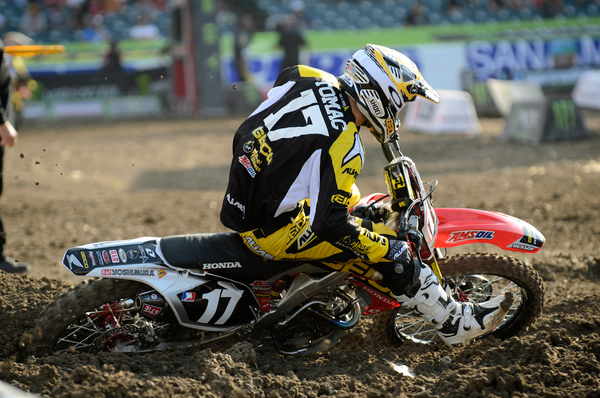 Tomac was ready for anything.
It was obvious in the opening corners that the culmination of preparation and ponderance were going to be realized in Seattle with bar-banging physicality. Without question, the aggression was initiated by Dean and my response to that is, can you blame him? Last year in Supercross and in the outdoors of 2010 Justin Barcia, who also represented the number 17 then gave Dean fits time and again with his trademark aggression. Dean was often left punching himself in the nuts for not giving back what was thrust upon him by Barcia. With this series getting away from Dean initially, then coming back to him a little, only to see Eli seize it in dominating fashion, then crash and hand opportunity right back to Dean in SD, he was not about to be made anybody's bitch again.
This is Dean's last year in SX2 and he wants this title more than ever before he graduates. He was not about to leave any doubt as to his passion to sustain and extend his points lead. He began with some deeply run-in corners on Eli, even pushing him off the track at times. Yes, it was a little overkill at that early time in the race but again I say, he's been burnt before for entertaining thoughts of clean contact-free racing and he wasn't going to let those thoughts even enter his cranium. All his preparation and mind-set was focused on one thing alone, win at all costs. Unfortunately for Dean, Eli was prepared to fight for it just as passionately as Dean and following the push off the track by Wilson, Eli determined that the gloves were off as were all bets. In other words, it was go time bitches.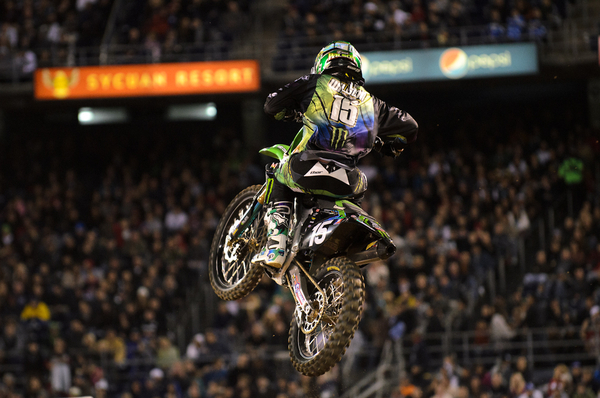 Hope Dean's shoulder isn't going to hold him back.
Don't forget, last year in Eli's maiden Supercross season, he too felt the title was robbed from him in Vegas when his competitors raced him harder than his title opponent Tickle. So Eli too had prepared his focus for anything and it was for good cause. When the battle reached it's pinnacle, Eli had squared up the inside after the finish line as Dean swept wide. Eli's back tire bit, pitching him into a slight high-side, so he steered out, knowing Dean's line would intersect his redirection, he committed to the contact and put his weight and momentum into Dean and that was that. Eli didn't want to race that way but had brought that set of tools for just such an occasion.
Eli's shifter was bent into his engine cover, which made shifting appropriately difficult and ultimately smoked his clutch, so limping home to a 3rd was impressive. Dean got up from an obviously painful blow to his shoulder to finish 4 spots behind Eli. Deans ride was full of pain and heart. Remember when the series was still east in Toronto and Dean said he just didn't think anyone in the east looked like they wanted it as bad as Barcia? Dean proved by getting off the deck after that hit that he does indeed want it as bad as Tomac.
Great job to Ryan Sipes on the win. We saw it all last year in the East, Ryan had incredible speed but matched the speed with more incredible crashes, every week it seemed.
Can't wait to see what SLC brings in terms of weather and racing.
SX Class
Andrew Short is one of the good guys and being such, last night his win brought about something we rarely see in moto. The last time I can recall such a sport-wide tip of the cap and support for one rider was Chad Reed at Millville following his now legendary crash early in moto 2. The series had become a sham of its former self due to injury and dominance starting early on and reaching a fever pitch, increasing in temperature with each successive round. Josh Grant's 2nd place finish in New Orleans was one of few bright points of intrigue since Dungey's collarbone pulled him from the series and all but ended the title fight. Grant's breakthrough ride proved, with a verifiable result that the podium was an achievable result for anyone on the gate, including a guy who couldn't buy a break at any point over the last two seasons and even spent most of this season recovering from injury. Enter Andrew Short, a man who himself spent a lengthy period of this season recovering from a nasty first turn pummeling and shoulder injury. A guy who's late off-season hiring and team formation showed just how unstable it had become when the team's title sponsor parted ways from the team while he was recovering. It's a strange dichotomy where a guy who has such a stellar reputation for impeccable PR and fan admiration, concrete results sustained over a lengthy career, has been industry-wide considered a guy who "can't win".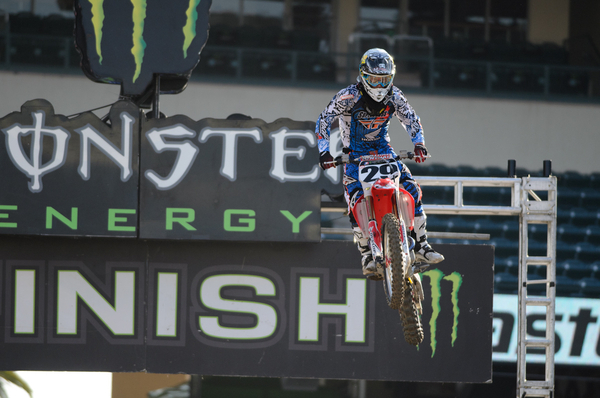 Validated.
Well I am stoked to say that stigma is gone. I don't care how many of the top guys are out because of injury. Screw the asterisk. Would Andrew have won if The Villopoto freight train hadn't gotten a handlebar in the wheelhouse? Most likely not but it doesn't matter, the record book will always show that Andrew Short won the Seattle SX in 2012. The bonus check cashes the same(but who does it come from with the title sponsor in limbo during the win?). I get so fed up with all the talk in this sport of "what would happen if so and so were racing", or "this had happened". The bottom line is, they weren't and it didn't. I've harped on this before but it bears repeating, Andrew Short's "impossible" win is the exact reason why they race 20 laps at 17 rounds. This sport is built on the results of one lap at a time, not averages. It's one race, a moment in time and it's all Andrew's. Imagine putting your heart and soul into something as long as Andrew has and having a goal in the beginning, turn into a carrot that only seems to dangle further and further from your reach as time goes on. The satisfaction must be immeasurable but I bet he won't even grasp it's impact for some time. It's a catharsis that will take time to be fully and appreciated.
Congratulations to Andrew, his family, training crew, team and fans; it's long overdue but much deserved.
A Ken Roczen win in his first SX class race ever on a 350 would make me a believer in the Myan's 2012 theory; and it almost happened. It must have felt just like another day at the farm for Ken riding behind Shorty, even next to him a time or two. Ken said he got a little pumped up after shorting that insane triple off the dragon-back once and after that it was, ride it out and stay up. Very impressive debut for Ken, especially considering he went from 16 laps on a 250F to 20 laps on a 350F in just a week. Please though, please Ken, don't fire up the "350 is a viable option against 450's in AMA Pro Racing". That ship has sailed and to revisit it after one impressive debut is prematture and will not end well. The spin of the 350 being a great bike for 95% of Joe public at tracks all over the world is the best bet. Stick with that, you'll get much less eye-rolling and "kick-me" signs taped to your back.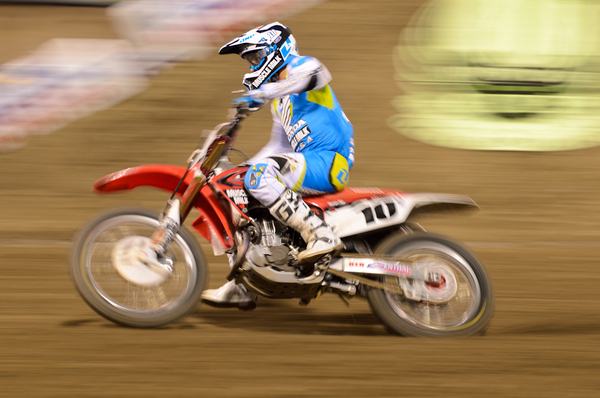 WIll Brayton win the battle of 2nd in points?
What is going on with Jake Weimer, Davi Millsaps and Justin Brayton? These guys went from podiums when the class was stacked(Jake), to running second to RV when the injuries came(Davi/Justin), to random issues week to week which has left them not really seeing the progress we(or they) all expected. There are only two rounds left and with Ryan Dungey's re-entry to the series, it looks like second place is still up for grabs between that foursome. With Dungey's mind clearly focused on the outdoors, I don't see him taking chances for another 2nd place SX series plaque so maybe Brayton will dethrone The Big Treat? I'd like to see Jake make a move up too. His M.O. this season is either great race or terrible, which will it be for the final two races of the year? Will it be enough?
I know the word is that RV is ok and it's nothing serious but until I see him on the bike in SLC, I'm cautiously optimistic. That handlebar to the gut and limp off the track looked like it's going to linger into the weekend at least.