What Happened?
What Happened?
By: Cory Moser
I'll tell you what happened Andrew Short won his first career 450F Supercross and I was lucky enough to be a part of it by standing extremely close to him all day. It was nothing SHORT of amazing, heart warming, and tear jerpping. I'm so happy for Shorty, his family and his team, mechanic's, trainers, team manager; I still can't wipe this Shorty-sized smile off my face, let alone get rid of this other Shorty I've been trying to walk off for almost a week now. Hands down Shorty is one of the nicest and hardest working guys racing. Great to see all his hard work pay off. Alright lets start at the beginning and with the help of some pictures, I'll do my best to piece together as much of my weekend as possible for you guys. My BFF @chris__holliday and @benny_tacp had made plans to come to the Seattle SX. Holliday and I were going to roadtrip in my woody from Spokane, only about a 4 hour drive and Benny actually lives near Seattle but was out of town on business so made arrangements to fly in for the weekend and fly back out without ever going home; that's a real man. Holliday bailed and I don't recall the reason because it doesn't really matter he wasn't coming and at the 11th hour my dad stepped in and said he'd go with me.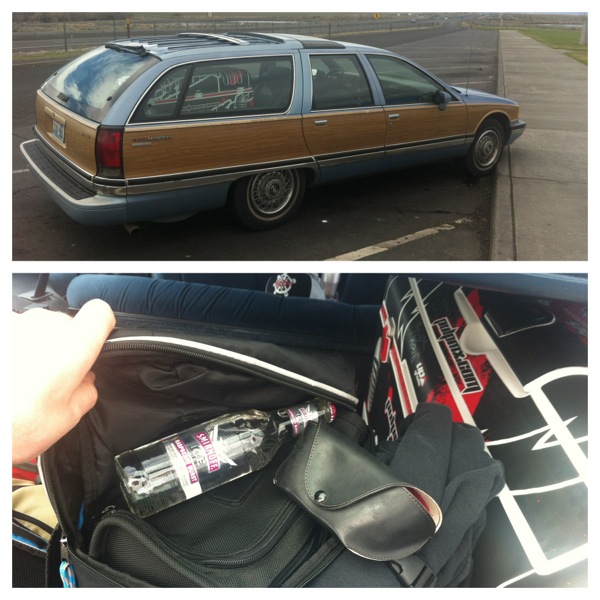 The Pulpmx cooler looks right at home in the woody.
I grew up riding and racing with my dad and I was excited he was coming over to watch. He hasn't been to a race for a couple of years it was just like the good old days. We loaded up the Pulpmx cooler in the back of my woody and headed West. About halfway there we stopped to take a leak and my dad asked me to grab his sunglasses out of his bag, where he had hidden a warm Smirnoff Ice. It wasn't even noon yet and I'd already been "iced", it was going to be a long day. We pulled up to the hotel in downtown Seattle and had the woody valeted (if you're going to do Seattle SX you have to do it in style). Benny was "working" in the hotel bar, waiting for us with a fully stocked Pulpmx cooler. We loaded it on a luggage cart and headed up to the room. I love this Pulpmx cooler, it's awesome in so many ways one of which is it's huge! Well it's so huge that we couldn't get it in the elevator, on a luggage cart or down the hallway but it was well worth all the effort to drag it up to the room with the necessary refreshments.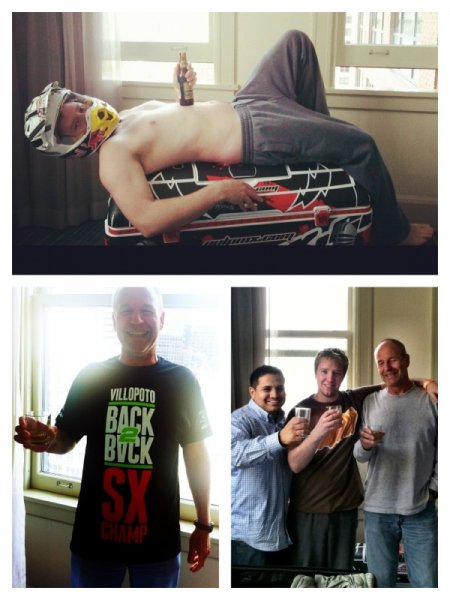 Pulpmx cooler has sex appeal and pre funk capabilities.
We relaxed in the room for a little bit but had big plans for the evening meeting up with some people I've been friends with on Twitter for a long time but had never had the pleasure of meeting in person. We also have a tradition of meeting up with Matthes and Weege at the Rock Bottom Brewery and their entourages for the last couple years. First off, we met up with @osridin and @donjonesjr and their better halves at a nearby bar. Meeting people you follow on Twitter is like seeing an old friend. Funny how you develop a relationship with people you don't really know. Great people and we had a great time. I felt really comfortable and pee'd on @osridin shoe in the bathroom after only having met him for about 10 minutes. After a couple drinks we made the walk to Rock Bottom to meet-up with @pulpmx himself, @pookiemattes, @SuzeinSincity, @JasonWeigandt and Matt Francis who is an expert at taking pictures and video in the dark. On the walk from bar one to bar two, we lost Benny it was still pretty early in the evening and he knew where we were going but never showed.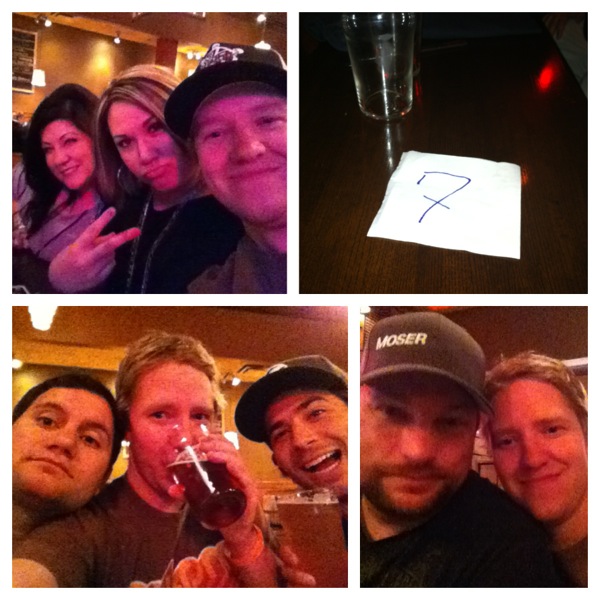 Trying to find Rock Bottom.
Drinks were fun. They always are and who happens to be in the room next to our table but the Motoconcepts team. This made for great idle chit chat with Tony, Mike, Jeff and Mr. Genova as they went to and from the bathroom. At some point Genova put his hand on my shoulder for an extended amount of time while talking to us and then dropped a napkin on the table with what looked like a number 7 on it to me or maybe it was a game of hangman? I can't be certain, I'd had a few Chardonnays at that point. Thanks dad for picking up the tab I'm not sure who all you paid for but I know I explicitly asked you not to pay for Matthes because if Reed isn't going to buy him dinner, neither am I. We did find Ben back in the hotel room, so we hadn't lost anyone yet.
Shocker, the next morning I wasn't feeling my best and things only got worse when the hotel bar wasn't open yet so I was forced to drink coffee with my breakfast. We grabbed the Pulpmx cooler out of the room and headed to the track. Now why would we carry the Pulpmx cooler around all day at the track? I'm glad you asked. It's a great conversation starter, you always have a place to sit down and while I was walking around with it I figured I could get some riders to sign it also. Jacki Short was kind enough to get me some pit passes (thanks again) and my sister who lives in Seattle came out to watch also. I had managed to guilt Weege into getting me a pass that should get me in for track walk. I've always wanted to walk a supercross track and I was very excited about it. They couldn't find the pass Weege had put in will call for me but I knew a guy in the trailer and he threw me a RacerX hard card, yes I was in.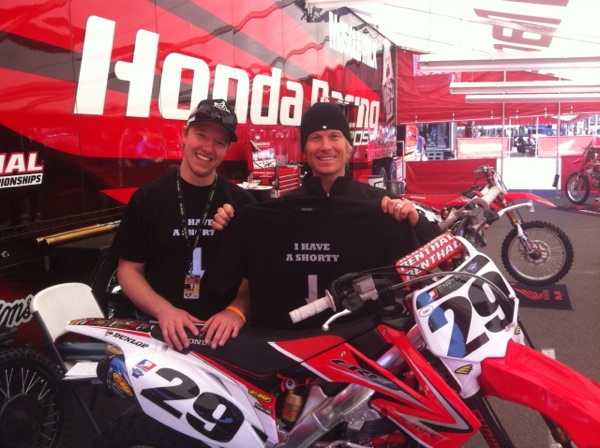 Yes I did.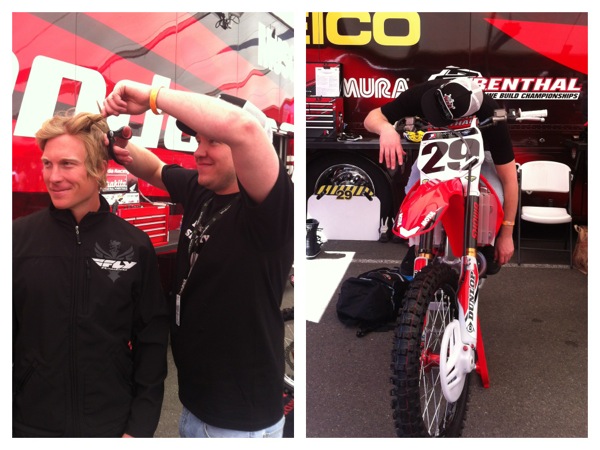 Just a little off the top.
After entering the pits, we headed straight to the Honda tent to see if Shorty was there yet. There was no sign of Short yet but I got to meet his practice mechanic Brandon and we would get to know each other very well as the day went on. Shorty strutted up like only he can and we hung out there for quite awhile, got caught up, took some pictures, touched his hair– pretty normal stuff. I gave Short a bit of a scare when I handed him a baby gift bag and said Jacki asked me to give this to you……long pause, just kidding that's for Watson. Benny had made me some shirts for the race that said "I have a Shorty" which I was pumped on. Shorty, Brandon, Larry Brooks, and all the Honda guys couldn't have been nicer all day long. I know they have a ton going and went out of there way to hang out with me and put up with my shenanigans.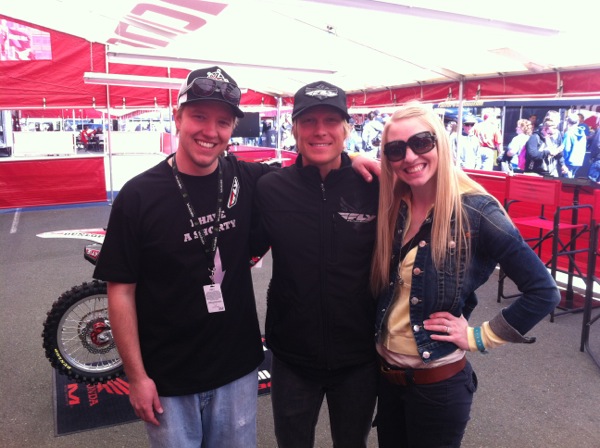 Moser, Shorty and Moser's sister.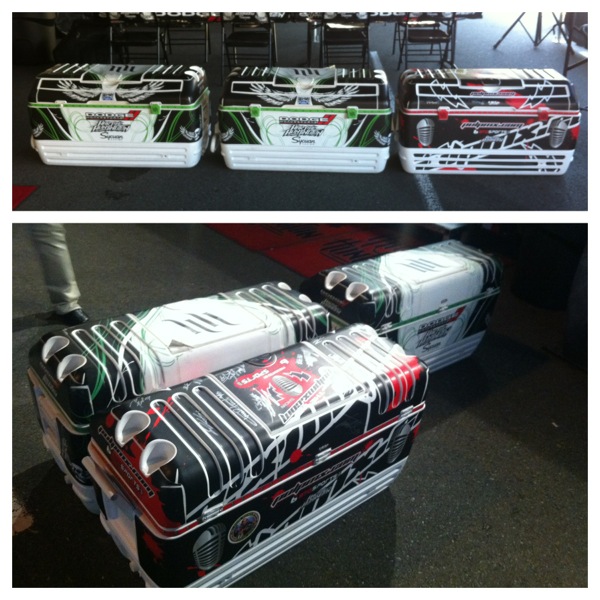 The Pulpmx cooler felt right at home with the H&H coolers.
Next up we headed to the H&H truck because I wanted a picture of our wrapped coolers together. Kenny and I chatted for a minute and I asked when his girlfriend was going to be there? I had a gift for them (they're expecting). She wasn't there yet, so I said I would drop by later. Practice was delayed because they were trying to let the track dry, which left us with lots of time to cruise the pits so next up, we headed to BTO Sports to bro down JT$. On the way there we ran into DV12 and he was kind enough to sign my cooler, I think DV has a very dry sense of humor, and Benny thinks DV doesn't like me. We spotted JT$ and he was rocking his Rocky hat that he wore in San Diego when he qualified; I like where his head was at.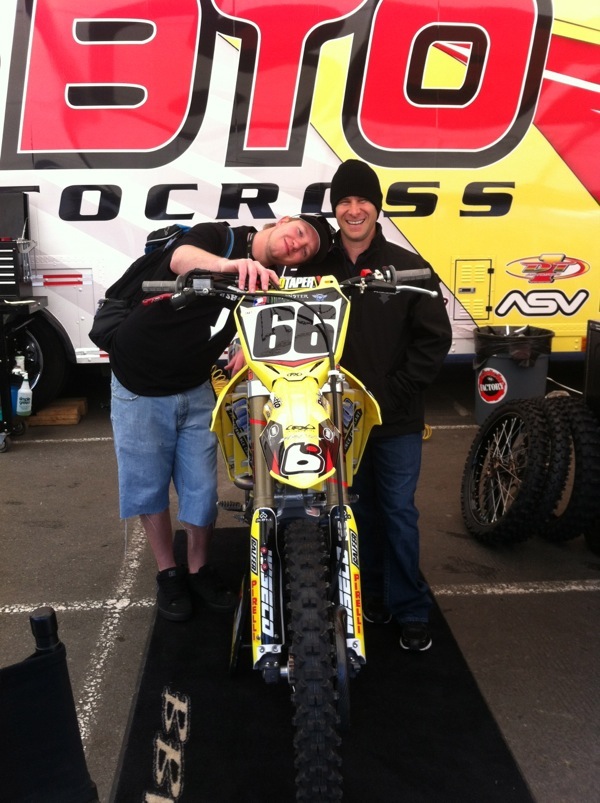 JT$ shoulder is the perfect height to rest my head on.
To help JT$ qualify, I attempted to keep him loose and relaxed throughout the day by making him laugh or trying to make him laugh. Maybe he was laughing with me or laughing at me, we'll never know. JT$ is even funnier in person and just a good dude. He let us bro-down with him all day, hang out in the truck, charge our phones. By the end of the day I almost had the team convinced to give me a locker. Gear guy to the stars, Max with FLY Racing, was also hanging out at BTO. He's a super nice guy and I talked with him about all things Shorty. He filled me in on the recent FLY photo shoot they had at the Short family farm which he was the mastermind of. I had read on twitter that the country singer Craig Morgan came down for the photoshoot. Max said he's a big fan of moto and loves to ride, sounds like a cool guy to me. Max gave me the inside scoop on how tight security is out on the farm, how many dogs, where Jacki sets the bear traps etc, all the information could come in handy. Also you know the Pulpmx show that JT$ called in when Langston was wasted and they were road tripping in a van? Well, Max was driving that van FYI.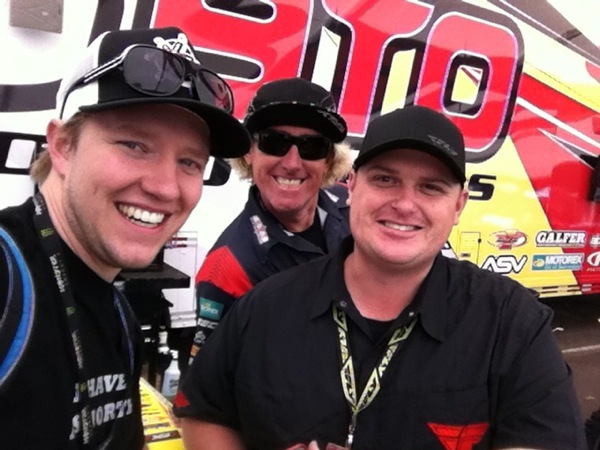 Max the man that handles Shorty's pants & BTO mechanic slipped in there.
When Matt Georke walked up to the tent he looked like a 90 year old man and when he lifted his shirt he literally looked like he had been run over by a truck. Gnarly the dude even rode. I've been giving Top Jimmy a hard time for dodging my interview attempts for my Just Short article so I threatened him all day but he took the punishment like a man. At this point of the day we kind of fell into a bro-down circle. Honda tent, H&H tent, BTO tent, outhouse, repeat. The Pulpmx cooler seemed like a great idea but we were quickly growing old of carrying it around and then we ran into an unforeseen problem. Understandably the teams didn't want the Pulpmx cooler displayed under their tents with logos that were not team sponsors, so I wood make Benny wait with the Pulpmx cooler outside the tents while I hung out inside them. I cannot imagine the amount of press I got Pulpmx throughout the day. Guerrilla marketing at it's best I'll be patiently waiting for the check to show up in the mail. As I said earlier the Pulpmx cooler was a great conversation piece and as the day went on the story and my title got longer, "hi I'm Moser", "I'm Moser I'm a freelance journalist", "I'm Moser I'm a freelance journalist for Pulpmx and RacerX do you read my stuff?" and so on and so on. James Lissimore is the go to guy for pictures on Pulpmx most of the time and he was at the race, so we got a picture of me on the cooler in front of the road to recovery tent. Check it out in his Seattle photo gallery, good dude.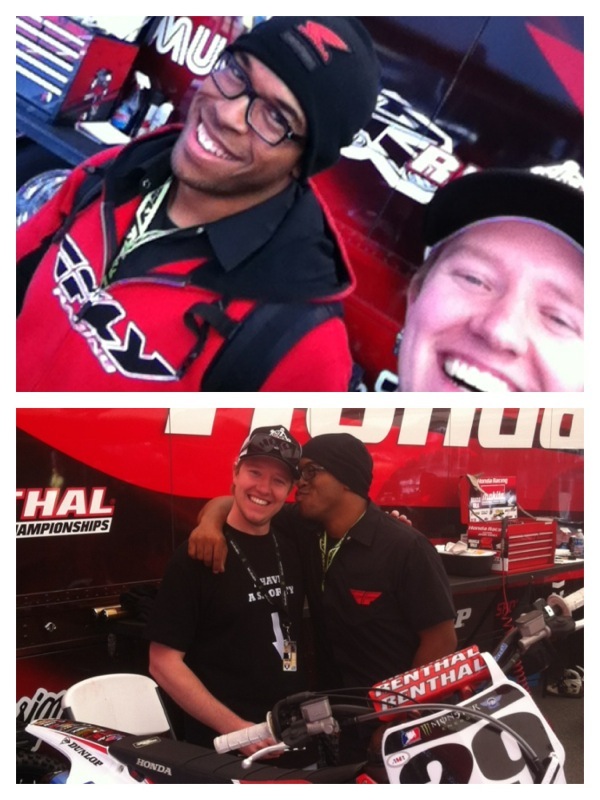 Brandon and I got to 1st base.
Back at the Honda tent I got to know Brandon a little bit better. He filled me in on the art of bingo, what it's like to live in Smithville TX and a bit of his background. Did you know that Brandon was the mechanic for J-Law last year? Well he was. Unfortunately he only had to build the race bike once though because J-Law never showed up. You have to admire the work ethic of the mechanics. So many hours goes into the bikes and they're always low man on the totem-pole when it comes to job security and loyalty. True unsung heros of the sport. I talked to Larry Brooks for a bit as well. Before I met, him he made me really nervous but I've found the way into Larry's good graces is through candy, so I made sure and brought him some. For good measure I also brought Shorty a bunch of salty nuts (yes I'm serious). Larry did tell me who the new team sponsor is I can't believe it's …………….. sorry sworn to Shorty secrecy.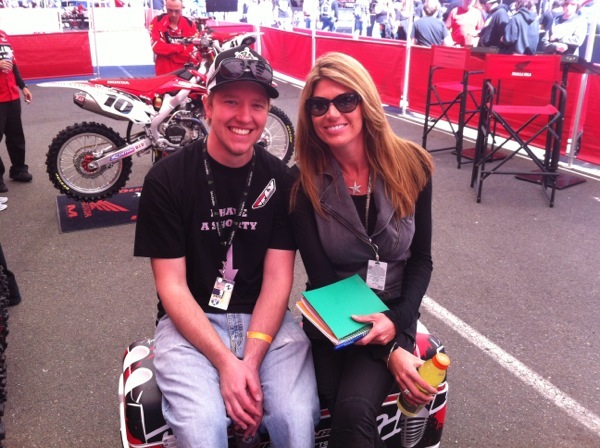 I'm trying to convince Erin I really don't have a Shorty.
Next up was practice. I literally jumped up from my Pulpmx cooler when I realized people were walking out to the track. Palms sweaty, it was finally going to happen. My feet were going to touch the dirt of a Supercross track and then "sir you can't go in you have a level 1 pass". What!? What!? I was shocked and wanted to cry. There must have been some mistake but clearly, on my RacerX hard card was a 1. "Isn't a number 1 better than a number 3?" I argued and pleaded. Riders and industry people walking by me in a steady stream. Anyone I vaguely recognized, I begged for help. Everyone said they couldn't do anything. Then the man Weege, surely he could fix this wrong and he did make an attempt, kind of. But ultimately "sorry man my hands are tied". I was crushed, the dream was over. As a four time Ironman I refused to give up though and I was relentless in begging for them to let me in. Once I made the security guards laugh a few times I thought there was a chance.
Northwest four stoke legend Lance Smail walked up with his son, neither of them with the required "level 3" status. They were denied. I quickly threw all my support behind him, "don't you know who this is, he's Lance Smail, you have to let him on the track, he's a legend! Do you know how close he was to becoming the first four stroke rider to qualify for a main event in the King Dome? He was like one corner away!" Finally they buckled and let us in. Ahh, the taste of victory. On a side note if you didn't know (and I could be wrong but), I think that KTM used up their four stroke pre production bike "wildcard" with Lance Smail hence the reason they were not able to do that with Dungey's bike this year, requiring them to make the mandatory minimum number of bikes for sale to meet the rules.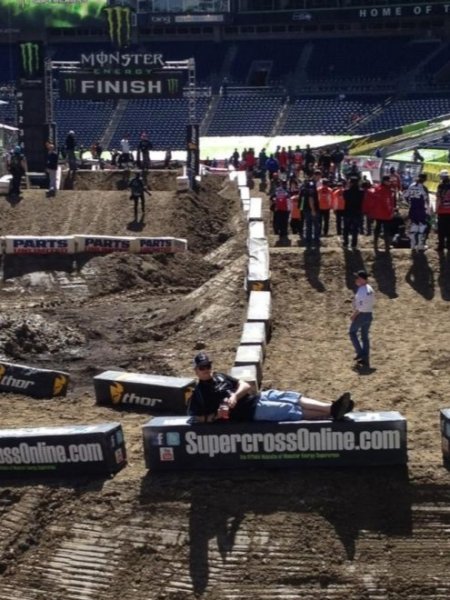 Just doing a little bronzing during track walk
Finally my feet were on the track. Although they were a little shaky at this point, it still felt awesome. You hear it time and time again, how much bigger and square edged and steep it is when you walk it in person and it's all true. The tracks are scary and it makes you appreciate even more so how amazing all the riders are. I took my time on track walk soaked in some sun rays while laying on a tough block, listened in on riders talking about different sections, doing interviews making small talk. All good stuff. With track walk over, I headed back to Honda where everyone was getting ready for practice so I decided what the hell, I'll just follow them. I tried to get a ride on the bike with Shorty but Brandon wanted to ride with him. Something about, "I'm working Moser" or something along those lines.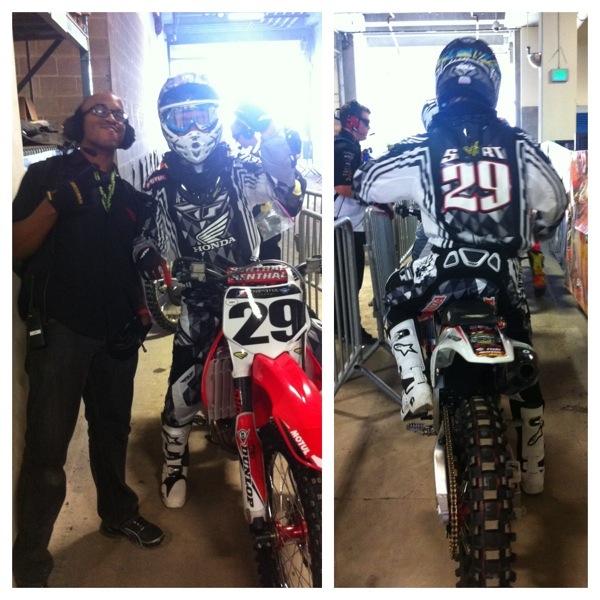 Rockstars.
I followed the stream of riders and mechanics right back into the tunnel and eventually right onto the track. After having spent 30+minutes begging to walk the track, I casually strolled right in and stood next to Gothic Jay in the mechanics pit board area and watched first practice, awesome.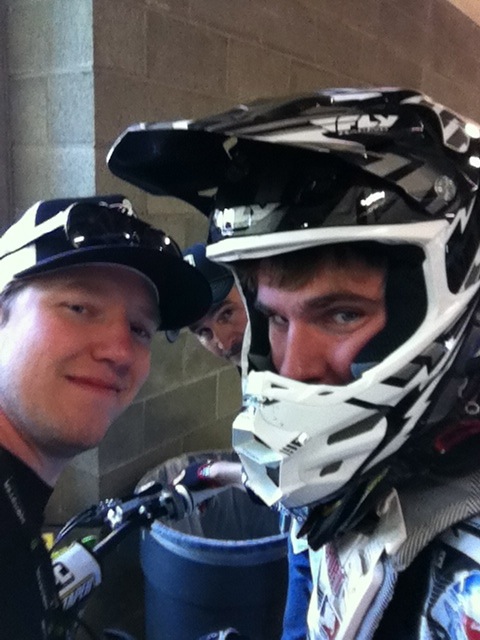 Name this rider, or better yet name the dude in the background.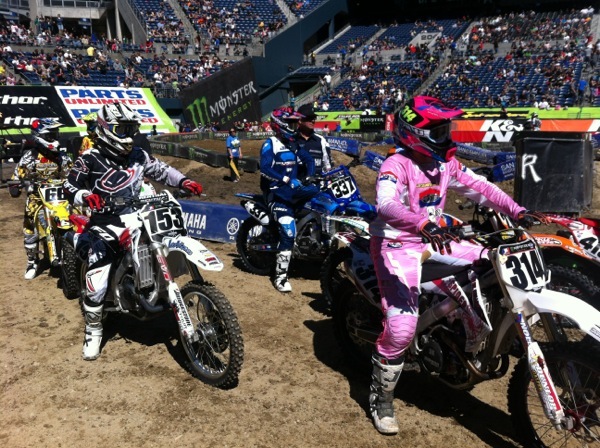 Just watching practice on the track no big deal.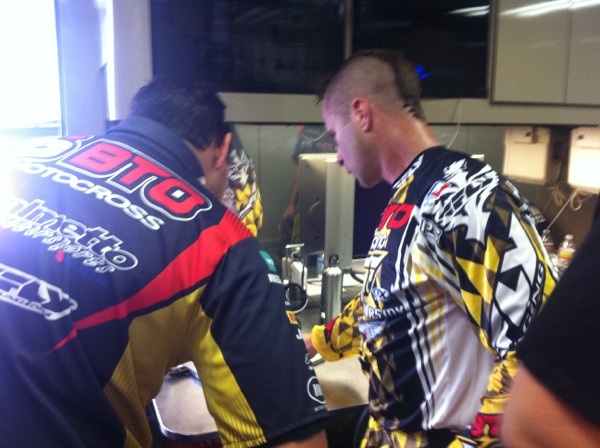 I'm just helping JT$ with his line choice.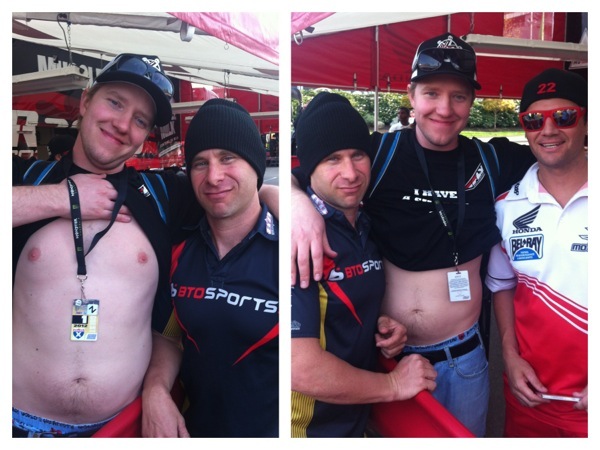 JT$ and Reed are very persuasive and convinced me to flash them.
After practice, I was just sitting at the Honda tent and another guy I've followed on twitter for a long time stopped by, @thebrettwise. I had a hard time putting the face to the name but it was great meeting you, glad we got to meet and talk for a bit (sorry about that). A friend of mine and his son found me at the Honda tent. It was his son's birthday and his favorite rider is RV. I had told him I would try to get him an autograph or a picture but hadn't promised anything. What did we have to lose (apparently my dignity)? The Pulpmx cooler was getting in the way at the Honda tent and I didn't want it to get stolen so I dropped it off at the H&H rig to hang out with the other wrapped coolers. I peeked in the semi and asked if Kenny's girlfriend was there yet and handed him the baby present.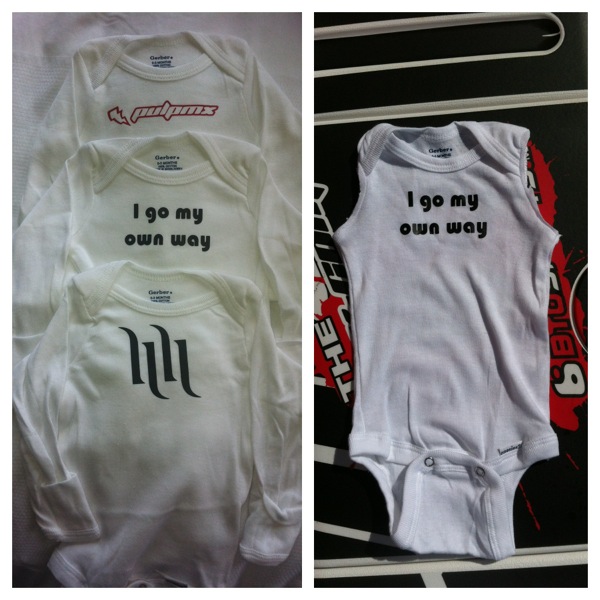 You have to admit these are pretty cute.
While we were there, we got a couple pictures on Regals bike. Next up was RV. They say timing is everything, well my timing wasn't very good. I managed to slip by security (ie step over the plastic chain) and asked RV's mechanic if there was any way my friends son could get a picture or autograph? I pulled out all the stops, "I work for Pulpmx", "it's his birthday", "I freelance for RacerX", "I'm Moser", "I grew up with RV", but he said "RV wasn't in the truck right now and we would have to come back later". Fail. At this point it was recommended to me by my entourage that I was in need of some hydration of the H20 kind and food. So we walked over to a bar where I downed four large ice waters and some lunch.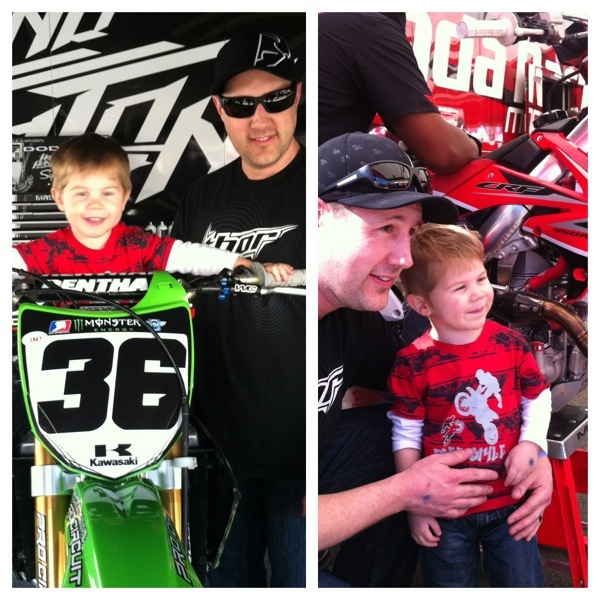 Happy birthday J.
After lunch we headed back to the BTO tent or maybe it was the H&H tent. The pit party was going on and there are some things that H&H just kills it at and their pit presence is one of them. There was a long line of fans waiting to get a picture on Hanny's bike. They take the photo and email it to you. Josh Hill and Ivan "Hot Sauce" were taking turns posing with the fans next to the bike, lifting up kids, kissing babies– it looked like a lot of work. We hung out there for a bit and both Ivan and Hill sat down and bull-shitted with us. I grew up with Hill and he was always a super nice kid and he seems like the same kid I remember. He seems positive and driven and tight with his family again which is all great to see. I haven't talked to Ivan before; he's laid back and funny, I'm starting to sound like a broken record, who are the dicks in the sport?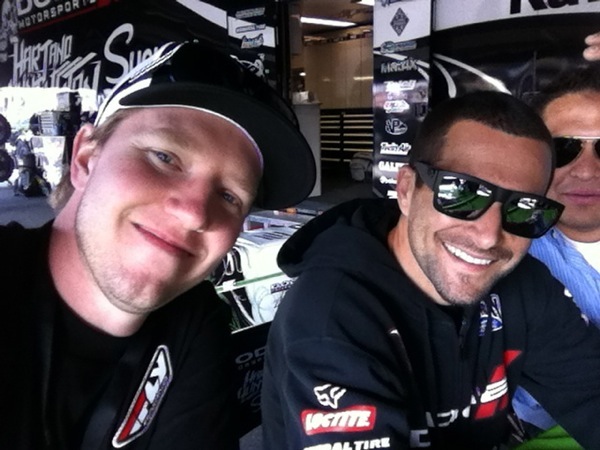 Hot sauce thinks I'm funny.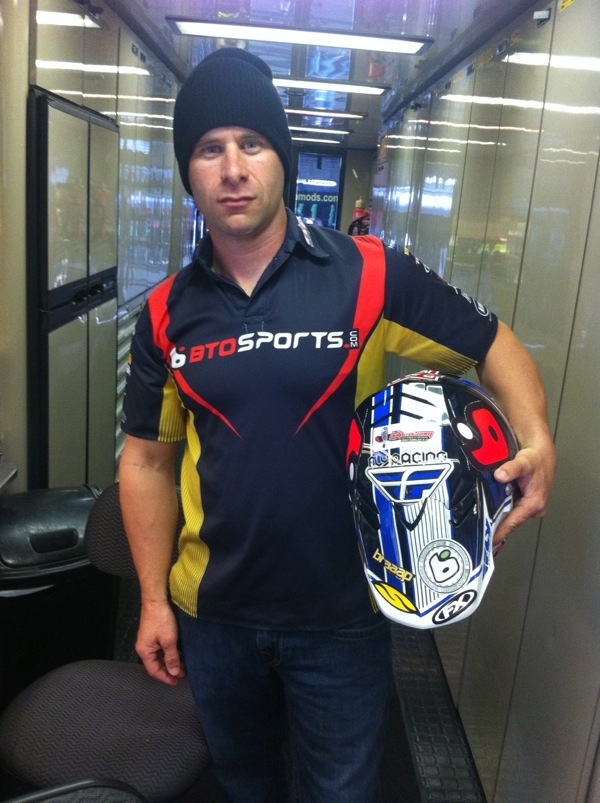 That's what's up.
Next up we dropped in to check on JT$. I remembered I had brought some Pulpmx.com stickers with me so we could get him dialed in with a helmet sticker for the main event, I tried to put TheMotoShow sticker on but he wanted the Pulpmx sticker instead. One thing lead to another and I got to try on the new FLY racing helmet and take it for a test drive; very comfortable. We wandered into the world of the privateers next to find Greg Crater #153. He's the one who dressed like Team Hurricane from "Winners Take All" last year. He's a local boy, I only see him a couple times a year and as you can imagine, he's a funny guy. His pit area was packed but maybe it was just because they were so small. He was selling "support privateer" tee shirts and I meant to buy one but must have got distracted.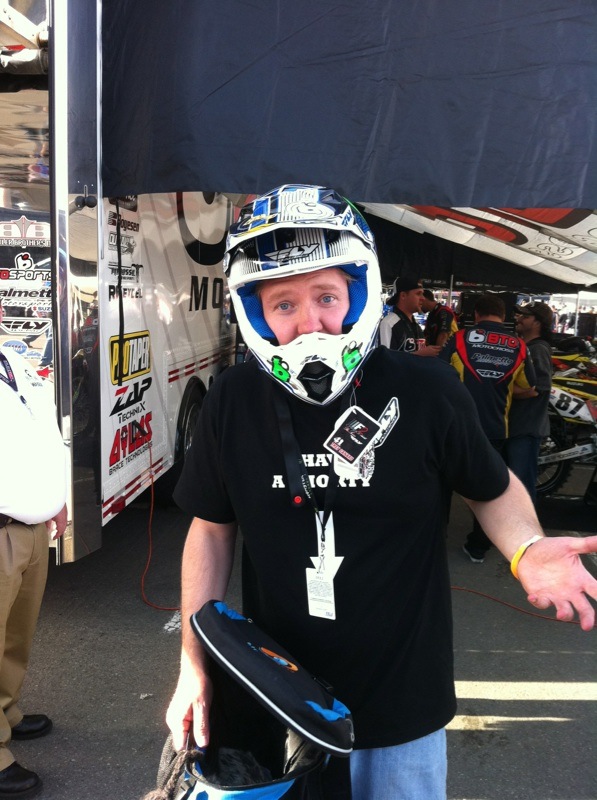 I highly recommend the new FLY helmet it's what winners wear.
We have a fantasy supercross league about 20 people play in that are friends of friends and what not. I met a few of them over there and one of them was begging to meet Kenny Watson. I didn't really want to walk over there, it was all the way on the other side of the pits but he was relentless so I said fine whatever lets go. I think most of you are aware this was the low point of my weekend. The pits are pretty much empty and quiet at this point everyone is just relaxing in their trucks before the racing starts. There is nobody to be seen outside the H&H truck so I step inside and stick my head in the lounge. Watson is sitting there with a couple people, he says "what's up Moser" and in my infinite wisdom respond with, "this guy out here wants to give you fellatio for an autograph". Watson calmly gets up and walks outside tells the guy hi signs his shirt then turns to me and says "do you realize what you just said in front of a very important person from Dodge?" My heart dropped I said "you're kidding right?" "No man you just really fucked up" I pretty much wanted to die right about then. I completely eff'd up. It's that simple. There were so many things running through my head, I didn't know what to say. I apologized immediately to Watson and offered to go apologize to the people in the lounge but he said "you've done enough damage just leave". Which I did. I still feel horrible about it. The last thing I wanted to do was offend someone. The moral of the story is, choose your words wisely or think before you speak or maybe don't give into peer pressure and try to hook up so many friends with autographs and pictures. I'll be doing all of the above in the future. My epic blunder really took the wind out of my sails. I had forgotten about a tee shirt Benny had made with Frankie's face on a Big Mac, so we swung through the KTM pits real quick and dropped that off for Roczen. The shirt actually turned out really funny I should have dropped it off earlier and gotten a picture but we just had so many activities. We wished Shorty good luck and headed to the stands. It's a good thing the races were live and that the racing action has been covered because I may have missed some of it.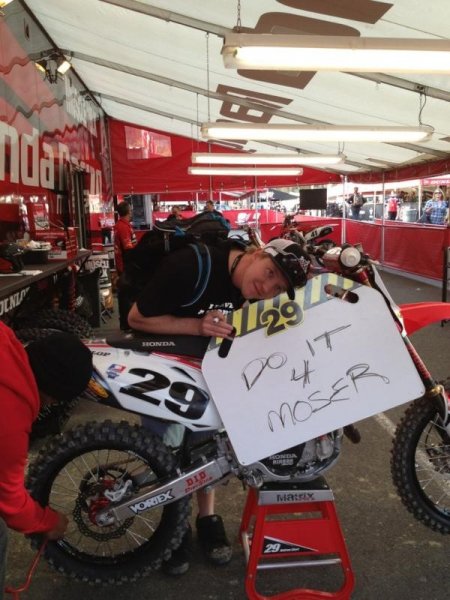 This is the type of pit board inspiration that wins races.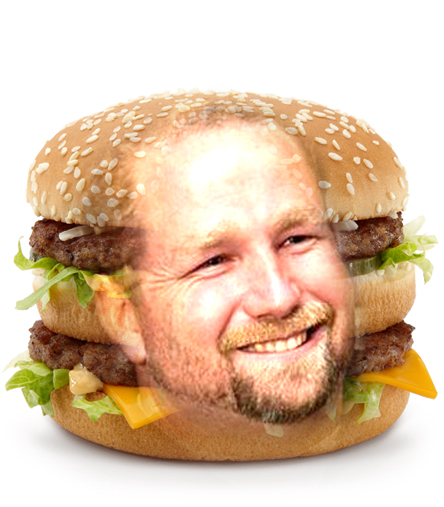 Big Mac aka Frankie (Roczen's nickname for him not mine).
Getting to watch Short win his first Supercross was simply amazing. I was so excited I wasn't really sure what to do, or where to go so we headed back to the Honda tent and anxiously waited for his return.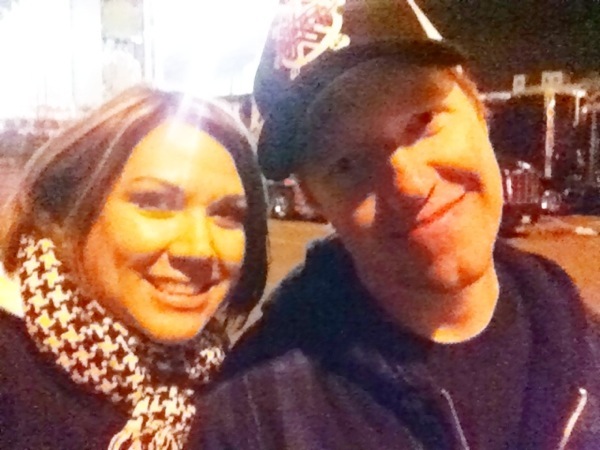 Pookie checked on me to make sure I was alive then we took this grainy Shorty win photo.
Everyone around the tent was stoked, Brandon made it back to the tent first on the bike we both screamed, high fived and hugged all at the same time. We got a quick picture to celebrate the win and he started pulling stuff off the bike and getting it ready to throw in the Sprinter. That may be the biggest smile I've ever seen on Larry Brooks; it was Shorty sized for sure. I shook his hand and congratulated him.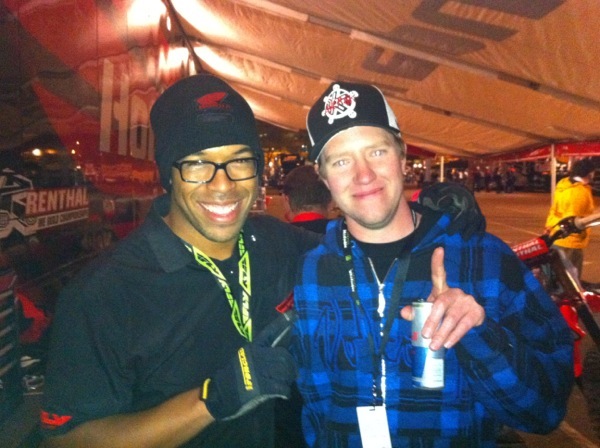 #1 Baby.
Then the man of the night finally made his way through the crowds and back to the tent. The smile shining through the darkness, more screams, I did some jumping, high fives, low fives, huge hug, (maybe an ass-slap), I can't remember it's all a blurr; it was effing awesome. Shorty went and changed really quick and then had a bunch of people waiting for interviews. Roczen interviewed him for the Transworld video, podcasts, photos… you name it.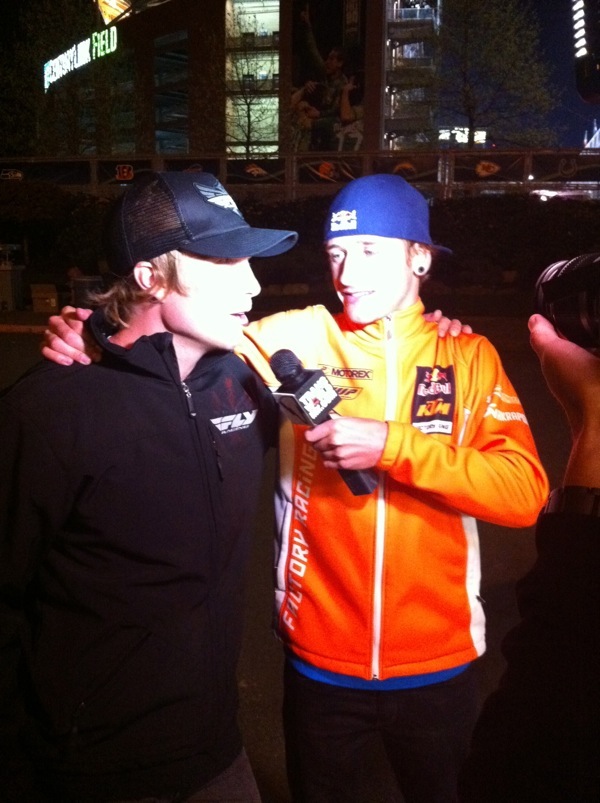 Shorty and Kenny 1st & 2nd.
I forget the numbers but Shorty and Larry had like over 100 text and calls; something like that. The crowd died down, I congratulated Short for the 29th time and they headed back to the hotel room. It was about 1:00am and we still had to carry the Pulpmx cooler back to the room. Benny fell down more than once on the walk which I found hilarious. The next morning it all felt pretty surreal except for the hangover, that part felt very real. Thankfully my dad drove home and just like the good old days the radio was turned off the whole way.
Thanks for reading, please send any complaints to jason@racerxonline.com