Our ace cub reporter Moser recaps the riders that came Just Short

Our ace cub reporter Moser recaps the riders that came Just Short
Just Short Vol. 16
Let's "SOAK" in everything that happened in Salt Lake
By: Moser
Photos by: Jamie Lissimore
With the championships all wrapped up what is there to write about that hasn't already been said……that's right the riders that came up Just Short.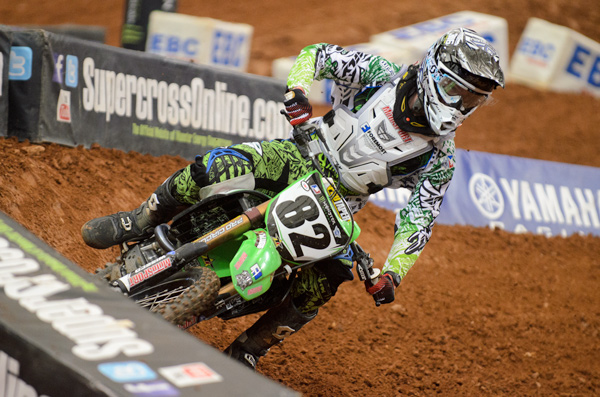 Pooh is looking a little green, bad honey perhaps?
#82 Justin Sipes – Motosport.com/TiLube/ForemostInsurance
Pooh Sipes gets his second Just Short feature of the year, for a fill in rider I think that's nothing to shake a stick at. I learned a lot about Pooh Sipes this year and by that I mean I know who he is now and that the kid has skills. In my "expert" opinion he had some respectable results and it was a year he can build on, baby Pooh steps. Shall we compare the orange bear that doesn't wear pants with Pooh Sipes? Yes, yes we should. Lets start with similarities, they both have a weakness for honey, when knocked down on their ass they've both been known to mutter "oh bother", and they don't let any obstacle stand between them and their goal, whether it's bee's or an LCQ they find a way to get the honey pot so to speak. Sipes is considerably taller than Pooh and I haven't spent enough time with Sipes to know for certain if he free balls like Pooh or if he wears FreeGun underwear.
In this sport much like life in general it's all about who you know, and knowing the Matthes and Alan Brown are buddies I felt I had a good chancibility of getting Alan to answer a few questions about Pooh. I assumed correctly and thanks to Matthes for making it happen.
Alan I'll keep this "SHORT" thanks in advance….
Moser: I think the general consensus is that Pooh has been a good choice for a fill in, made a lot of main events, appears to be a good fit on the team, your obviously going to say yes he was a good choice so how would you rate his performance on a scale of 1-29?
Alan: Not sure if 1 is best or 29 is best so let's go with 15.
(Moser note: it should go without saying that 29 is the best obtainable number in every regard)
What is Pooh's weakest link or where can he improve the most, in your opinion?
STARTS!
(Moser note: alright Alan we heard you, no need to yell)
What's the story you heard behind the nickname Pooh because I'm not sure I believe the one I heard?
He was a chubby Pooh Bear kid.
(Moser note: This story still doesn't make a lot of sense to me but I'll never doubt you again Wallace, I need to see a picture of Pooh Sipes as a kid)
I'm sure there is several but just name a few items that Pooh rocks the rebel flag on, belt buckle, wallet, underwear, tattoo?
After the rebel flag helmet Larry Ward wore nothing can compare.
(Moser note: T-Blaze I hope you have a picture of this rebel flag helmet)
Hypothetical question but 2013 you have one spot left on the team and have to pick between Blose and Pooh who gets the ride? (we ask the hard hitting questions here in Just Short)
That's easy… Timmy Ferry gets it.
This isn't Pooh related but how long have you owned your couch?
Had to get a new one after Matthes moved out. So 10 years old.
Thank you Mr. Brown for your time.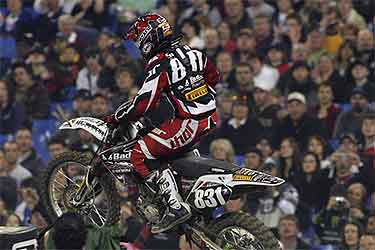 Good to see the #831 of errrrr, ummmm who is that again? (photo cred tazracing.com)
#831 Ryan Smith – Yoshimura/Arai/EVS/Oneal/Scott/GBMXSchool/RoosterfishMX
Ryan Smith everyone grew up with at least one, probably the most common name in the world, (actually it's James I googled it). I can only speak for myself but a Ryan Smith is usually a good stand up guy, polite, puts his bro's before hoes if you know a Ryan Smith then you know what I mean. I had no idea who this guy was and then the Pulpmx photo department (James Lissimore) came up empty handed with a photo "That Smith guy is a ghost. The results say he was at every West round and I don't have a single photo of him anywhere. Weird stuff." But this really comes as no surprise to me, the Ryan Smiths of the world usually blend in well and are soft spoken, not a lot of flare.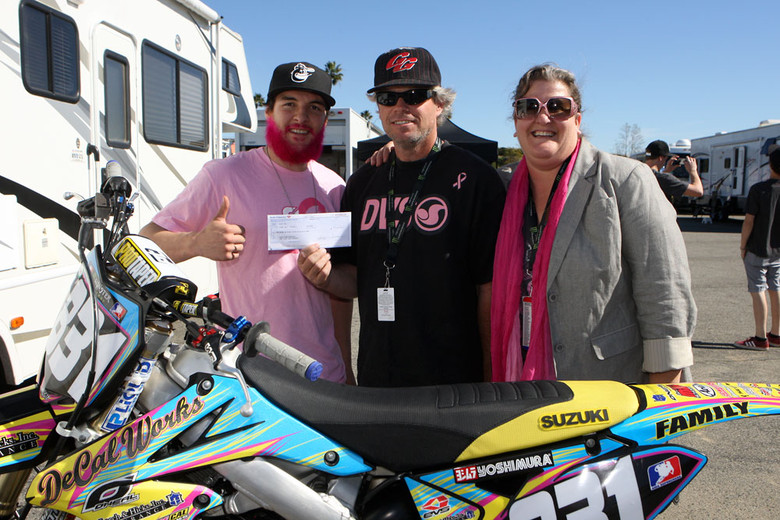 Oh shit Ryan Smith is the dude with the pink beard, he's a badass (photo cred Vitalmx)
After trying to find a photo of Ryan Smith for this Just Short feature I soon realized he was the dude that dyed his beard pink for the breast cancer awareness, I take back everything I said about him. This Ryan Smith doesn't fit the Ryan Smith mold he goes his own way and I commend that. I really wish I could grow a beard that legit but then to dye it pink? He just knocked my socks off. If you have a minute you should check out Ryan Smiths website www.tazracing.com Are you looking for some KTM parts? You're in luck Ryan Smith has some for sale. My favorite part of the website was under the My School heading, Ryan Smith participated in some type of On Track school program something or other but I didn't bother reading any of that, if you scroll to the bottom he posted his elementary school class photos, yes I'm serious. Ryan Smith you have won me over I'll never ask who #831 is again and I'll be cheering you on, your changing the stereotypes of Ryan Smiths everywhere.
Thanks for reading this Short recognition of the guys that almost made it. See you next week, Moser
Please feel free to contact my complaint department jasonw@racerxill.com