In what has become an annual column, Swizcore and I take a look a good look at the 250 west series and offer up some opinions.

In what has become an annual column, Swizcore and I take a look a good look at the 250 west series and offer up some opinions.
Photos by James Lissimore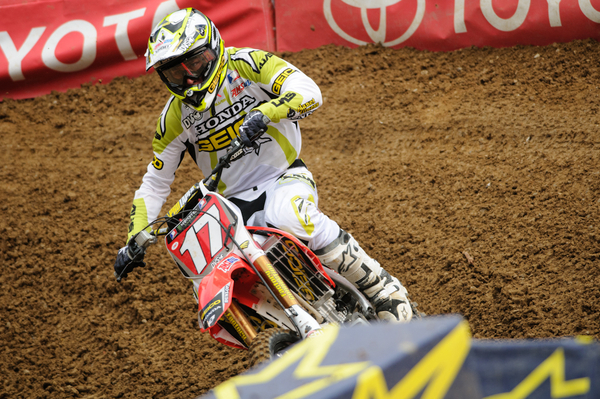 Da Champ Eli Tomac: Best Finish 1st (5 times) Worst Finish 20th (crashed out)
Tomac won the west with some great rides and even though he needed a crash by Dean Wilson to 100% secure the title, there was no doubt that he was the best guy in the class this season. From Anaheim 1 where he caught and passed Wilson for the last spot on the podium to his three straight wins in the middle of the series. Eli had an extra gear many times and seemed to be able to catch and pass almost anyone anytime he wanted. I always heard about Eli being a better outdoor guy than indoor before he started his career but I'd say the opposite is true right now. He's got the confidence and swagger indoors to make things happen. A fearless jumper, he's in shape and took the win that probably should have been his last year if it wasn't for some late race jitters that got to him in Vegas 2011.
Swizzle- Apparently the bitter taste left in Tomac's mouth from Vegas 2011 was bottled and sipped every saturday before the main's. He was a man possessed and most of the series was clearly the guy. Eli's progression from last year to this in Supercross was immense, if he manages to take that progress outside, he'll quickly be a favorite for the title.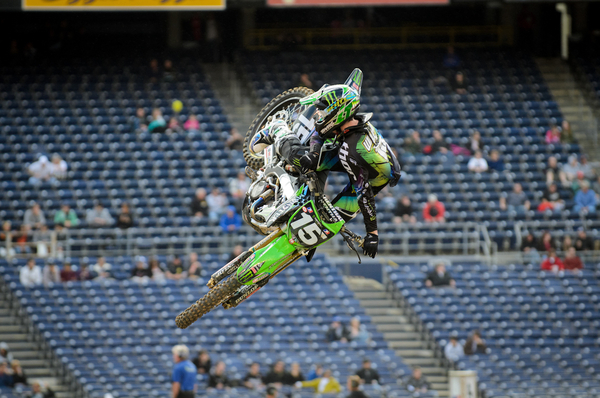 2nd Dean Wilson: Best Finish 1st (twice) Worst Finish 19th (crashed out)
Wilson was looking to move up after this year but now with his shoulder hurting him and trying to race the outdoors, I'd look for him to be back at PC in 2013 if the shoulder causes him to go into surgery. It's pretty amazing that Wilson doesn't have an indoor title to go with his national motocross title but last year and this year, it was just inconsistency. In a short series, you have to get a fifth on your worst day and Wilson just couldn't do that. Four podiums in nine races just isn't good enough for his ability, for his team. Maybe the switch to the west (which he wanted) wasn't a good idea considering he was coming off wrist surgery from the MXDN. Whatever it is, I think his shoulder will give him troubles this summer and I think he'll be back in the 250 class for a fourth year in 2013. And this time, he BETTER win the thing.
Swizzle- Always the bridesmaid, never the bride. Poor Dean. Dean came into the season, admittedly believing a little too much in the praise everyone around him was dishing out. I don't think he'll be making that mistake again. I'm really damned interested to see if his decision to race outdoors with a bum shoulder ultimately see's him making his reintroduction to the East coast SX2 series. He's young so why rush to the big bike class when you really want that SX2 title still?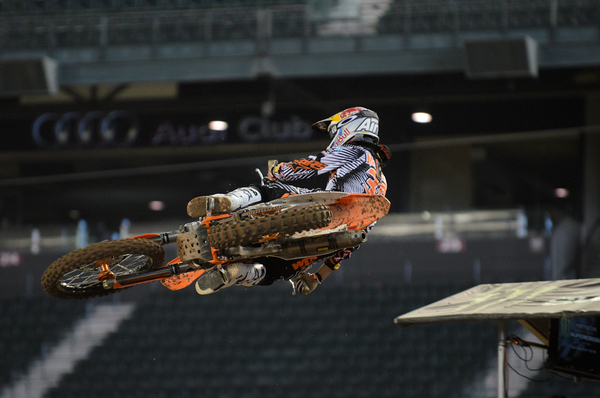 3rd Marvin Musquin: Best Finish 2nd (3 times) Worst Finish 19th (crashed out)
Moving Marvin The Martian Musquin ended the series in third which was a bit surprising due to his inconsistency. Musquin was looked at by me as a real title threat before the season but it was his first kick at the can at American supercross and he did end up on the box three times. Musquin's got a sneaky fast style (like most French guys) and relies on throttle control and being in control to do his damage. He was very fast at the end of the year (maybe from riding the 450 class for a few races) but for some reason, wasn't able to put it together at the last two races. Thanks to Cole Seely's injury, he ended up third in the championship but I'd expect him to more of a force next year.
Swizzle- Marvin is a quick learner and maybe the quietest 3rd place season finisher ever. Not really flashy but always there in the end. Moose-can should win races in 2013.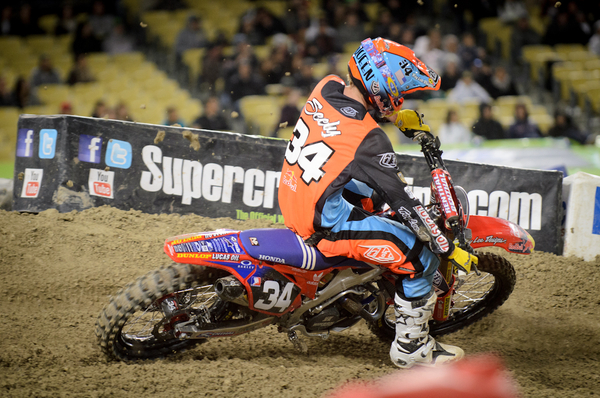 4th Cole Seely: Best Finish 1st Worst Finish DNQ two races (injury)
Oh man, if only Cole Seely can bottle whatever it is that he did at Anaheim 1 when he took off for an easy win. Seely was very, very good at that race but couldn't seem to figure out what that was to do it again. He did get two more podiums though and until his got hurt with two races to go, he was in the title hunt although he needed Tomac to get kidnapped by aliens. Cole is a good guy to have on the team and I'm surprised he got hurt because he's just so smooth and in control out there. I really think he's going to be a better 450 guy because of his talent to ride a motorcycle. Remember this is a kid who quit for a year in his formative years! Seely will be back in 2013 for another shot and maybe he just needs to believe in himself more because I believe that he can really, truly win a 250 sx title.
Swizzle- Cole's Anaheim 1 win took everyone by surprise. It was followed by a few struggle filled weeks before he put the train back on the tracks with back to back 2nds and a fourth before a terrible crash in SLC. Cole seems like a great fit in the TLD framework, so I'd expect him to come back with them in 2013.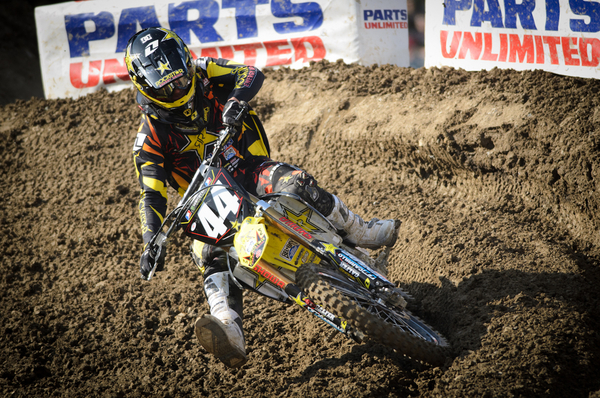 5th Jason Anderson: Best Finish: 2nd Worst Finish: 20th (crashed out)
Finally we see what all the hype is about with Anderson! Three decent races to start off his west series followed by three clunkers but then at Salt Lake City, he led for a while and ended up in second. Anderson has had a rough start to his pro career but there's flashes here and there to make you realize that not everyone can be a Tomac or Wilson. I'm glad the Rockstar Suzuki team didn't give up on him last year and it's funny how a light switch can flip and turn a guys season around. On that team, on that bike in his second season, a fifth is more than respectable. And next year he has to take that next step up once again.
Swizzle- Jason's had a rough introduction to Pro racing but it was nice to see a little bit of light in the tunnel. He seems to be figuring it out and he definitely has skills but what he doesn't have yet is consistency in any form. Unfortunately, until Jason's results and consistency improve, his footnote is going to be "the guy who crashed huge on the parade lap". He loves the outdoors though, so it's the perfect time to turn over that new leaf.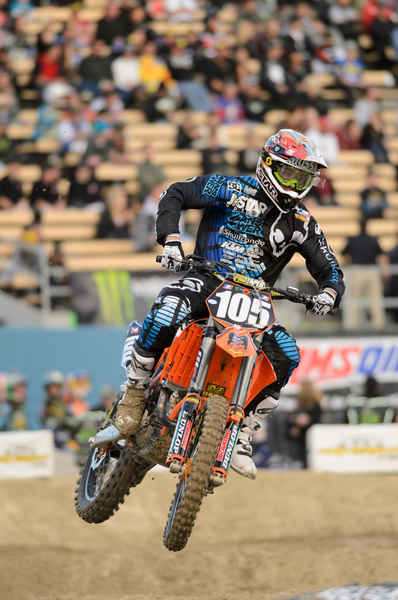 6th Matt Moss: Best Finish: 3rd Worst Finish: DNQ
In a trying year for his JDR KTM team, Moss's podium at San Diego was great for him and the team. Matt was right in there the whole season as a "Best of the Rest" guy and was steady throughout the year. Except for Phoenix where he tried to pass Ryan Sipes and took both him and Sipes down. A DNQ at the second round could have devastated him but he improved as it went on and the podium was the end result. After a terrible year here two years ago on a factory Suzuki 450, Moss can now look at his USA results and be proud of them.
Swizzle- Finally a Moss comes to race in the States and it ends rather well. One podium and a missed main doesn't do much to improve his record for consistency but 6th in points is much better than I expected based on the Moss brothers experiences in US racing in the past.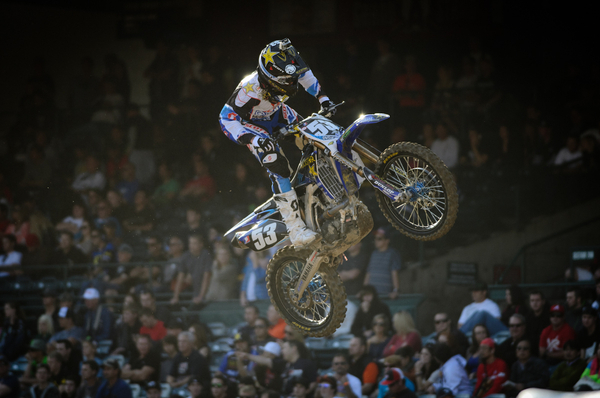 7th– Ryan Sipes: Best Finish: 1st Worst Finish: DNQ
Moss's result was great but the guy who finished right behind him had a terrible year. After years of riding the east coast, Sipes switched to the west this year even though he won a race, he didn't have a very good year. Let me just go back to 2011, 2010 and maybe 2009 and drop in my analysis"Ryan showed great speed this year but has to stay consistent and off the ground. If he can ever do this, he'll be a championship threat." There you go, that's just the standard Sipes thing, he's a great guy, has some serious speed but it's not going to happen for him in the 250 class, his window has closed. Then again, he's one of four guys that won a race this season so would you take that win and just deal with the rest? Some managers would say yes.
Sipes- The writing is on the wall for Sipes in the SX2 class. It's been long enough and the crashing isn't slowing down. At times, often too, Ryan is the fastest guy on the track but it just seems like Murphy's Law is the law of the land with Ryan. Something always seems to come between Ryan and consistency. We've seen he can ride a big bike well so why fight it?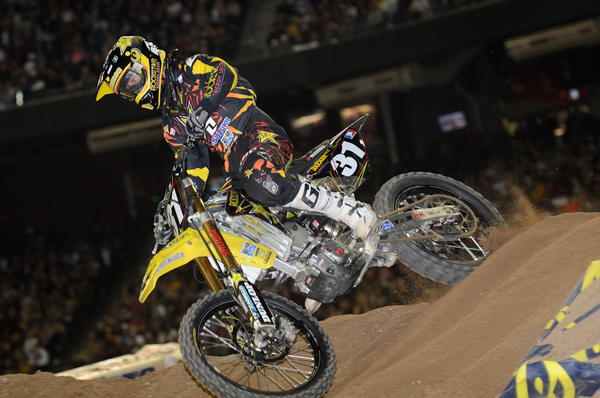 8th Martin Davalos: Best Finish: 3rd Worst Finish: 20th (crashed out)
Davalos had a terrible year but thanks to injuries from guys ahead of him and two good rides at the end of the year, he sneaks into the top ten. Holeshots, heat race wins, great practice times all didn't translate into much for Martin this year, his 7th in the 250 class. He gets rattled easily if contacted, he appears to not be in the shape he needs to go hard all main event or his arms pump up. It was a complete disaster for Davalos. 9th, 11th, 9th, 13th, 9th and 9th are his series finishes since he turned pro and honestly, on a Star Yamaha, factory KTM and now Rockstar Suzuki, has anyone done less with more than Davalos? I guess if I'm an optimist, I can look at his 8th in 2012 and say that it's a career best placing for him. Yeah, I know. I do deserve to get punched in the nuts for saying that.
Swizzle- Oh Martin. Anyone wanna take bets on if Martin is in the SX2 class again in 2013? Because guess what? Yup, he's still eligible after 7 yrs. At this point, it's a damn talent to not point out after 7 years. For sure, the most talented rider for the longest duration to inexplicably not put it all together for even one season.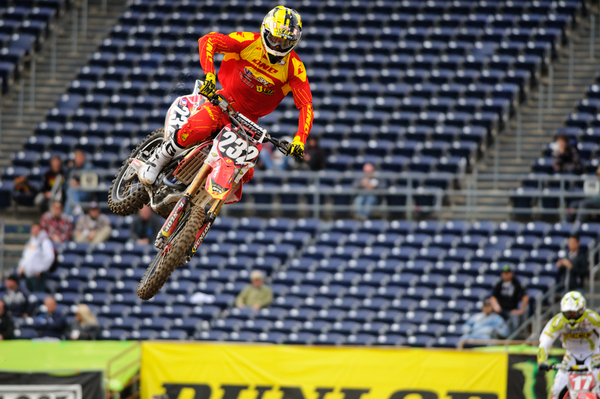 9th Billy Laninovich Best Finish: 7th Worst Finish: 20th
No, you're not reading an Honest Look at the 2003 125 West Series, That's Billy Laninovich you see in 9th in the points. Lano came back off the couch (probably like so many other guys have, Billy realized that racing dirt bikes is a lot more appealing than a real job. Fortuntately for Lano this comeback worked where so many others have not) and had a great season for a full privateer. A crappy Vegas cost him two spots in the points but going into the last round, he had a real shot at 5th in the points. He got better as the season went on and man, what a story if Lano can end up back in a big rig. Not bad for a guy who went through a mid-life crisis at twenty years old.
Swizzle- Don't call it a comeback! Billy Lano is enjoying racing again. This season was just a "toe-dip" and it went well enough to get a TLD fill-in for Vegas and some outdoors rounds. The pits are always a better place with Lano's infectious laugh.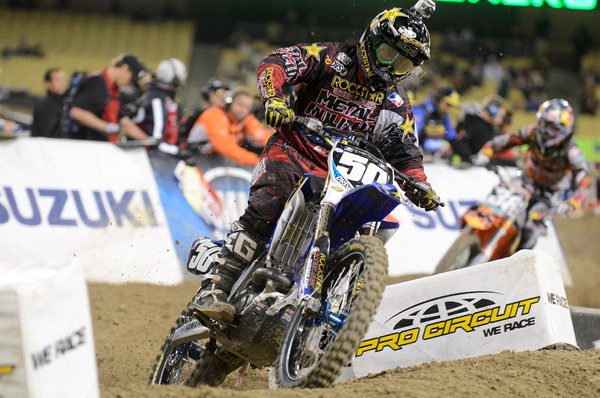 10th Nico Izzi Best Finish: 5th Worst Finish: DNS
Izzi signed up with the Star/Valli guys with many eyebrows raised but he proved to be for real this year. His tenth isn't indicative of his speed but he missed the last three rounds to race the 450 in a curious move. Izzi was 5th in the points and to me, leaving a guy in his class to get a top five finish in the points was better than having him crash out of repeated 450 races but what do I know? Anyways, always talented but troubled off the track, Izzi, much like Laninovich, seems to realize that what he's doing now sure beats putting up drywall and appears to be making the most of his skills. He could probably be in better shape but still had a good season.
Swizzle- I keep hoping that Nico Izzi wil find the mojo he came into Pro racing with on a Suzuki with #341 and later #20. Nico had so much promise then, then his ankles exploded and it hasn't been the same since. Flashes of the old Nico show up from time to time but that's where it ends, flashes.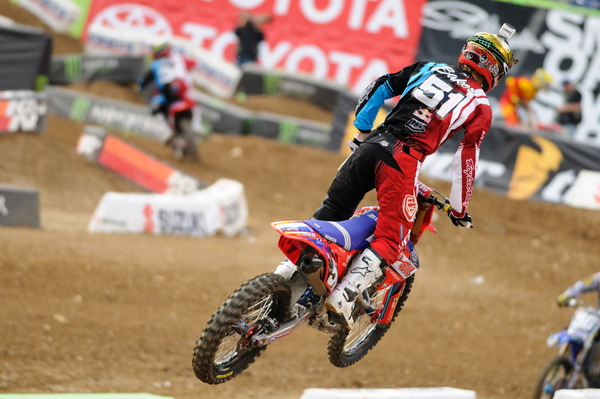 11th Travis Baker Best Finish: 6th Worst Finish: DNS
Baker should be better in his third year in the class on this team (TLD) and on these bikes. He did miss the last two races with a concussion and probably would have been top ten but I wonder if that's even enough for him to hold onto this ride next year. When Travis was on the Motoconcepts Yamaha team he had some real breakthrough rides and came from the back a few times. Since he's been on TLD though, the flashes have been few and far between. Baker needs a strong outdoor ride to save his ride.
Swizzle- I feel bad for Travis, the dude has skills but he seems to be one of those guys who just struggle when it counts. I bet he is one of the fastest dudes anywhere when the riding is all for fun. Too bad that kind of riding doesn't pay the bills.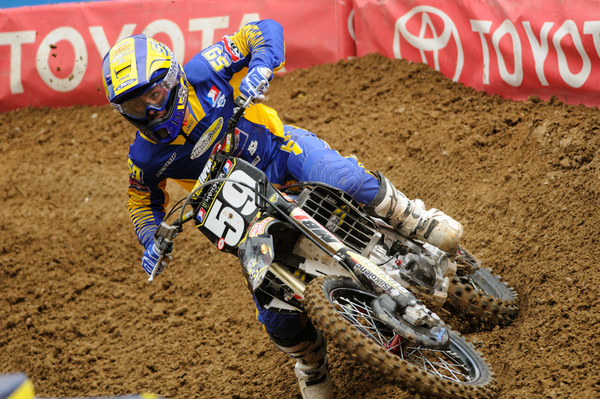 12th Vince Friese Best Finish: 8th Worst Finish: DNQ
Fair or not, Vince is definitely one of the least popular riders in the pits for what his competition feels is dirty riding and what he feels is just protecting his space out on the track. Whatever side you lay on, his 12th is about right for him. He's a good starter and never seems to wow you or make you say "Hey, look at Freise!" he's usually up front and fighting hard for his position as he settles to his level. When you look at his teammate Jake Canada, you can see that his bike is up to doing better.
Swizzle- A quiet season for Friese is a success for him.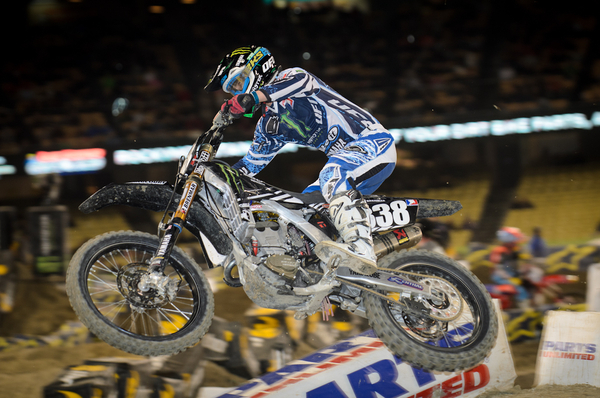 13th Zach Osborne Best Finish: 3rd (twice) Worst Finish: DNS
Osborne was a real story early in the season, forgotten over here as a viable supercross racer, Zach's decision to come over here and race the opening rounds (tip of the cap to his England-based crew for supporting him) really opened some eyes. 9-6-3-3 in his four races was enough to get him a GEICO Honda ride for the next two years and incredibly it was almost enough to get him a top ten in the points. Osborne's bike was very underrated when he was here and seemed to be better than the factory supported bikes of the Star Racing guys. A good guy off the track who was as excited as anyone for his finishes, look for Zach to be in the mix next year for wins.
Swizzle- The only 338 that matters in racing raced only 4 rounds and finished 13th int the points. Just wait till you see him on his Geico Honda for the next two years. Zach is a very mature racer for his age. He seized opportunity when it knocked and whisked him away to the GP's. That in itself is a tall order for anyone, let alone his age group. His progress has been steady and he's coming home in 2013 to indulge the opportunities that weren't presenting themselves before his European adventures. Mission accomplished.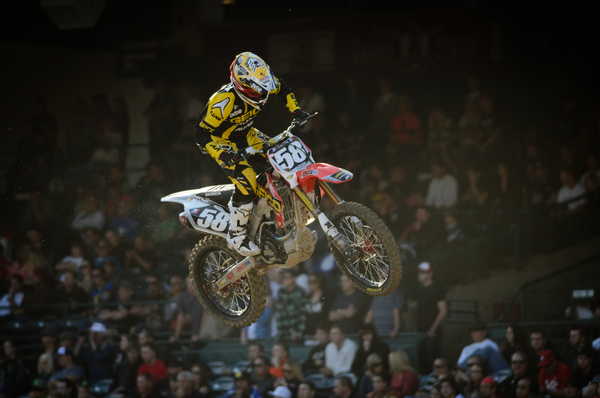 14th– Wil Hahn Best Finish: 3rd Worst Finish: DNS (injury)
Wilbur's just got to stay healthy, something he's been unable to do on his time at GEICO Honda. All told, Hahn's missed 22 out of 30 potential races for the team over two years. That's eight races for the guys in two years and it's tough to show much or have much confidence when it's that bad. Anyways, Hahn raced round one, got hurt, raced the 450 class and then the last three going 5-4-3 which has got to be nice for the Honda guys to see that. So yeah, he was good and a potential podium guy when on the bike but that wasn't enough for Wil or for his sponsors.
Swizzle- A1 started out rough for Wil but the week following it was even more cruel with another injury. It was great to see Wil finish the season on the podium and be healthy heading into outdoors. That's a streak he needs to keep going, staying healthy. These 2 years at Geico have been the most trying of his life, not what he or the team planned on. He's as positive as ever though and what's done is done, it's all about outdoors and redemption.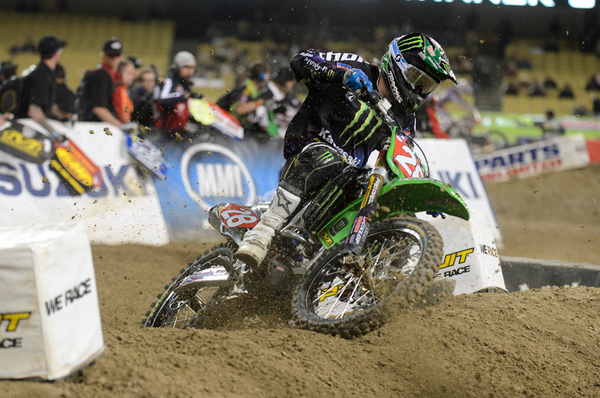 15- Tyla Rattray Best Finish: 2nd Worst Finish: DNS (injury)
Rattray was your points leader after two rounds in what was thought to be pretty unlikely but at Oakland, Rattray went down hard and missed the rest of the series. Osborne got his spot with racing 4 races, Hahn got his with 4 and Tyla scored top 15 with just three races competed in. Much like Hahn, he was fast but we didn't see enough of him.
Swizzle- Tyla was amazingly consistent until a highly unpredictable Oakland track sidelined him from round 4 on. Not too shabby for a guy who was always just presumed to be "not a supercross guy". Could Tyla be headed for 450 Supercross with only 11 SX finishes under his belt? Looks like it.