Former factory rider and 3-time national winner David Vuillemin offers up his take on Hangtown.

Former factory rider and 3-time national winner David Vuillemin offers up his take on Hangtown.
By David Vuillemin
Photos by James Lissimore
Hey PulpMXers,
Finally this anticipated outdoor season has started! Obviously, it would have been better if Villopoto and Reed were racing in 450 and if Wilson was healthy in the 250 class but we still have a promising season to come.
Hangtown is often disliked by the majority of the riders but I've always like this place and often did good. I got my first National win there and 3 podiums. The track seems to improve every year a bit. Last year it was ridiculous how rough it got due to the watering and the deep prep. It was a tough opening last year for sure. On TV, the track looked more rideable this year and they came a long way in 12 years, the first time I rode there. You gotta give credit to the Dirt Diggers.
The big question mark was obviously to see whether Dr James or Mr Stewart would show up this weekend on his new bike. The question was answered pretty quickly when he clocked the best time in practice. But the skeptics were waiting to see if he could last and be mistake free for an hour and four laps and in the end, James had a perfect day in Norcal. Now, people on the worldwide web are sticking a fork in the YZF. I've said from the beginning that it wasn't the bike but more set up and riding style. James rode in Hangtown like I haven't seen him ride, maybe ever. His approach and riding style was totally different, he was fast obviously but super smooth and always in control. He kept his momentum in the deep ruts in the turns and didn't seem "to try to lap second place" when he was in the lead. A thing that he was trying very often in the past which lead to have him on the edge and make mistakes. James showed a lot of maturity during this race and impressed a lot of people. Was I impressed? Yes in a way because, like all his hardcore fans, I want to see him win because he is the best rider to ever put a leg over a dirt motorcycle. I picked him to win every SX he entered in my fantasy league. I am a Bubba believer but, to tell you the truth, he let us down lately. I guess I was wrong, and maybe the bike (and the team?) wasn't made for him… Now, let's all jump on the 24-0 bandwagon! 😉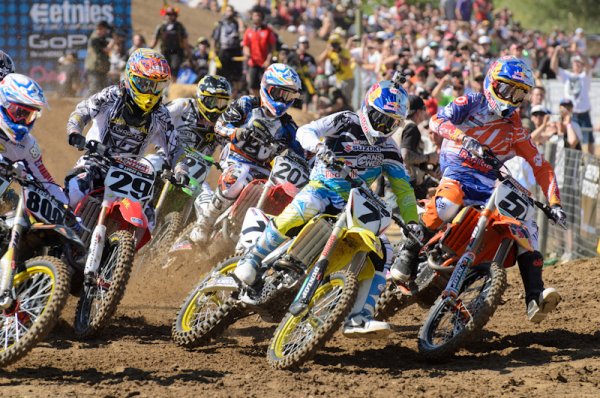 The start of the 450 moto 2 was an indicator that it was on.
Mr Consistency, Ryan Dungey, had a honorable 2nd overall. His start in the first moto was poor. He only broke in the top 10 after 1 lap. He had to come thru the pack. Ryan didn't look super comfortable this weekend and he will improve from there. He will have to find a setup where he feels comfortable to go all out if he wants to beat Bubba. It's only Ryan's first ever MX race on the KTM 450, like James on the Suzuki. Maybe he would have been a little more ready if he didn't come back after his shoulder injury to race SX and focus on testing in MX. But, he won a couple races for KTM, which is great for the marketing/sales side of it and made some good bonus money. Those two reasons aren't negligible. Still, Ryan was pretty close to Bubba in moto 2. His fastest lap time was only 6 tenths of a second slower than James and the biggest gap between those two guys in moto 2 was only 7 seconds. Knowing his consistency and a more reliable bike than last year (Ryan had a lot of mechanical issues in '11), The Dunge will keep Bubbles honest all summer long.
Mike Alessi got 3rd with a 7-3 score and made me lose $100… I bet on him to win. He rides well in Hangtown and he has been testing in MX since a long time. At least from around Daytona SX in March. He was flying last year in practice setting the fastest lap in practice before knocking himself out after doing a bad scrub. Oh well, what's $100 these days? Just a tank of gas for my Dodge Ram. ;-). Seeing him ride in Seattle on a MX-like SX track with ruts, I really thought he would have been a threat for the win in Hangtown. It didn't happen. His first moto wasn't really impressive. He ended up the first lap in 4th and dropped back to 7th. In moto 2, he rode better after pulling the holeshot. He lead a couple laps and only got passed by "the big 2". Outdoors is Mike's specialty and, with his starts, he will also improve his results. I am sure they are satisfied with the podium finish but maybe not about the manner. It's good for the team though. It's their first podium since Matt Goerke's 3rd place in Southwick 2010. I guess I might be the reason why the team didn't get any last year!
Behind the podium guys, a few guys had a good race too. Short and Metcalfe showed some speed and fought hard for their position. They both ran in 2nd for a long time in moto 1 until Millsaps and Dungey got the best of them. Metty bested his last year score, 5-5, by one position in moto 1. Shorty had a way better day than with his KTM missing 100cc. He went 9-34 in 2011. I don't see those guys race for the win yet but they are strong, hard working and consistent. They should be there week in and week out.
Broc Tickle impressed me in a way with his 6th overall. He had a disappointing SX season but I thought his 6-7 score on Saturday was a good performance.
The first YZF450 was only 7th overall for the day but Davi Millsaps had a great race in moto 1. He was faster than Dungey by 0.1sec on the fastest lap and his fast lap, which was only 1 sec slower than Bubba, came around the 27th minute of the 30-minute moto! Only one rider, Michael Byrne, clocked his fastest time later in the race. I talked to him today and he told me he rode most of the first moto without a clutch. Maybe something wrong with the hydraulic mechanism. Funny story, at the end of the moto he was following Bubba to the podium riding. James came to a stop and Davi ran into him because he didn't have any clutch and his bike kept going. In moto 2, he crashed in the 2nd lap and popped his elbow out. Still managed to get 14th. Davi might be the sleepers' pick despite riding a Yamaha… that poor guy… (sarcasm alert)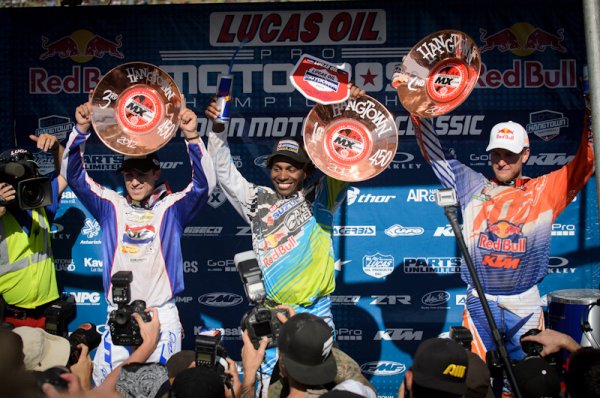 Your 450 podium.
A team that had a long day in Hangtown was Team Factory Honda. Tommy Hahn was 14th overall and Brayton was 19th. Something happened to Justin in the first moto on the last lap. He lost close to a minute. He was only in 13th, which it isn't really where he should be though but ended 24th. Justin is more of a SX rider. In 3 seasons in the 450 class in MX he was only on a podium of a moto twice. A moto win in Steel City 2009 and a 3rd in moto 2 of Southwick 2011. In second moto, after analyzing the results sheets, he was 18th on the first lap and got 16th. Looking at the lap times, he didn't crash. When you are around those positions, they don't really show (and talk about) you on TV so I don't know if he got hurt on the last lap of the first race. About Tommy, I was interested in watching his results on the factory Honda since he was in the team I managed last year on those Yamahas. Tommy had a great race last year in Hangtown. I went back to the results data and he was 16th on both first laps of both motos and ended up 7th overall with an 8-8 score. Remember Reed and RV were racing but Bubba wasn't. On Saturday, Tommy was 7th on the first lap of the first moto and got 8th. He was 6th on the first lap of the second moto and was last on lap 2. If I remember right from the TV coverage, he crashed. It adds some fuel to the YZF controversy fire and I love stirring the pot about that bike. hahaha. For your record, I have no link to Yamaha anymore, I don't still get paid from those guys, I don't get free bikes from them. I just think Keith McCarty, the Yamaha Racing Division Manager, is the best-straight-up factory/industry/moto guy in this MX/SX world. I am sure this last sentence will be censored by Matthes…
I am in nice mood today sitting alone in my couch with the TV in the background and I don't feel like talking crap about some of the guys that sucked this weekend… I wouldn't do better and I'll give them a chance to rebound in the next round! 😉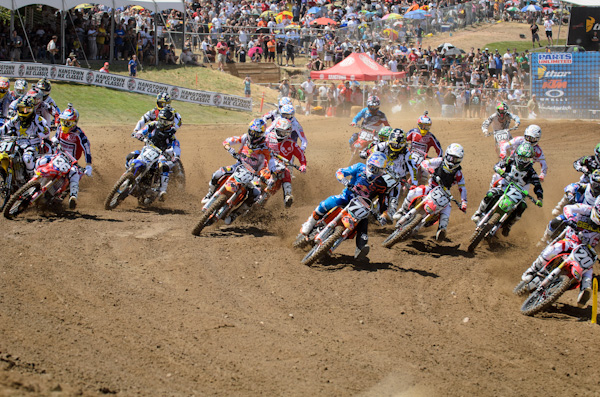 The 250 class was very exciting!
What about the 250 class and the last lap of the first moto? I was screaming and swearing in front of my TV because that was one of the best race finishes I ever saw! That G rated "menage a trois" was unbelievable! The Blake Baggett Show was amazing. He entered the last lap in 3rd and won the moto clocking his best lap time on the final lap. He only had to pass 2 of the best 250 riders in the world in 2 minutes. #EasyBro!
I was amazed how Baggett was riding technically. Blake isn't a JMB or a Pourcel. He is more a Villopoto who twist the right grip and goes where he can and often on the outsides. In this first moto, I saw him play with the braking bumps by jumping them or by wheeling into them. He pretty much tried to find a way to go fast by using the track as a supercross rhythm section. It was great to watch where the other guys were hitting the bumps passively. Like I said, Blake's fastest lap in the last lap was only 3 tenths slower than Bubba's in the first timed lap of the 1st 450 moto, which is technically the second lap. Track had to be really similar which shows you how fast was BB12 was! In moto 2, The Blake Baggett Show started way earlier because he started second behind Barcia. He stays 4 laps behind before making the pass stick. When Blake got in the lead, he set his fastest time of the moto, 2 seconds faster than BamBam and KRoc. At this stage and level of competition, 2 seconds is huge!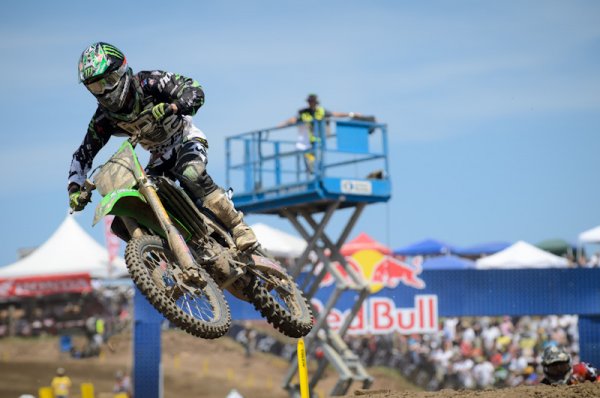 DV934 was very pumped on Blake Baggett at Hangtown!
Justin Barcia got second overall with a 3-2. His first moto had to be difficult mentally after getting passed by Roczen for the lead and also by Baggett in the last lap. It didn't affect him too much because he came swinging for the second moto. Justin was pretty much as fast as Roczen all day. Their lap times were very similar and spent 1h+4Laps pretty much together. I thought Justin was making a lot of little mistakes here and there but still managed to get 2nd OA. He would improve his consistency as well as his total moto times if he would use this old saying, "going slow to go fast". One other thing, if he would have finished his move on Baggett to pass him back and hit Blake, that would have been super ugly at that speed. It was in a long and fast sweeper. Justin dove inside and tried to blockpass BB to retake the lead but let off at the last second. If he didn't let off, Blake would still be in the crowd as I type.
I lost yet another bet on Saturday, I did bet on Roczen for the overall win. #SecondFail. Like in SX, I still don't think we've seen the real Ken Roczen yet. Even in SX last year, he was more impressive than this year in term of style and radical moves than no one can do. Ken might be faster now than he was last year during his World Championship title chase or maybe not but was more "wow". I want the Euro Roczen back that was beating Ryan Dungey at the MX of Nations in France last september on his 250F…
Big thumbs up to Ivan Tedesco and his 6-5 score for 4th overall. I am pretty sure IT9 hasn't raced MX since the last moto of the MXoN 2009 in Italy and in 250 since MXoN 2005 in France. With such a little preparation before Hangtown on the quarter liter, two words come to my mind, "Great Job"!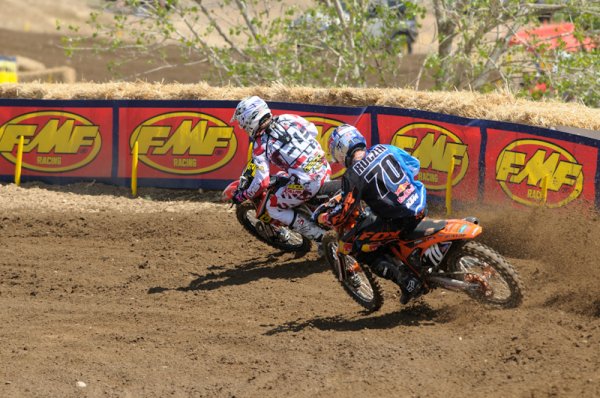 Great, great racing in the 250 class.
I thought Tomac would have been better than 5th overall for sure especially with the speed he showed in SX and his first ever pro race win 2 years ago on this same Hangtown track. Eli has a good excuse though. He was only 36th after a lap in moto 2! He salvaged a top 10 and some points. In first moto, he had the second fastest time behind Baggett. His last 5-6 laps were way slower than his earlier pace. This could be due to arm pump for the first MX moto of the season or that he got a little tired. Eli is a warrior and we should see him in the front soon.
The MX circus goes to Freestone in Texas this weekend which could be the hottest and toughest race of the year. It will be a good indication of the rider fitness's. The MX season, unlike the other years, starts with 5 races in a row, one race shy of the halfway of the season. This is going to have an impact in the title chase on the bodies and with the guys that are carrying some injuries into the MX season. It's tough to heal, train, travel and race at the same time.
What about the MXGP in Brazil. I watched some of it online. It was a mud fest in the first moto and CP377 gave a riding lesson to the other guys. He won the first moto with 1min 29sec. That was a very impressive ride. CP, I might be old, fat, bald now but I won High Point 2nd moto in 2000 with the same gap! ;-). His second moto wasn't as good but he managed to get 4th and win the GP, his second win of the year. Antonio Cairoli had an off day on the 350 KTM with an 8-9 but he's still leading the championship by 24 points over Clement Desalle and 31 over CP.
In the MX2 class, Tommy Searle won both motos. He is from England so he knows how to ride in the mud. He had some tough luck in the beginning of the season and it makes the championship more interesting if he gains some points on Herlings. Jeffrey went 12-3 and lost a lot of points. He's only leading the championship by 20 points now, less than a moto.
The next race is in France in 10 days where they had the MXoN last year. If you remember it, it's hard packed, fast, not too bumpy and it should help the French natives to catch up in the points chase…
That's pretty much it for this week's column. I won't be in Texas but I should be in Colorado the following weekend.
Later
#OG934
@DavidVuillemin
www.dv934.com