Our man Moser talks about those at Lakewood that had a few issues.

Our man Moser talks about those at Lakewood that had a few issues.
Shortcomings Vol. 3
A Short look at some Shortcomings from Lakewood
By Moser
Photos by LIssimore
Well Stewart had his fair share of Shortcomings in Lakewood but that's one guy that's never Short on press. Every video angle and possible cause of JS7 crash has been discussed 29 times over so there is no reason for me to beat a dead horse even harder. Who beats a dead horse anyways, I'm familiar with beating meat but why would you beat horse meat, maybe to make it more tender and delicious? It was a weekend of deja vu with Shortcomings and I'm not talking about the strip club. Last week at Freestone I was on the fence about featuring Top Jimmy or Tickle well as it turns out it didn't matter as they both had DNF's in Lakewood as well. Tickle is proving that it doesn't matter what bike PC puts him on in outdoors he can break it, but I want to give him just the tip for that great ride in the second moto.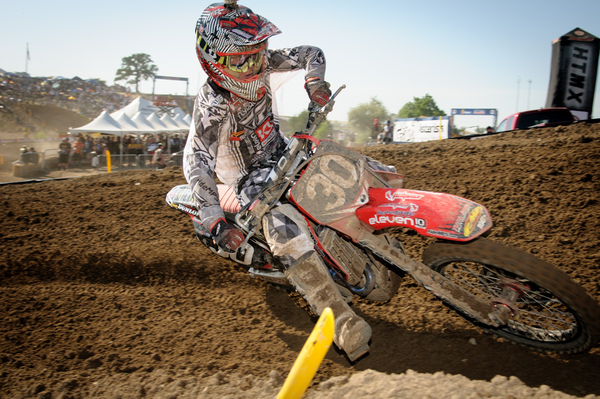 He may be small but ummm yeah he's really small
#30 Alex Martin – Eleven10Mods
Well there's good news and bad news for the Eleven10Mods team what do you want to hear first? Let's start with the good this is supposed to be a Short positive and uplifting column. The bikes made it through the entire race this weekend without grenading so that's something they can build on, get it build on. Martin finished 11th in the first moto which is a "tall" order when you look at the list of rides ahead of him so that was a pretty good ride. In the second moto Martin had a decent start but then slowed and pulled into the mechanics area at one point, one would assume it was another mechanical problem but you would be wrong.
Does anyone know what happened to little Martin I couldn't find anyone that knew and after Matthes had implied via twitter it was bike related he couldn't confirm nor deny that theory. So I know a guy who knows a guy that has Martins number so I sent a text to guy one who forwarded it along to get to to the bottom of this second moto DNF mystery. My sources tell me that a tweaked knee was to blame the same knee that he injured during the supercross season. Knee injuries are all too common in SX and MX one would think with all the trick knee braces these days you would see less injuries. I'm not sure you can name any professional rider that hasn't had a knee injury at one time or another. Remember the knee cups we all wore as kids they were useless and I even had one break my kneecap in ½ on impact because they would always slide down while I was riding. Maybe if we looked into another industry or career that spent significant amounts of time on their knees they would have some tips on how to reduce the wear and tear on knees.
Villo proved that it only takes a tip over to cause serious injury to a knee but when I saw how big the ruts were at Lakewood there's no way you can make it through the day without twisting a knee or planting a leg wrong. Some of the ruts were so deep that (insert joke here). Martin is also one of the Shortest riders if not thee Shortest rider on the circuit which doesn't make riding the ruts any easier. I have a theory on Short riders compared to tall riders, the smaller the rider the better they bounce and roll upon impact it seems they sustain less injuries than a taller rider that doesn't bounce or roll but belly flops into a tangle of arms and legs. It's just a theory but compare how often a Short rider is injured compared to a tall rider and I think you'll see a pattern. Lets hope Martins knee isn't too bad and can make it through the rest of the season, he's especially fun to watch at Millville where he feels right at home.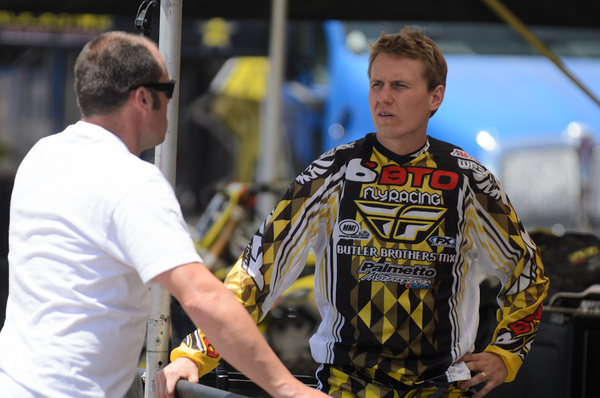 Top Jimmy lookin good in this photo.
#48 Top Jimmy – BTO Sports / Palmetto Suzuki / Fly Racing
Top Jimmy has had a tough season, crashes, mechanicals and more crashes. Currently he's tied with Tickle at 2 mechanical DNF's so far in the outdoors, so the race is on to see who has the most Shortcomings this season. With Supercross not going as Top Jimmy had hoped the move to outdoors can be a breath of fresh air, a clean slate and a new beginning, or it can also mean more of the same. Jimmy took a big digger at Freestone when his engine locked up, I didn't see the crash but the description on twitter was enough to make me cringe. Jimmy crashing so hard and then getting right back on the bike doesn't support my tall riders get hurt more theory but maybe it just proves Jimmy is a badass.
Being a fan of the sport there are several things that I admire about the riders one of which is their ability to jump right back onto a bike that just tried to kill them and start racing again. Ultimately the bike is really out of their hands and in the hands of several other people, parts manufacturers, engine builder, suspension guru, and mechanic that's a lot of people responsible to keep your bike running safely. Inevitably with the number of laps and hours on the bikes these guys put in something is eventually going to break and you just hope it's not an in inopportune moment 4th gear wide open. In the first moto at Lakewood Top Jimmy could only make his rubber last, about five laps. It's never a good feeling when you have a good rhythm going but something just doesn't feel right then you realize you blew your rubber. This is Top Jimmy's third flat tire this year in SX/MX, it's safe to say he's really hard on his rubbers.
Jimmy rebounded with a 17th in moto 2 which is respectable, but I'm sure he wants to be closer to the top ten. The BTO Sports team has had a rough season, with Burner missing all of SX, Jimmy knocking some of his pearly whites out of his pretty face at the beginning of the season and the Ironman of SX struggling a bit. In Lakewood Burner got a 7th place in the second moto and that's got to be a morale builder around the truck and maybe that will help steer the BTO team in the right direction. I know that another Top Jimmy shadow could only help, I'll make sure @swizcore gets on that.
Thanks for reading this Short recognition of the guys that had Shortcoming this weekend, see you next week-Moser
Please send any comments to jasonw@racerxill.comhe reads them while wearing head phones.