We're three rounds in and for a series which was supposed to be pretty predictable, there are plenty of storylines no one anticipated.
We're three rounds in and for a series which was supposed to be pretty predictable, there are plenty of storylines no one anticipated.
Photos by: Simon Cudby and James Lissimore
MX1
It's like clockwork. Every series beginning with SX 2011, we get a few races in and bench racing discussion focuses in on Ryan Dungey's main short-coming; lack of aggression. It's driven me nuts at times. Ping's idea of the "Hi Ryan" butt patch was born from a very real and very frustrating (for Ryan and his fans) inability or unwillingness to do the dirty work when it counts. I have written many times that Ryan's lack of aggression is going to be his undoing and what separates him from the titles he comes so close to claiming.
The criticism is both valid and debunked multiple times each series. For every race and every instance one could point at as a missed opportunity due to him not "pulling the trigger", there is a counterpoint where his controlled consistency proves to get the job done. Or does it? It's pretty much universally agreed upon that Dungey isn't the most talented or fastest rider out of the elite 5 or 6, yet in SX 2011 he was denied the title by one bike failure and in MX 2011 again denied the crown by a handful of points. When you're coming up short of titles by such slim margins, to completely change your game plan seems a little silly. It's hard to argue with his logic and in Thunder Valley, he once again proved that "steady as she goes" does indeed yield results.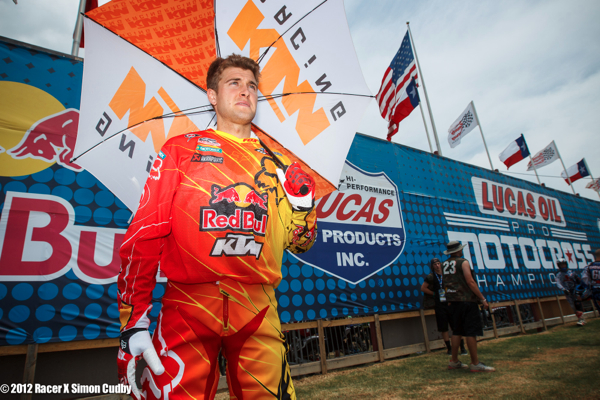 And still, we question him. Will we ever learn?
Really though, coming into the outdoor series, The Dunge's clear rival for the title was of course James Stewart. The same James Stewart who had just terminated his JGR contract where he was tired of the frustrations he was dealing with on the track due to a motorcycle he just couldn't get along with. From the moment JS7 got on the Suzuki (publicly) that million dollar smile was revitalized and you could just tell, it was genuine. James knew that old feeling was back and he actually believed himself, for the first time in 3 years, that his fate was in his own hands. Not the tendencies of a bike who's divorce reasoning would be listed as "irreconcilable differences". Even with this reunited feeling of optimism, James can't erase his own legacy as a racer, even from his good old days of racing on previous bikes he's gotten along with. Dungey and all of James' top competitors know this and bank on it; sometimes it pays off while others it does not. Of course I'm referring to his reputation as crashing or winning.
Now to be fair, nobody would have expected a double DNF following a 4-0 start to be incited by a photographer running across the track just as James crested a jump. Nonetheless, the points and his competitors don't concern themselves with such details. In the end, what Ryan was banking on, happened. James crashed and proved what everyone had expected would happen over the course of the series; and that is that Stewarts bad races would pay far greater consequences than Dungey's bad races.
Dungey was trailing JS7 by 14 points as they came into Thunder Valley and now, heading into High Point, Dungey has a 36 point advantage. These types of drastic point swings are exactly why I feel motocross is the true measure of a racer.
Now lets get into this bizarre incident contributing to James' crash. When word started to get out from the track, into cyber space, of somebody crossing the track right in front of James and causing the crash, conspiracy theorists ramped up production. It was amazing that the only footage of the incident was snagged by James' GoPro and independent videographers. Really, there wasn't a broadcast camera on the leader during lap 1?! It amplified the un-believability of the situation and added to the speculation regarding what had occurred.
When the video was finally shown, it was clear that the "cut and dry" case of a track worker crossing directly in front of James causing the crash was, as is typically the case, not so "cut and dry". Was the photographer a contributing factor? In the sense that James' focus was challenged, absolutely. In that section of track which included a blind jump, spongy, treacherously deep ruts which spanned the entire width of the track focus was key and it was definitely broken. Certainly, the ill-advised crossing photographer wasn't intending it to be malicious but timing-wise, it was a major league dumbass move.
Playing devils advocate, I questioned if a person crossing the track in that situation would be any more distracting than lappers or a fallen rider occupying space in the same section during the race. I still say yes. Again, with that section in those conditions, attentiveness can not be fragmented without risking perilous consequences. Lappers and downed riders, while challenging are at least anticipated obstacles. A foreign object, such as a crossing body is a whole different kind of distraction. It's something that a rider doesn't prime their mind for and that's a recipe for disaster in those treacherous conditions.
With James' unique inclusion in the series, I'm curious to see how he approaches a return to it, if that's even in the cards. We all know he's not getting a salary from Suzuki in 2012, though he was working on a possible bonus program but he stated many times, this go at the outdoors was all about getting dialed in and used to the yellow bike for 2013 SX. With his double-DNF resulting in a 36 point deficit and considering Dungey's high likelihood of finishing second every moto; James would only have 18pts of error at his disposal to take the title if he won every other moto. In other words, if James doesn't even one moto at High Point, he effectively kisses his title hopes good bye. At this point, I highly doubt James is even concerned with that in the slightest. That was a nasty digger he took and I don't expect to see him until he is 100% again. There's just no point in tempting fate with so little to gain.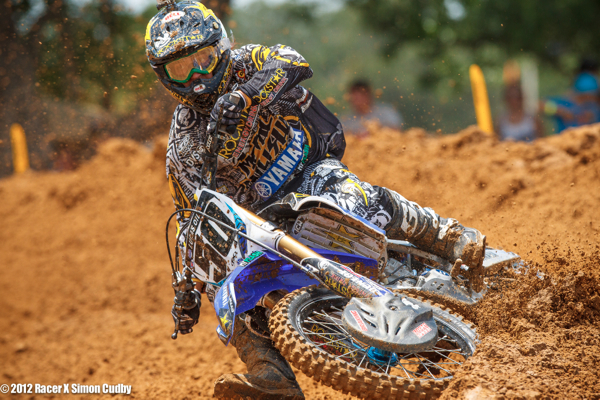 Fulfilling the promise.
The feel good story of Thunder Valley was definitely Michigan's own Nico Izzi nailing down a 5-5 for 4th overall. I've written numerous times on how disappointing it has been to see Nico enter the pro ranks with such speed and promise only to see it hit a wall with his ankle injuries in the 2009 SX2 series on Factory Suzuki. He showed promise on the Eleven10 Mods bike last year at High Point and considering how much better he has looked lately, I don't think a podium is out of the question for Nico next weekend. Even short of getting on the box, I will continue to be stoked for Nico as long as he continues to keep the train on the tracks and take full advantage of the opportunity he has with the Star Yamaha team. When you have as much raw speed and talent as Nico, it's easy to ignore the hard work part of the equation but that will always come back to bite you in a big way. It looks like Nico is maturing and taking the bull by the horns so to speak, refusing to end up like his one-time teammate known as Stroupe-a-loop.
Great ride to 8th OA by Michael Byrne. It has bummed me out to see Byrner struggle for such a long time now. Going on 3 years of forgettable results but I just knew, the old Byrner was still in there somewhere. I think he can do better still.
I'm really happy to see Broc finally riding the way I knew he could. That 4th place start in moto two was the first good start he's pulled since SX last year. Broc's always been a hard charger and someone who has the endurance to go strong all moto, hopefully he can bottle the technique he used to get that start, apply it and improve it in the coming rounds. I'm not gonna lie, when I saw him pass Jake for 3rd, I felt divinely justified in my lobbying for him to remain on the 450 outdoors. It was also satisfying to see him best the team which passed him by for that fill-in ride. What is the deal with the electrical gremlins in the PC 450? Whatever the case, Broc's moto finishes overshadow those motos when it gives up the ghost.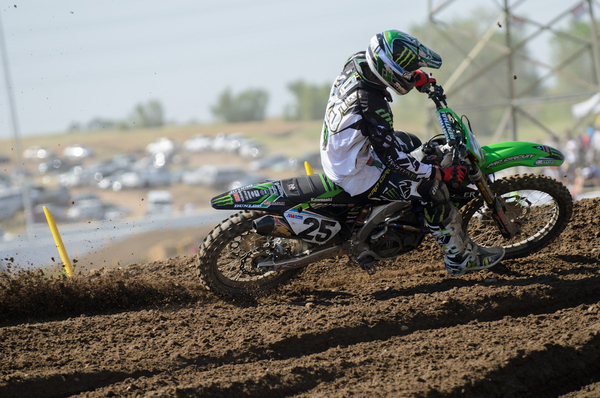 Broc cashed in a great start in moto 2. Lissimore Photo
A solid Lakewood race for Matt Lemoine. It pains me to say that this was Matt's most consistent outdoor race since Millville of 2009! I just hope Matt can turn this into a streak to be proud of. He definitely looks right at home on the 450 and that's encouraging. He's got the skills and now he's got two solid motos in a row to build on.
JGR Yamaha. Just Ugh. More on this later in the week.
MX2
Don't look now but Blake Baggett appears to have overcome his chronic case of 'The Headsies". It's a condition many racers are afflicted with at times during their careers and often it erodes into an insurmountable reputation they can't rectify. That's right, Blake has managed 3 OA's and 6 podiums in 6 races, with his worst moto finish being a 3rd. Remember what Blake did at High Point last year with his inverted visor? Yeah, the next round looks promising for Mr.Baggett.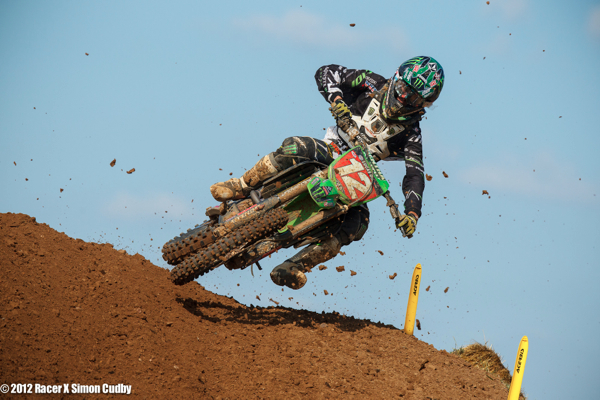 Yay! No more "Headsies".
How great is this MX2 class thus far? Each weekend it seems like a different rider steps up to assert themselves and they genuinely look like the dominant rider of the class. Sure, each moto Blake Baggett gets his groove on as he tries to turn an average start into the charge from hell at the halfway point but for the most part, at the end of the day, in three races we have three guys who could legitimately be considered the favorite. Baggett, Barcia and Tomac all look poised to take control of the series, each with an overall win. But wait! Surprisingly, there is also Ken Roczen who, despite not having a moto win yet, finds himself in 3rd, a position ahead of Freestone winner, Tomac; and looks equally capable of seizing control of the series. That's four guys battling for dominance, separated by the slimmest of margins and relying on opponent error more than anything else to find the upperhand.
How about the tracks so far? They have been very rough which I like to see but what's up with the track crews and their watering practices? The track is changing enough from moto one to moto four(or 6) in terms of roughness. Can we please get it figured out so the moisture factor is a little more consistent?
Although both classes are lacking their 2011 series champions, there is plenty of action in the 2012 MX season so far to keep us more than satisfied. Bring on High Point and the great east coast dirt!