It seems like a lifetime ago when in 2007 Ricky Carmichael was openly ripping the Budds Creek circuit for its degenerated and baked track surface.
It seems like a lifetime ago when in 2007 Ricky Carmichael was openly ripping the Budds Creek circuit for its degenerated and baked track surface.
Photos By: The James Lissimore
Here we are in 2012 and although the track was gnarly due to a new approach to track prep the series hasn't seen before, the racing surface is much improved when compared to the criticisms of 5 years ago. Definitely very one-lined but it was good to at least see some ruts and not just a baked SoCal style surface with concrete slots to drop into in the corners.
MX2
We've been seeing a battle amongst the top four in the MX2 class for the better part of every moto thus far but in Budds Creek the script was rewritten a bit and became a bit fragmented. Instead of a four-way battle, the fight was divided by two with two battles, one for the top spot and the other between positions 3 through 5. So who was the new guy on the block infiltrating the "fast four"? None other than two-time World MX2 Champion, Marvin Musquin. Marvin has been running a distant 5th much of the season to the lead group but he's also been racing his way out of an injury. In Budds Creek he turned a first moto 5th place start into a 4th and his second moto saw what had to be some fatigue fade to go from 2nd to 4th. The insult to injury here was Marvin going 4-4 for 5th overall. Sorry Marvin but them's the breaks. I hope to see Marvin continue to progress as this injury is put behind him and he can put two strong motos together every weekend, he has the skills to run with this top four when fully healthy.
Eli Tomac, High Point Wonderboy, couldn't get the starts nor mount the type of charge we saw in High Point to make his way forward in either moto at Budds Creek. Talk about evenly matched; each weekend the confidence a rider builds appears to result in more motivation for his opponents than it does palpable mental edge for that weekends victor. If there were such a thing as Superhero Moto comic books, the Eli Tomac of High Point could have his own spinoff comic based on that race alone, yet in Budds he was unable to extend that performance due to track conditions, lappers, his opponents… in short, racing. I've said it a million times and I'll continue referencing it; this is why they race every lap of every race, because the unanticipated can and will happen from lap to lap over the course of a series.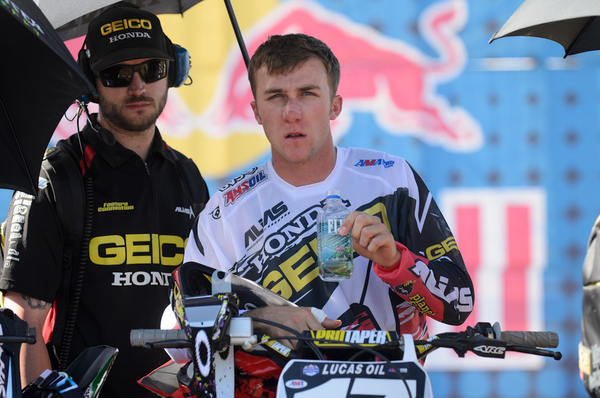 Eli was one of many to have lappers jack up his flow in Mechanicsville.
Amazing that Tomac, one of two two-time overall winners this series has the worst average finish of the top four, yet is tied in points with Ken Roczen who has led one lap less than Barcia (51) yet has no overall wins! More on Roczen shortly.
Barcia has established himself as the guy to look to for first moto W's. Unfortunately for Justin, second motos have and always will be the moto separating the men from the boys. That's not to say that Justin's not a capable but he needs to switch something up to put an end to this reputation he's earning. It's not as if Justin's been getting terrible starts in second motos, though in Freestone and this weekend at Budds he was fighting uphill battles, Justin is simply better in first motos. You can bet your ass Justin is all too aware of this pattern and is no doubt taking steps to put it to an end in a hurry. If he figures it out, this outdoor series could start looking a lot like the 2012 SX2 East series.
Has anyone explained to Ken Roczen that there are no points awarded for most laps led? All kidding aside, Ken has led 51 laps but he has developed a rep of his own for not being able to bring it home on the lap that counts. It's kind of a hybrid fault that you wouldn't expect from the defending World MX2 Champ. The GP's have always had the rep of having a steadier, less balls-out pace in the opening laps, where riders pace themselves then put a charge in as the race wears on. The flipside of that is for years, the AMA Nationals were known for being jailbreak-chaos from the drop of the gate and as the laps increased, the riders sorted themselves out and you kind of knew where you'd finish with a few laps to go. Ken has obviously studied up on how to best attack the American series' pace but it too has progressed even in the last few years. Ken's approach would yield dominating results a few years back but now from the drop of the gate, all the way to the checkered flag it is that jailbreak sprint-race. Sure, only a few guys are capable of maintaining that pace but unless you're the only one, it's a problem you need to address.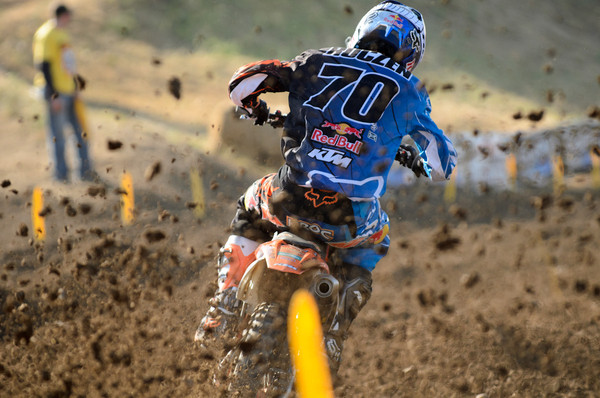 Ken Roczen was another to get jacked by lapped traffic.
There's a point in most races this season where Ken looks to have the deal sealed but without fail, he is reeled in and left thirsting for retribution. Is it a case of Roczen brain-fading? Pressure? Too much Chipotle or Redbull wearing off(love those theories…)? Nope. Not in my eyes, it's simply a case of Baggett, Barcia and Tomac drawing strength from the knowledge that Ken has yet to click one off and subsequently creating a mental hurdle in Ken's head as he knows the fact as well. The longer his drought drags on, the higher that hurdle gets so this needs to end soon. And I believe it will.
The pass that Justin Barcia put on Ken Roczen in moto one was textbook Barcia and damn exciting by definition. Justin picked out his spot, made his move and did his typical Barcia alpha-dog scrub in the face to take the lead with authority. It's no surprise that Justin wants to demoralize Roczen any chance he gets. From the moment Rcozen was first seen riding on American soil, he was compared to Barcia due to his exciting riding style and free-spirited personality. Barcia is target fixated on making sure the comparisons stop there.
Blake Baggett has once again done his best to extinguish the discussion on him and inconsistency. With the best average finish in the class of 3.1, Blake has proven that laps led is utterly irrelevant. Sure he has matched Tomac's 2 overall wins but just as we always hear, "you win titles on your bad days", Baggett is doing just that. He couldn't have picked a better time either. Following moto 2 at High Point last week, Blakes worst finish of the series of 5th, could have been just the slippery slope which has been detrimental to him in years past. Think about it, he was making mental errors in the closing laps at High Point and went down a few times resulting in that fifth. He could easily have come into Budds Creek gripping hard and had it make things only worse. On the contrary, Blake put together a great ride in both motos, ever-so-patiently, to work his way to 2-1 finishes for the overall. This is definitively a newly focused and more importantly "applied" Blake Baggett.
Wil Hahn followed up a solid High Point weekend with a 7th at Budds. Wil looked great at his Red Bud return last year and I expect him to pull down a top 5 in two weeks.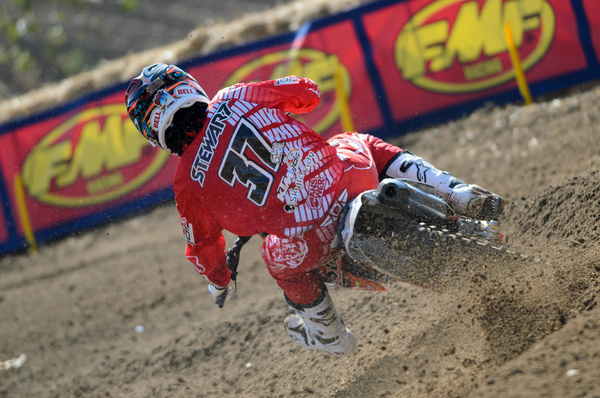 Is it still worth it to Mookie? His second moto suggests "yes".
As Mookie's name scrolled across the screen in moto at the tail end of the scroll followed by "Out", I thought to myself, "this can't possibly be worth it can it?" Think of all the speed and crashes that Mookie has been dealing with this year. It's astounding how many times the guy has hit the ground whether due to rider error or mechanical failure, yet he just keeps coming back for more. At this point, it's not a fluke right? It's just the way it goes. I have two questions; 1. Why does he continue to put himself through what is an obvious pattern that is not relenting, and 2. Is there a team who will see an upside to this pattern for a future deal?
His talent is undeniable but does anyone think he will seriously be able to curb those tendencies long enough to deliver on what his talent is capable of for a series? I just don't want to see the guy continue hitting the ground when the odds are clearly stacked against him to keep it tight over the course of a series.
Then there is the Mookie second moto, an example of those flashes of what could be if he could only keep it on two wheels. DNF, then 26th to 11th in moto 2. It's exactly that dangling carrot that entices teams into taking a chance on bottling lightning.
MX1
Far and away the surprise ride in Budds Creek for me is Justin Brayton. With a great start in moto 1, ultimately fading to 5th and a so-so start in moto 2 moving up a couple spots to 8th, it wasn't pretty but 5th place overall is a huge jump for Justin and long overdue. Justin has all the tools but maybe just doesn't have them all organized the way he needs and confidence is still on the shelf. A 5th place is a building block and hopefully the check that comes with it will afford him at least a few ounces of confidence.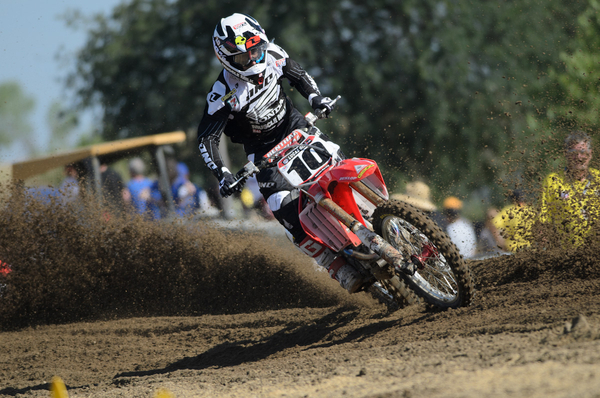 My biggest surprise of the weekend.
On paper Jake Weimers 4th is a step back from his last couple weeks but what that paper doesn't show is the blood coming from Jakes mouth after a rock to the chest early in moto 1(via @jakeweimer21). Good for Jake for throwing caution to the wind. Running 6th, coughing up blood and gutting it out to a 3rd?! That's a tough dude. I haven't asked Matthes but I'm assuming Wiggin's was back with Jake this weekend and Williamson is pointing at that as Jake's ended podium streak(just a joke people).
Color me very surprised at Mike Alessi's 3rd place. Don't get me wrong, 3rd place is great but Mike's bike was bucking him all over the place like Luke Perry in 8 Seconds. Hopefully Team Hot Tub learned what not to do in track conditions like they saw at Budds, otherwise the season's going to get a lot tougher.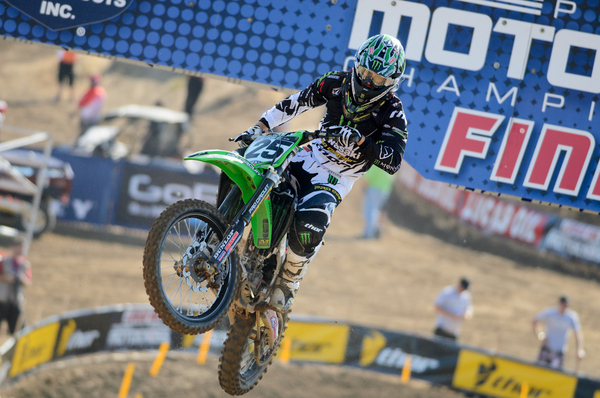 Most thought I was just touting Broc Tickle because he's a friend. It's not just blind devotion.
Everyone expects me to go off on a diatribe regarding Broc Tickle's 2nd place overall. Not going to happen. Don't get me wrong, I'd love to write 2,500 words on how I was right and the doubters can suck it but it comes down to this. Before the outdoor series I spoke to Broc many times, even when it was unclear what class he would be riding and I can tell you without a doubt, my reason for having so much faith in him was the clarity he had about the weight of this series.He knew his Supercross season was below expectations, of both his, the team and fans alike. It was a mental block of sorts that couldn't be navigated, no matter how hard he tried. Coming into the outdoors Broc knew he had to break through it and it happened. It was do or die. Literally. If he didn't figure out how to break down the mental barrier, the future welfare of his family and life as a whole would be adversely affected. His performance in this series meant that much. He stopped feeling like an outsider in a class of racers he always looked up to and started racing them like an equal. It's easy to say from the outside looking in that he should have done that earlier but like they always say, easier said than done.
Broc's starts have been uncharacteristically good as well. Broc has always been an average starter who pounds laps and slowly moves forward. Being able to get great starts and capitalize on them is a huge part of this new success and whatever he has changed up is working and I hope to see it just get better.
The best part is that regardless of the chain of events which brought him to this realization, the confidence gained by the races he's been having lately is real and unquestionable; and a true building block for his future in the 450 class, both indoors and out.
Forty-three seconds.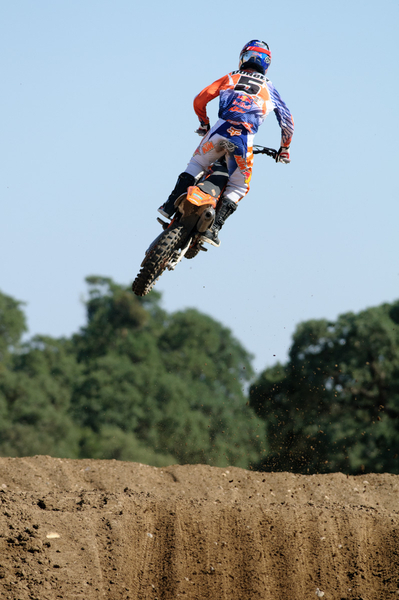 It is not too early to consider Ryan Dungey a legend of moto.
Ryan Dungey's margin of victory when the checkers waved in moto 1 was forty-three seconds. I tweeted about this shortly during the race on Saturday. Think of how lucky we are to be fans of moto in this era. We've got, when they are healthy, Ryan Villopoto, Chad Reed, James Stewart and Ryan Dungey all racing at the elite level, capable of an obliterating pace. Add Trey and Kdub at times and it's really mind bending. There's a "top rider" level and then there's the Elite level. The best of the best, that shockingly makes the top riders routinely look like also-rans. It's really not fair to label them as such but this Elite group are without question, the fastest the sport has ever seen. For anyone, fans or competitors alike to try to discredit the abilities or validity of any of these guys is ludicrous.
Don't be the fan who sets up shop in a favorite riders camp and just grunts and scoffs at the fortune, accomplishments or capabilities of any of said riders defeatists. Appreciate the era we get to enjoy for what it is; competition filled with displays of superiority of the likes the sport has never seen… and from, consistently, 4 riders or more. It's a great time to be a fan of the sport.