Our man Moser reports on those riders whose Millville didn't quite go their way.
Our man Moser reports on those riders whose Millville didn't quite go their way.
Shortcomings Vol. 6
A Short look at some Shortcomings from Milville
By Moser
Photos by James Lissimore
I'm going to keep things Short this week; I've been very busy making preparations for Washougal this weekend my "hometown" national. I've gone to nearly every Washougal national since I was 14yrs old or so. Lots of great memories there, watching the races, walking through the pits and looking at the pro bikes up close, swimming in the creek, and of course getting my first MIP. I'll be doing my best to have an extra special Shortcomings next week, but no promises. Tip of the hat this week goes to Nick Wey who had a big one but sounds like he will make a full recovery get well soon Nicholas, honorable mentions go to Top Jimmy and Tyla Rattray who got together at no fault of one another and both DNF'd.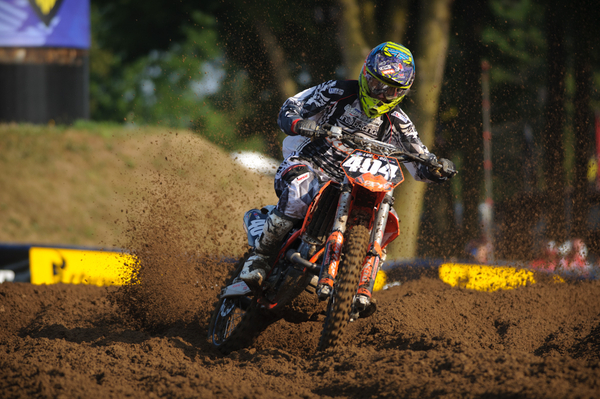 Everytime I hear Freeberg I start singing freebird to myself
#404 Zack Freeberg – Langston Witt Racing
Anyone know who the Witt in Langston Witt racing is? I'll add that question to my Wasougal notebook. Freeberg didn't have a good weekend in Milville DNF-ing both motos but not before racing hard and completing over ½ the laps each moto, with nothing to show for it. I don't know much about this kid other than he used to train with Adam Cianciarulo and that this is his first full year as a professional. I checked out his twitter @zackfreeberg and he was riding with RedDog on Tuesday so I don't know why Matthes doesn't know more about this kid. This morning at 8:28am Freeberg said he was "feeling bouncy" which is becoming common terminology for riders that are being trained by Johnny Louch at the Rockwell Training Facility. I'm assuming bouncy means good like a boxer or something, float like a butterfly sting like a bee?
Why or how Louch got a watch company to sponsor his gym is beyond me but I bet he could sell ice to Eskimos. Johnny is married to Kelly Louch who handles all the booking and scheduling for the Monster Energy girls, if ever there was a reality show I would watch it would be watching Kelly trying to keep all those girls in line and in the right place at the right time I can't imagine the drama and banging going on behind the scenes.
Everyone remember the story Matthes has told about watching Grant Langston going by in a congo line at a bar with his trainer in tow, that trainer was Johnny Louch. All these tangents bring us right back to Freeburg who is now riding on Langstons team. On a recent podcast Langston talked about giving Freeburg a try out and not really knowing much about him but that he was a nice kid and came from a good family. He made some good points about the transition into the pro's and that all the kids can go really fast but there are a lot of other pieces to the puzzle to become successful. Browsing through Freeberg's twitter timeline a bit more there is an apology from @ScottWitt1 about letting him down at Milville, so I'm going to go out on a limb and say they had bike problems, which the Langston team has had their fair share of in there debut season.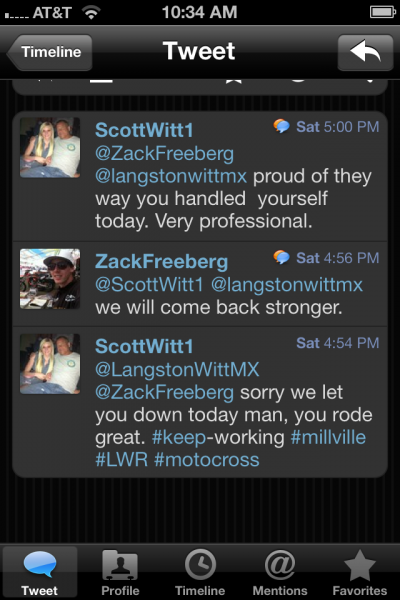 Gotta love twitter who needs to be at the races to report on them
T-bags is tied for bad luck with Townley and Nicholetti
Tommy Hahn
Oh T-bags this guy has had an interesting career. I don't have the moto knowledge of a Weege, Matthes or even a TBlazer but this is the first time I can recall that a rider missed a moto because of an allergic reaction. The picture that Dr. G posted of Hahn was painful to look at, actually it was mostly humors' but after laughing out loud I felt bad about it. See the picture below the guys eyes are swollen shut. I hope I don't jinx myself but I've luckily never suffered from allergies and to the best of my knowledge am not allergic to anything.
Poop is generally the most humorous "medically" related incident in moto, and who hasn't been racing or riding with poop cramps it's not pleasant. RV last year was all backed up trying to poop himself in the air, and RC spent almost all day in an outhouse at Washougal one year, Ping hands down is the champion of most poop related problems not just in moto but in day to day life. Not sure how this article turned to shit but Hahn almost looks like he has pink eye so maybe someone farted on his pillow, I could see both Wil and Ivan pulling that joke on T-bags.
Tommy stepped right into a factory Honda ride out of the amateurs and was basically an unknown. As I recall he did decent but didn't light the world on fire, no doubt the weight of living the dream of being a Factory Honda rider is no easy task. I'm trying to recall where T-bags rode after that, there was the dog food team a couple years back, but I thought he rode another year on the 250F, a responsible journalist would look that up but as I'm writing this I don't have wifi. Tommy seems pretty quite but he's a straight shooter in interviews. One of my favorite T-bags quotes was last year when he was riding on the Motoconcepts team and crashed in the first turn and said "I have no idea what the hell happened I'm going straight and the bike just turned left". Although T-bags had some good rides on the backwards bike I don't think you could have paid him enough to get back on one again this year, just reading between the lines.
Last summer at Washougal I was following around Matthes like a lost puppy dog and T-bags came strolling up, the guy had me rolling immediately he's a closet comedian. You really can't judge a book by its cover and you can see why Ivan and he are such good friends as they have similar personalities. T-bags has come full circle now he's back at Factory Honda for a fill in ride and with all the bad luck he's had I think everyone wants to see him do well.
Thanks for reading this Short recognition of the guys that had Shortcoming thisweekend, see you next week Moser
Please send any comments to jasonw@racerxill.com