For this edition of Classic Steel, we are going to look back at Greg Primm's custom-built 1998 Honda CR500AF.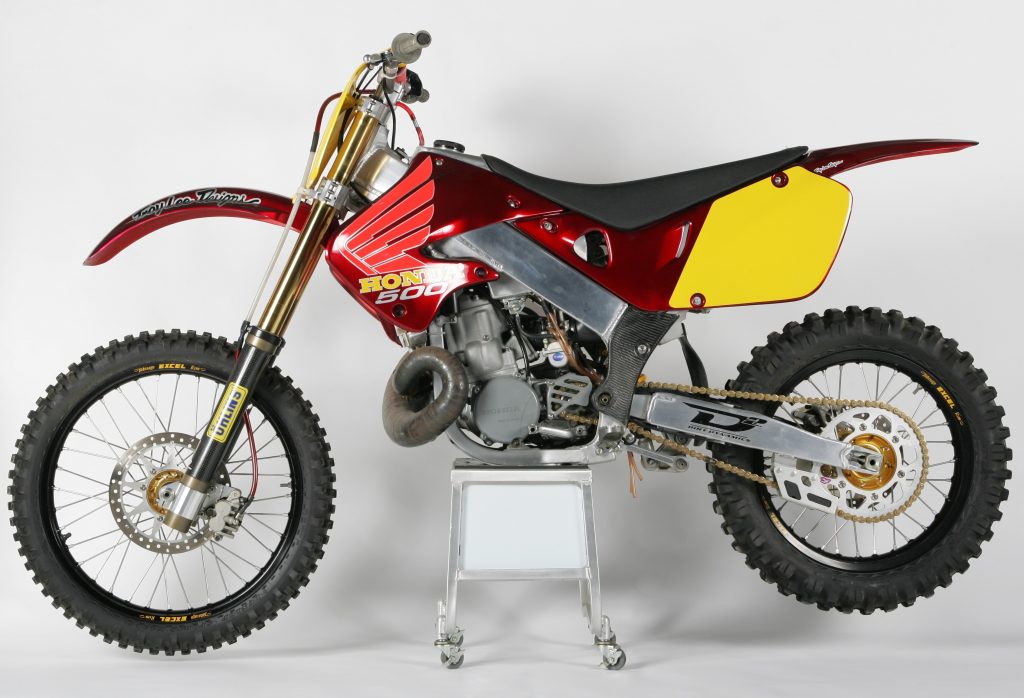 Greg's alloy framed CR500R was a $30,000 dream machine.  It was a 500 that handled like a 125 and accelerated like a Saturn V rocket. This was the bike Honda should have built. Photo Credit: Stephan LeGrand
Have you ever wondered what it would be like to build your own dream motorcycle? A cost is no object fantasy machine? An open up the parts catalog and let your mind go wild type of bike? Well, if your name is Greg Primm that is just the kind of thing you can do. Back in 1998, Greg contacted longtime friend Rick Doughty (of Vintage Iron fame) to help make his dream bike a reality.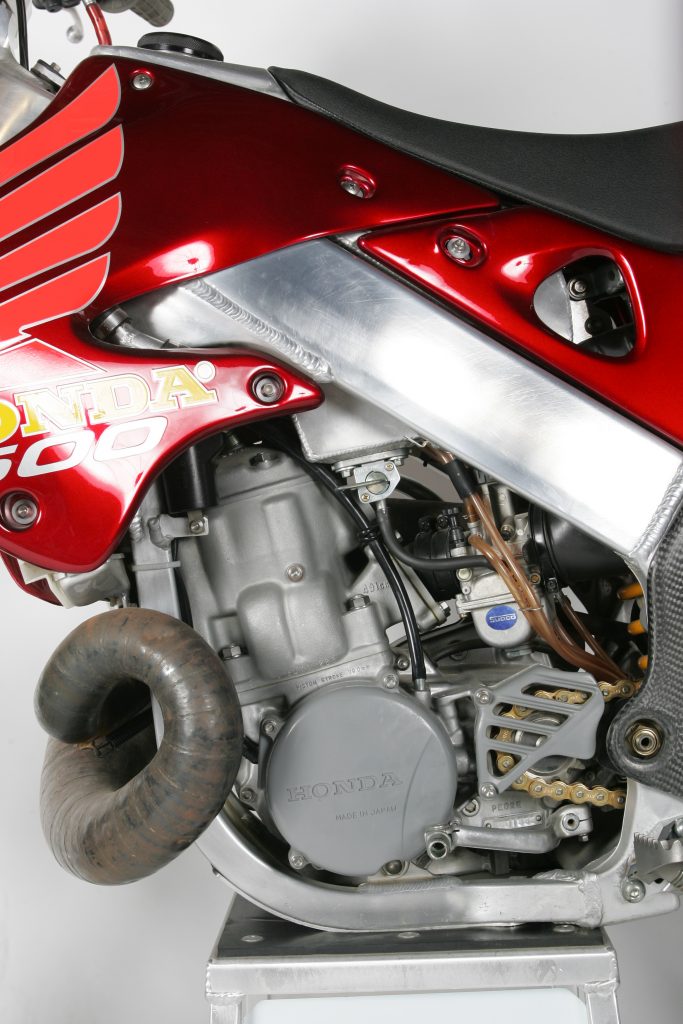 Greg's CR used a 1998 CR500R motor modified by Dirt Dynamics. With a Sudco-modified carb, ported cylinder, Pro Circuit exhaust, and Vertex ignition, the 491cc monster pumped out a tire shredding 62.5HP on Pro Circuit's dyno. Greg's bike was originally fitted with a set of super trick, sand-cast HRC clutch, and ignition covers, but in the intervening years, they have been moved to other projects. Photo Credit: Stephan LeGrand
By 1998, Honda's CR500R development had slowed to a crawl. The bike was basically a 1989 model with minor suspension updates passed down from the CR250R. When Honda came out with their revolutionary alloy-framed 1997 CR250R, it got tinkerers all over the country thinking. What if you could wedge a CR500 motor in the CR250's slick new aluminum chassis? Would you end up with a terrifying 60hp CR250R or a razor-sharp handling CR500R? With the help of several of their friends, Greg Primm and Rick Doughty set out to find out.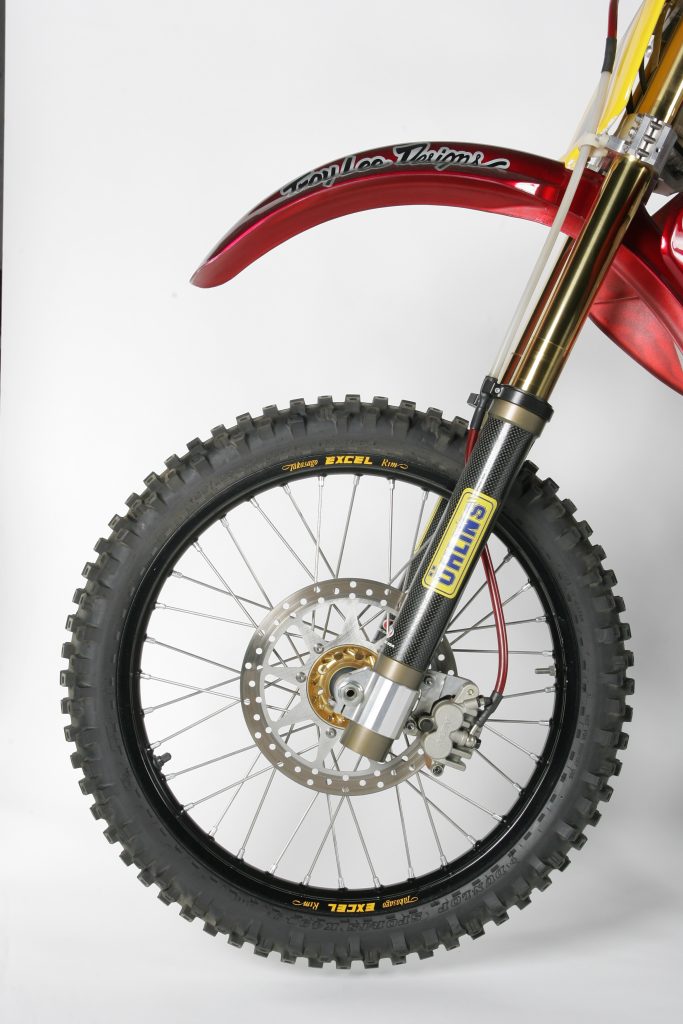 These $7000 50mm Ohlins GP works forks were built specifically for the Ohlins-supported Grand Prix motocross teams. Greg was lucky enough to procure one of the only six sets ever produced. The brakes on Greg's bike were standard issue Nissin calipers, mated to massive Braking oversize rotors and braided steel lines. Photo Credit: Stephan LeGrand

Greg's bike was conceived from the beginning to be the absolute best CR500R anyone outside of HRC could possibly produce. It was going to use only the best components available and no expense would be spared.  Rick and Greg did not start with two complete donor bikes like so many other similar projects. Instead, they went the selective approach, ordering only the parts they needed directly from Honda and aftermarket suppliers. This meant greater cost, but it also meant they took a hard look at each individual piece to see if it was the best for the job. The project would take the partner's months to complete, with costs that would skyrocket to over $30,000.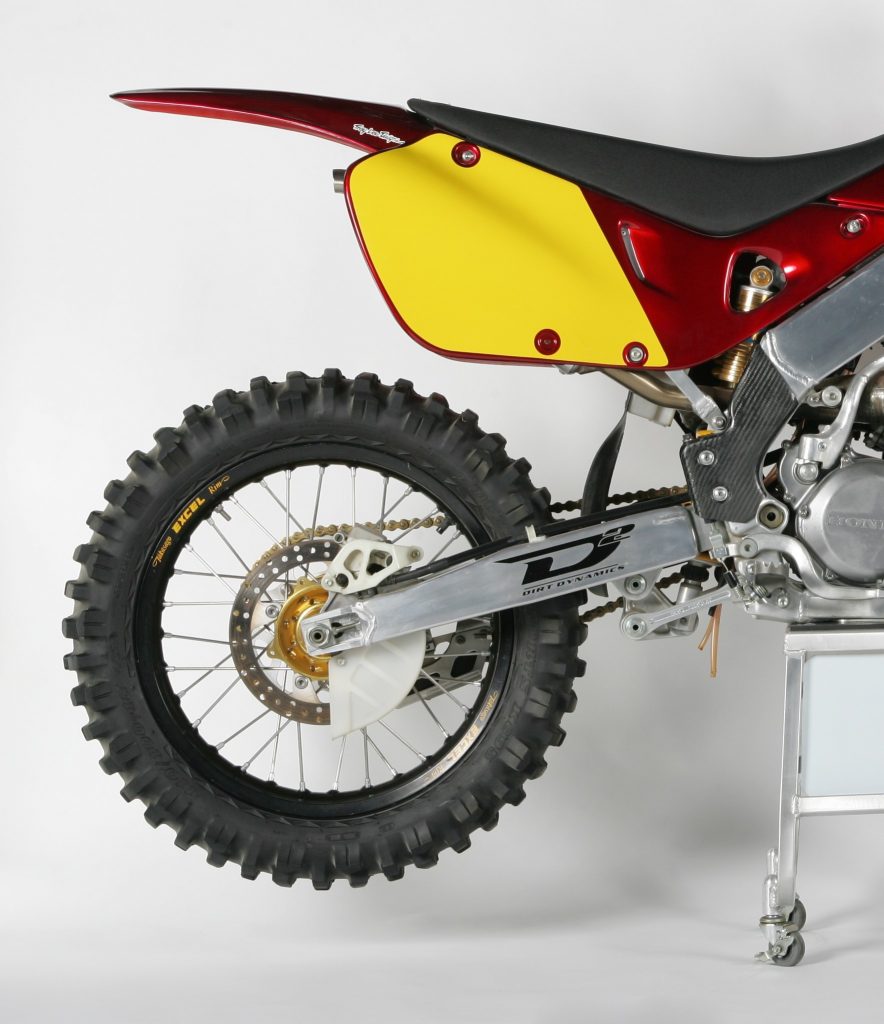 Greg used an Ohlins shock modified by Petterrson Pro Suspension to handle the rear suspension duties on his CR. The oversize Braking rear rotor and trick Talon hubs complete the works bike treatment. Photo Credit: Stephan LeGrand
Primm's CR500R project started out with a stock 1998 aluminum CR250R frame, swingarm and brakes. From there, they ordered a brand new '98 CR500 motor to shoehorn into the frame. Special motor mounts and brackets had to be fabricated to wedge the massive Honda motor into the 250 frame, but otherwise, it was a good fit. The problem was, once the monster motor was in the Delta Box frame, it became pretty apparent nothing else would fit.  Rick ended up having to build a special one-off aluminum tank for the CR that would hold enough fuel for the big-bore while still leaving room underneath for the required electronics.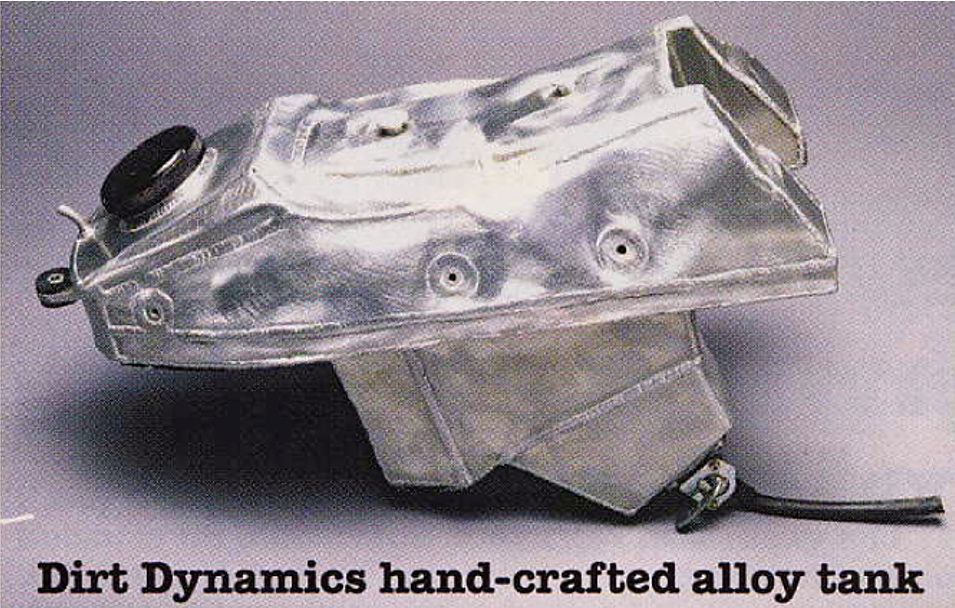 With the massive CR500 motor crammed in to the CR250 frame there is not much room left for anything else. To get around this, Dirt Dynamics built a one-off custom aluminum tank to allow enough room to mount the electronics underneath. Components like this added mightily to the project's astronomical cost. Photo Credit: MX Journal 

Since a stock Honda pipe would not mount up to the alloy frame, Greg had to find a custom alternative.  Pro Circuit came to the rescue with a hand built cone pipe and silencer specially designed to work with the 250 frame. They also supplied a custom rear linkage and razor-sharp titanium foot pegs for the project. The engine was further highlighted by sand-cast Honda Racing ignition and clutch covers. Internally it used an Italian programmable Vertex ignition and ultra-durable Hinson Racing Clutch and basket. Doughty ported the stock Honda cylinder and chose a 39mm Keihin Air Striker carburetor to handle fuel delivery.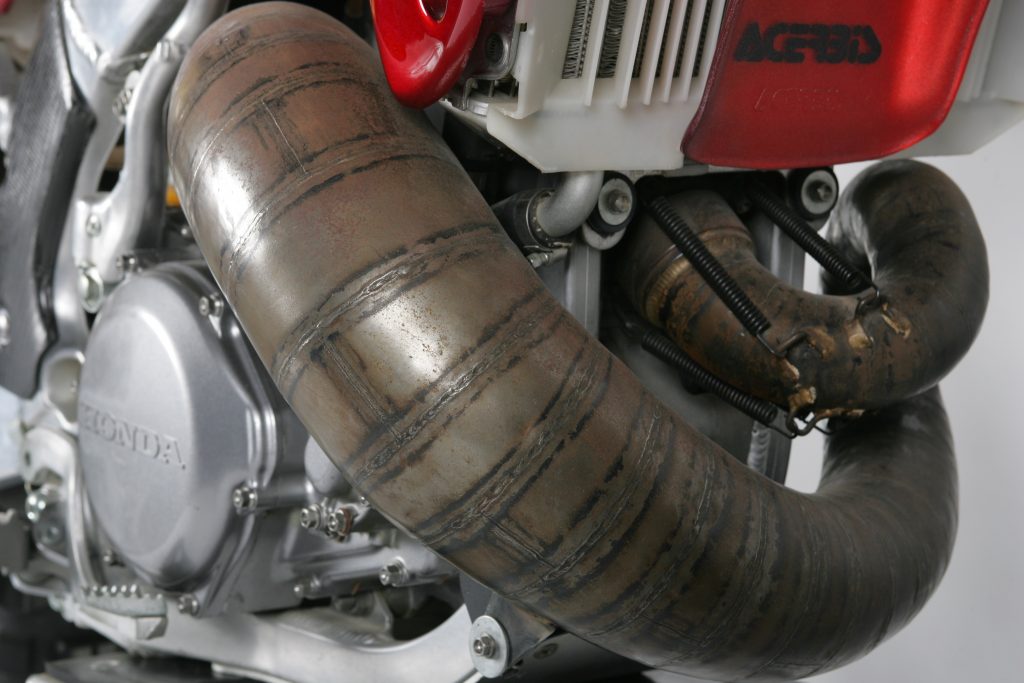 Pro Circuit built this super trick custom cone pipe for Greg's project. It was designed to mirror the performance of the PC pipes used by Team Honda in the early nineties. Photo Credit: Stephan LeGrand
For suspension, Primm's 500 employed premium Ohlins components front and rear. Both ends were specially tuned by former Grand Prix rider Stig Pettersson of Petterrson Pro Suspension. The forks were exotic 50mm Ohlins conventional units straight from the Grand Prix in Europe. They were extremely expensive at $7000 a pair and all-but-impossible to obtain. Ohlins only made six sets of these forks in 1998, with most of them tagged specifically for the GPs. These forks went a long way towards taking some of the harshness out of the super rigid Honda chassis.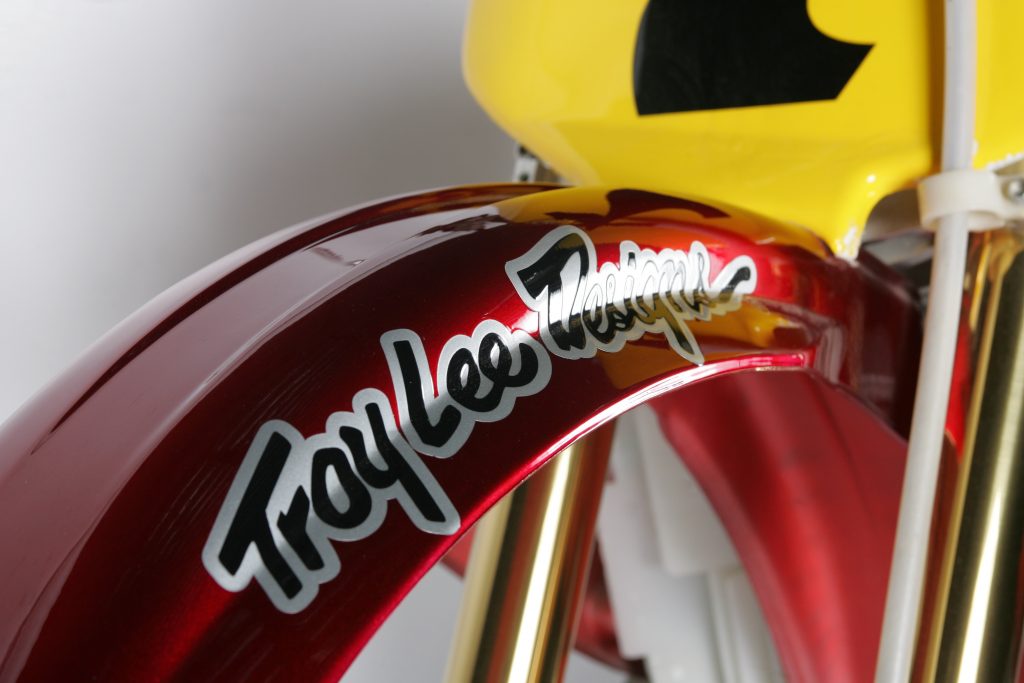 Troy Lee Designs did the custom candy apple red paint that graced Greg's CR500 project bike. Photo Credit: Stephan LeGrand 
Detailing on the Primm 500 was no less amazing than the rest of the bike. All the fasteners were titanium. The wheels were black Takasago Excel rims laced to trick Talon hubs. Braking oversized rotors were bolted to the wheels and mated to Fastline braided steel lines. Handlebars were lightweight titanium units with Renthal grips. MXA (the seat company not the magazine) provided the custom gripper seat and Acerbis handled the plastic.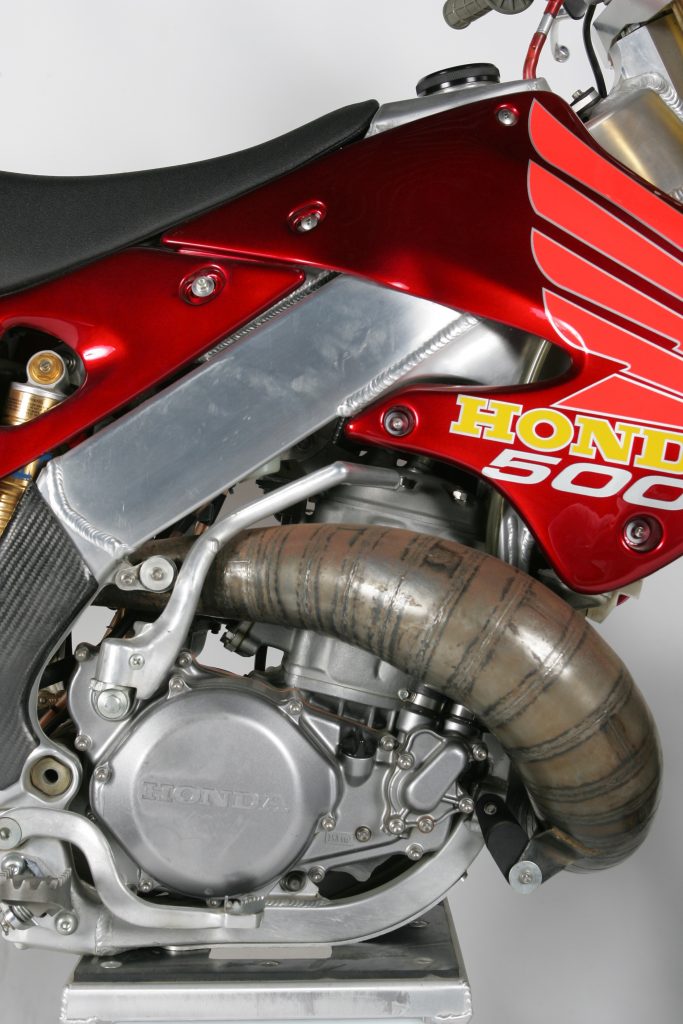 Nothing in the world beats the sound and heavy vibes put out by a 500cc two stroke single. Even though four strokes are infinitely easier to manage, there will always be a small band of lunatics that want to strap themselves to the Top-Fuel Funny Cars of motocross. Photo Credit: Stephan LeGrand
 The plastic, in particular, was especially striking on Greg's machine. The stock Acerbis components were all painted a lustrous candy apple red by Troy Lee Designs. The bike positively glowed in its deep red livery. Complementing the hot rod paint job was a set of custom Troy Lee Designs graphics made just for Greg's bike. Just like everything else on this project, no expense was spared in making this one of a kind machine as special as possible.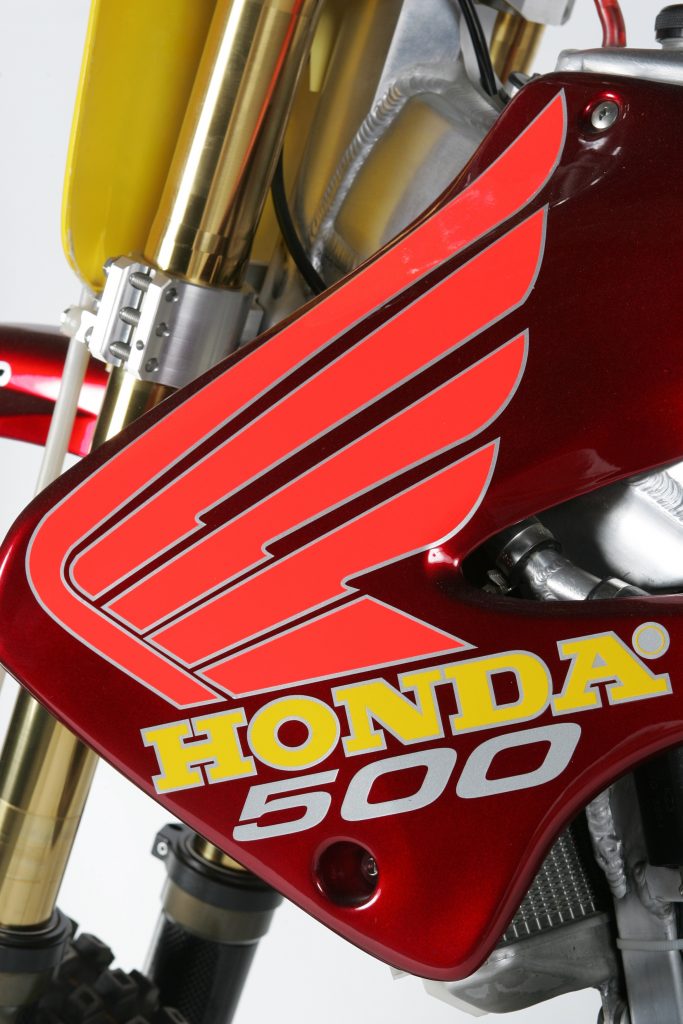 Troy Lee designed these custom Honda 500 graphics to match the bikes Hot Rod paint job. With its custom plastic and humongous Honda wing, the bike certainly made an impression. Photo Credit: Stephan LeGrand
 So what was the bike like to ride? Interestingly, nothing at all like the machines it was based on. On the CR250R, the stock '98 chassis was extremely harsh and unforgiving. It transmitted every bump on the track directly to the rider's body. Amazingly, once the CR500R motor was put in that same chassis, the bike actually started to handle. Something about the motor's massive power and greater weight seemed to take some of the bite out of the ultra-rigid frame. When Motocross Action tested Greg's bike, they found the handling nothing short of incredible. It railed the inside line like a 125 and gobbled up real estate like a cruise missile. They called it "the most accurate, precise and predictable open bike we've ever ridden."  The Ohlins works fork and shock swallowed every bump on the track and made child's play of rough straights. Power was nearly endless, with more power on tap than 99% of the population could use anyway. MXA said the bike really needed only one gear. Third could be used for everything from the start to the long straits. Second gear was only needed for entering the track and fourth was only necessary on the fastest of tracks. Fifth gear was strictly for the usage of escapees from the loony bin.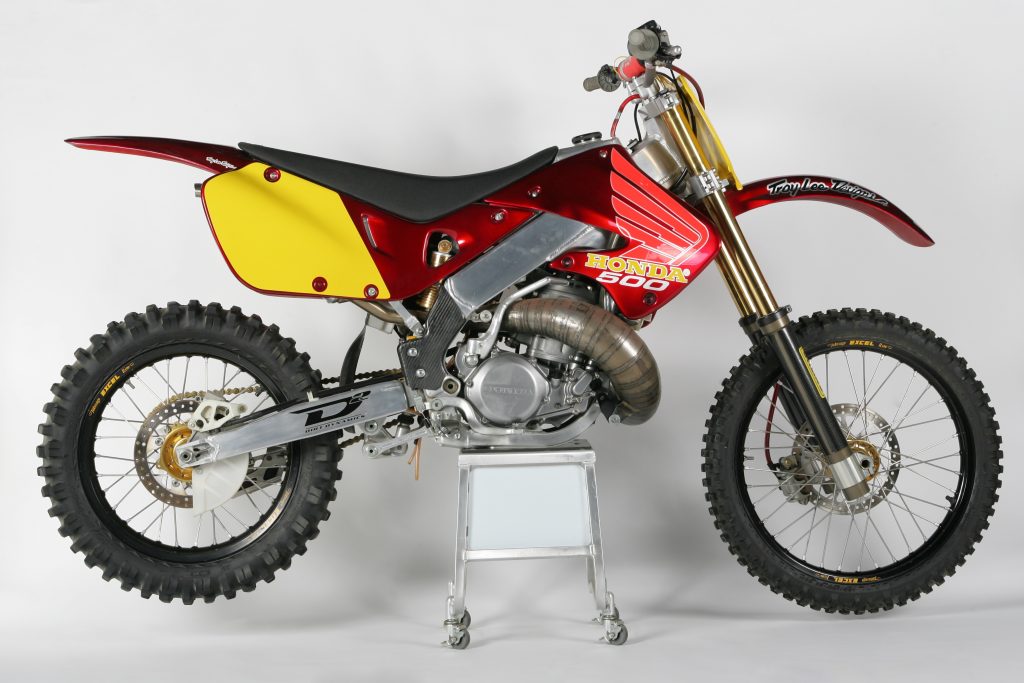 Greg's awesome project bike showed that with 60HP and $15,000 in factory suspension you could actually tame Honda's first-generation aluminum frame. While that may not have been of great use to the average consumer, it certainly showed there was a good deal of promise in the concept.  Companies like Service Honda would run with this idea and continue to crank out ultra-trick aluminum framed 500's well into the next decade. Ironically the once forgotten 500's would actually become a bit of a status symbol in the new millennium. Photo Credit: Stephan LeGrand
Greg's bike was a real eye-opener in 1998. It proved two important things. One, that Honda's harsh overbuilt aluminum frame could indeed be made to work with the right amount of power and weight to stress it. Secondly, that the Open bike was far from dead. It was obvious that if Honda had put some effort into developing their CR500R over the previous decade, the bike could have been competitive for years to come.  Yamaha made that obvious with the success of their YZ400F. The fact that we all basically ride open bikes today drives the point home even further. It was not that people didn't want open bikes; it was that they did not want to ride outdated, hard-to-ride open bikes.  Unfortunately, it would take four-strokes to make the open class chic again. The 500cc two-stroke had its day, probably never to return again.