Every single rider out there had moments where it could have all been taken from them.
Every single rider out there had moments where it could have all been taken from them.
Photos by: swizcore
Watching the front-runners crash left and right in the first MX1 moto struck me with a gloomy thought. Much like the injury-ridden Supercross series this year, MX has also always been dangerous but we have definitely reached a point of critical mass. The winner of a given moto, achieves such a result by controlling the chaos better than the rest. A predictable handling bike has always been a key component in racing but now, more than ever, it really is paramount to a rider finishing a moto strong and healthy, or hitting the ground hard, waking in a daze or being carted off wondering where it went wrong so suddenly.
Unadilla was so rutted and unpredictably treacherous, it was nuts. Watching the leaders circulate the track at speed was not only impressive it was scary. Every single rider out there had moments where it could have all been taken from them. Whether it was the consistent issue of high speed cross-rutting, dabbing a foot for balance, a high-side shuffle- whatever the case; the difference between making it work and suffering the consequence of not recovering was so infinitesimal, I felt like I was watching an accident waiting to happen all day. And many times, they did. Those who made their lines work and dominated the day, put in some of the most impressive rides I've seen in truly scary rutted conditions. Just ask Jake Weimer how thin that line was between a rut working for you or showing it's teeth as it bit you.
MX1
As the first MX1 moto began and Stewart worked his way into the lead, I thought, yup, pretty much what I expected. What I didn't expect was an amazing start by Michael Byrne and not only a start but sustained pace and looking honestly better than I've ever seen him, even when compared to '08 and '09 when I feel he was at his best. As the laps poured on and Byrner took advantage of the Stewart mistake, continued to look amazing. I actually asked Matthes if I was dreaming. At that point of the moto Byrne was hauling out front, Nicoletti was in second, Broc Tickle was gaining in third and Dungey was making his way forward from tenth following some early crashes. Dreaming? Yes, I'd say so. In a series where anything other than a Dungey/Alessi one/two 30+2 is the case, seeing these two out front had me thinking I'd been taking crazy pills. By lap nine I was convinced, Byrne was going to inexplicably dominate the moto. He looked like liquid out there, flowing like water downhill. Stellar. A lap later I watched him round the far hairpin and crest off the track and coast to a stop. Initially I thought it was a mechanical but when he sat down, my heart sank and I honestly wanted to go home. I'm so sick of seeing the hard working and great guy, Byrner, be continually forced to deal with the set backs he does each week. I've written it a million times. Byrne has been fighting these odds over and over for two-years straight and it made me sick to see his great moto end that way. I just hope he continues to keep his head up and doesn't look at this as a sign to step away. That moto was a painful reminder of the thin line in this sport between top of the heap and all but forgotten. Not fair.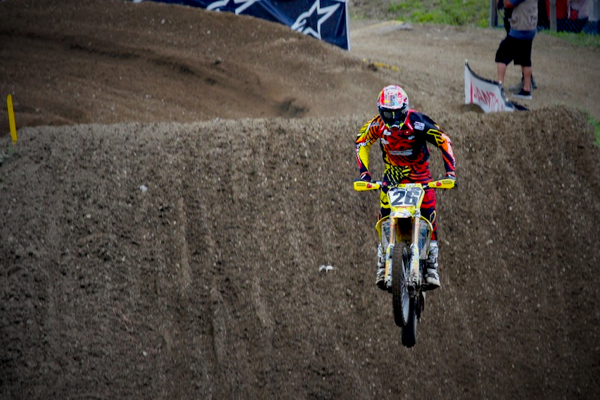 The best Byrner has ever looked. He'll be back.
Weimer was looking extremely strong until, in an instant, he was left looking extremely unconscious. I don't know if he was knocked out or not but when he went by on the mule he looked like one of the cast of Dazed and Confused. Jake looked really aggressive and ready to move forward. It's just another example of how racing today is a razor edge between winning pace and a DNF. Is it really worth it? That's what these guys need to decide each and every moment of every race.
Weimer's struggles and Tickles strong finishes have them tied for 4th in points now, only 18pts behind Shorty. With Andrew's questionable health situation, this three rider points battle is shaping up to be the focal point of the 450 class over the last two rounds.
I waxed poetic over my buddy Broc Tickle enough last week, so suffice to say that the Unadilla track was right up the rut-specialists alley. I have no doubt that my insistence before moto-one that he go out and take no shit was at the forefront of his thought process for the duration of the race¡
Too bad for Mike Alessi's mechanical. Pretty sure only Mike and Tony were still holding their breath that they had a shot at the title but with his hard work and heart of gold, it's a bum-out to see his first ZERO in all of 2012. Damn machines and rocks.
I'm at a loss when it comes to James Stewart now. I really feel bad for him. A guy who just can't win with fans these days, once considered the fastest man anywhere on a motocross bike, James is now dealing with having become a parody of his own reputation. When the mule carried him past me on the viewing hill, the look on his face said to me one thing. Deflated. He's got to be reeling and doing some serious soul searching in regard to rethinking his approach to race-craft. How could he not? The sport has advanced and no longer is he simply faster than the field by the margins he once was. Sure, he can still go faster by sheer insanity but at what cost? We've seen it and it includes lots of zeros on the results sheets. It's been the book on James for years and although in years past, the odds were still in his favor, now with the field faster, those odds have betrayed him. I'm not going to pretend to have a sideline theory on what can "fix" James but he clearly MUST employ different means to rectify this chronic problem.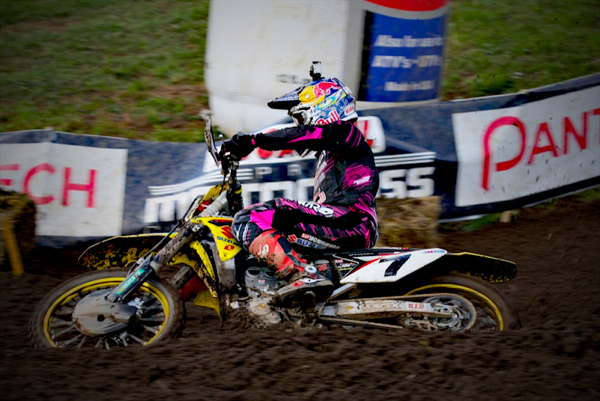 James has some stuff to figure out.
Ryan Dungey turned an utterly average first-moto start, with two crashes, into an impressive charge forward to pass Broc Tickle for the lead late in the moto. He just never relents. It's his strongest asset and although his riding style isn't the most aggressive, it results in titles. Lots of them.
Following Washougal moto-one, Dungey wanted no part of Alessi's advances to hug it out. Following moto-one at Unadilla though, Dungey was the initiator of a handshake show of respect to Broc Tickle for a well-defended, straight-up fight for the first position. It just confirms what everyone other than Alessi already accepts. He's made his bed, now lie in it.
Congratulations to Ryan Dungey for securing his second 450 MX Title in three attempts. Have the haters finally gone silent regarding the depleted field argument? When does Ryan get the credit he is due for being the fastest rider who consistently finishes races and seasons from the fans? Sour grapes is not a becoming trait.
MX2
If you've read Swizcorner before, you know that although I've cemented my pick of Tomac for the title, I've been steady in my belief that Marvin Musquin has been on his way to a victory for weeks now. With Marvin and Roczen securing the top two qualifying times, I was sure, Unadilla was they day Marvin would pull down a moto win. So sure in fact that I ran my mouth to JT$ and we made a gentlemen's bet. I said Marvin would win, while JT took the opposing side. Sure enough, Marvin came through for me with the overall win via 2-3 moto scores. Actually he didn't. Turns out at the time of the bet, I unfortunately felt the need to specify that my confidence was in Marvin to get a moto win, not an overall. Lesson learned.
At any rate, a great day for Musquin and the KTM team as a whole. Marvin has that quiet confidence, possibly the most quiet, unassuming, pleasantly confident rider ever and now he has an OA, which makes him dangerous.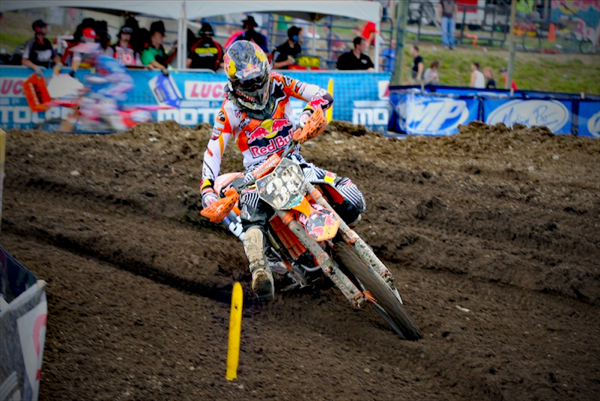 Musquin almost won me a bet… almost.
How about this Zach Bell newcomer? Zach Fell? He's got a lot of adrenaline and testosterone helping him rip convincing hole shots but unfortunately being known for strong starts does little to win the mental game when every other front-runner knows you're not going to be able to sustain for 30+2. No worries though, that's what this late entry into the AMA Nationals is all about, getting some gate drops in, get a taste of the pace, make mistakes, learn from them and improve when it counts; next year. The kid has amazingly aggressive form and a skill set that, when honed, is going to earn him a huge following of fan support.
I was glad to see last years Zach Bell of the Geico team, Justin Bogle, pull down his best moto of the Nationals in moto-two.Justin has appeared shell-shocked for much of 2012. I'm a fan of this kid but Supercross just started off wrong and the year has been a bit off-kilter ever since. Last year he had only a few races to dip his toe in, this year was his learning year and that means next year is when it starts counting. I'm really hoping he can identify the parts of his program that caused his struggles and work to make them a non-factor in 2013. Why not start in two weeks at Steel City by backing up his best finish with an improvement? I have faith in this kid still.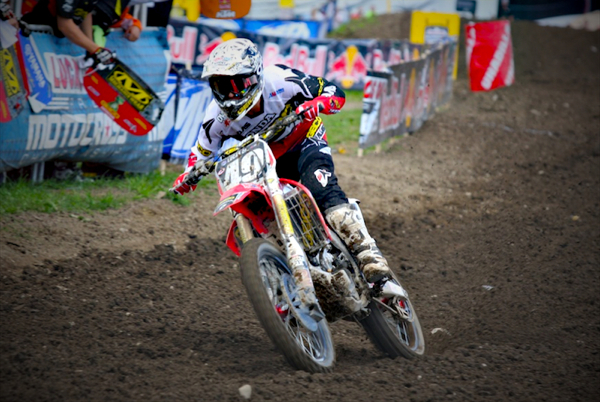 Bogle is learning in this, his learning year.
Cole Thompson consistent in Unadilla going 15-15 but that still points toward his move to the Star 250 as a mistake. It's hard to blame him for taking it though.
Seeing Blake Baggett start from the front has been a rare occurrence this series, even more rare is to see Blake get swallowed up by riders charging from behind and him not return the favor later in the moto. Is he just riding smart and minimizing point loss? No chance, because that's just not smart. With four mottos to go, that's 100pts on the line, Baggett only enjoys a 51pt lead over 4th place, Ken Roczen. Christophe Pourcel knows all too well that it's never over, 'till it is. Blake has everything to lose, meanwhile the Geico five-some has nothing to lose and a simple task. Balls-out and max-points. With '09-'10 fresh in everyone's minds, I know who I'd rather be in this situation.
Man I feel for Blake Wharton. He's got three zero-point moto's and a handful of single digit points mottos and that's leaves him 7th in points. Blake's got the speed and skill to be solidly in 5th but again, it takes far more than speed and skill to determine where you fall when the checkered flag is waving.
Wil Hahn is BACK! You got that? For months I've been writing about how I just want 'lil-bro Hahn to stay safe and have solid, crash-free races so he can get that comfortable feeling back again when running at speed over the course of a series. Not that Wil was waiting for my blessing, clearly, he's already begun his resurgence but I'm claiming that his time has come. Wil is strong and has gotten his mojo back. It's great to see that he has been able to put the shit behind him and not only attain his former level but begun progressing beyond it. Wil's photo is in the dictionary under tenacity(Right next to Jables and K.G.).
Do you hear that? It's the sigh of relief let out by the KTM team following Roczen's first-moto win at Unadilla and it is still echoing around the U.S.A. So close, so many times and finally the talk of if or when it will happen is over. Ken went fro feeling great before moto-one, to feeling dreadful before moto-two. Luckily he has a week off to get it squared away. Working against him is that the last two races play right into the wheel-houses of both Musquin and Baggett. Hard, baked surfaces at Steel City and Lake Elsinore… or will they be? As we seem to be surprised by every week, the tracks are becoming more and more similar with the major differences coming down to the amount of moisture in them, which directly affects how rutted they become.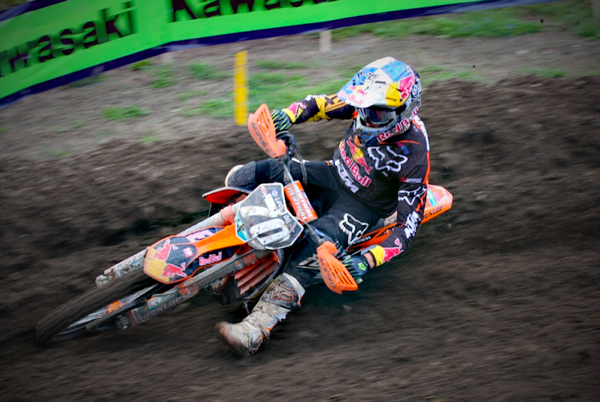 Kenny finally has his W.
Make no mistake, Eli Tomac was the fastest guy in the MX2 class at Unadilla. In moto-one, Eli's downfall was getting stuck at the bottom of screw-U as some other riders had issues that became an issue for Eli in a big way. Eli did his best to recover from 23rd to finish 6th. In moto-two, Barcia was putting on what everyone assumed was a clinic that would see no challenge. Shockingly, just before the halfway point, Tomac had battled his way up from fifth and it was clear that he was going to overtake an amazingly strong Barcia. Barcia made a little mistake in the right-hander following the big tabletop in the back, Eli saw it and made his move. It was a stellar pass. I was standing on the outside of the sweeping uphill right hander as Eli moved his weight back and pinned it past me while leaning in and as he passed he floated the front wheel for the length of the uphill until he crested it. It was incredible. Barcia did his best to fight off the pass but Eli just had the better line and was totally hooking up with max-traction. From that point on, Eli stretched it out. Even though he didn't come from as far back as he did at High Point, Tomac's moto-two performance was damn impressive. Especially on a track so gnarly with ruts literally sucking bikes in and ripping feet off pegs in every section.
End
We've got another week off before Steel City and with Dungey having secured his second MX1 Title out of three attempts, our primary focus shifts to the MX2– wait, you mean our focus was already on the MX2 class? Of course it was, it's where the best front-runner racing has been all year and with only 51pts separating the top four, it's put-up or shut-up time.
Who's got this?
Baggett, the points leader who has the mid-moto magic and loves dry slick tracks?
Barcia, who we know isn't afraid to get physical when it comes to accomplishing his dreams? In his last year on an MX2 bike, no less.
Tomac, who always keeps a level head and knows the feeling of heart break when coming up just short?
Roczen, who took care of that little "no wins" issue and is well within range and talent of securing this title?
This finish has the make-up to become legendary. Enjoy it.