Champions crowned in Italy!
Champions crowned in Italy!
By: Jonathon McCready
MX2
Jeffrey Herlings has done it. At just 17 years old he can now call himself the World Motocross Champion, after sealing the championship in perfect fashion at a jam packed and noisy Faenza.
Still seen in some sceptical quarters as a sand specialist, Herlings went 1-1 in Italy on the hard concrete surface, and put close to thirty seconds on second place Tommy Searle both times out.
It was a brilliant performance, in very hot conditions, that left no one in any doubt that Herlings deserves the World title.
After big celebrations upon crossing the finishing line, the emotion and realisation of a lifetime's dream all became too much during the playing of his national anthem on podium. Herlings couldn't hold back the tears, and the youngster showed just how much the title meant to him. The release of all the pressure on his shoulders was evident in that one moment.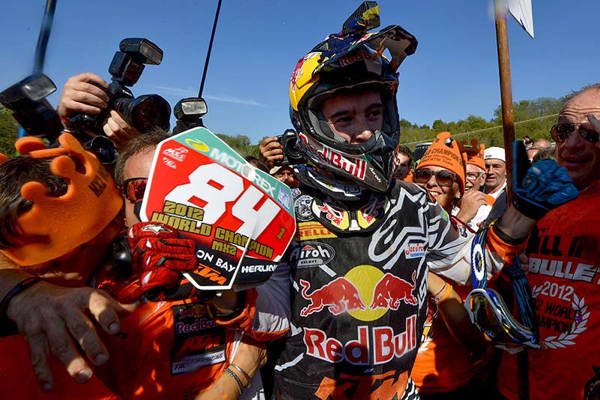 Controversial to say the least, Herlings has earned his first World Title in 2012.
It has been 19 years since Holland's last World Champion (Pedro Tragter in 1993) so it was a big moment for the country, and Herlings has been responsible for getting motocross back on tv and on the newspaper there.
With that media attention comes pressure and Herlings has made some poor decision's this year, both on and off the bike. However, he seems to have learned from them, and results wise, has only been out of the top two four times out of thirty motos! One of those was a third place and the other was when his bike seized, so it has been a dominating season for the Dutchman despite his difficulties.
A winter spent on hard pack tracks certainly paid dividends and Herlings has reaped the ultimate reward in becoming the 2012 MX2 World Champion.
Tommy Searle had an excellent season, maybe the best of his career, but even including the mechanical DNFs that gave Herlings some breathing space in the championsip, he just couldn't quite get on terms with his KTM rival often enough. When Tommy was fast he was very fast, and midway through the season the duo regularly split moto wins – it was that close. However, Searle couldn't get near Herlings in the sand and that gave Jeffrey the advantage.
Searle's best performance was undoubtedly his double win at home in the UK, and he has a lot to be proud of. Unfortunately he came up just short again in what was his final quest for MX2 glory. He moves to MX1 next season, again riding for CLS Kawasaki, but his challenge will be just as hard trying to topple the great Cairoli.
Jeremy Van Horebeek was third overall in Italy and also third in the series. He caught Searle in moto one but crashed when looking for a way past, however he could not hold Searle off in race two and his slim chances of beating Searle for second in the points seems to have gone.
Joel Smets will be hoping his MX2 rider for the Nations gets through the final round of the GPs unscathed, so he is ready to challenge Baggett for MX2 honours.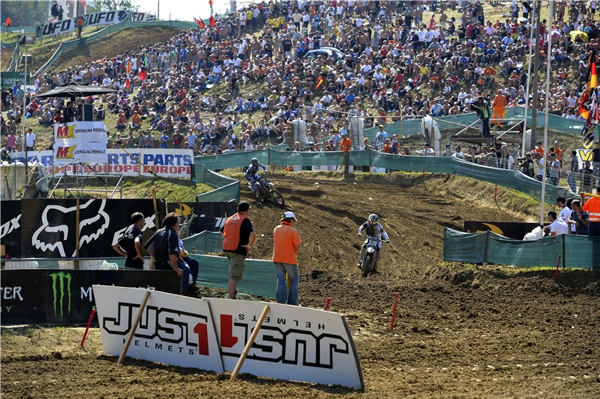 America's Great White Hope, Osborne, leads Tonus.
Zach Osborne was fourth in race one, and running fourth again in race two when he had a mechanical problem and had to retire. There is only one race left now for the popular American in the GPs then it will be straight into Supercross testing for Geico Honda!
MX1
In MX1 Antonio Cairoli sealed an incredible sixth World Title, only Stefan Everts has more, and Cairoli is now officially a motocross legend.
However, the championship title was more emotional than others. Not only was it his sixth world title, but it was the first time he got to win it at his home country of Italy, and he did it on the first anniversary of the passing of his mother. It was a day no-one there will ever forget.
Indeed it was his father that presented Cairoli with his trophy for the overall win in front of a packed and loud home crowd, all there to support their hero. Moto GP rider Andrea Dovicioso was even on hand to cheer his countryman on.
Cairoli not only won the title, but he also won both races after two cracking battles with Christophe Pourcel.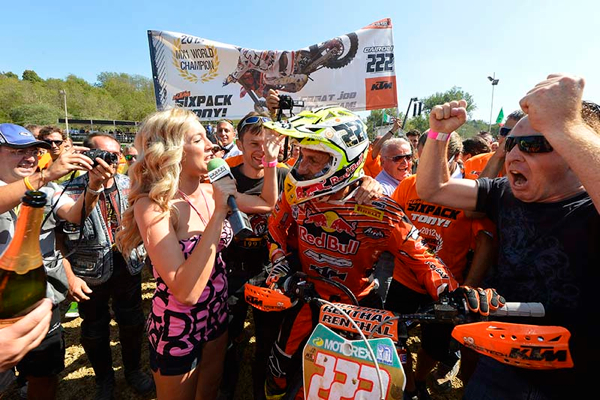 I can't tell from this pic if Cairoli won the title or the spandexed Rayban guy.
The Frenchman was back on form and hounding Cairoli in both motos. He was all over the Italian in the final two laps of the final moto, with Cairoli just about hanging on for the win. After the championship celebrations of the first moto, Cairoli had nothing left when he crossed the line in moto two, but refused to let Pourcel by. The two rivals congratulated each other after they left the rest of their field in their wake in both races.
Pourcel is now just six points behind countryman Paulin in the battle for third in the championship, and with the dislike between the two, they will be motivated to beat each other in the final round in Germany.
Clement Desalle was third overall, and best of the rest, as he consolidated second place in the series. Desalle must be getting pretty sick of being second though, and will have to search for the missing piece of the puzzle this winter if he wants to become MX1 World Champion in 2013.
The aggressive approach nearly worked in 2011, but injury wrecked that year, the consistent approach just didn't get him enough victories in 2012 against an ever improving Cairoli. So for 2013, Desalle will need to up his aggression again but somehow stop the crashes that have previously went with it.
Josh Coppins was a guest rider for Rinaldi Yamaha in Italy, as he finishes out his career in style by riding the final two GPs and the Nations for the team he came so close to winning a world title with. Coppins scored a ninth and thirteenth for twelfth overall in what was a decent performance for the newly crowned Australian champion.
The final round of the championship in Germany will be extra exciting in MX1 as their home hero Ken Roczen returns, this time on a 450, and it will be fascinating to see if he can get the win against the likes of Pourcel, Cairoli and Desalle. It could be the race of the year, but let's hope they all stay healthy for the nations!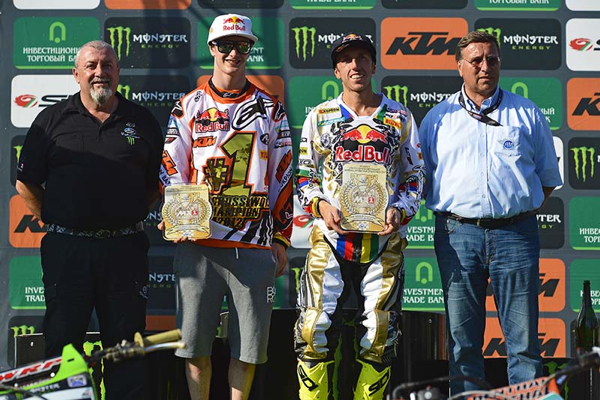 The 2012 Champs and their hardware.
Results–
MX2 Overall top ten: 1. Jeffrey Herlings (NED, KTM), 50 points; 2. Tommy Searle (GBR, Kawasaki), 44 p.; 3. Jeremy van Horebeek (BEL, KTM), 40 p.; 4. Jordi Tixier (FRA, KTM), 34 p.; 5. Arnaud Tonus (SUI, Yamaha), 29 p.; 6. Romain Febvre (FRA, KTM), 28 p.; 7. Valentin Teillet (FRA, Kawasaki), 26 p.; 8. Loic Larrieu (FRA, Kawasaki), 25 p.; 9. Jake Nicholls (GBR, KTM), 22 p.; 10. Julien Lieber (BEL, Suzuki), 21 p.;
MX2 Championship top ten: 1. Jeffrey Herlings (NED, KTM), 672 points; 2. Tommy Searle (GBR, Kawasaki), 601 p.; 3. Jeremy van Horebeek (BEL, KTM), 559 p.; 4. Jake Nicholls (GBR, KTM), 409 p.; 5. Jordi Tixier (FRA, KTM), 401 p.; 6. Joel Roelants (BEL, Kawasaki), 367 p.; 7. Max Anstie (GBR, Honda), 323 p.; 8. Jose Butron (ESP, KTM), 272 p.; 9. Dylan Ferrandis (FRA, Kawasaki), 272 p.; 10. Glenn Coldenhoff (NED, KTM), 251 p.;
MX1 Overall top ten: 1. Antonio Cairoli (ITA, KTM), 50 points; 2. Christophe Pourcel (FRA, Kawasaki), 44 p.; 3. Clement Desalle (BEL, Suzuki), 38 p.; 4. Gautier Paulin (FRA, Kawasaki), 34 p.; 5. Ken de Dycker (BEL, KTM), 32 p.; 6. Evgeny Bobryshev (RUS, Honda), 28 p.; 7. Sebastien Pourcel (FRA, Kawasaki), 27 p.; 8. Tanel Leok (EST, Suzuki), 27 p.; 9. Shaun Simpson (GBR, Yamaha), 27 p.; 10. Davide Guarneri (ITA, KTM), 22 p.;
MX1 Championship top ten: 1. Antonio Cairoli (ITA, KTM), 642 points; 2. Clement Desalle (BEL, Suzuki), 554 p.; 3. Gautier Paulin (FRA, Kawasaki), 502 p.; 4. Christophe Pourcel (FRA, Kawasaki), 496 p.; 5. Ken de Dycker (BEL, KTM), 478 p.; 6. Kevin Strijbos (BEL, KTM), 389 p.; 7. Xavier Boog (FRA, Kawasaki), 372 p.; 8. Tanel Leok (EST, Suzuki), 365 p.; 9. Rui Goncalves (POR, Honda), 315 p.; 10. Shaun Simpson (GBR, Yamaha), 298 p.;