That's right, we're back with round two of the 2012 Pulpy Awards. The MX industry award that can both excite and elicit a gag reflex from the winner because it's a coin toss as to whether the category they are the victor of will be envied or mocked.

That's right, we're back with round two of the 2012 Pulpy Awards. The MX industry award that can both excite and elicit a gag reflex from the winner because it's a coin toss as to whether the category they are the victor of will be envied or mocked.
Without further adieu, we bring you the 2012 AMA National Pulpy Awards!
Photos by James Lissimore
The "Heart of a Lion/Body of a (Navy)Seal" Award-
Awarded to the rider who shows unflappable determination(with a touch of delusion for good measure).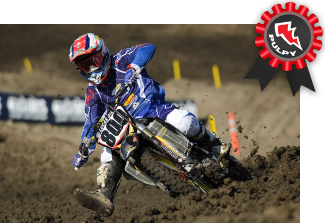 The Pulpy goes to: Mike Alessi
You know, Mike Alessi came a long ways this year. His tenacity and never give up attitude have endeared him to more fans than ever. Of course his mouth and actions, from time to time, do still make more than a few fans question their support. Whether it's a rambling podium interview, the over-enthusiastic post-race bro down or Kellen Winslow Jr-esque claims(anyone remember this?); full-fledge support of Mike is still slightly taboo but we love that there's always something around the corner.
The "I'm just like you, only Better" Award-
Awarded to the rider who away from the track appears to be merely average.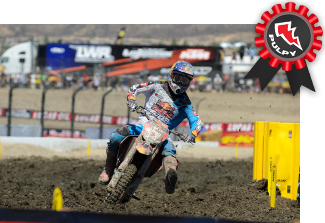 The Pulpy goes to: Ryan Dungey
The Dunge may very well be the most unextraordinary top pro we have ever seen in moto. That's not a slight. Ryan has a very simple, awe-shucks aura that has actually grown more reserved as the years pass. In his first years on a SX2 bike, his podium appearances were much less reserved. Apparently he didn't like something about them because since then he's become as neutral as it gets. No matter how normal he appears away from his dirt bike, when he gets back on it he reminds us of just how much better he is than 99.7% of the population.
The "Screwed by the System" Award-
Awarded to the rider who pulls off consistent podium finshes to capture the title and comes up short.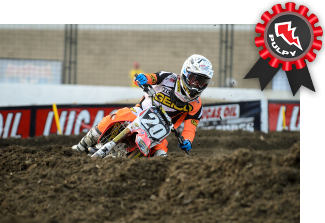 The Pulpy goes to: Justin Barcia
How cruel is life when you take the tried and true theory of moto, that consistent podium finishes over the course of a series, typically results in a title. It's hard enough for a racer to have the long term vision to not go balls-out and wreck themselves when it's just not happening but Justin did just that this year. He restrained himself, keeping the big picture in sight. Unfortunately for him, Blake Baggett was just better and for once, consistent as the tortoise.
The "Who Needs a Practice Bike" Award-
Awarded to the rider who finds a way to make it happen on Saturday, despite the fact this his tumultuous team can't quite figure out a way for him to adequately practice during the week.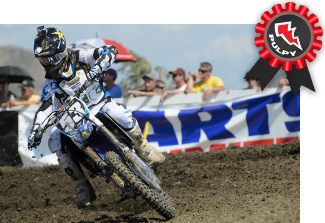 The Pulpy goes to: Ryan Sipes
Can you imagine if any rider OTHER than Ryan Sipes were forced to be put into this situation? Imagine approaching Josh Grant, Justin Barcia, Ryan Dungey, or (gasp) Vince Friese with the prospect of switching classes but (here's the kicker) we aren't going to even give you a bike to practice on during the week! Shit, in the first week, week can't even set it up for you. Just take it around in practice and we'll click some clickers and change some tires. Ryan Sipes is a damn trooper for dealing with the situation like a cool cucumber. He brushed it off with a "well, ah figerd, ah aint got a twofity eff but ah got uh twofity two stroke, ah guess it'll do". Not an ounce of Rockstar in this kid, just some moonshine Kentucky determination. Love it.
The "Genesis" Award-
Awarded to the rider who's results prove they are definitively from "The Land of Confusion".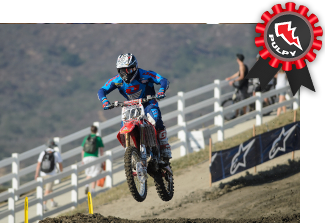 The Pulpy goes to: Justin Brayton
Justin Brayton was suffering from a case of dimmensia all summer. He just never knew who he was. One week it was a podium finish, another he was barely sniffing the fumes of the top 10. No matter how you slice it, Justin and the Factory Honda experiment outdoors didn't work. Hopefully Justin finds himself in 2013. He's going back to JGR, perhaps he just remembered that he locked his true identity in a closet there in 2011?
The "Life is a Cruel Bitch" Award-
The award that goes to the rider who one moment had inexplicable momentum and looked poised to pull off the upset of the year, only to have it stolen by Murphy's Law.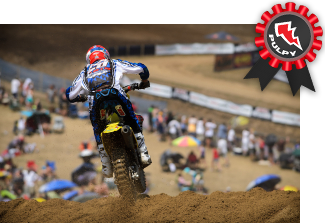 The Pulpy goes to: Michael Byrne
I've been waiting for the first moto at Unadilla since 2009. Michael Byrne is one of those guys who I just never count out because he's got all the tools to make it happen. Injury, has been his bugaboo though, for going on 3 years. As I watched him lead that first moto, I could barely believe my eyes. Not only was he doing what I had faith he could for the last three years, he looked utterly in control and poised to pull the upset of the year. Then it all came down crashing, figuratively. Leave it to the kind of luck Byrner has had for a non-crash to steal the victory from him. Next year.
The "Hey Factory Kawasaki, How Do You Like them Apple's?!" Award-
Awarded to the rider who was not only overlooked by Kawasaki brass but couldn't even get a phone call back with a straight-up answer, only to serve them up a gaggle full of crow.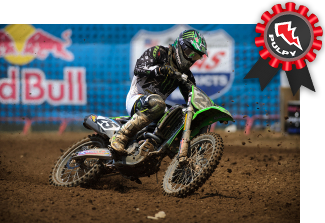 The Pulpy goes to: Broc Tickle
I swear the academy created this category, not me but I'm a team player so I'll do my best to convey the thoughts of the voters adequately.
As Hangtown approached and the RV1 bike had not been assigned a pilot, Broc was doing his best to see if he could get it. Days and weeks went by and the word game and flat out ignoring calls dragged on. In the end Broc accepted what has long been the status quo in moto, if you don't hear back, you know you didn't ge the deal. When all was said and done, Broc surprised everyone and was 3 mechanical DNF's away from REALLY sticking it to the Factory by beating both of their pilots.
The "By No Means is Fan Support Relative to Success on the Track or Friendliness in the Pits" Award-
Awarded to the racer who garners the most fans, with the least results and scares fans in the pits.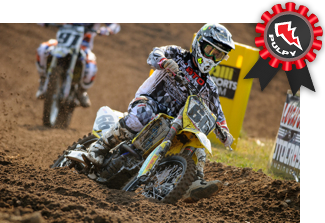 The Pulpy goes to: Jason Thomas
This goes to the only rider it could go to. JT$ has become a cult classic in moto. Is it possible for a human being to be a cult classic? I don't care if it is or not because, dammit, that's what he is. His finishes were awful this year and he caused even the most masculine mans balls to retract into their pelvic region with his icy stare and cold cold expressions on race day. He's a walking contradiction. Legendary status with no podiums to speak of and if you asked him to kiss a babay at a race, it would end with a crying baby and you aplogizing for interrupting his concentration. The man, the myth, the infamous- JT mother-effin-Money.
The "If You Can't Beat 'em, Maim 'em" Award-
Awarded to the rider who lands a ride each year, seldom shocks us with results but often reminds us why they are the most disdained rider in pro-moto.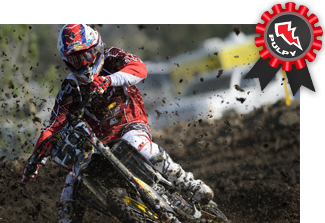 The Pulpy goes to: Vince Friese
Hey, if you got to play bad guy every year and still end up with a solid ride, wouldn't you?
The "Best Hair" Award-
Awarded to the rider who's hair makes you go hmmmmmm.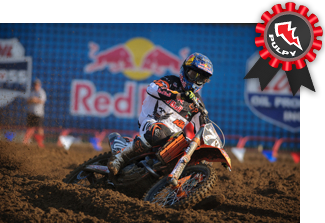 The Pulpy goes to: Ken Roczen
Whether he's running the loose shag, Dolph Lundgren fade, or Lloy Christmas bowl-cut, Ken Roczen wins this award hands down.
The "Whelp, We Will See Ya Next Year" Award-
Awarded to the team who up and vanished with no PR, no sorry, no explanation… just, poof, gone!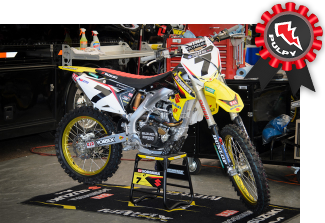 The Pulpy goes to: The Suzuki Factory Team
Without so much as a PR, sticky-note or farely-well, Team Suzuki said adios to the Nationals more quietly than David Copperfield himself.
The "I Hate this Bike so Much that I'm Gonna Quit a Factory Team and Ride a Stock One to Prove Everyone Wrong" Award-
Awarded to the guy who thinks his troubles are anybodies fault, other than his own.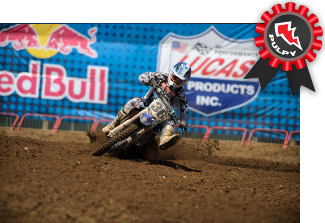 The Pulpy goes to: Kyle Regal
Raise your hand if you think Kyle Regals series went according to plan… crickets… Seeing how good Kyle looked outdoors in years past had everyone betting that he would shine on the JGR program. Much like Supercross though, it just didn't pan out, so Kyle and JGR parted ways and he contested the remaining rounds solo on the same bike. Yeah that didn't work out either. Teen Mom, musical chairs with Teams, loss of focus? Few know what the real issue is but certainly Kyle is one of them. Hopefully he gets his act together.
The "My Dad is Gnarlier than Yours" Award-
This one goes ot the guy who's Dad scares us all. He's THAT gnarly.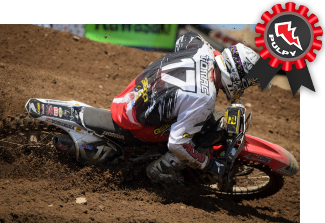 The Pulpy goes to: Eli Tomac
Really, John Tomac is gnarlier than Chuck Norris and lets be honest, he doesn't get nearly enough praise from the MX media. There should be a full RacerX issue dedicated to how amazing the guy is. How about a National holiday? Would President of the United States be too much to ask!?