It's that time! Time for a weekly picture of Ross "Rollerball" Pederson and more gushing by me
It's that time! Time for a weekly picture of Ross "Rollerball" Pederson and more gushing by me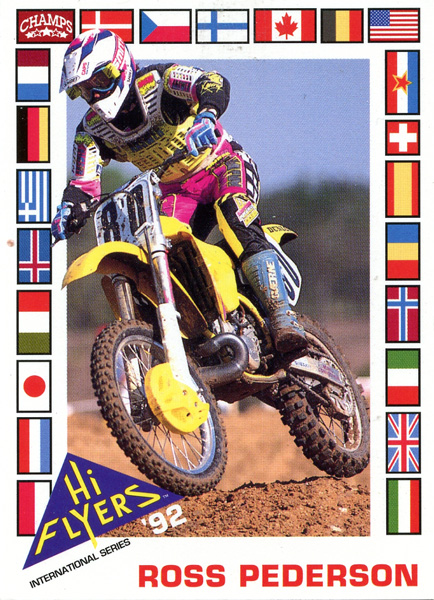 Just like the boat sinking in Titanic, all good things must come to an end and here, in this week's Roller Rama, I present to you the end of Ross "Rollerball" Pederson's USA racing career. For years and years, Ross put in solid results in sx and mx but it all came crashing down to the ground San Diego SX 1990. Right after the first turn there was a triple and Ross and Jean Michel Bayle collided in the air and Ross thudded to the ground, breaking his pelvis in the crash. Ironic that a couple of real finess type riders like Pederson and Bayle would end up crashing into each other.
Ok, I'm kidding. But that was the last sx that Ross ever raced (besides one more Daytona), the jumps were getting too big he told me in a podcast and he was approaching the end of his career. So for the last three years he raced Gainesville national as a warm-up to the Canadian series and that was about it. Don't get me wrong, he was still winning in Canada. In fact, in 1993, his last year of competition he won both Canadian MX titles. But as far as American stuff, it wasn't much.
But, lest ye think he was just sucking ass out there, his last two Gainesville nationals he scored a 12th and 13th overall. In his last national ever, he finished three places better than a young upstart Canadian racer named Jean Sebastian Roy. Roy would go on to assume the crown of top Canadian mx'er once Ross was gone. So anywho, this was Roller's last gasp at an AMA number and he made the Hi Flyer International series at that. For a few years at the end of his career, Ross went for cash grabs and wore KINGS gear and it was truly hideous. Nice to see him back with Answer and going out in style. Stay tuned next week for another classic photo of Ross and then me rambling on and on about him. If you have any Roller pics, send them to me at steve@pulpmx.com and I'll make sure they get up here.