Pulpmx reader Nate Davis gives us his take on the JGR Yamaha team for 2013
Pulpmx reader Nate Davis gives us his take on the JGR Yamaha team for 2013
By Nate "Montana" Davis
Photos by James Lissimore
Josh Grant and Justin Brayton are going back to their old team at JGR. This is a good fit for them as they are trying to get their team system to work. The ever controversial Yamaha seems to be the epicenter of reasons JGR is having a hard time acquiring and keeping top tier riders (see Dean Wilson and James Stewart). So now that Grant is teamed up with Brayton it looks as though JGR has hopped in the time machine and is living in 2010 all over again.
Justin "RealTree" Brayton is as solid as the oak table in your grandparent's dining room. He will always be there, working hard and showing up every day to better himself and have no drama. In supercross it took JB10 some time to find his speed but looked at one point to be frequenting the podium at the end of the supercross season. When the boys moved outdoors, his season did not to live up to the expectations laid upon him. There were whispers of lingering injuries and could have somewhat given Brayton the "collect a JGR ride past Go" in the Monopoly game of the 2013 silly season. At one point Brayton told one of his closest confidants, Jason Weigandt, that he was in fact riding with injury during the outdoor season. At which time Weege reported it and team manager Erik Kehoe denied such allegations. It would be hard to deny the fact that maybe Brayton had his hand forced to ride with injury for the already injury laden Honda squad. Be it as it may, Justin showed up, did his work with the no excuses mentality which makes him a strong candidate for any team looking to fill a stall in their stable. Add the fact that Brayton recently moved to North Carolina and enjoys the area makes it a win-win for both parties involved. Expect Brayton to continue to be solid on the Yamaha.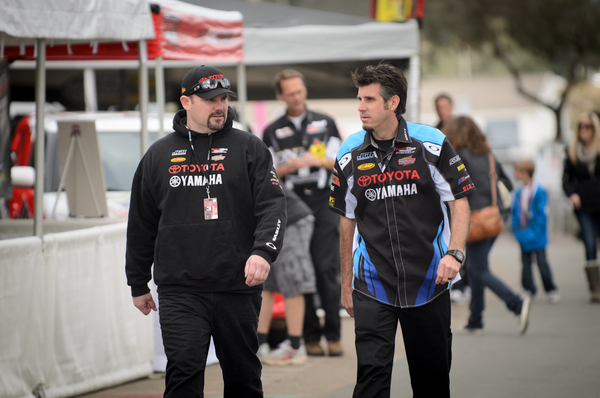 Coy Gibbs and Jeremy Albrecht hope that you can indeed go home again.
Not only will this be a good move for Brayton the addition of Grant is also a good acquisition for the JGR team and Yamaha. Some may argue that Grant lacked the jaw-dropping speed and style he once had, even though he captured a podium this year and finished a silent sixth overall in the Lucas Oil Motocross Championship. Some may even say that with the support from JWR, more was expected of him but it seemed clear that he and Kyle Chisolm somewhat struggled with the Kawasaki setup. Many test riders are among the first to admit that the KXF-450 feels larger than the other bikes but has a mean powerplant. Where does this come into play with Grant's success or lack of on the green machine? Most of Kawasaki's recent successes have come from those riders graduating from sansei Mitch Payton's Lites program(See Ryan Villopoto and Jake Weimer). Some of the sports elite riders that "hop" on a Kawasaki 450 seem to have troubles setting it up to their liking (see Chad Reed). I am not saying that the Kawasaki 450 is a bike that is not rideable, but perhaps that Josh Grant may have based his 2013 decision for the Yamaha and against the Kawasaki, as he supposedly had an option for another year with JWR.
Many people may think, myself included, why would Josh want to leave the Kawasaki and hop on the inconsistent pogo-stick known as the YZF-450? The proof is in the pudding. In the inaugural year of the "revolutionary" Yamaha, Grant had some strong results for JGR. Inconsistency and injuries have plagued Josh in his 450 campaign but put this aside and he may be one of the more suitable riders to ride that bike. He finished second in the first motos at Hangtown, High Point, and Millville in 2010 as well as handily beating Dungey in moto one at Lakewood. This was the last time you could see Josh Grant's aggressive speed on the bike. Between then and now the fellas at the JGR race shop have went above and beyond to refine the Yamaha 450 and although this may sound like a broken record, if Josh Grant can stay injury free he will be making more noise on the blue machine than he did in 2010.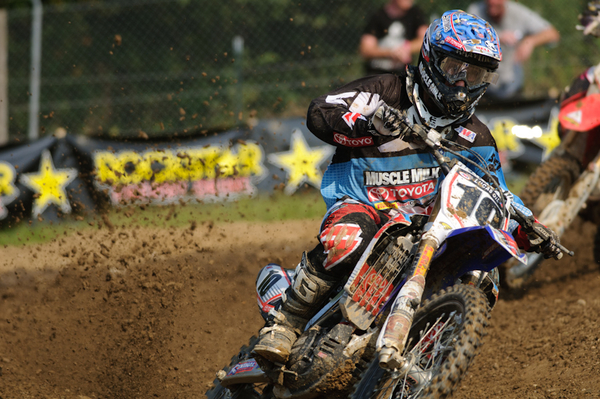 After one year away, Justin Brayton is coming back to the JGR Yamaha team.
The folks at JGR have put a lot of effort into their dirt bike racing program. Now is the time to hit the reset button after the PR disaster that occurred with James Stewart leaving the team after one supercross season. They have chosen their riders wisely by going with riders that have proven successful on the controversial Yamaha 450. Coach and J-Bone will be satisfied at the end of the 2013 year with hopes Brayton and Grant can make it through the season injury free, as is the hopes with any team after the injury plagued 2012 season. As far as Coy goes, well there is a new Halo game coming out so he should be pretty happy regardless.