Our guy Blazier with a look at ten career highs of the great Chad Reed
Our guy Blazier with a look at ten career highs of the great Chad Reed
The Tao of Chad
by Tony Blazier
In the last ten years, few riders have enjoyed more highs and lows than Australia's Chad Reed. He has repeatedly reached the pinnacle of the sport, only to be beaten down the next year. Perhaps most remarkable of all, Chad has never let these set backs get him down. He is one of those rare athletes that is able to put last week's defeat behind him and come out next time, swinging all the harder. In a sport where there can be only one winner (and unfortunately, to most people, 39 losers), that is a rare gift.
With the upcoming 2013 Supercross season likely to be one of Chad's last years, I though this would good time to take a look back at his illustrious career. In doing so, I am going to separate events into a list of high and lows. My focus will be on his important career moments and achievements, as well as his minor and major setbacks. In this first installment, I am going to run down the high points of Chad's career, listed more or less in chronological order. In installment two, we will take a look at the little bumps in the road that make life, "interesting". Here, without further ado, is the Tao of Chad.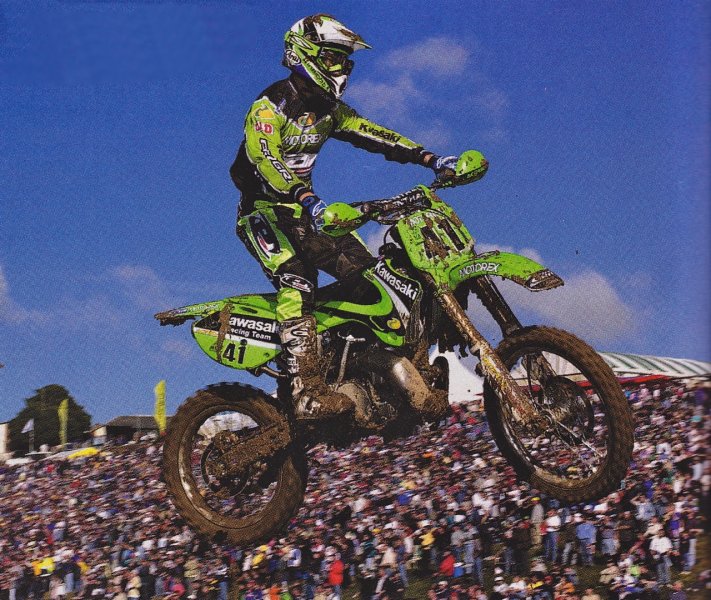 Prior to making the move to the US, a young Chad Reed turned a lot of heads riding for Jan DeGroot's Factory Kawasaki team in Europe. Chad would win one GP in 2001 and finish 2nd to World Champion Mickaël Pichon in the final standings. Photo courtesy of Racer X
#1 Pack your bags for the good old US of A
Prior to making the move to the US, Chad had spent the 2001 season racing the GP's for Jan DeGroot's Factory Kawasaki team. Chad opened a lot of eyes while in Europe,winning the Grand Prix of Lierop (Netherlands) and eventually finishing the year second to multi-time World Champion Mickaël Pichon. After his successful GP season, Chad chose to leave Europe to pursue his ultimate dream of American stardom in 2002. Although Chad wanted a 250 Supercross ride, initial hesitance over his inexperience landed him on the Yamaha of Troy satellite team, racing the new YZ250F. It may not have been the start the confident (some would say arrogant) Aussie was looking for, but soon enough, he would be one of the most sought after riders in sport.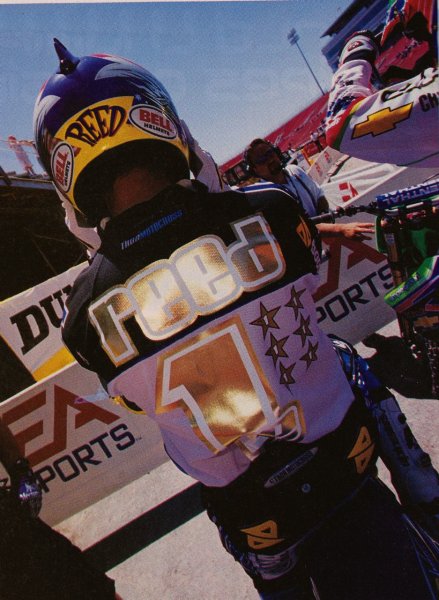 Chad would smoke the competition in the '02 East series, winning all but one of the races and breezing to the title. Photo courtesy of Racer X
#2 The 2002 East Coast 125 SX title
While it may be true that Chad was not particularly excited to be riding the 125 class in 2002, no one can deny he made the most of his opportunity. On the Yamaha of Troy YZ250F, Reed reeled of six straight victories, only missing out on a perfect season at the last round in Michigan (where he finished second to Branden Jesseman). His final margin of victory in the 2002 East Coast 125 Supercross title would be a remarkable fifty-two points.
Chad's Supercross skills were apparent from the very beginning, and more than a few people noticed the similarities between his riding style and that of his idol Jeremy McGrath. After a successful rookie year, Chad would get his wish, and move up to the Factory Yamaha team full time in 2003. It would not be long before Speedy Reedy would place his mark on the premier class in all of off-road motorcycling.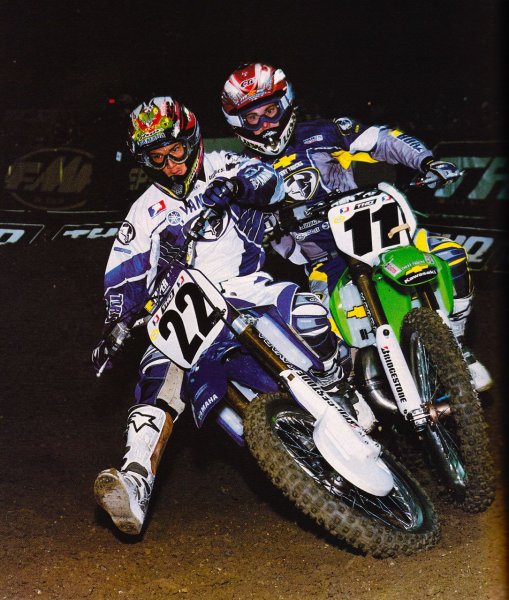 Reed's brash, aggressive style and cocky demeanor rubbed some people wrong in 2003. To many fans, his confidence and will to win often came across as arrogance. Photo courtesy of TWMX
#3 Anaheim, CA January 4, 2003 (1st 250 Supercross Main Event Win)
It did not take Chad very long to make his presence known on the big stage.At the 2003 AMA SX series opener in Anaheim, California, Chad was on fire, posting the fastest heat race of the night and the fastest single lap. He looked super-fluid on the track, whipping his YZ250 over the jumps and nailing every turn with precision. In the main event, Chad ripped the holeshot, while defending SX champ Ricky Carmichael found himself mired back in the pack. As Reed set the pace out front, RC got bogged down in battles with back markers and ended up falling twice. Eventually finding himself in last place, RC4 put on an incredible charge to make it to second by the finish.
While RC was putting on his passing clinic, Reed stayed cool and confident and wheelied away to his first ever AMA 250 Supercross win (Chad had won the 2nd round of the ill-fated World Supercross GP a few weeks earlier, but lets just agree that series never existed and besides, he didn't have a full field over there ok?). While Reed had raced a few 250 races in 2002 to get his feet wet, this was still, officially, his rookie season, and winning the opening round was certainly an impressive way to get things started (something even his idol MC had not been able to do).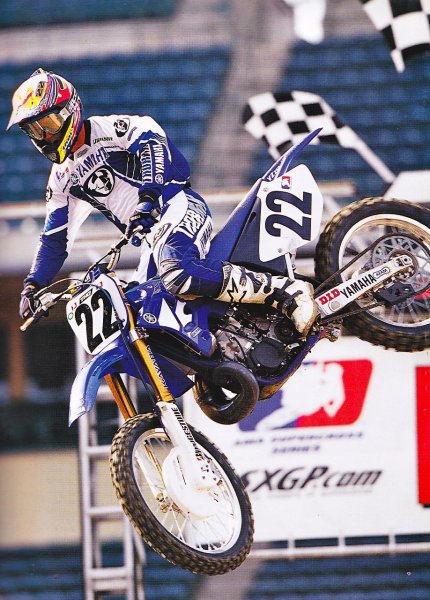 Chad's smooth, tactical riding style was very reminiscent of his idol Jeremy McGrath. Once in motion, they looked very similar on the bike and just like MC, Reed rarely looked out of control. He was the fastest rider of 2003, but a few rookie mistakes would cost him the title at season's end. Photo courtesy of SX History Book
Reed would follow up his win with a consistent second the following week in Phoenix while RC would only score a fourth. With the points lead, and momentum on his side, the "Thunder from Down Under" (as Todd Harris loved to call him in '03) rode into the second Anaheim round on a wave of confidence. Unfortunately, round three would see a massive swing in momentum, as this time Reed would be the one sampling the stadium floor. While Chad struggled to a sixth place, RC checked out and scored his first win of the season. From there, Carmichael would reel off a total of three straight victories, opening up a sizable points lead on the Yamaha ace.
During this mid season slump, Chad would score two sixths, one at A2 and one at Minneapolis. Those would be the two worst finishes he would have all season. Even though Chad would catch fire in the later parts of the series, winning the last six races in a row, his two bad finishes would be all it would take to allow the consistent Carmichael to take home his third straight Supercross crown. While the loss of the title would certainly be a bitter pill for the young Australian, his first season could hardly be considered a disappointment. He proved he was a legitimate title threat and was certainly the fastest rider at the end of the season. Best of all, the sport was set for a spectacular 2004 rematch.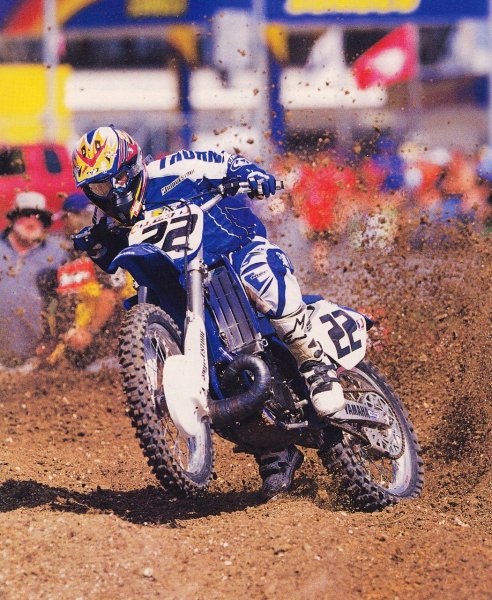 In 2004, Reed kept the hammer down all season, and roosted away to his first Supercross title. Photo courtesy of TWMX
#4 Chad Reed 2004 250 Supercross Champ
Unfortunately, it was a rematch that never materialized. During the off-season, defending champ Ricky Carmichael decided to have his damaged knee repaired, and as a result missed the entire 2004 Supercross campaign. Carmichael's absence would take some of the drama out of the 2004 season. Without the champ, Reed's dominance seemed like a forgone conclusion, and he would certainly not disappoint, roosting away to a decisive first Supercross Championship. Reed would lead the series from start to finish, domination the points and capturing ten out of the sixteen main events. His worst finish all year would be a sole third place at Indianapolis.
While Kevin Windham would keep him honest, wining five main events, he would never be able to push Chad into the big mistakes that had cost him the season before. Many people have tried to label the '04 season with an asterisk, due to the lack of RC in the chase, but I don't think that is fair to Chad or the history of the sport. You have to be in it to win it, and in '04, Chad Reed beat all challengers to become the 2004 AMA Supercross Champ.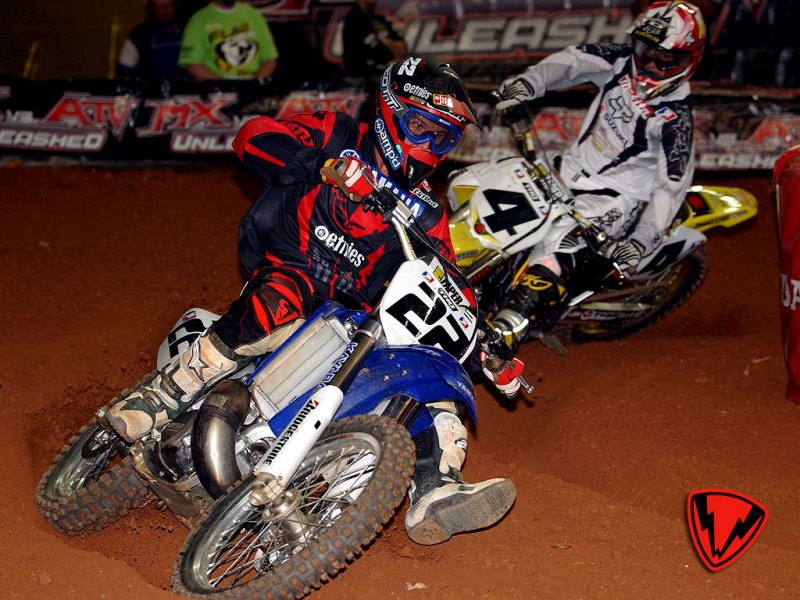 From the beginning of the year, it was very clear that 2005 was not going to be the cakewalk 2004 had been. The combination of a new bike (which Chad did not care for), a revitalized Carmichael and a hungry James Stewart would make keeping the #1 plate much harder than wining it had been. Photo courtesy of TWMX
#5 Daytona Supercross March 11, 2005
After his impressive 2004 Supercross title, there was no doubt that Reed wanted to silence his critics with a follow up win in 2005. In his way, however, would be one of the most daunting Supercross lineups in decades. Past champ Ricky Carmichael would be returning after missing the entire '04 campaign withan injury. He would be joined by James Stewart, who would be making his long anticipated jump to the big bikes after a stellar 125 career. With the addition of wild card Jeremy McGrath and '04 series runner-up Windham, Reed would have a steep challenge retaining his title in '05.
Unfortunately for Reed, the season started off on the wrong foot in the series opener. The normally dry and hard-packed Anaheim track was transformed into a swamp for round one, and just finishing the race became a massive challenge. The race would eventually be won by Windham, who would negotiate the rutted and snotty track with a veteran's skill. The real casualty of the night, would be Reed's title defense, which would suffer a massive blow from his crash induced sixteenth place finish. Chad's season would not get any easier from there, as set up issues with the all-new '05 YZ250 would find him a click off the leader pace though the first half of the '05 season. Reed would not score his first win until round seven in San Diego, and suffer a humiliating loss in Atlanta where RC repeatedly ran him down from behind.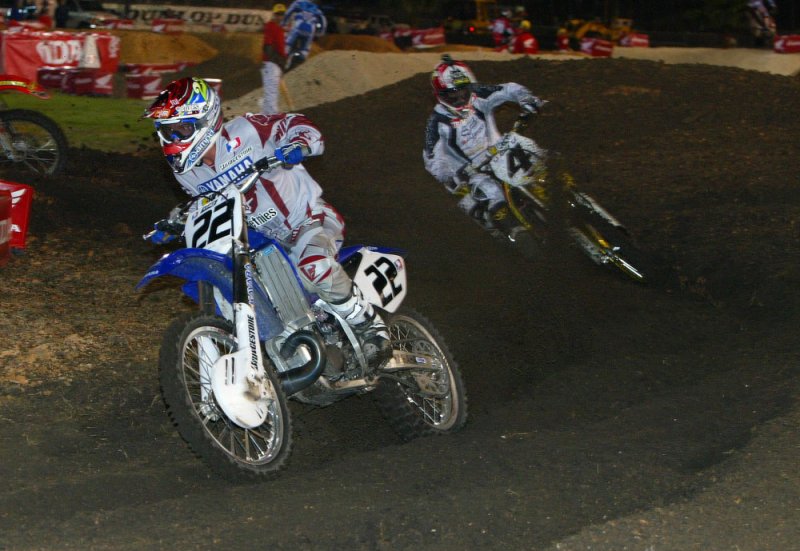 Pic #8 During the first seventeen laps of the main, Reed and RC were no farther apart than you see in this photo. Ricky would keep the pressure on, but it would actually be the number 4 that would make the critical error on this night. Photo courtesy of TWMX
The turning point for Reed's season would be at the historic Daytona event in March. Right in Ricky's backyard, Chad and RC would engage in an epic race long dual; a dual that would end with one of them doing unintentional doughnuts on Daytona's high-banked oval.
In the main event, Reed rocketed out to the holeshot, hotly pursued by RC. It was a scenario that had been played out a several times already in '05, and the smart money was on the number 4. This time, however, things would be different. RC would stalk Reed all over the track, never more than a few feet apart, but Chad would not crack. With a few laps to go in the main event, Carmichael's RM would give him a good old Emig "Huck-a-Buck" in the whoops and send him off the track onto the pavement. RC would quickly remount, but by then, Reed was gone. Chad would cruise home to a well-deserved win in the most prestigious race of the year, and reenergize his 2005 season.
Matthes actually sat down with Reed a while back and got him to watch this race and talk about it as well HERE
After Daytona, Chad would take another victory a week later in Orlando, and capture four of the last seven main event wins on the season. Reed would close up the title chase slightly by the season finally, but his early season woes would be too much to overcome. RC would end up with the title, but Reed would have the bragging rights for Daytona for at least one more year.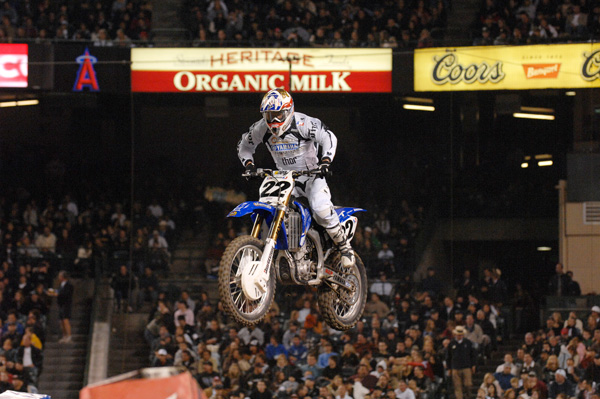 Pic #9 Chad's 2008 season was an eventful one. Even with his main competitor pulling out at round 3, a costly DNF and a spectacular get-off nearly cost him the title. Lissimore shot
#6 The 2008 AMA Supercross Championship
The 2008 season was the end of three difficult Supercross campaigns in a row for team Reed. After an up and down 2005, Chad had found it difficult to match the pace of Stewart and RC in '06 and '07. Consistency had kept him close in those two contests, but at no point was he the fastest man. With the retirement of RC at the end of '07, it looked like a Reed vs. Stewart dual for the 2008 Supercross title.
The season opened with an impressive win by Reed, followed by Stewart in second. The following week in Phoenix, Stewart struck back with a victory to tie the series points going into round three. With two rounds down, the two alpha males of the 450 class had traded 1-2 scores. With Anaheim 2 "retro night" next on the schedule, both teams would be looking to set the tone for the rest of the season.
Unfortunately, the anticipated showdown would not make it past practice, as Stewart would call a press conference to inform everyone that he would be pulling out of the series to get his problem knee fixed. That immediately let the air out of a series, as Reed was left to cruise out front, with little perceived competition. Once again, however, it would be the wily Cajun, Kevin Windham who would sense his opportunity, and rise to the occasion. It would not be enough to defeat Reed in the final standings, but Windham would win four races and at least make a chase of it.
For his part, Reed would have an up and down campaign. He would seem to lose some of his focus after the exit of Stewart, and suffer some uncharacteristic mistakes. At Daytona, and later in Detroit, Chad narrowly averted disasters that could have cost him the title after a massive practice crash left him with major injures that should have kept him out of the race (and under today's rules, would have, with the elimination of provisionals in qualifying). Still, he was by far the winningest rider in 2008, and took home a well-deserved second Supercross crown.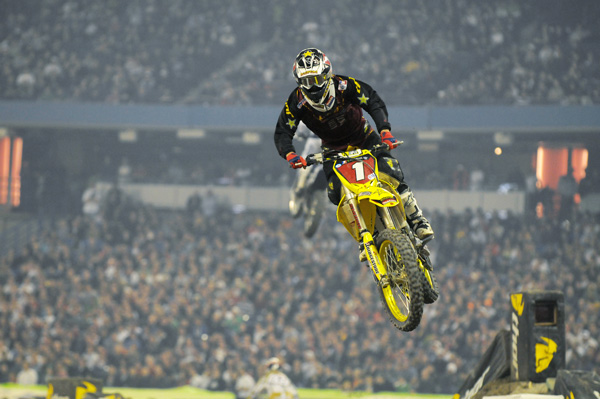 Pic #10 Now on a Suzuki, Reed went into the 4th round of the 2009 AMA 450 Motocross Championship, it was actually Reed's teammate Mike Alessi that looked to be in the driver's seat for the title. As fate would have it, however, a practice crash would take Alessi out only days before the High Point event. Reed would take advantage of this opening, and grab control of the series with a dominant 1-1 on that day. Photo by Lissimore
#7 The "Turning Point" -June 13, 2009
The 2008 off-season was an eventful one for the reigning Supercross champ. For starters, he found himself unemployed going into 2009. Depending on whom you talk to, Chad was either not offered a contract, offered a contract that he declined to sign, or was not just timely enough in getting back to his previous employer about the coming year. Regardless of the intimate details, the outcome was the same, and Chad was left looking for a ride for the upcoming season.
Now in most years, this would not have been an issue for a man holding the #1 plate, in the most prestigious motocross series in the world. However, 2008 was certainly not most years, and with the Wall Street collapse and economic downturn just hitting full stride, finding extra cash for a superstar was not going to be easy. In the end, it would be Roger DeCoster and Factory Suzuki that would come to Chad's aid. With financial backing from Rockstar Energy drinks and Makita Tools, Suzuki would offer him a Supercross only deal for 2009.
During the '09 SX season Chad looked like a new man on the Makita Suzuki. At the first few rounds, he was actually faster than his long time rival Stewart, pressuring him into costly errors. As the season wore on, however, Stewart became more accustomed to his new Yamaha (in a bit of irony, JS7 had moved to Reed's old L&M team in the offseason), and eventually started pulling away from the Suzuki rider. Still, Reed would keep Stewart honest all year, and finish the series only four points out of the lead.
Originally, this was supposed to be the end of Chad's commitment to Suzuki, but as the end of the SX season approached, rumors of a return to the outdoors began surfacing. This speculation seemed ongoing right up until the Factory semi hit the road for Glen Helen. Chad apparently bet on himself for the Nationals, taking out an insurance policy that would pay him handsomely if he could pull off his first Outdoor title.
He struggled a bit at round one, got a little better at round two and three and at High Pojnt Chad would rip off his first 1-1 overall score ever in the 450 class and take over the points lead for the first time. It was an important statement race that let the other 39 competitors know that there was someone ready to take this series by the horns and run with it. It would establish Reed as the Alpha male of the 450 class, and with the red plate in hand, propel him onto the number eight high on our list. Chad was fluid and creative on the track, passing into the lead both motos and never looking back. One line in particular was truly spectacular. As Chad was entering Bradshaw Boulevard, he was manualing the whoops leading up to a large roller, then launching off the last whoop to completely jump over the roller and onto Bradshaw Boulevard. The leap was a good 100 foot plus and absolutely crazy. It probably shaved a second off Chad's lap, and thrilled the crowd in the process.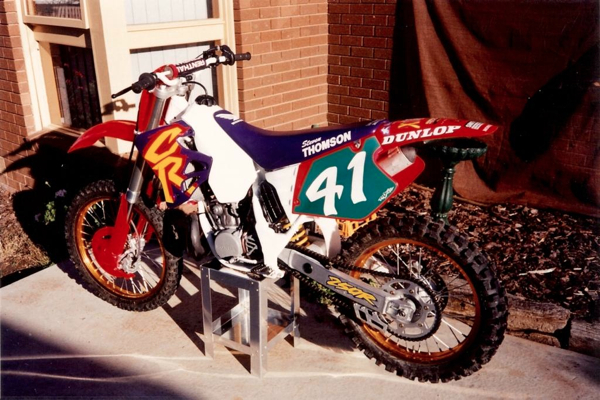 Pic #12 After several difficult outdoor campaigns, Chad's 2009 title was sweet victory indeed. A GuyB Photo
#8 2009 Outdoor 450 Motocross Champ-Finally!
After his dominating High Point win, Chad suffered a bit of an off day in Colorado (a track he always seems to struggle with) coming in fourth overall. At Red Bud, he split moto wins with Josh Grant, but missed out on the overall by a second moto tiebreaker. Spring Creek, however, would signal the start of Chad's mid-season championship surge. He would reel off four overall victories in a row and clinch the 450 title with two rounds to go.
It was a sweet victory for Chad and a long time coming. After seven years of struggles and several team switches, Chad had finally accomplished the one thing that had eluded him. As it turned out, it was a good thing Chad had clinched the title early in the mud of Maryland. The next week in Southwick would see Speedy Reedy take an uncharacteristic hard crash in the sand. It was a nasty crash, which could have easily ended the #22's season. Thankfully, however, he had already wrapped things up, so there was no need to push his battered body the following week in the season finally.
Perhaps the biggest irony of Chad's championship season was the fact that after once again earning a #1 plate, he was looking for a ride at season's end. His one-year Suzuki deal was up, and with the economy in shambles, it looked like team yellow would not be able to afford him in 2010. It was a bit of a tragedy for the sport, because Chad looked better in the Suzuki than he had at any point since he had gotten off the two-strokes. The 2010 season certainly might have looked different if he and Goose had been together one more year. But, that is talk for other days, and 2010 definitely belongs on the other half of this list.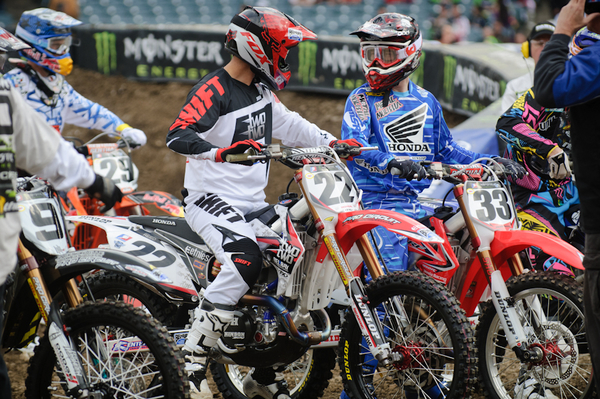 Pic #13 After a disappointing 2010 season, Chad found himself faced with limited options for 2011. In the end, Chad would go into his own pockets to fund one more shot at a Supercross championship. Lissimore shot
#9 San Diego Supercross February 19, 2011
After the debacle that was 2010 (see the Lows list coming out tomorrow for the gruesome details), Chad left without a ride for the third year in a row. This time, however, things would be different. Unlike previous off-seasons, there would be no suitors vying for his services this time. The stink of 2010 ran deep, and Chad's salary demands made signing him a major financial investment. As the 2011 Supercross season drew near, it was starting to look more and more like retirement would be a reality for the multi-time champ.
At the last minute, there were rumors of Chad doing his own team, this time on Honda's with help from Pro Circuit. The pit pundits met this with a great deal of skepticism, as even under the best of circumstances, it can be difficult to pull together a race team. With only a month to go until the start of the season, however, these were definitely not the best of circumstances. With virtually no time to test, and little practice, Chad rode into A1 on a wing and a prayer.
From the start of A1, Chad looked a little rusty on the unfamiliar machine. He was off the pace of the leaders, but salvaged a respectable fifth place at the finish. At rounds two and three it was more of the same, but at round four, Chad broke threw with a solid second place finish. It was apopular podium by the former champ and many people looked at it as a fitting swan song for Reed. Amazingly, though, reports of the Aussie's early demise turned out to be highly premature.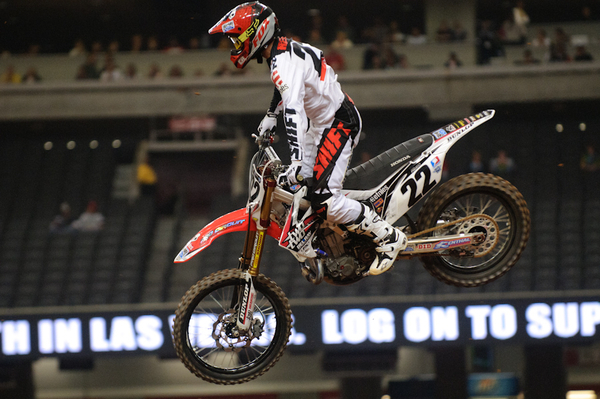 Chad would go on to hold off a furious charge from Trey Canard to take his first win in nearly two years at San Diego 2011. Lissimore shot
At round seven in San Diego, the old dog showed he still had a few new tricks. On a slippery and muddy circuit, Chad nailed the holeshot, and then withstood a massive charge by rookie Trey Canard, to take home the first victory for the TwoTwo Racing team. It was Chad's first win in nearly two years and a record sixth win at San Diego.
The win would propel Chad into being a genuine title contender, and by the mid-season, he would be receiving direct Factory support from Team Honda. If not for another unfortunate collision with JS7 in Dallas, Chad may well have captured his third Supercross title in 2011. It was a remarkable ending to a season that was almost over before it got started. In the course of a few races, Chad Reed went from old news, to the hottest rider on the circuit. The momentum he built in Supercross would carry right over into the Outdoor Nationals, where he would show his competitors the back of his leathers for the first half of the series.
Unfortunately, a certain "jump heard round the world" would put and end to Team TwoTwo's fairy tail season. Still, nothing could take away from all the incredible accomplishments made during the 2011 season. It truly was a special season, made all the more remarkable by the presence of one Chad Reed.

Pic #16 The 2011 Motocross of Nations would be an opportunity for Chad to snap out of the funk that had followed him since his spectacular Millville crash.
#10 The Motocross of Nations 2011
The last half of the 2011 Outdoor Motocross Nationalswere certainly not what Chad had been hoping for. After his spectacular Evel Knievel impression at Millville, Chad had just not been the same. Some of the fire that had made him such a force in the first part of the season was gone, and he basically limped home to the finish at Lake Elsinore.
Chad's chance for a new start would come in September, at the 2011 running of the Motocross of Nations (that's "des" to us old-schoolers). The 2011 event would be held at the Le Circuit du Puy de Poursay in Saint Jean D'Angely, France, a hilly and rocky track that had also hosted the 2001 event. With America sending its powerhouse team of Kawasaki's Ryan Villopoto, Suzuki's Ryan Dungey and Kawasaki's Blake Baggett, all the focus would be on their march toward the history books.
Over the years, Team Australia had fielded some true powerhouse teams, but somehow, bad luck and poor results have always found a way to sabotage their overall finish. For 2011, the team of Chad Reed, Matt Moss and Brett Metcalfe would be looking to capture Australia's first overall podium at the prestigious event. Perhaps, after decades of trying, the Moto Gods would finally decide to smile down on the boys from Down Under.
As forty of the best riders in the world roared into the first turn, it was the Honda rider in green and gold that ripped into the lead. Like a phoenix rising from the ashes, Speedy Reedy took the point and never looked back. Even in the midst of a mid-moto deluge, Reed was smooth and in control. At the end of the race, Reed had taken the victory, followed by the German sensation Ken Roczen and American Ryan Dungey.
America would garner the lion's share of the press this day, coming back in the last moto to take its seventh consecutive MXoN's victory. That would be far from the only story on the day, however. Standing next to America on the podium, would be the long suffering Australian squad. Reed, Moss and Metcalfe would finally do what so many others had failed to accomplish: a podium finish at the Olympics of Motocross.
The Aussie team's third place finish was a fitting end to a crazy up and down season for Reed. Chad had started 2011 with a thrown together team and little expectation. Then, by mid-season, he was "The Man", in the driver's seat for a second Outdoor National title. Fate would have other ideas, however, and Reed's dream season would end with him a shell of his former self. With his rousing moto one victory at the MXoN's, Reed would throw off the funk that had followed him since Millville, and leave all the baggage of the summer of 2011 behind.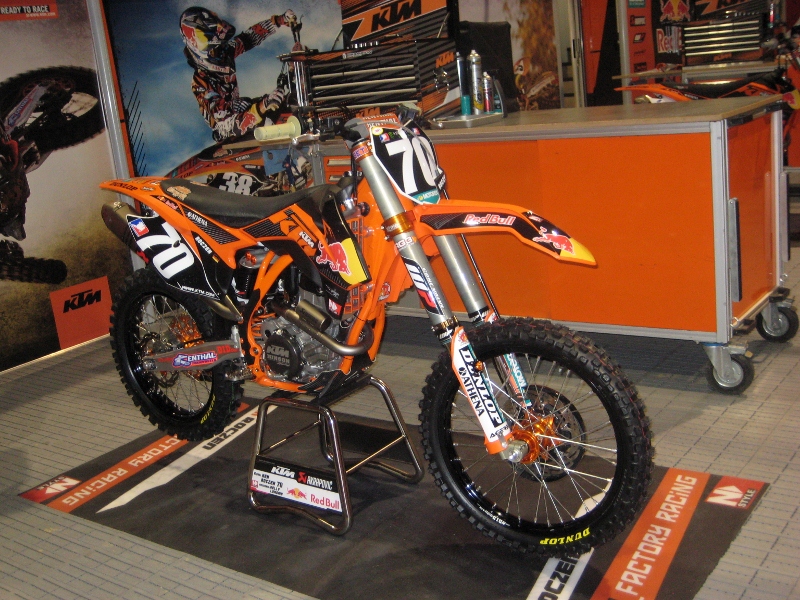 As 2013 approaches, I doubt I am alone in hoping that Chad Reed has saved his best act for last. He has always had the amazing ability to bounce back from adversity (as the other half of my list will attest too), and if the old warrior has one more championship run in him, I would love to go along for the ride. Come back tomorrow for part two of the lows of Chad Reed. A Cudby Photo