It's a little late but that's par for the course cause these guys are a little "slow".

It's a little late but that's par for the course cause these guys are a little "slow".
By O'Rouke and Moser
Mr. O'Rourke and myself (Moser) came together resulting in the following dialect through the power of the internet. O'Rourke will be in italic because he leans a bit right, I also recommend reading it in an Australian accent, I'll be in standard text because I can't speak Italian.
Well whoever said you can't make dreams come true is way off base because I just had what I consider my dream trip to the US. Anyone who knows me knows I am truly a PulpMX Superfan. It has been a goal of mine to get to America for a race for some time to meet up with my Twitter mates and do some serious BRO'ing down with Matthes, Weege, JT and as many people involved in the PulpMX Empire as possible.
Now Kenny Watson seemed to think that I was a "money bags" due to the fact that I call into the PulpMX show on a regular basis. That 50 cents a week doesn't really put a hurtin' on the old savings account. What does, is having four kids and a wife and trying to keep a roof over their head and food in the mouth. With only me working, it's a struggle at times, so my dream was more like a fantasy at this point. Then a couple of months ago, through my work, I won a trip to A1 and Vegas for a week. To say I was stoked was an understatement. This is where things started coming together.
Now most fans of the show know that Moser has a strict 29 follower rule on Twitter. This is a rule that I'm sure he regrets as it is a constant battle to maintain. How I ended up in that 29 I'm still not quite sure but let me tell you, I have enjoyed every minute of it. Except the 29 day exile after Shorty's injury. That sucked. I did mention to Moser that I was 'coming' to America and "was there any chance of a meeting up at A1?" After some persuasion (begging and pleading) with Mrs. Moser, our meet up was good to go.
Have you ever meet a guy online who made you laugh, had similar interests and started chatting with on a regular basis? One thing leads to another and next thing you know, you're flying to Anaheim 1 to not only meet this fellow from the other side of the world but also shack up with him?! What could possibly go wrong? He seems like a real straight shooter on Twitter.
This is the "Short story" of how O'Rourke and I became friends and ended up at Anaheim 1 together… but I hit on all the important points. Watching a race in McGrath's house, aka Anaheim, was always something I wanted to do and what better excuse than to meet up with me mate from down under?
Moser was making all the hard decisions.
The two guys that came with me were Cookey and Grandey (customers of mine). Good guys– great guys actually. The hardest part of this whole trip was explaining to them that I was going to the airport to pick up a guy I met on the internet. Oh and by the way, he is staying with us and making a 4 hour drive to Vegas with us. It actually went over better than I thought. They asked me if I was sure he wasn't an axe murderer, I reassured them that I didn't think so and everything after that was good. I was worrying that they may not get along but we all spoke the international language of alcohol. This helped immensely.
O'Rourke and his mates Craig and Cookey (a couple of good guys– nay, great guys) were kind enough to pick me up at the airport. They were headed to do a bit of moto-sightseeing and I was happy to tag along as I haven't spent much time in Cali or seen any of the places they were headed. Pro Circuit started out great when O'Rourke realized he was wearing a FMF tee shirt as he was walking in. I can't take this guy anywhere.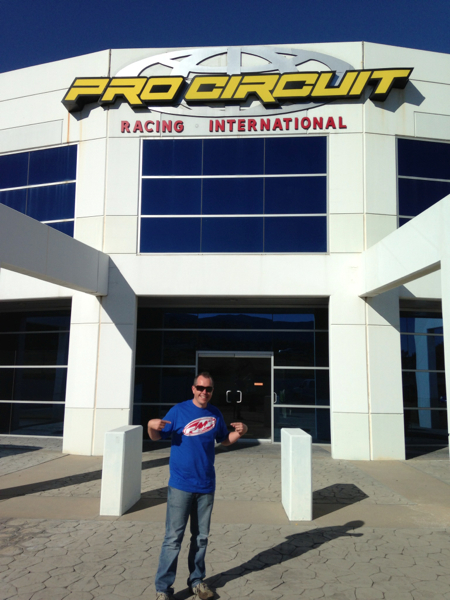 O'Rourke is not going to be drinking Coors Light with Mitch anytime soon.
After swinging into the airport to pick up Moser, we headed straight out to do what all good Aussie MX tourists do- Go to Pro Circuit, Troy Lee and then to a rider signing. At Pro Circuit, I discovered one of MX history's greatest race bikes, The Championship winning 2000 KX125 of Shae Bentley. The woulda, coulda shoulda race bike of the new intermittent PulpMX Show co-host, David Pingree.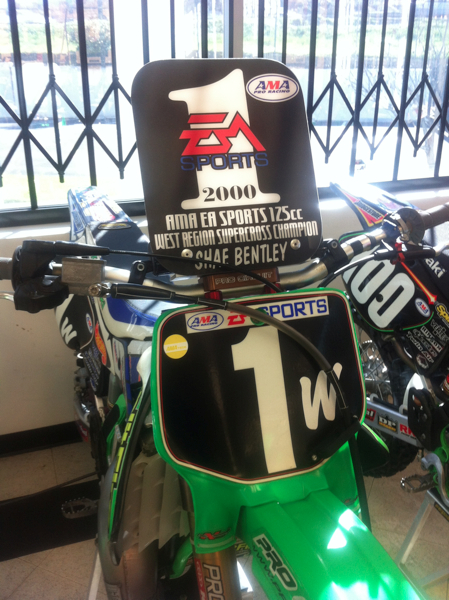 Ping no doubt still wakes up in a cold sweat thinking about the #1 plate that got away.
We swung by the Troy Lee Design's Headquarters and saw what I was sure was going to be a damaged helmet in about 24 hours time. Surprisingly it was not.
Troy's shop is a must see. Very cool place, the designers are behind glass just like at the zoo and you can watch them work, tap on the glass, flash them etc.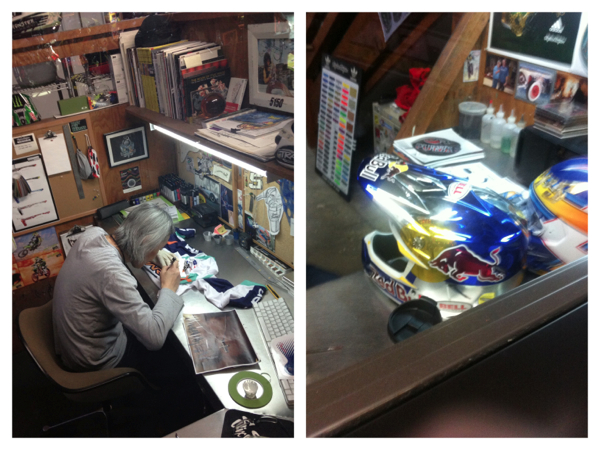 O'Rourke thought it was a real shame to spend so much time on the details with such a high chanceability of it hitting the ground
We went to Burts Mega Mall for the rider signing and got to do some serious BROing down with the people's champ, JT$. He was as furious and serious in real life as you have been led to believe. Oh yeah I met this guy to.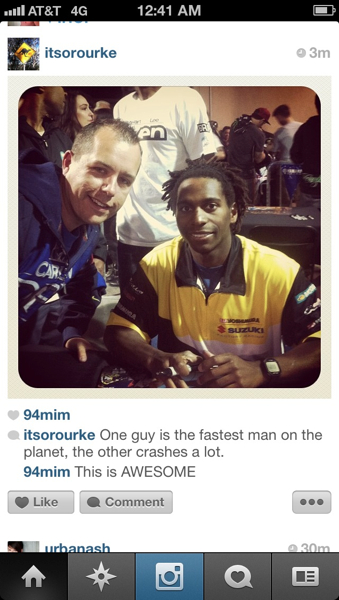 O'Rourke is a funny SOB.
I attempted to use every Aussie stereotype I could think of; Fosters, shrimp on the barbie, "no this is a knife", joeys, mate… they took it all in stride and we had a real pisser of a time. My buddy Benny, who has partaken is several of the race spectating hi-jinks (such as Seattle SX last year which we don't speak of, and Washougal which we don't speak of), caught wind of my trip with a mate from down under and basically invited himself along for the adventure. Benny is the man behind all my custom tee shirts, stickers and signs, also, the "JT$ the People's Champ" tee. When you're single and have too much money, I guess you buy all the necessary equipment and software to prints these types of things. If you need something with a c@#k on it, hit him up: @benny_tacp on twitter.

Australian for beer, no one else found this remotely as funny as I did.
The next part of our evening was absolutely awesome. Moser arranged to have dinner with the one and only Jason Weigandt and some of his crew. This included John Knowles (Scott Rider Rep), Tallon Vohland (Former GP Rider), Aaron Hansel from Racer X and various other industry people. Many drinks were consumed and bench racing done. I honestly wished it could have gone on for hours. Oh yeah, I also ended up losing my Carlton Dry Honda Race Team Jacket to Knowles who is a real good mate of Townley. He was stoked to say the least. We were also joined by Moser's friend Benny, who is a True American Hero. Well he is an active servicemen but mainly I say hero because he lent me his Verizon WIFI hotspot, which enabled me to be connected to the outside world. It was amazing.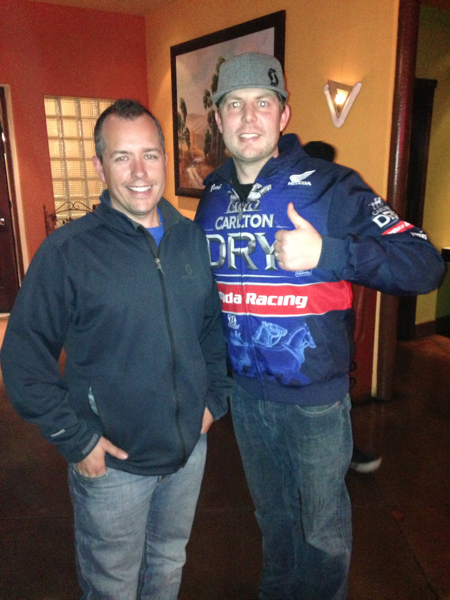 Damn you Knowles I was going to steal that jacket when O'Rourke was sleeping.
On this night Knowles was on point what with our fashionably late arrival and trouble finding the correct Mexican restaurant "right next to the stadium" by the time we got there they had already tipped back a few cervezas. If you like bench racing and who doesn't Weege is your guy, he's an encyclopedia of moto knowledge. Knowles and Weege entertained all of us with a relentless debate over their bet on who would have a better finish at A1 Weimer (Weeges' bet) or Tickle (Knowles bet). We discussed the misconception that Vohland was actually from Europe because he raced there for so long (what kind of idiot would think that). Remember when Vohland dislocated his shoulder at Washougal, we relived that race with Vohland doing the swinging arm motions trying to pop the shoulder back in and everything. Vohland is still working for Acerbis and his brother gives riding lessons, I can't believe I actually remember this much of the conversation.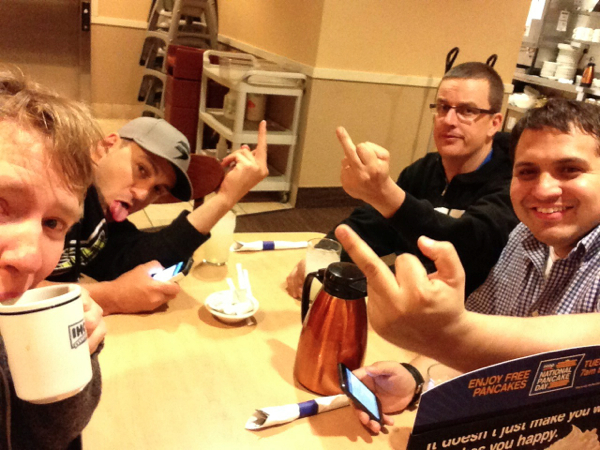 We had an early Saturday morning breakfast like 3:00am early.
Priority number one for me at the races is checking in with Shorty to see if he needs anything, a sandwich, forearm massage. I always offer to help Max with Fly clean his gear if needed (surprisingly he usually declines) and Nate his mechanic does his best to keep me from fondling the bike to much. Everyone under Shorty's tent couldn't be nicer to me, joking aside I try not to get in the way to much and it's badass to get to hangout over there and just kick back and watch.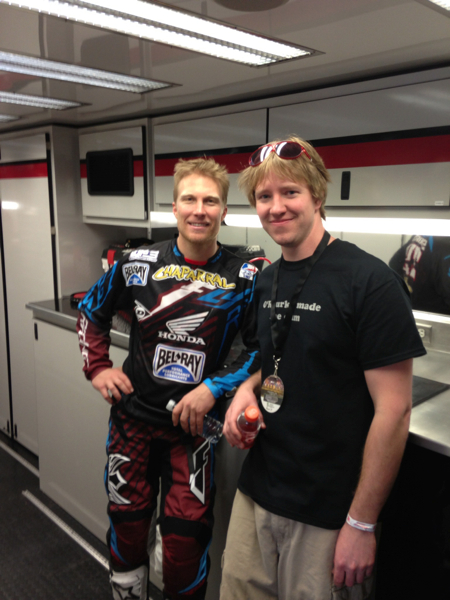 Just a couple of buddies hanging out with our wangs out on race day.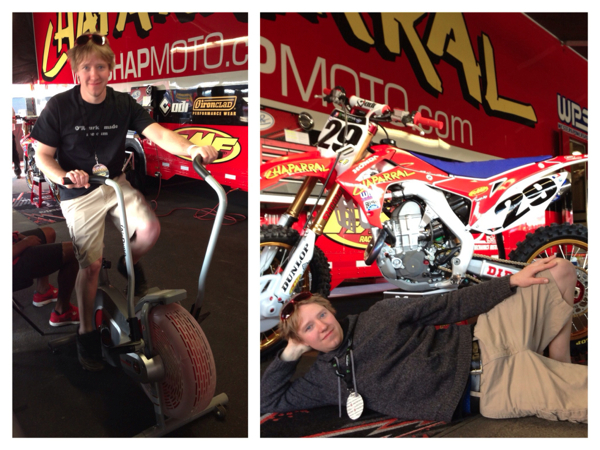 Getting warmed and loosened up before my photoshoot with the 29 Steed.
After a solid nights sleep it was off to the stadium to experience A1 in person. All the teams the trucks the fireworks are a real eye opener for an Aussie superfan. I highly recommend it to anyone who is considering going. Just do it.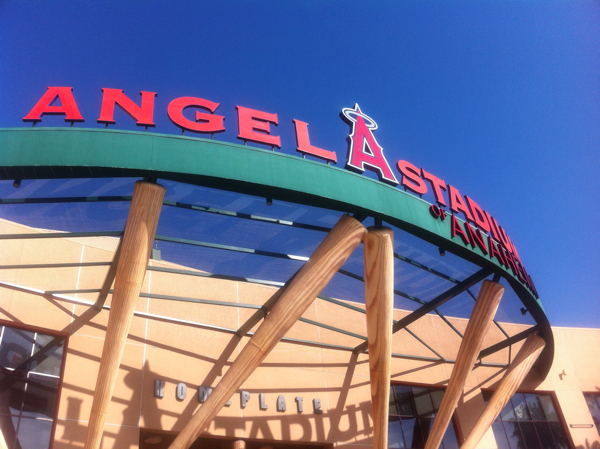 A1 is a long way from Australia mate.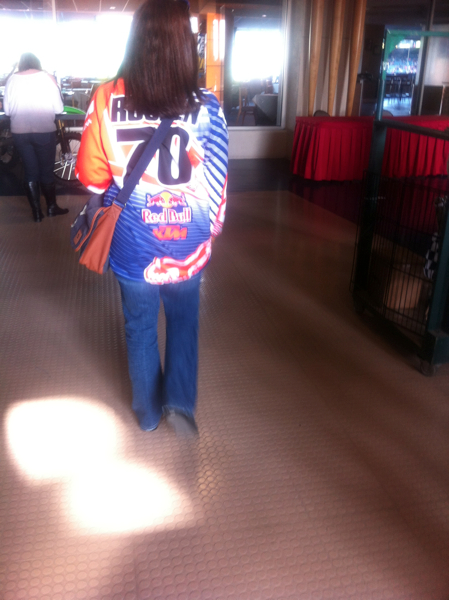 3.5 minutes till I saw the first pick up kit. Crikey it's a pick up kit in it's natural environment, careful now.
I am very grateful to get pit passes from Jacki Short and a guy who would like to remain anonymous but rhymes with Smeege, getting full access to the pits all day is priceless. But the ultimate goal for any moto fan is to walk the track you can't truly appreciate how badass all these riders are until you just try to walk/run up the face of a triple or jump from whoop to whoop. Now I'm not entirely sure the pass I had would get me on the track but with some careful timing, good line choice and my race face I managed to get on. If you ever have the means or even if you don't I highly recommend trying to get down there it's awesome, trying to size up a triple or rhythm section quickly brings you down to reality and puts SX into perspective.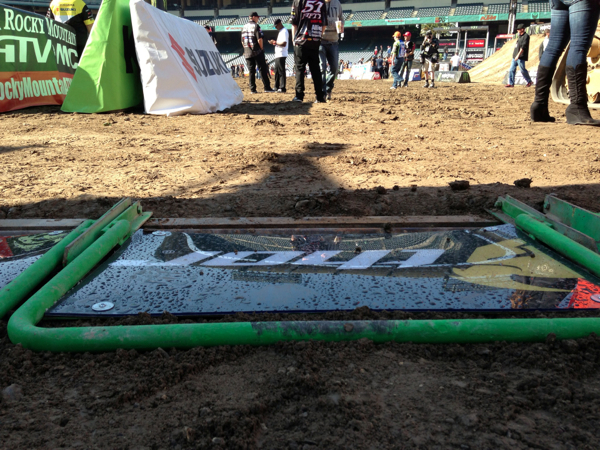 This is not the far inside gate perhaps Matthes would approve.
Maybe you remember when Watson mentioned he now had a small ownership in the RCH race team, well I remembered and although he only has a small ownership I thought it should be represented on the logo. My only regret from A1 is not getting the opportunity to have O'Rourke and Watson meet we tried a couple times but the RCH tent was packed and it just didn't work out, we did get to say hi to Berlutti though who was running around busting his ass which was no surprise but he was nice enough to stop for a minute to say hi.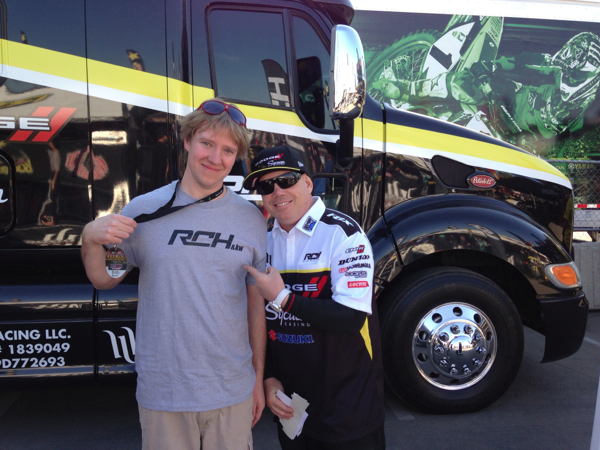 I made a point of not offering Watson any fellatio at A1.
There are significant events in your life you never forget and on January 5th 3:14pm I meet GodBod aka Dave Castillo in the flesh for the first time. Tim Ferry doesn't think celebrities look anywhere close to as good in person as they do on the silver screen and after meeting them in person it roons the magic. I'd tend to agree with him, I meet a Playboy playmate in my teen years and maybe it was because she had her clothes on but I wasn't overly impressed it's amazing what they can do with some make-up, push up bra and good lighting. With that being said Mr. Castillo is even better looking in person than in all his GoPro and Instagram selfie pictures, I'm not joking or pulling your third leg here, he is a specimen of a man, and I'm comfortable enough in my sexuality to admit that. With both Dave's, O'Rourke and Castillo it's a little odd how well you know someone and how comfortable you are around them although you have never actually meet them, I can only liken it to seeing an old friend that you haven't seen for a long time. Enough of the deep introspection, GodBod's abs are everything I thought they would be, he's also a super nice guy, funny etc. etc. etc. the complete "package".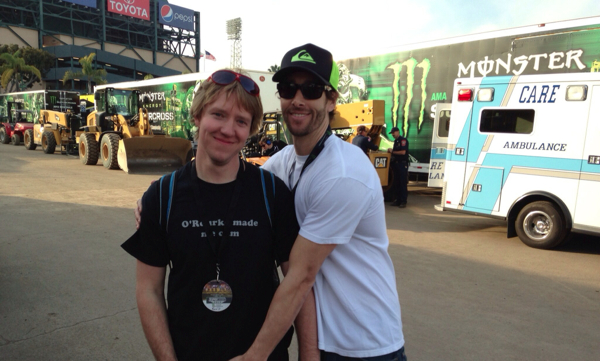 That's why they call him GodBod.
I'll spare you the details of the race but I do have some highlights.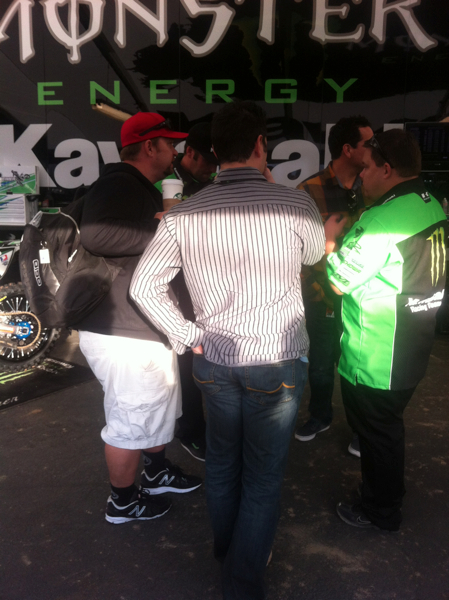 Matthes and Weege in deep discussion with the staff at the Kawi truck. (I wonder what that could be about???)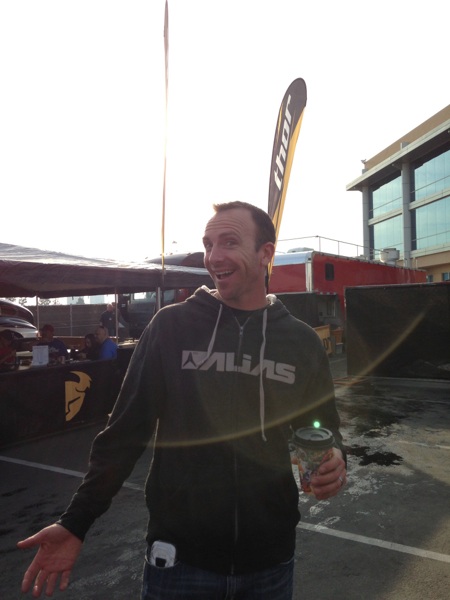 Met fellow Pulp fan and clean living guy @elemn0phee.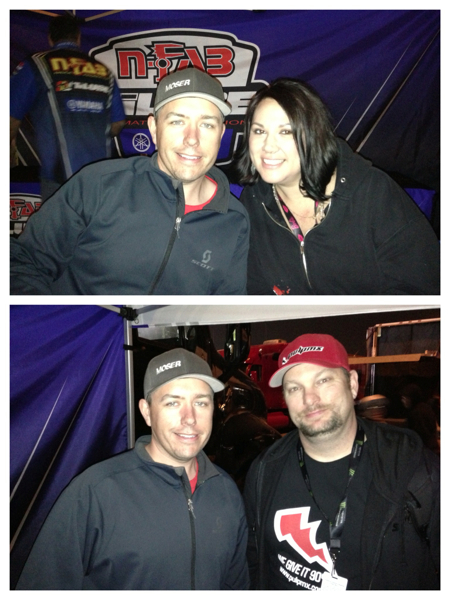 Hung out with Pookie and Steve at the N-FAB pits before the race.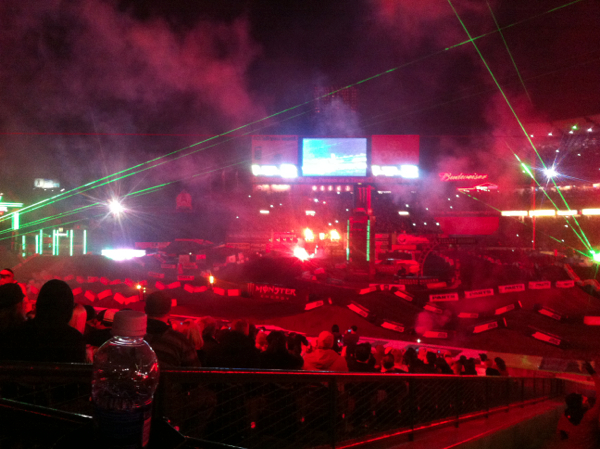 Opening Ceremonies.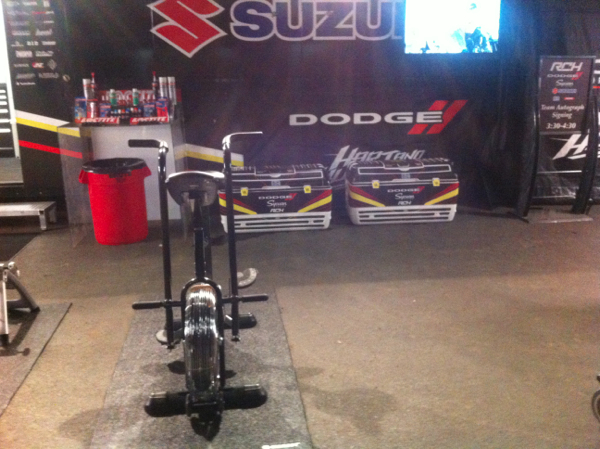 The infamous wrapped coolers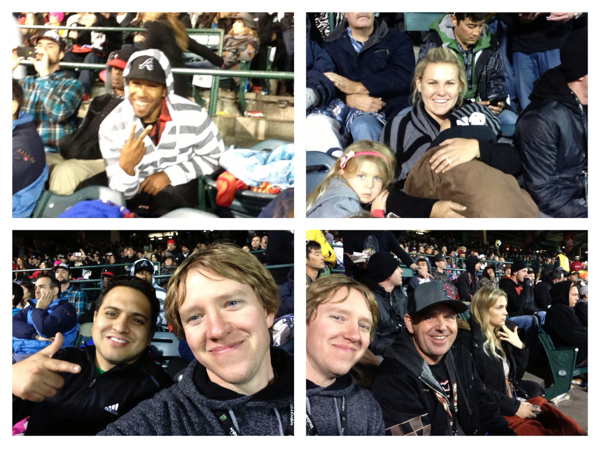 Sitting with the Shorts was not Short on entertainment.
After the race there is some primo bro down time in the pits. I chatted with Shorty for a bit, we broke down how the race went, starting with the start then lap by lap, bike set up, how his flow felt and the only true part about this sentence is I did talk to Short after the race. At some point we ended up talking with Ping who was with the Braaap bar guy (I can never remember how many aaaaaa's are in Braaaaap) it was interesting to hear about how the bar is made and their marketing and distribution ideas, I'm actually not making that up. Matthes and Weege were running around trying to get interviews.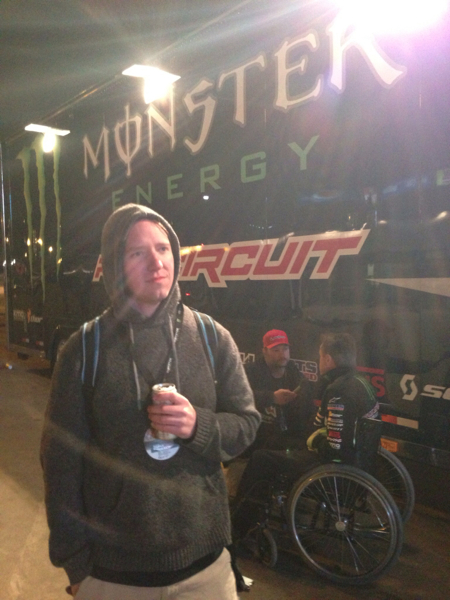 PC sponsored post race podcast, with an ice cold Coors Light courtesy of PC not a bad way to end the day.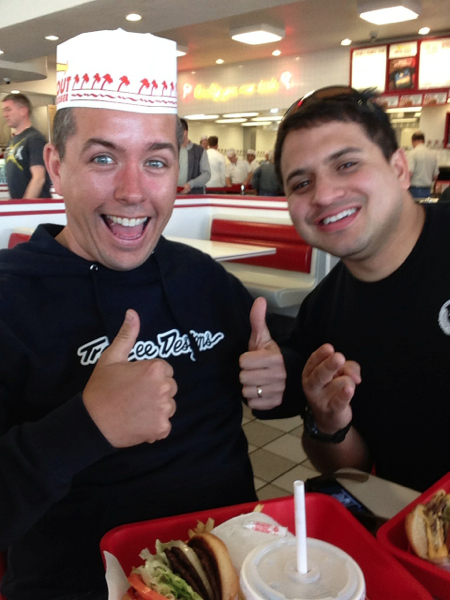 We put some American meat in O'Roukes mouth.
With four drunk guys in the car and one sober driver what better time to get to know one David O'Rourke a little bit better, so I present to you 18 minutes and 25 seconds with a super fan from down unda', some content has been edited in an attempt to minimize offending too many people.
Interview starts
Moser- Where were you born?
O'Rourke- I was born in……….well started in the old mans ball bag, came out of there in 1977, actually rocketed out in 1976 and was born in 1977. Grew up in a small town East Sydney Australia and started riding dirt bikes.
No no no no no, how did you start riding dirt bikes how did that intercourse I mean interception happen?
My cousins rode dirt bikes, my dad would never buy me one, then after months and months of pestering him he bought me a 1975 Kawasaki KV75, which is like a Honda Z50 but 2 stroke version. That was good for awhile and then I upgraded to a 1982 RM80X and that would have been in 1987, never raced just road and then my dad never bought me another bike after that until I was old enough to pay for it myself.
So did you pay for it yourself or did your dad buy it for you?
My next bike I bought and I was 20 yrs old, Kawasaki KLX250 4 stroke, then just more and more 4 strokes after that. Never really ridden 2 strokes until I was in my 30's and I've had a couple CR500's to play around on and now I ride dual sport bikes.
Alright, so you're in the motorcycle industry, you're a rep so how did that come, come about?
When I got back into riding I went into my local motorcycle shop and ended up getting a job there on Saturday's, I had a full time office job during the week. The guy running the shop quit and the owner asked me if I wanted to run it and I did, ran it for 12 months. The owners other business went bust and he had to sell the motorcycle shop, so I bought it off him and, ummm, and.
So how did it come about that you came across PulpMX?
Basically I used to read Observations on RacerX and then my first ever podcast that I listened to was Broc Glover and I was blown away that there were all these podcasts that I had never heard of or knew anything about and I just came home and told my wife you have to listen to this and she had no interest whatsoever, then I listened to the back catalog of podcast, and ummm I can't concentrate with this fucking music.
LOL (drunk people laughing) when was the first time you called into the show?
The very first show with Lindsey. It comes on Tuesday for us during the day and this is going to sound pathetic but it was a public holiday and we weren't at home and I actually left a family function to go back to my house because I had no cell service to call. So I called in and I asked Steve about how do you keep that fine line between being a journalist and being a friend, getting the information and putting out the negative information and having them get pissed at you, and trying to keep it separate.
So when did you start doing the Podcast Rewinds?
Swizcore was doing them intermittently when he remembered, he did probably the first 10 and then Matthes was on him about it on twitter and someone asked what were the best podcast to listen to and I reeled off 3 or 4 and Swizcore was like O'Rourke should do the rewind and I said alright if Matthes wants me to do it and he did so I've done probably 40 of them and I've been pretty slack of late, basically since my daughter was born.
Oh here come the excuses…
Naw but in 2013 it's going to be back, to be honest I was running a little dry on who I wanted to feature or guys that I was interested in talking about, but Swizcore just moved everything over to the classic archive so now I have loads to choose from. I have to listen to it and take notes at the same time and I usually listen to it while I'm driving so the taking notes part is pretty hard.
So what's your favorite podcast?
Of all time?
Yup. Not PulpMX show, Steve Matthes podcast.
That's a really hard question, ummm…
The Broc Glover one I listened to was pretty good but I have to go back to the RacerX Canada days where he interviewed the Dogger and his story was pretty awesome, probably my most memorable one, but there has been so many.
Favorite PulpMX show, and you can't say show 100, actually favorite PulpMX caller?
I'll say my favorite show was definitely the first Vegas show, that was a classic I've probably listened to that 2 or 3 times I usually don't listen to a show multiple times but if it's the off season and I want to listen to a show I listen to that. When Wey told Sinjin to go suck a dick, "go back to sucking a dick" that was pretty awesome. Favorite caller ummm well I'm in the car with one of them, so probably…
End of interview
The trip was a good time, great time and in hindsight the irony is O'Rourke hosted Benny and I but he was the guy from out of town and the other side of the world. I don't think it's possible to have more fun with a guy you meet online, flew to A1 to meet and spent the weekend with, he's a good guy, great guy that bloke O'Rourke is. Moser out.
O'Rourke- Moser covered this section of our trip well, although I will never be the same after the following photo.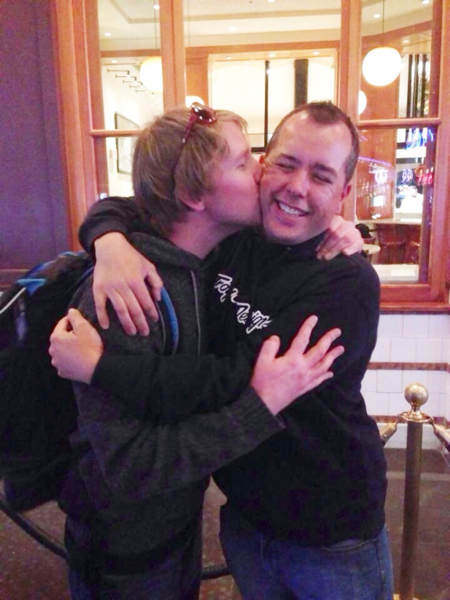 I thought what happens in Vegas stays in Vegas, stupid camera phones if I don't remember this did it really happen, maybe it's just some tricky photo editing.
I had a hell of a time with the heated floor specialist from Spokane WA. Yeah we had never met before, but we were already friends and we will be mates for a long time to come.
Like I hadn't experienced enough in the 5 days I had been in the US. The boss of PulpMX (Pookie Matthes) had organised for me to sit in on the first PulpMX Show of 2013. This is a Superfans dream come true. Admittedly with Kenny gone I was a little relieved but I still had team Tits to deal with. Matthes' mancave is truly one to be envied by just about every guy out there. Filled with an amazing collection of MX Jerseys, Armour and photos a huge flatscreen TV and PS3 it is truly a man retreat.

"The Mancave".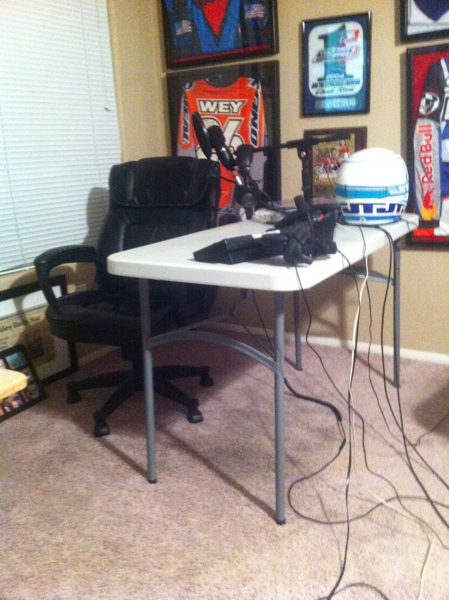 Tits was fashionably late.
Tits arrived unusually late which I have come to find out since was purely to avoid any extra contact with me. That was a shame as I had hoped to bury the hatchet with Mr Sundell. I even wore one of his work shirts that Moser had given to me to try and gain some ground but alas it was not to be.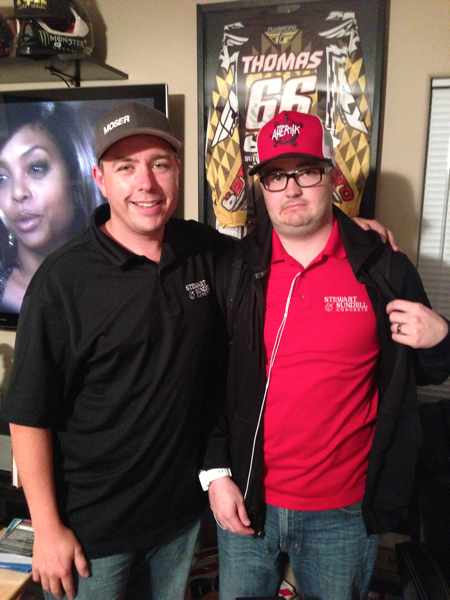 As you can see Peter was not exactly thrilled by my presence.
The Studio was abuzz with Activity when I arrived as the stream for the show was not working and Matthes was not a happy camper. Miraculously, literally 30 seconds before show time the stream started working and Steve started smiling and the pressure was off. YAY.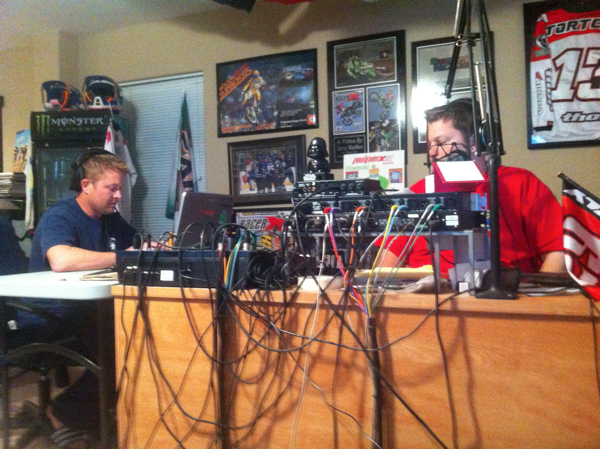 The PulpMX team hard at work.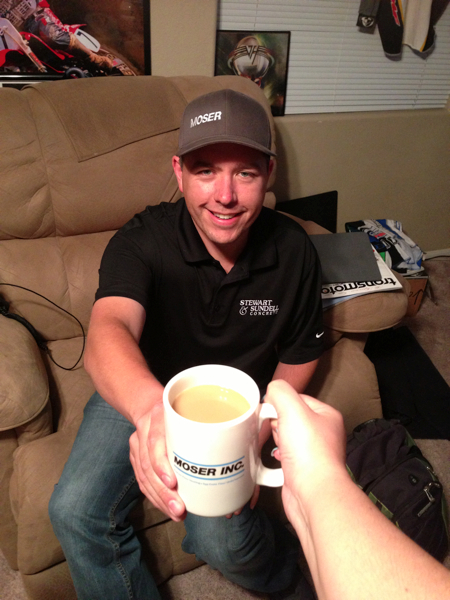 The in studio hospitality was amazing.
Well much to Steve's disappointment Tits Legendary and I did not throw down like we were in a UFC cage fight or even in a Michael Jackson video. We did exchange glances and have some awkward and uncomfortable moments. Good Times. The show was over before I knew it which sucked. Matthes and Pookie were awesome hosts and I know this might sound sad to many people but I ticked an item off my bucket list and it was awesome.