The modern day incarnation of the true privateer effort and a comparison of 450 debuts of years past.

The modern day incarnation of the true privateer effort and a comparison of 450 debuts of years past.
Teams like JAB Motorsports are the lifeblood of our sport. Scott Motorsports and we at PulpMX realize this and we will use this weekly look into the JAB Motorsports Team to make sure they receive a deserved consistent spotlight through the 2013 season. Scott Motorsports is a proud sponsor of the JAB Motorsports Team and keeps team members Matt Lemoine, Gannon Audette and Vann Martin fully equipped from head to toe.

Photos By: Simon Cudby
With all the talk between Matthes and I theorizing on how to categorize the new era of Supercross, I though this week I'd tackle the JAB spotlight from a different angle. I wanted to compare Matt's first three races to previous 250 to 450 Supercross graduates in their rookie years through three races.
It's not as easy as just looking back at the results, as it's difficult to find an apples to apples comparison. You see, Matt Lemoine's graduation to the 450 class was a career redirection decision based on frustration with equipment reliability, the 250 class race style and the desire to make a fresh start. For many other graduates it is a matter of sanctioning rules (Broc Tickle is the most recent example of this), standard career path following 250SX titles won (Dungey, Villopoto, Canard…) and then there are others who fail to win a 250SX title though are clearly ready to move up (Grant, Brayton, Chisholm, Alessi, Wey…).
Matt most closely falls into this last sub category, though a pretty major difference is the team surrounding these riders.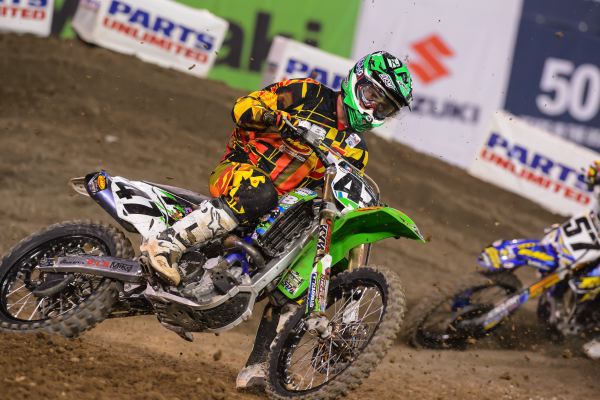 Modern-day privateer effort.
The JAB Motorsports Team was built around Matt by family, friends and supporters which makes it truly a Winners Take All style privateer effort. As such, for this comparison I will only be using privateer backed riders. Yes, the term "privateer" has morphed over the years and in this instance I'm referring to non-Factory, non-Factory-supported and even JGR (only recently factory backed) who were often compared to factory-level R&D and testing capacities. Matt's team is very unique. I consider it the model for a true privateer-team of today. The support system is all grass-roots privateer, the only difference is it's no longer a pickup truck.
This leaves me with the closest "apples to apples criteria" I'm going to find and I'll be looking back through 2007. The riders must have finished the first three rounds of their rookie year and those riders are:
The stats show, graduating is a steep climb.
As you can see, when a rider makes the decision to move into the 450SX class and it is not based on the traditional results based career progression, the step is a big one. The X-factor that makes Matt's step up this season increasingly difficult is the often cited parity which has crept its way out of the top three, where it hibernated for years and now sustains itself through the top 10. Jake Weimer is the only rider in the current top 10 points standings who has not won a 450SX main event.
Matt's results through his first three rounds have been 15, 16 and 19. Much like every racer in every race in this sport (including those I've compared to Matt in this feature), each result has a story within itself. Stories, mind you, not excuses.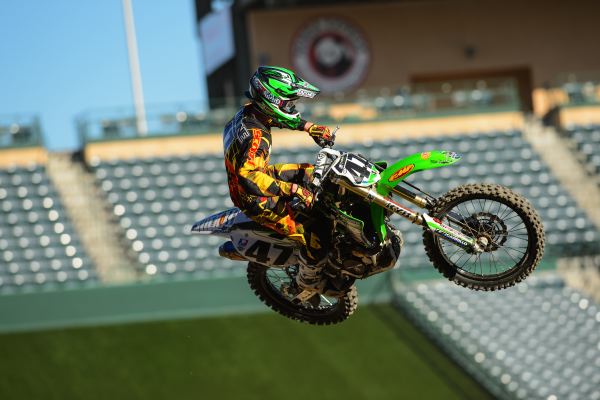 Comfortable on the bike, learning in the new class.
Matt's first round at Anaheim 1 was a solid starting off point for his entry into the class. 20 solid laps on his way to a 15th and very important, he was leaving healthy. At round two though as the last quarter of the laps were winding down, he was being shown the lapper flag as he was leading the number 10 of Justin Brayton. He was actually leading Justin, not about to be lapped and this erroneous action by the flagging crew cost Matt not only the position to Brayton but also Weston Peick, who he was tracking at the time. Unfortunate but it's not the first, nor last time, this will happen in racing. It's one example of the "luck" that happens in racing. Sure it's not really luck because there is a decision being made somewhere which results in what happened but luck is the easiest way to explain these complexities which happen every lap and every week.
This past weekend at Anaheim 2 Matt was given example "A" of just how cut-throat even the 450SX class is when you're in the thick of the pack with other non-title contenders who are racing for their livelihood. As Matt exited the whoops, landing from the double and exiting right, he was blindsided by a charging and only slightly turning Weston Peick. Weston is known for his linebacker appearance, while Matt is lean and weighs in around the mass of Weston's shadow. The result was a broken off brake caliper and a night cut short.
Again, these are not meant to be taken as excuses, merely as examples of the learning curve that all racers go through in their introductory year in a new class with a heightened level of risk and reward.
With each week comes more experience and the opportunity to learn. The following weeks are the time when the rider will be challenged to apply the lessons. Whether they actually learn from these lessons is often apparent on the results sheets.