Weird has been the theme of 2013…
Weird has been the theme of 2013…
Photos by James Lissimore
Words by Matthes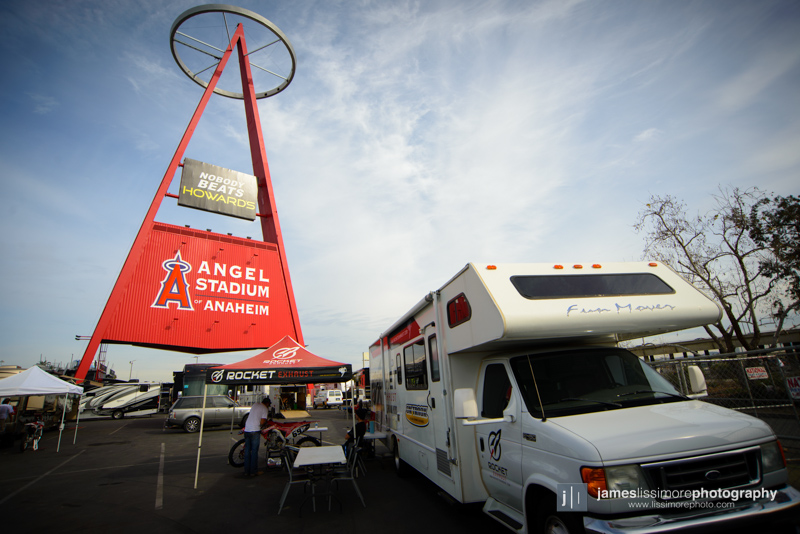 When you're a privateer, you often are in the shadow of the Big A at Anaheim stadium. This is PJ Larsen's Rocket Exhaust set-up. It must have worked for PJ as he rode great to his first main event of the year.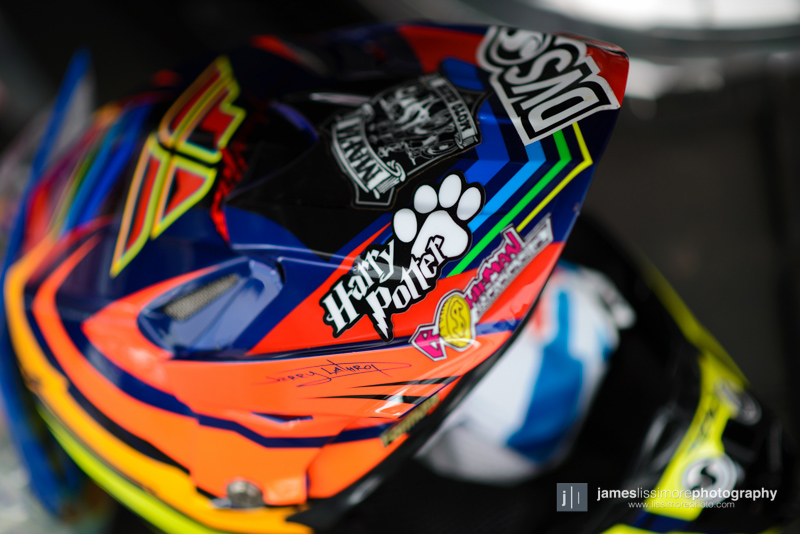 Yes, Jimmy Albertson has a sticker on his helmet for his dog. I see no problem with this.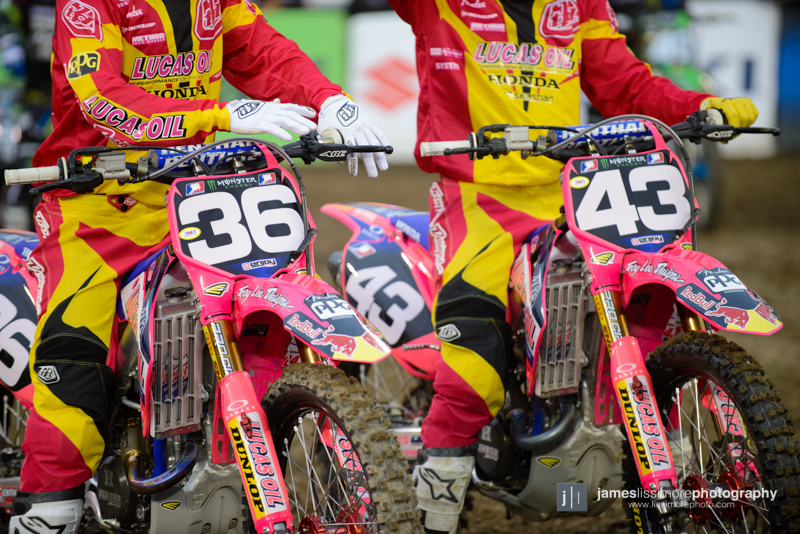 Seely turns Nelson's holeshot button on. TLD Honda had some pink bikes going on for the breast cancer awareness program that isn't official anymore but some teams and gear companies seem to still honor.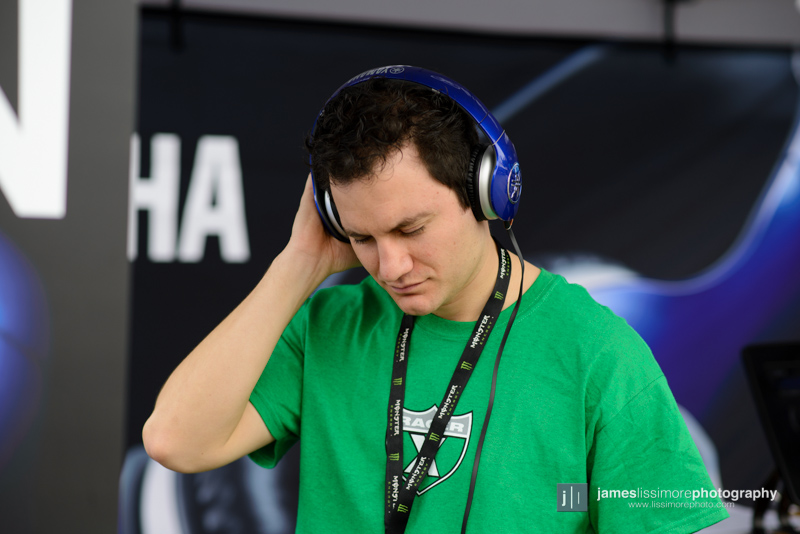 Yamaha had a cool little set-up showing off their headphones. These ones that Weege has on are $500 which means they are $495 over the price that Weege would pay for headphones. He uses the free Apple ones, even on planes. Anyways, here's his best DJ impression.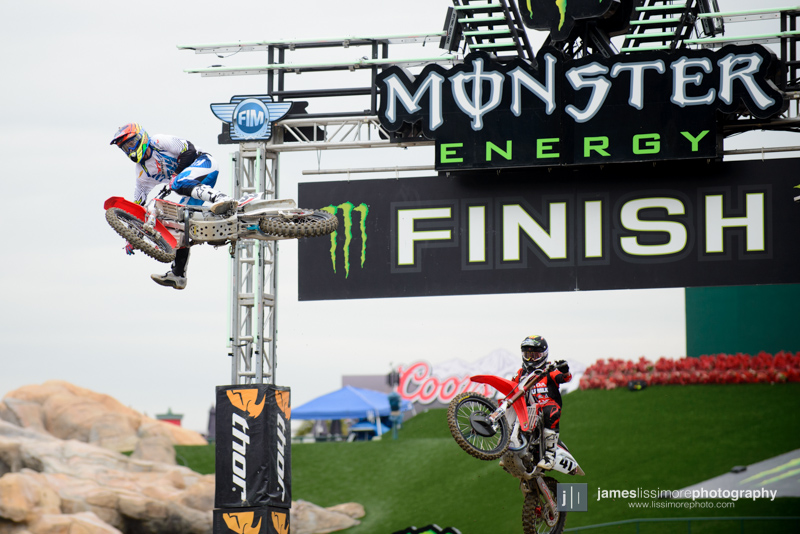 Albertson showing his riding partner and buddy Trey Canard that he's got some sick style also during practice.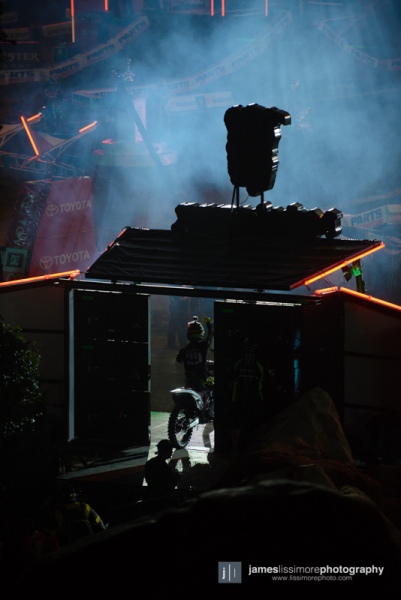 Lissimore usually has some photos that he thinks are all artsy and cool and I look at and go "Huh?" This might be one of them.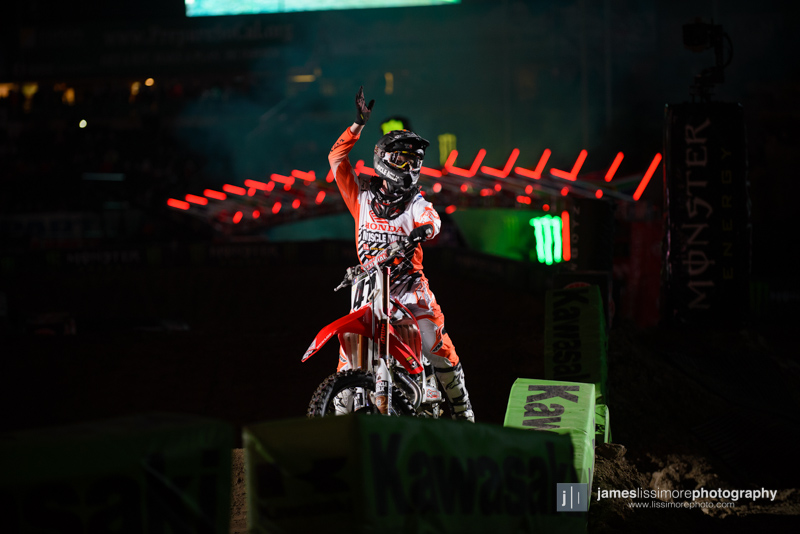 Trey Canard is, by far, the best rider in the opening ceremonies with his standing on his seat wheelies, nac-nac's and heel clickers.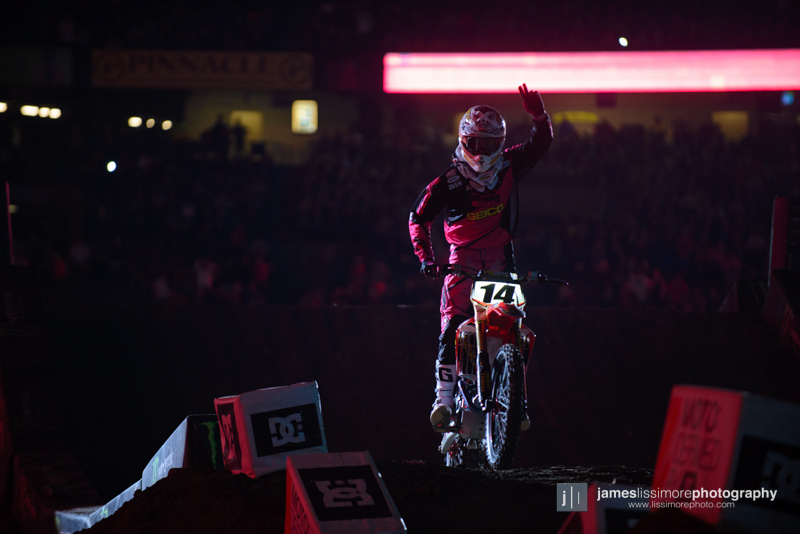 All season long Kevin Windham is going to show up and say good bye to the fans. This week on track walk he was looking for transfers and even asked my opinion which made no sense at all despite my four Manitoba titles. In the end, he couldn't find one he liked and I believe he skipped it.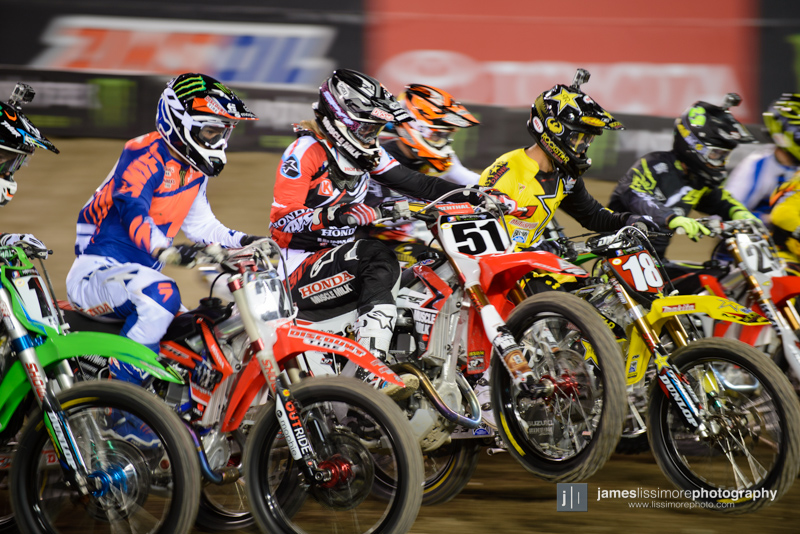 The start is always ten seconds of pure chaos. Look at all the body positioning going on here as the riders try to control 55-horsepower machines.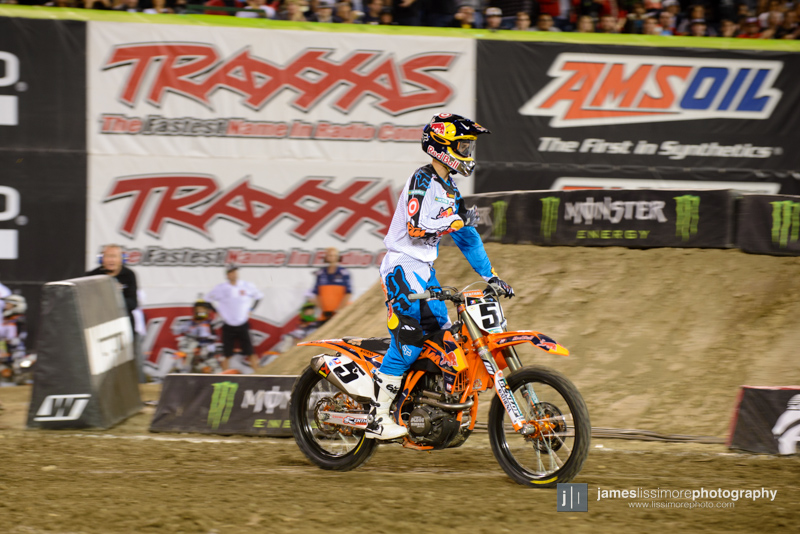 The one fear of going to air shocks or air forks was the fact that when something went wrong, it was wasn instant DNF. The forks the top riders are using have a safety measure that would let a rider finish a race while clearly, the air shock on Dungey's KTM does not. This forced him to the LCQ and what we all though was another rough night for Ryan.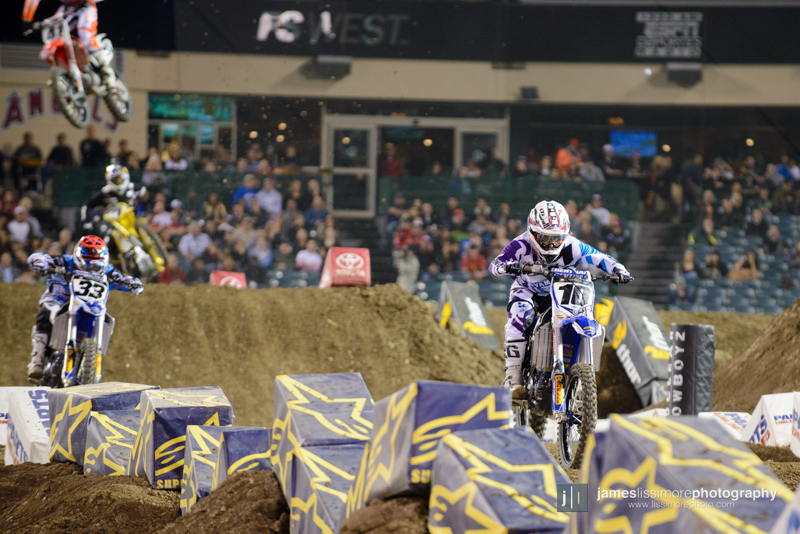 A complete JGR Yamaha commercial in the heat race when Brayton caught Grant and went on for the win. Unfortunately the main event didn't go as planned for either rider.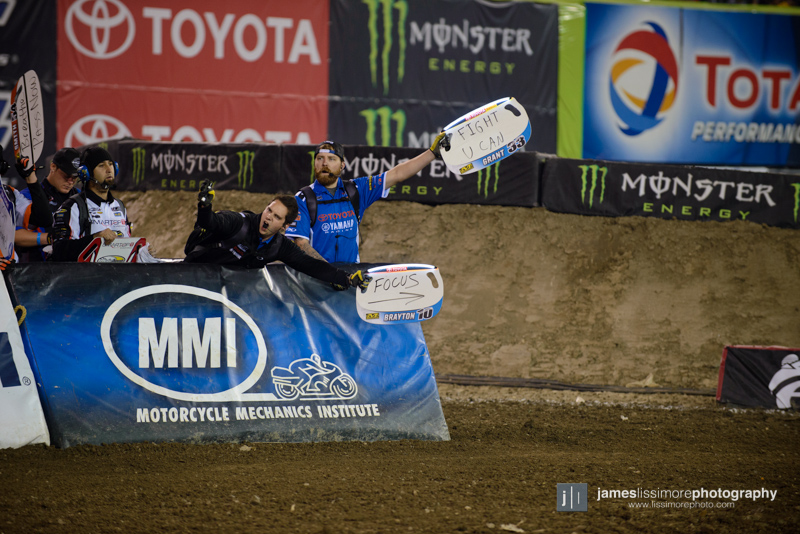 The JGR guys continued their innovative ways with some lit-up pitboards for their riders to see. That Coy Gibbs, always one step ahead of everyone else whether it's pit boards or video games.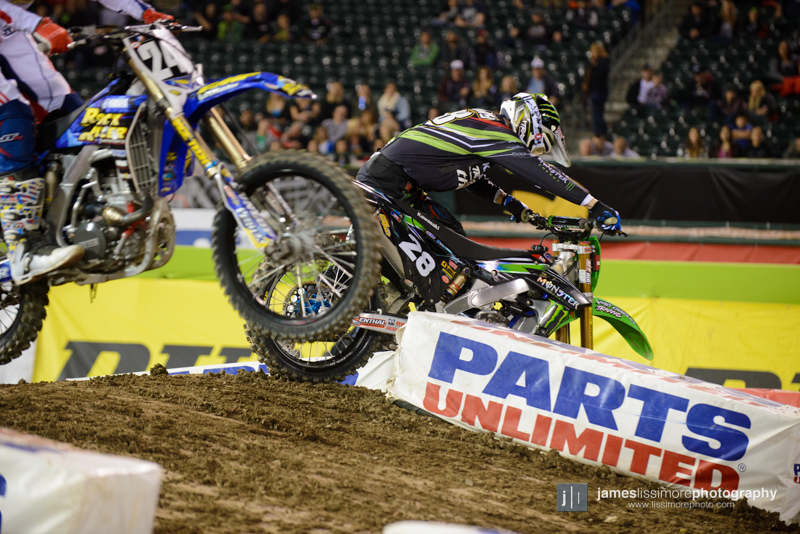 Tyla Rattray's miserable season continued when his bike broke in the heat race. And in the LCQ he came up one spot short of making it to the main thus making him once again very angry.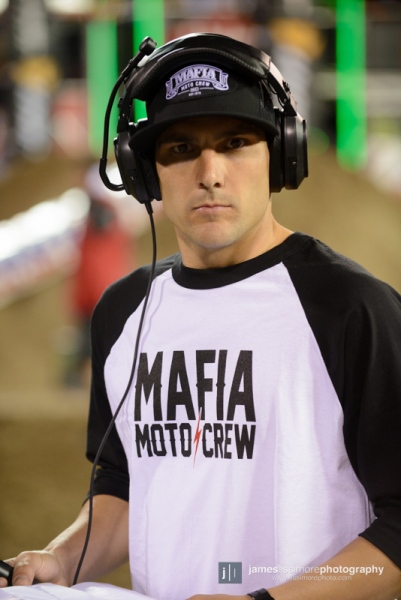 Nick Wey has been a good addition down on the floor for the west coast races. He's got one more race in San Diego and his announcing career ends and his comeback to racing continues.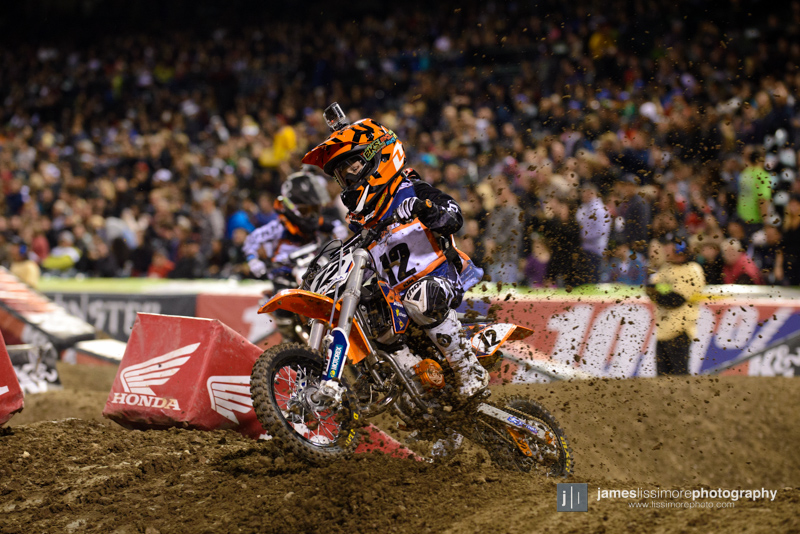 The KTM 50cc race was back after being gone for way too long. I remember that near the end of it's original run I thought that It was kind of boring but that was just me being jaded. I have to say that the crowd at Anaheim really liked it and look at the winner here running EKS Brand goggles!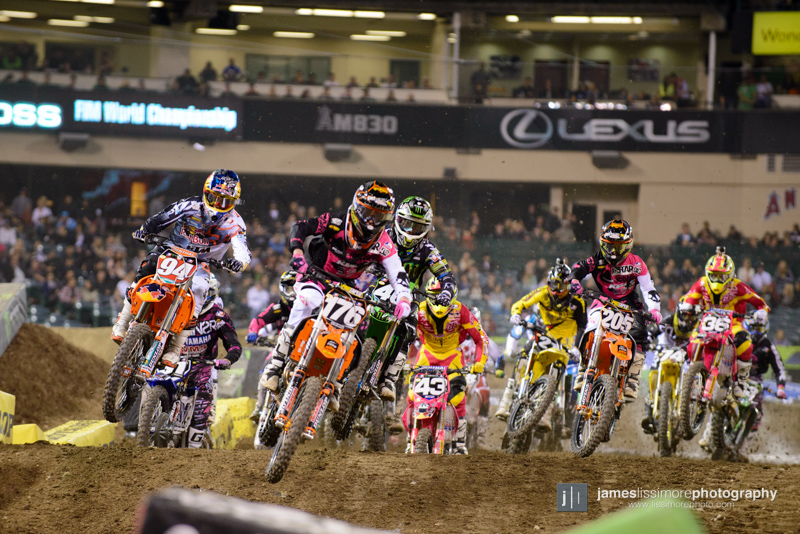 This Joey Savatgy is showing that he's not going to have a problem getting a deal for outdoors if his JDR KTM team does indeed fold. He grabbed the holeshot in the main event and rode strong for a number of laps before…something happened to him and he started dropping back.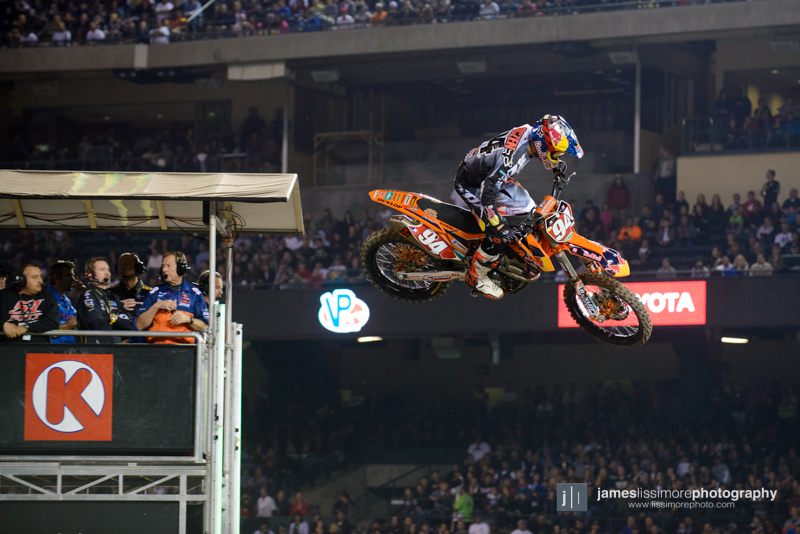 Ken Roczen got the points lead last week with some great riding and some luck with Tomac going out. This week, it was all on him baby as he rode another impressive race to put five more points on Tomac in the title chase.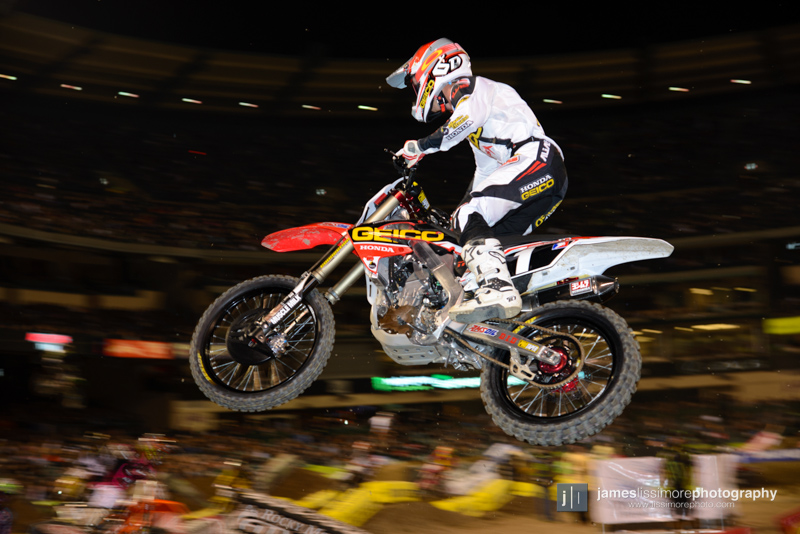 The start doomed Tomac as by the time he got up there, Roczen and Davalos were gone. I have to give Eli credit in that good or bad, he meets the fans and media afterward with a smile and professional manner.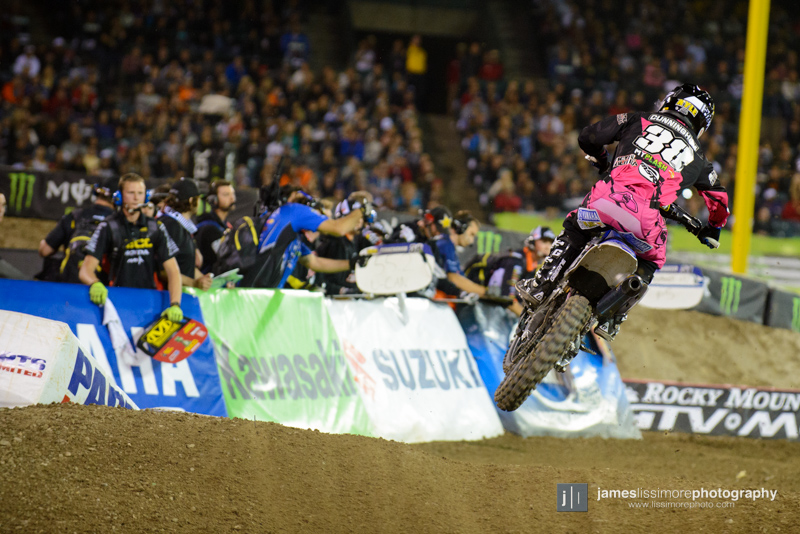 Two weeks in a row that Star Racing's Kyle Cunningham has ridden very well. MSR was on the pink gear program.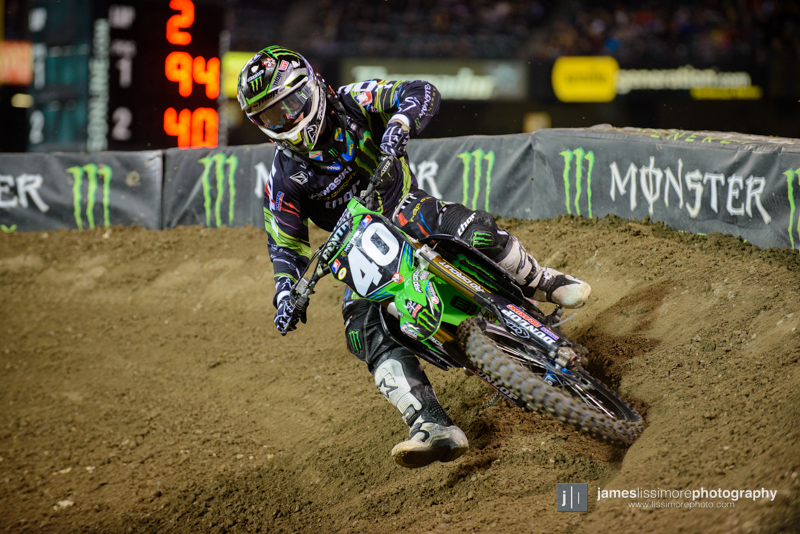 I'm sure Davalos and Rattray got an earfull all week from Mitch Payton as he hasn't been happy with the results on the west side so far. Martin rode well in winning his heat and getting second in the main event. He's one step closer to getting that first win.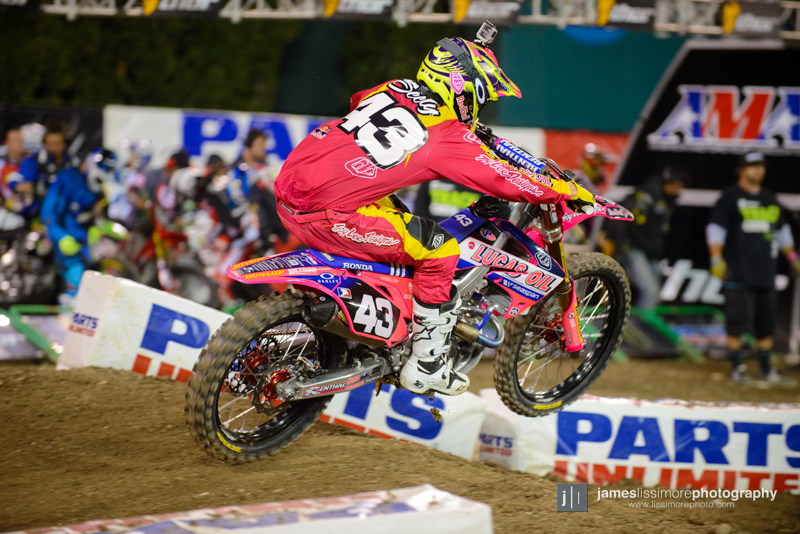 Seely had a rough Anaheim 3 with some crashes. He's still third in the series though and has that riding style.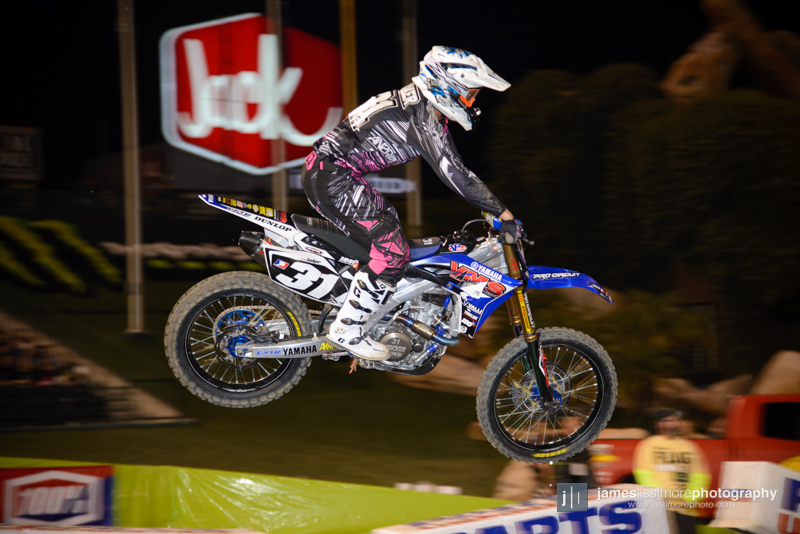 Travis Baker had his best ride of the season and ran fourth for a long time before getting a bit eaten up by the big dogs. Rumor has it that Larry Brooks is going to come in and manage the Valli squad starting this weekend.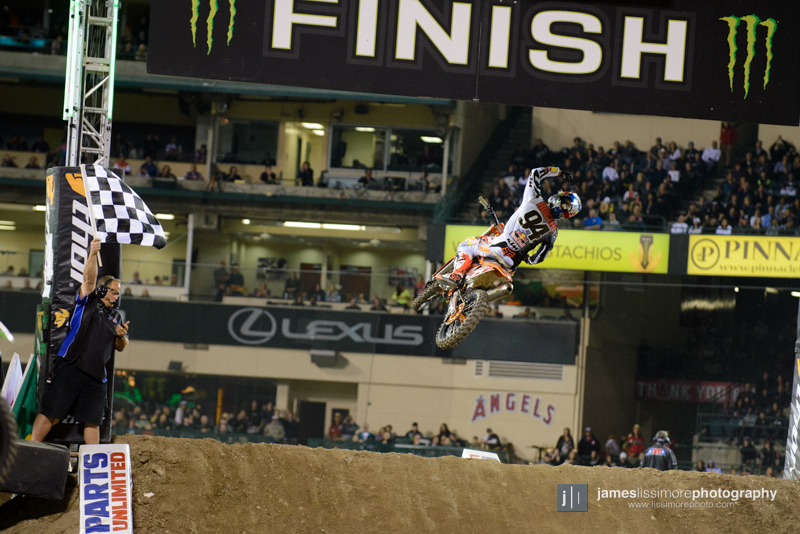 Da German is da man right now.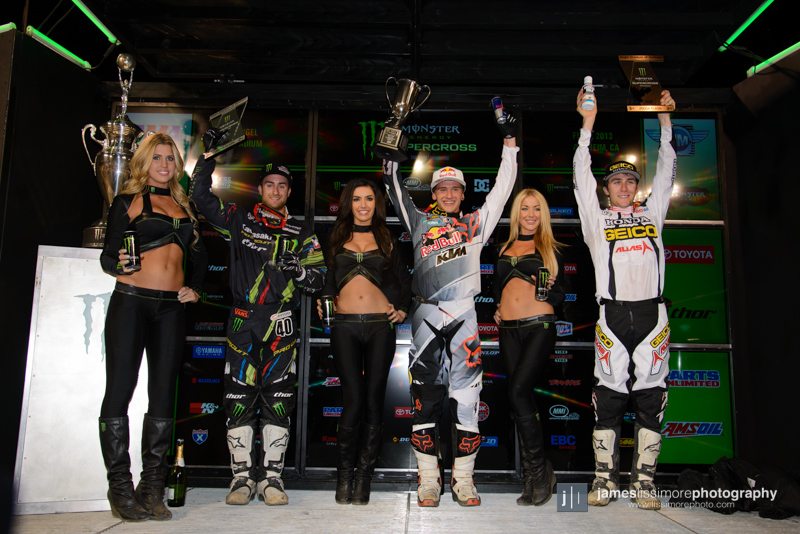 Podium shot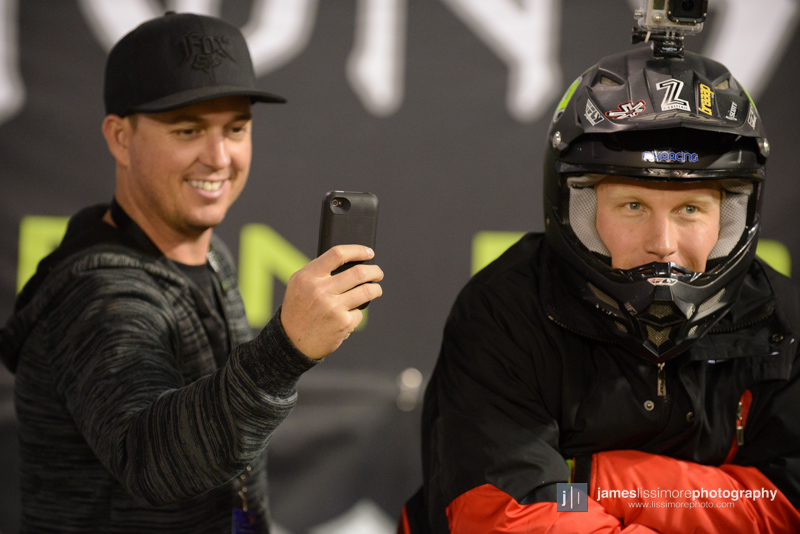 I don't know what Beeker, the Fox guy, is taking a shot of Andrew Short for but it's probably something that he can laugh at later.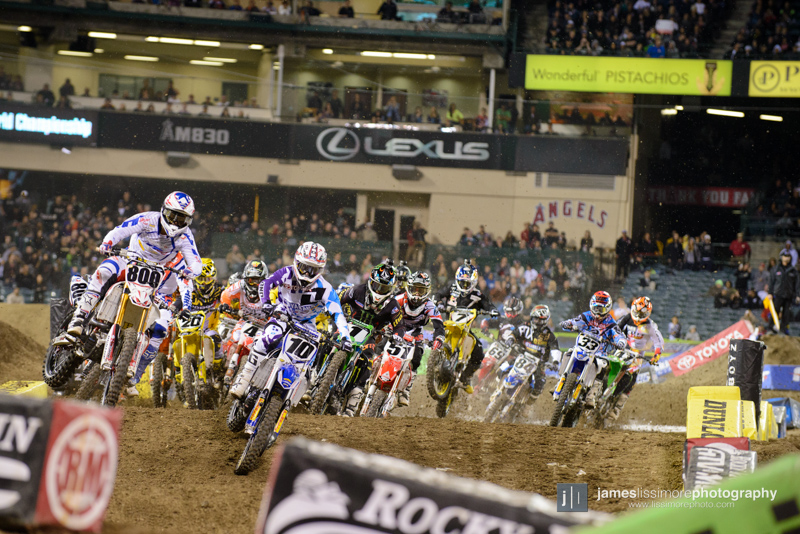 Brayton's starts have been pretty good lately- they have to be as he beat the 800 to the first turn!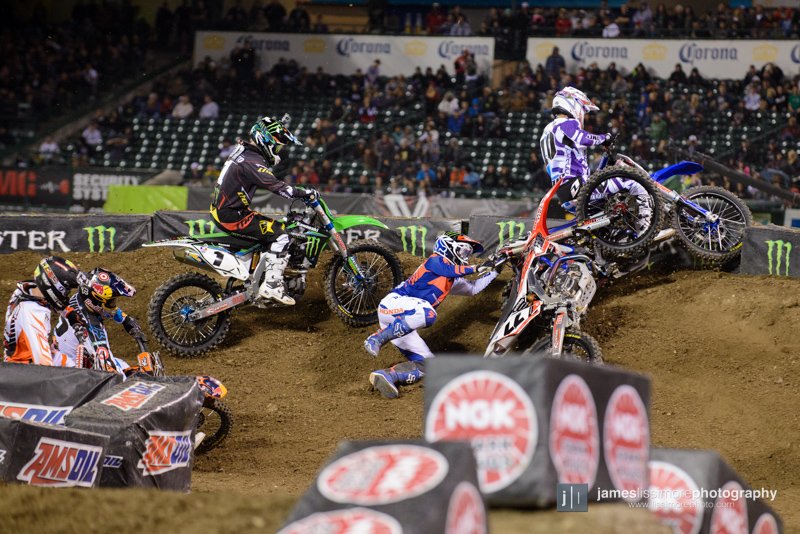 Too bad it was all for naught as he got together with Chad Reed in what he called "a racing incident" in the next corner and effectively ruined his night. Reed's gear still looks very good there laying on the ground.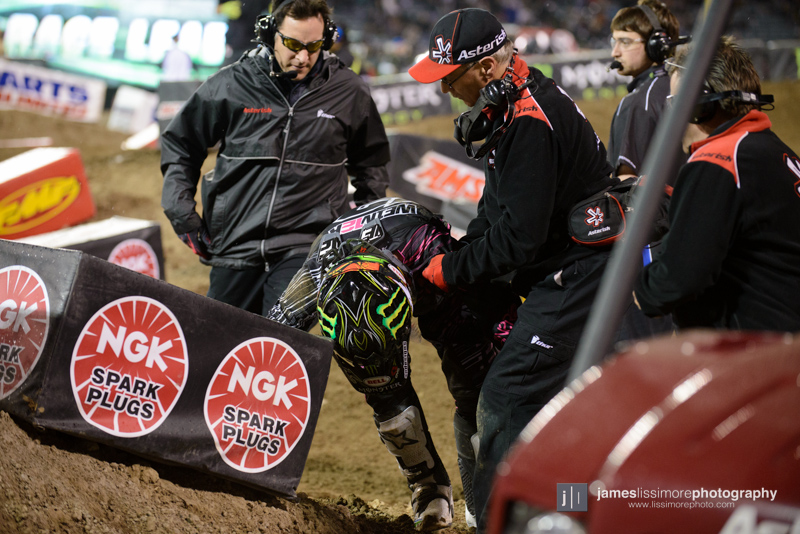 Somehow in that mess Jake Weimer got ran over and beat up. He DNF'd on the night and rumors have him missing some races with a rib injury.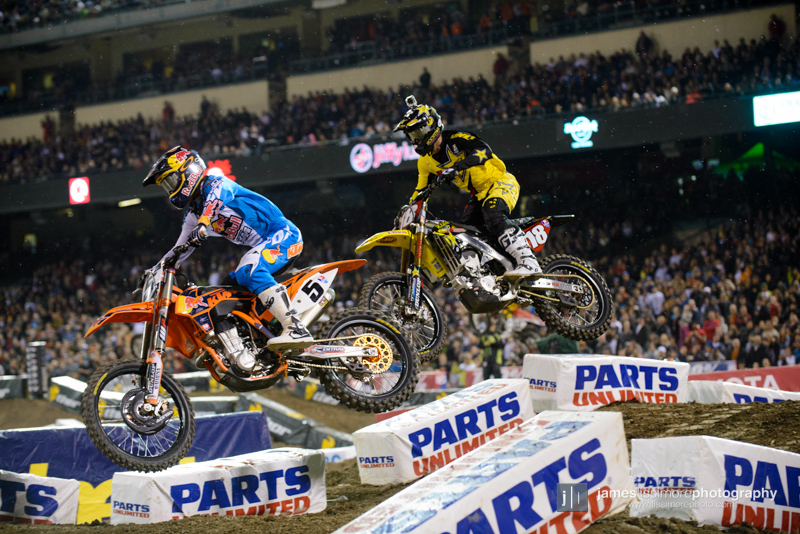 Ryan Dungey and Davi Millsaps escaped the carnage and battled for the lead early. This just in, Millsaps is for reals.
Villopoto was an innocent victim of that Brayton/Reed pileup and his camp wasn't very happy afterwards with Reed. Villopoto went down later on by himself and the best he could was an eighth.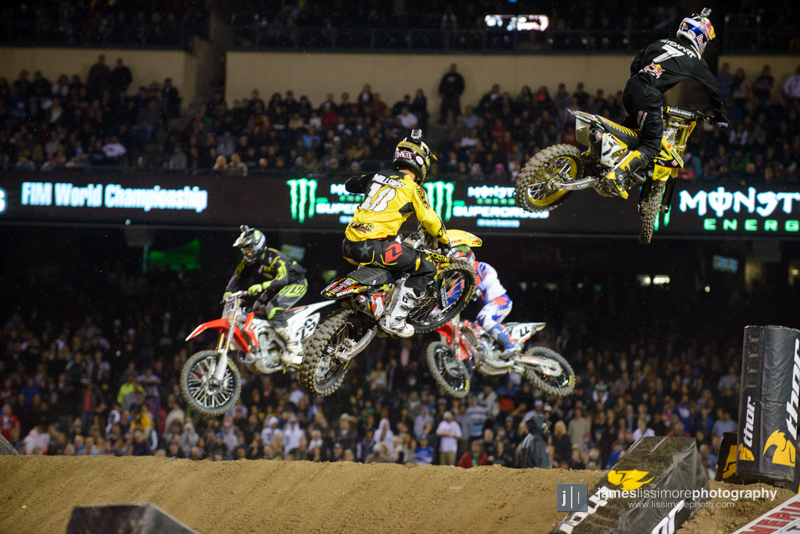 Millsaps chases after Stewart in one lane while Reed does the same in another lane. Supercross has so many little fights going on all over the track, it's hard to follow.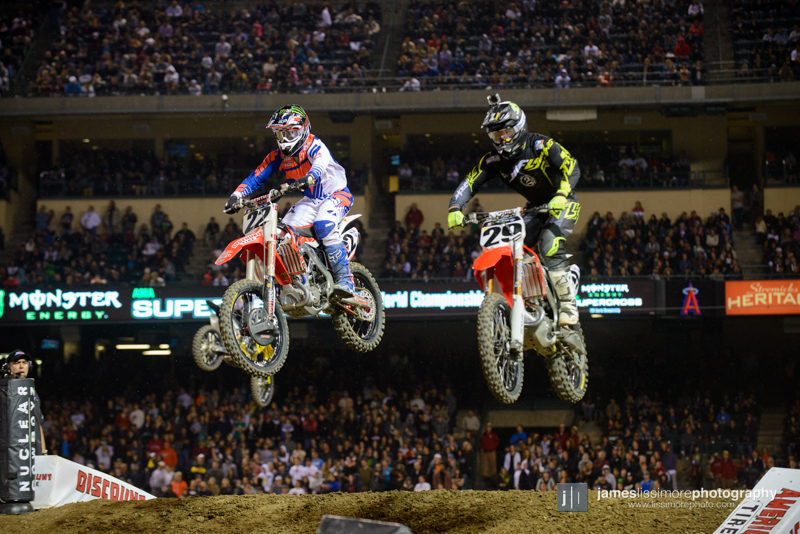 This was the most underrated battle of the night as Short tried to hold off Reed for fifth place. Chad eventually got him but it wasn't easy, that's for sure.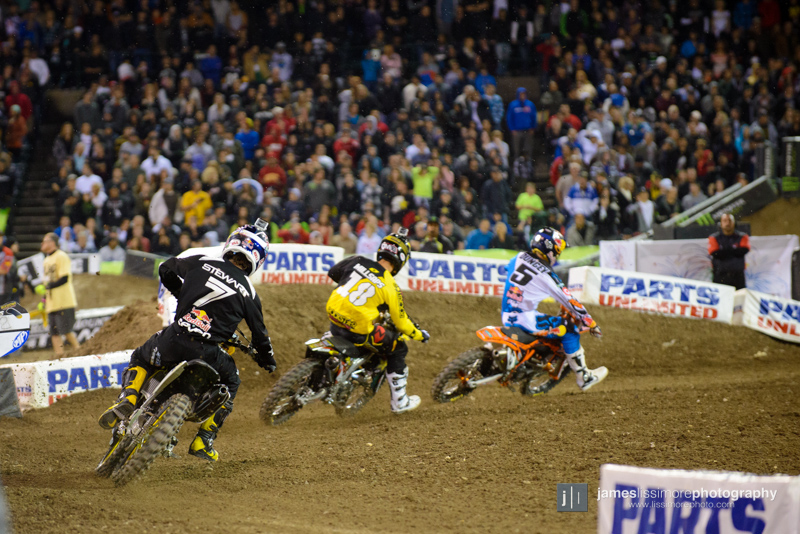 1-2-3 in the main event. By far the best ride for Stewart as he was as high as second and ended up fourth.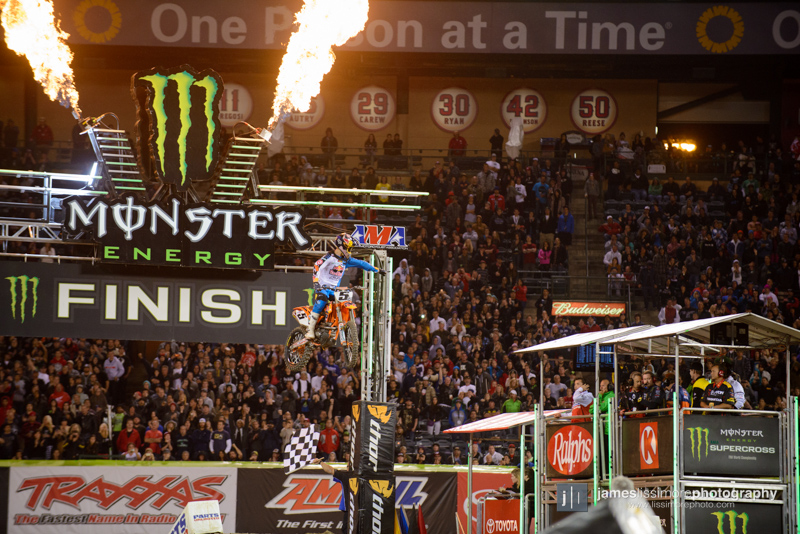 Unbelievable win for Dungey. And to think, he was so close to just being right out of the main event altogether.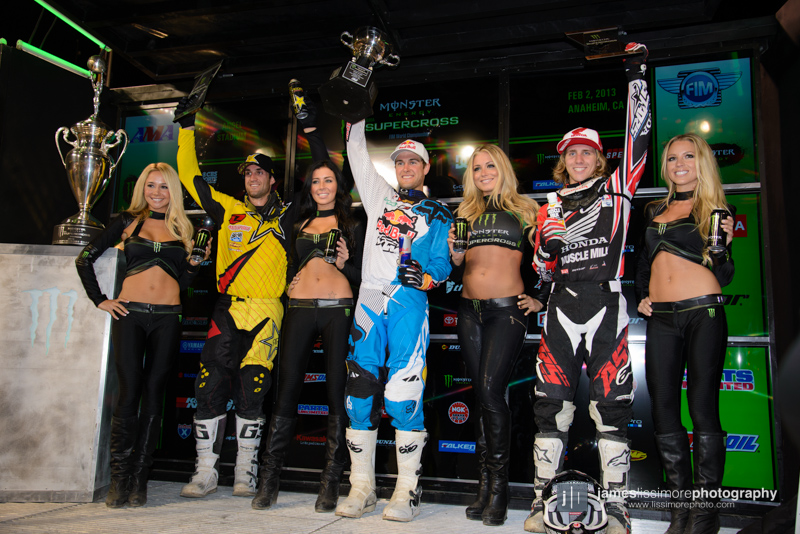 The podium in 450's. I don't know why Lissimore puts these in there but whatever.