Teams like JAB Motorsports are the lifeblood of our sport.

Teams like JAB Motorsports are the lifeblood of our sport. Scott Motorsports and we at PulpMX realize this and we will use this weekly look into the JAB Motorsports Team to make sure they receive a deserved consistent spotlight through the 2013 season. Scott Motorsports is a proud sponsor of the JAB Motorsports Team and keeps team members Matt Lemoine, Gannon Audette and Vann Martin fully equipped from head to toe.

Photos By: THE James Lissimore
After a couple hiccup weekends in Anaheim 2 and Oakland, Matt came into Anaheim 3 looking for redemption. Despite getting into the main via his heat race, something he's done every round so far, a couple early errors in the main, made this 11th all the more improbable. I checked in with Matt to see what he had to say about his near top-10 finish, the team around him and what exactly happened with Jake Weimer in the main event.
Swizcore- First of all congratulations on your 11th place. That was a great ride but I want to touch on what happened with Jake Weimer in the beginning of the main event first. What was the story with that?
Matt- Well, I was on the starting line, the card turned sideways and my bike stalled! So as soon as the gate dropped I had just gotten it started, so I obviously started out dead last. When we came around the second corner, there was already a few people down and I was right behind Jake. We kind of weaseled our way through that and at that point I was sure what happened but through text messages, he said someone caught his front brake and it caused him to fall right in front of me. Man, I had no where to go and I just plowed into the side of him.
It sucked, I really wanted to stop and help him because Jake and I are good friends and I knew how hard I had hit him. As soon as the race was over, the first thing I asked my Dad was, "is Jake alright". It sucked for him, I guess that's racing but it was a bum deal.
So is he ok, gonna be in San Diego?
Yeah I believe so. I think they were checking his kidneys and whatnot but he seems to be good so he should be back on the bike.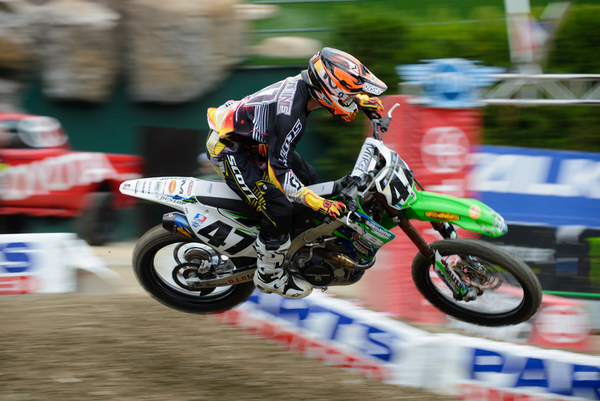 Matt looks more comfy than ever on the 450 indoors.
Good. Ok on to your ride. Did you just really like the Anaheim 3 track, or were you feeling it, just in a great mindset or what? 11th is awesome.
I think all of the above. I liked the track, I didn't have any complaints about it. The bike felt good, we ran some new suspension that we have been testing with and just being able to ride and get some training in a few days before we left was a big help. The weather's been, "knock on wood", holding in our favor and just going out there knowing that I belong up there– it all goes back to confidence you know? If you're confident, you ride good. At the same time, you gotta be a little bit nervous. If you don't get nervous, I think you're too comfortable.
Everything was just clickin' and I told my Dad, "I know I belong up front". "If I put in a solid 20 laps, there's no doubt, I know I'll be up there". That's what I wanted to do. It stated off a little rocky which made my heart drop a little initially but I was just like, "ok let's just go at this one lap at a time". That's what we did and the result was 11th which I'm pumped about, the team's pretty pumped about and I'm just going to keep moving forward from here.
So with that 11th, you were further into the fast group than you have been so far, does that mean you learned more than you have in previous weeks in slightly slower traffic?
Yeah, it's pretty much like the heat races you know–
Yeah that's true because you have been racing those guys in your heats. (Matt has qualified from his heat every round so far)
Right. Everyone pretty much rides their own race. I mean if there is somebody coming up on you that's faster than you, they may run it in on you but it's not going to be too dirty, like trying to kill you. Obviously if someone who is faster than you runs it in on you, you hold your line, maybe retaliate if you can but I got to ride behind Villopoto for a few laps which was awesome. I got to see some of his lines and where he was faster than I was. I got to ride with Brayton which is another good guy. It's definitely still a learning experience and being able to finish a solid 20 laps was definitely a check off my list. Knowing how good of shape I am in and how good I felt at the end of the race, it just puts away all of those little doubts that I had in the back of my head.
Does this 11th change your game plan moving forward? Do you move up to the next step of the season-plan?
Just keep the momentum going. That's it. Letting everything fall in place and doing all we can do. There isn't any pressure on me to, say top 5, but if I do see a chance to get a top 5 or a top 10 before the season's over, then I'm gonna take it and run with it. So, no really "set goals", I should say.
I'm calling it now, top 10 in Dallas. Home race, lots of support, comfortable surroundings.
Top 10 in Dallas will be awesome. I'm looking forward to that race, all the family and friends being there. Just coming back toward the east coast, it's going to be fun. Definitely looking forward to that one.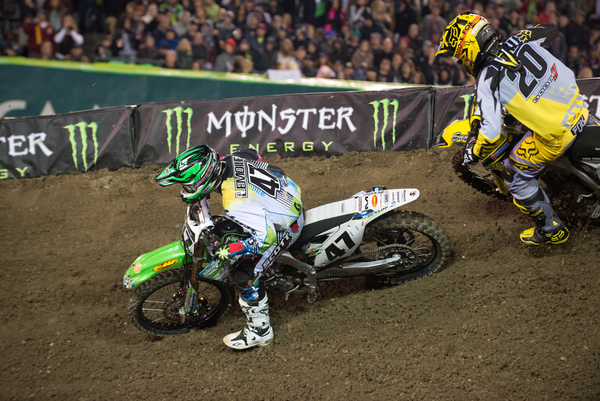 Lemoine has gotten into the main every round so far from the heat race.
I haven't given you a chance to thank all your sponsors that have come together for you to make the Jab team possible yet, so this is the time. Show em some love.
Well, first on the list, I definitely have to thank my Dad. My Dad has been through so much, I know how hard he works. He puts in every bit as much time as I do, if not more.
Adam Smith, the man who owns Jab Motorsports.
John Mitchell is another key guy who no one really hears about. He does all my suspension and motors.
Scott. I couldn't do it without John Knowles and all those guys at Scott. They are super awesome.
Our truck drivers Bill and Tom. They do a lot as well.
FMF, Silkolene, DT1, Speed Graphics, Mika Metals, Red River Motorsports, Dunlop, 3D Racing, Boyesen, Matrix, Concept, Rekluse, Dubya, Ride Engineering, Shoei, Alpinestars, DVS… the list just goes on and on. There is so much support for us. So stoked to have everything that we do have. it's great.
Ok, I was going to end this but that brings up a point I made last week for this feature.
Your team is the modern day incarnation of a Privateer effort done right. Your truck may be bigger than the old school pick-up but the way your supporters rallied around you to put this team in place is as genuine and true as it was back in the 80's and 90's. Do you see your team as a great model for teams in the future? Where a lean program and solid focus prove better than many programs we see today that are folding their awnings and hemorrhaging money?
Man I couldn't be happier. I've raced out of the semi, I've raced with many more people around me and this is by far the most fun and well rounded it has ever been. Everything has been great, the team, the setup… like I said, I couldn't be any happier. Everything is awesome. My Dad does so much, Tom and Bill, the guys with 3D Racing, Scott does their part… It sucks seeing all these other teams folding up but if you get all your financials in order and do the best with what you can get– It seems like we are doing that part well and with Adam's help everything has been awesome.
It seems like every weekend we get something a little better for the bike, someone else is stepping up to offer us something new. Someone always wants to get involved and that is great. I think it's only going to get bigger and build from here.
Is "The Facilitator" nickname sticking to Bruce yet? I've been pushing that hard.
Haha, not yet, he's still Dad to me but everyone is always calling him team manager and he's like, "I don't want to be team manager, I'm the Facilitator".