"R-E-S-P-E-C-T, find out what it means to me," the embodiment of all that is sexual and feminine in this world sang those letters and words so powerfully, Aretha Franklin.
"R-E-S-P-E-C-T, find out what it means to me," the embodiment of all that is sexual and feminine in this world sang those letters and words so powerfully, Aretha Franklin.
By Isaac Scoggin
Photos by: James Lissimore
I know what you are thinking but beauty truly is in the eye of the beholder, or in this case, the ear. But I am not about to caress your ears with a soothing voice, nor am I going to widen your eyes with subtle, loving words of respect written on the page before you. In fact, I am not going to shock any of your senses with a performance of powerful proportions; what I will do is take that simple word spelled R-E-S-P-E-C-T and tear it into pieces, stomp it under foot, then pick it up and force feed all who oppose the act itself. Mainly, this is due to a chemical imbalance, one that if not carefully medicated or supervised leads to tantrums such as what I am describing. The aim of this particular outburst is not at the definition of the word or the sexually un-arousing song, but it is aimed at the level of respect among the top riders of the sport. The repercussions of these actions or more specifically, inactions have become increasingly more prominent as the series rolls through the Midwest and on to Canada. They say a Preacher must preach, a Teacher must teach, and me, well I must bitch. Respect is a two-fold beast that can help or hinder the one willing to give it, but receiving it might be the hardest part. As Indy falls to the wayside, I find it to be prime time to separate what respect needs to be given and what respect needs to be taken.
Imagine "respect" as a long, powerful rope stretching a nonspecific distance between two riders, just as one used for tug-of-war. After all, each race is a battle and each Championship a war. For fun you can even throw the mechanics, drivers, managers, gear guys, man friends, and whomever else you would like behind each rider, because we have all heard a million times how important the support structure is for each rider's success. Both sides are tugging and releasing slightly every so often, as they attempt to gain the majority of the rope, which is of course, "respect". The give and take of rope is a process that last the duration of the series, but that is not to say that one incident cannot release a huge amount of rope for one rider and gain for the other. The 450 class this year has proven to be adequately lethargic as far as the tug-of-war is concerned. Actually, Barcia has been more respectful than anyone could have guessed, and if anyone has a beef with Barcia at this point, it is probably his teammate Canard. I am not sure what happened this past race between the two of them over the finish line, but regardless of contact, it shows a lack of trust and a growing void where trust once lie. However, if one rider were to be standing next to the rope, looking at it with a puzzled expression, that would be Barcia. He does not participate in the game of tug-of-war, nor does he acknowledge such a game exists.
When you rack your brain straining to come to terms with respect and it's place among the top riders, one name seems to stand out, Ryan Dungey. He embodies respect and it shows in his words, as well as, his actions. Think of the last time he lost his temper, his composure on or off the track, or even was out of sorts during an interview. Of course it is easy to remain composed during an interview when you do not directly answer the questions asked and instead, spin it to your sponsors, plus repetition of your mantra – working hard. It just does not happen to Ryan, not since the J-Law days anyway. Ryan has a code about him that gains respect from the fans and many of his competitors. He is humble and gracious in defeat, but he has the ability to run with anyone and a resilience about him that allows him to sustain championship hopes in any title fight. If he were to be a warrior he would be a Samurai, because he fights by a code, lives and dies by that code, and by all accounts has a sensei named Roger DeCoster (I can definitely see a little Master Splinter in that rat, but with only three pupils he is one turtle short). The only problem is that Dungey does not demand respect, no; he simply asks that you pick up the other end of the rope and tug.
Inversely speaking, Villopoto seems to be amused by this game of tug-of-war, and so he participates long enough to make everyone happy. Once again I am going to ask you to use your imagination for a moment. If you will, close your eyes (don't really, otherwise you can't read this) and paint a picture of team Dungey vs. team Villopoto, on opposite sides of the rope pulling away. Now, imagine them doing this for three quarters of the season, imagine how hard they both are pulling on the rope as they fight for points while trying to maintain clean racing. Both are masters at excluding any and all mind games from the equation, as they give each other thumbs up after the races, shake hands, give each other compliments, and even discuss the tracks after they put blood, sweat, and tears into the battle contained in the war. Still with me? Keeping that image in your head, think of the rope burning into the hands of all who attempt to gain momentum, struggling, becoming exhausted by the long championship fight. Visualize what comes next…Villopoto and crew let go. You think game over, Dungey wins, but you are wrong. Dungey and crew just fell on their asses by pulling so hard against an equal amount of resistance, and then all of sudden, there was none. Villopoto is not giving up, but this is what is taking place right now in the series. He is tired of the games and is no longer content with being humble, being politically correct in speech, in race craft, or in anything. He is intense, he is aggressive, and he gives a thumbs up to Dungey because he won, and that is what you do when you win…you say "good race, I beat your ass, but you rode awesome." If Villopoto were a warrior he would a mercenary for hire. He will play along as long as you pay a price, and he will adopt whatever code necessary to get the job done. The Green team is paying the green, so he is doing the job. Tug-of war? Well, maybe for a little while, but then it gets real.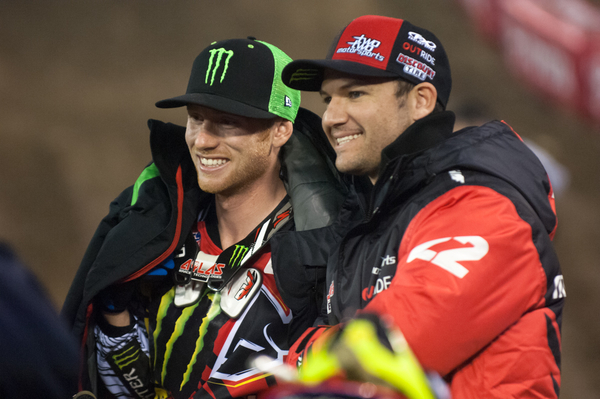 A rare shot of the typically withdrawn Villopoto from his competition.
This is not to say that Dungey is seeking respect from Villopoto specifically, or that Villopoto is disrespectful. It is not saying that the riders are fighting for respect rather than a Championship, but intertwined with the intensity of racing, the adrenaline of searching a track that supplies little in the way of passing for a place to force a pass and take a win, lies a game of tug-o-war. The races act as battles and they fit together like pieces to a puzzle, respect is a major piece in the overall picture that is the Championship. The winner has earned the respect of the fans and usually the racers with whom he fought for seventeen rounds.
If there were a rider that has lost the game of respect for so long that he no longer wishes to play it, that rider would be Davi Millsaps. No matter what the particulars of his past are or the reasons for his underachieving year after year, he was unable to gain respect from his competitors or fans. Even now, as he sits in second place in the biggest championship in the world of dirt bikes, he is chastised and looked upon as a failure by many. Belief and respect go hand-in-hand, and right now he needs to believe in himself more than ever, because his sudden rise in stock among the industry is already experiencing "a fallout". He deserves more rope than maybe any rider on the track, as he continues to be a player among the toughest competition the series has ever seen. All of this after proving every year to be just another rider on the track, circulating in the middle of the pack, desperately trying to gain respect and confidence that he does belong up front. This year he has proved it and like no one before him he has come so far after so long. Davi Millsaps comes to mind as a Raider or Pirate. Why, you ask? (I am glad you did) A Raider is someone who avoids direct conflict with the main adversaries and instead attacks supply ships on the way to them. They are tricky and steal from whomever they can as long as it benefits them. In the past, Millsaps has rarely won a battle against a main opponent. He sneaks in and steals a win when the opportunity presents itself, and this year it has more than most. Millsaps has also become a better, more efficient Raider, one that knows how to strike, and where to. Hence, the wins are becoming more regular. Time to steal a win, a championship, and Davi, steal that damn rope of respect and burn it!
Getting back to brass tacks, riders earn respect in different ways. Be it superior skills on a bike, crazy balls that allow them to never be intimidated by man or obstacle, longevity while racing at a high level in a sport that demands so much, shear toughness through perseverance, or the overcoming of all obstacles that lie ahead; there are many ways to gain it, but it is also easily lost. For an example of a racer who has gained respect from his skills on bike we have Josh Hansen. How many times have you heard he is so gifted? He has not shown much to prove he deserves the respect he receives, but I guess in his case; once you have it it cannot be taken away. However, his antics on and off the track make it seemly impossible to find anything remotely similar to respect to award him with, in my humble opinion. Some of the, let's call them stunts, he pulls leads one to believe he feels he is entitled to respect from the other riders, especially the 250 class when he raced there. Look how he lost the Championship in 2011. It is not merely Josh, because other racers, professionally and locally, emit a sense of entitlement to "the rope of respect". They may be entitled to the word but not the definition. Respect must be earned by all of us, and one must first give it, to then receive it.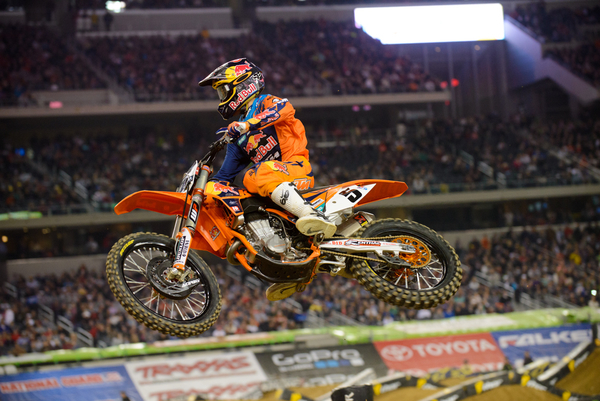 Does Dungey need to be meaner to his competition?
As previously stated, these riders are going to war and I would like to continue to establish some warrior personas for them. We know what Dungey and Villopoto stand for, but what about some others? Reed would be a Knight, as they are noble and moral. Chad has become SX royalty over his long career, and he is obviously heavily armored, as he is hard to wound. It doesn't hurt that he has built his own fortress of a team and I imagine him just standing there as they suit him up for battle on race day. Barcia is a Viking through and through. He doesn't like to shave, he is blond, and he is aggressive/brash on and off the track. Plus, he will hit anyone and doesn't care who it is; if you are in the way of what he wants…bam bam! Canard is tough because he can be precise one race and soil-sample the next. I would say he is a Ninja, but the Beverly Hills Ninja. You know, Chris Farley in a ninja costume rolling around like a stealthy bull in a china closet? Sorry Trey, but at least you are still a stealth-killing machine. Hahn and Musquin are like the Cowboy and the Indian. Hahn has the stach, plus he is living in Texas. He is the kind of straight shooting guy with no frills, just gett'r done, whereas Musquin is sneaky and smooth. I see him saying, "Hahn, smoke peace pipe with me and float over track", then he kills him. Hey, it is war.
Respect has its place among the racers and among the fans. It can be given or it can be taken away, it can be helpful to your confidence or it can hinder your view of the big picture, and it belongs to those who are willing to sacrifice for it. We are all at war in our daily lives, trying to find respect wherever it may lie and give it to those deserving. Tug-o-war symbolizes the back and forth struggle we are all faced with as we navigate the cold waters of respect, self-respect, and entitlement. Nations have fought over it, races have done the same, and even gender picked up the rope and tugged hard enough to gain what it deserved. In our lives we do not have the option to simply put the rope down, but I am asking Dungey to do that now. Stop respecting when your helmet strap tightens, not to the point of disrespect, but to the point of realizing no one is currently on the other end of your rope. Villopoto is done playing nice and has put respect aside, and it's time you do the same. Fans respect both riders for what they do and the sacrifice it takes to do it, but now is no time for anything but self-respect. Everyday is a battle for us all, some days you win, some days you lose, but regardless of respect we go to war, I suggest you do the same.