I feel like I've stepped into some alternate universe when the universal opinion is that Toronto had the best dirt and was the best track of the series.
I feel like I've stepped into some alternate universe when the universal opinion is that Toronto had the best dirt and was the best track of the series.
Photos By: THE James Lissimore
It's true though. I can remember only 3 short years ago when I watched the track crew dig a sidewalk chunk out of a jump face after practice! It was rocky, gravely, spongey and as inconsistent as a track could be throughout a one-day program. Suddenly, last year the dirt was pretty good and now in 2013 it was classic late '80's style supercross dirt. It held it's form on jump faces keeping the jumps safe, it rutted in corners and the whoops broke down and cupped out. Most importantly, it provided ample traction no matter where they attacked from(aside from the few loose, flat corners).
It helps that the Rogers Centre has a massive floor space which made for, in my opinion, the most interesting track design of the year. It wasn't just straight runs down the long sides with a crossover. Now obviously, the stadiums in the states can't increase the floor space to match the the Rogers Centre, so that leaves dirt quality and obstacles as the variables that can be changed. Greater square footage would be huge but until the series returns to the Pontiac Silverdome(I can dream– going up in the stands; Classic), lets stick with prospective changes that are tangible. Oh and about those obstacles…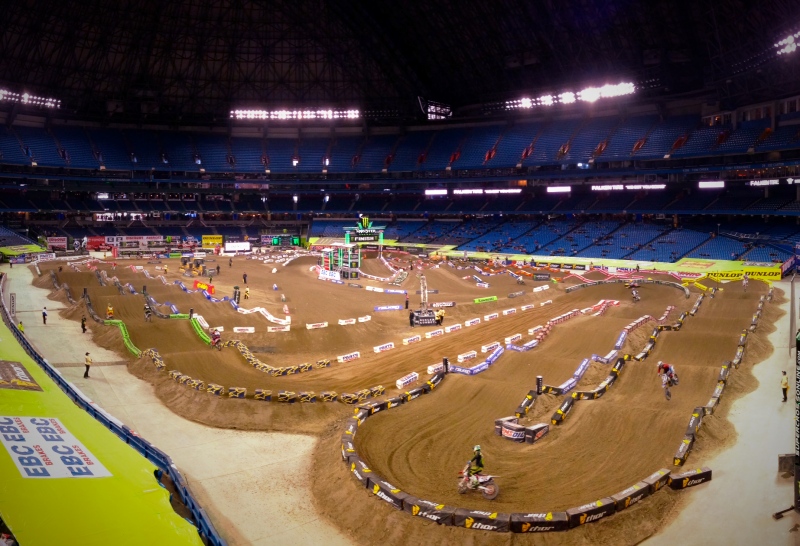 The Classic Toronto dirt from the 2nd level in practice.
The Chad Effect
Chad Reed had a couple things going this weekend which were somewhat controversial. Firstly was his pic of the whoops from friday night which shown one Jason Thomas demonstrating the point Chad wanted to make: The whoops were straight out of Mad Skills Motocross and were foolishly dangerous. Chad is a veteran when it comes to stirring pots and this was a another example of him intentionally creating controversy. I have no doubt he believed the point he was making, therefore it wasn't truly just a tongue in cheek attempt to create a debate but it went a level higher in really ticking off the track builders. They receive criticism week in and week out for the predictability of their creations and then when they go to switch something up, they are again criticized for it; before a tire even touches it nonetheless. It was a lose/lose situation for Dirt Wurx. They could either change it before saturday which would nullify Chad's possibility to say "I told you so" but it also meant they would not be able to test the response to actually throwing in a non-standard obstacle.
There were more than a few highly regarded industry names voicing their disagreement with Chad's "callout" but in the end Dirt Wurx succumbed to the finger pointing and readdressed the section. I think the issue at hand isn't so much how dangerous the section *could* have been but the corner Dirt Wurx have painted them selves into by creating cookie cutter designs for so long. The mold has been set for some time. The riders have come to know what to expect and rely on that familiarity week to week. We see it in how they jump most obstacles on lap one of the un-timed sighting session. There is essentially NOTHING today's 450's can't jump so, in that sense, it's a matter of the riders reassessing how they attack the obstacles. If the whoops are some new monstrosity that cannot or should not be skimmed, the racers will have to attack them with a new craft. If that means jumping through them, fine. There is a riders meeting each week for a reason and there is also a reason all riders are required to be present for it every single week. Build what you want Dirt Wurx(short of 120' triples) and announce at riders meeting that there are some new obstacles in the track and to approach them with extreme caution in the first laps of the un-timed sighting session. If someone has bigger balls than brains and rips lap one with reckless abandon, hey, you were warned.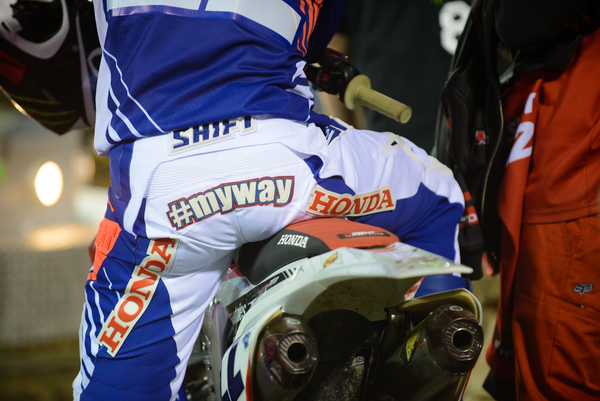 I don't know if the Toronto whoops were #chadsway but they definitely weren't #dirtwurx's way after Chad's Instagram post.
The cookie cutter stuff is numbing the sport down due to many factors, one of the major factors being the power of today's bikes. The obstacles have got to change at some point and if Dirt Wurx is more afraid of the possible "I told you so" than the progress of indoor racing, we're in for it. Introducing obstacles which slow the pace is what will make the racing better, not higher flying or a faster lap time. The riders craft needs to be challenged, not their balls or their bikes power. Get it?
Then there was the talk of the "Chad Reed Announcement". Matthes' tweet referencing "I'm hearing retirement" was standard Matthes effing with people, yet people took it as legit. Do you really think Chad would choose to go out of the sport after one of his most frustrating series' ever? No way would he choose for this series to be the last gasp on a great career. The only thing funnier than him actually retiring at this point was the discussion on him switching to Yamaha. Man, when the conspiracy theorists wind up their flux capacitors, they really go all in. The sexiness of the bench racing about this sport is almost always a better story than the reality… unless it involved Stroup-a-loop.
The announcement wasn't supposed to come for about another week but Speed broke it anyway and that's probably for the best. Can you imagine some of the rumors that would be birthed over this next week, an OFF week at that! On second thought, I'm actually a little bummed out now, that would have been some good reading. Anyway, an MCL repair is in the works during the off-week and Chad will miss at least Houston. The PR says he hopes to be back for Minneapolis but don't expect him back if he's not 100%. There's no way he returns before he feels he is absolutely ready as that would just increase his chances for more struggle outdoors.
450
It's pretty crazy how fast this 450 series has changed. In the beginning of the year, RV looked like a machine in A1 qualifying and his heat race but in the main, he appeared to be rushing it. His urgency was on a level like it was round 15 and he was down 10pts, not like it was round 1 and everyone was square. A few rounds later and Davi Millsaps was clearly the stud, with RV making steps toward the red plate but not looking like the RV of 2011 and 2012, where he would not be questioned as the dominant racer. Notch a couple more rounds off the series, add in a tweaked arm and knee for the Duke, a refined bike setup for RV and the ginger's eyes narrowed and his domineering-will on track, re-emerged. Barely a blink and now RV has gone on a 4-race win streak, with the 4th being his most impressive yet. Davi is finally able to ride during the week again and it looked it. It's a great thing to see too. I'm not going to say that people have been saying they knew Davi wouldn't be able to sustain his early-round successes but his band wagon seen some empty seats lately. Seeing him step it back up in Toronto was a breath of fresh air and with a week off before Houston, I'm hoping he can make even more steps toward full health and make a legit run at the seemingly impenetrable RV1 for the remaining rounds.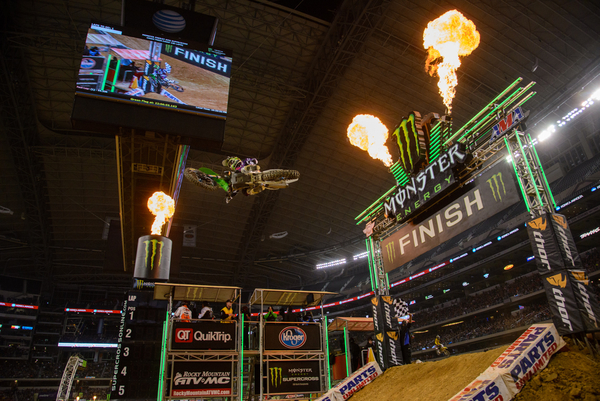 RV has been streaking for 4 weeks now. That would get him expelled from any college campus.
With the injured and peculiarly off the pace in main events, James Stewart, a searching and now revealed injured, Chad Reed, rookie inconsistency of Justin Barcia and lately crashy Trey Canard; you'd expect Ryan Dungey to be the guy pressuring RV late into the series. He did just that last week in Indy but this week in Toronto, even though he looked great out there, he just didn't have that extra oomph that both Davi and RV did. Even though he didn't, I still believe over the last two weeks, Ryan Dungey has looked better than he ever has in Supercross in terms of outright speed. It's not surprising either. Over the years, we've seen Ryan Dungey figure it out and continue to improve. He's never been the explosive guy who just kills it from the get-go, he's methodical and works his way up to the lead pace. DeCoster said that was one of Ryan's big pluses from the beginning, he listened and absorbed everything he could from those in the know, offering advice. We'll see if that methodology adds up to running with RV week to week in the years to come.
So here we are with a week off. A week where Chad Reed will get his pesky MCL repaired, James will attempt to rectify his endurance issue, Davi will hope to get a solid two weeks of his standard program in, Ryan Dungey will stick to his program, Barcia will stay on course and probably begin riding some outdoors and Trey will just make sure he's 100% coming into Houston; also probably transitioning into some outdoor riding.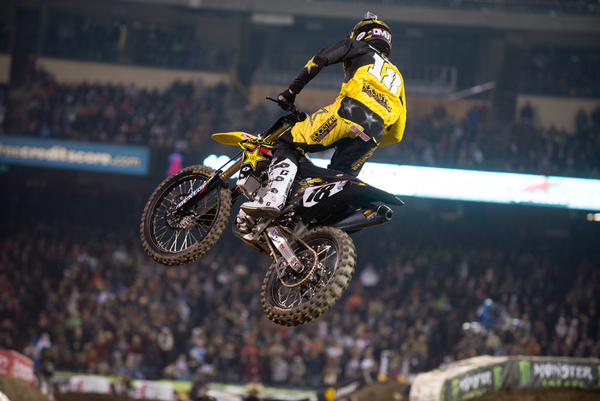 A healthy again Davi Millsaps, could reignite a title fight to the end.
I'm most intrigued by the prospect of a once again healthy, Davi Millsaps. That second he pulled down in Toronto was impressive. Not only because he lead some laps but because when RV did get him, he stuck with him over the duration and it was clear, RV was riding his ass off to stay there. I believe that's the hardest RV has had to ride to notch a win indoors thus far. He's been involved in gnarlier battles to the finish over the years but in my opinion, that was a one on one, all-out, heart-rate maxed, sprint race for 19 laps.There was no protecting lines and riding defensive to retain the advantage, it was stick to the fastest lines and hammer down till the end.
Come Houston, I'm hoping for more of the same. We've seen earlier in this series, when Davi is healthy, he is afraid of no one, no thing. He sounded motivated and optimistic following Toronto and I bet that turns into resolved focus as Houston approaches.
250
Marvin Musquin has also took it upon himself to go streaking the past three weeks. Where was this Marvin through the first 3 rounds? Does he even know? The Streaking Marvin looks like an impenetrable force. He's lanky, smooth, fast and of course, the crafty Frenchman. He had a couple sketchy moments in the whoops during qualifying and a downright scary crash in one of the rhythms but he refocused for the night show and made no costly errors. His start was much improved over his last place start in Indy last week but the result was the same. There is still a question to be answered for Marvin though regarding his title rival Wil Hahn, who's starts have pretty much mirrored Marvin's during his streak. In Daytona, Marvin pulled the holeshot from another planet with Wil not terribly far behind. Then in Indy it was Marvin in last place, with Will right there who made a mistake of his own moving to last early in the first lap. Now, in Toronto Marvin was out front with Wil, again not far behind.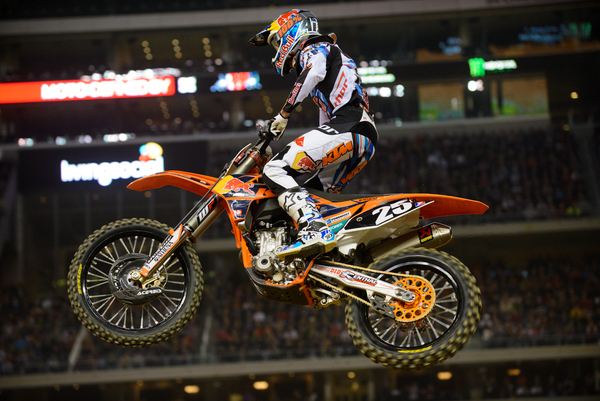 Marvin's streaking has lasted 3 weeks. I'm not sure if streaking is commonplace in his native, France?
Their speed appears to be pretty damn equal and their ability to minimize mistakes is also pretty reflective. Therefore, with these two, the start is everything it appears. Blake Wharton is the closest to them with tangible title hopes still but far and away it appears Marvin the Streaker and Wil the Comeback Kid, have a one on one battle to the end on their hands.
I really expected more from Blake Wharton this year. I have the last few years actually. The kid has so much talent but it just seems it's unbridled somehow. When he was let go by Geico, I expected him to have a fire in his belly that made him want to show them at all costs, that it was a mistake. He won last year in Indy but otherwise he's just been the typical Blake; tons of speed, flashes of brilliance and also-ran. It pains me to say that because I honestly have expected him to be pressuring for the title the last 3 years. Granted, he's 3rd in points but it's clear, he hasn't been the consistent threat week to week for the points lead that he's capable of.