Our man Mccready files this report
Our man Mccready files this report
Finally someone has beaten Cairoli! ( but not Herlings)
World Championship Round five, Bulgaria
Article by Jonathan McCready
Pictures by YS and KTM Images
After three straight overall win Antonio Cairoli was defeated by Gautier Paulin. The Factory Kawasaki rider was in top form all weekend on the fast hilly circuit in Sevlievo.
Paulin was fastest in timed qualifying, won his heat race and also the opening MX1 moto on Sunday.Silky smooth and fast, Paulin looked set to dominate moto two as well, but Cairoli had other ideas.
The Italian was not happy with his fourth in the first moto and nailed the holeshot in race two. Paulin passed him coming out of turn one but Cairoli would get into the lead early and pull up tp three seconds on Paulin. It was a lead the Frenchman could never close down but he would never fall further behind as Cairoli took the chequered flag.
It was a champion's ride and a big race for the momentum in the series. Cairoli showed Paulin that he still has a way to go to beat the world champion straight up in a head to head battle.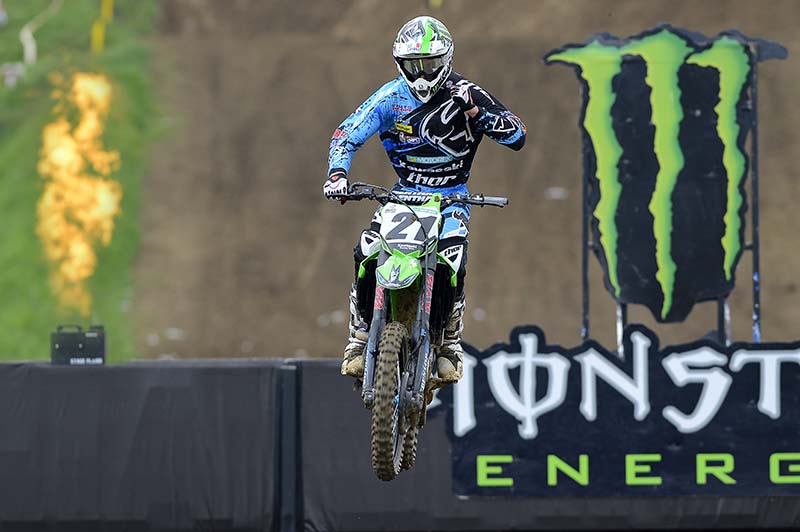 The Frenchman Paulin is always good in Bulgaria and he won the OA this year yet again.
For Paulin the victory was sweet but it would have been so much sweeter if he had beaten Cairoli in race two. He knows he can win but maybe it is a bit late five rounds in when Cairoli already has 40 point lead. It would also have been a six point swing in the championship had Paulin won moto two.
Paulin has positioned himself as Cairoli's main championship contender now after Desalle, although on the podium, didn't have the speed of either Cairoli or Paulin in either moto. Indeed, his teammate Kevin Strijbos is now in the same level as Desalle and both riders fought each other in both motos all day. Unsurprisingly then Strijbos was fourth overall just behind Desalle.
Jeremy Van Horebeek had his best MX1 race so far in his rookie season with fifth overall and the Belgian is starting to show why his smooth style suits the 450 machine. That also makes three Belgians in the top five!
In MX2 it was all Jeffrey Herlings. It took him fifteen minutes to pass teammate Tixier for the lead in race one but once he got through Herlings took off and Tixer once again finished second.
In race two Herlings got into the lead early and ran away to a dominating win, 40 seconds ahead of teammate Tixier. It was Herlings first ever win in Bulgaria and he did it in style.
Tixier is beginning to show himself as the second best rider in the class and the more he keeps getting holeshots and seeing Herlings speed the more confident he will become.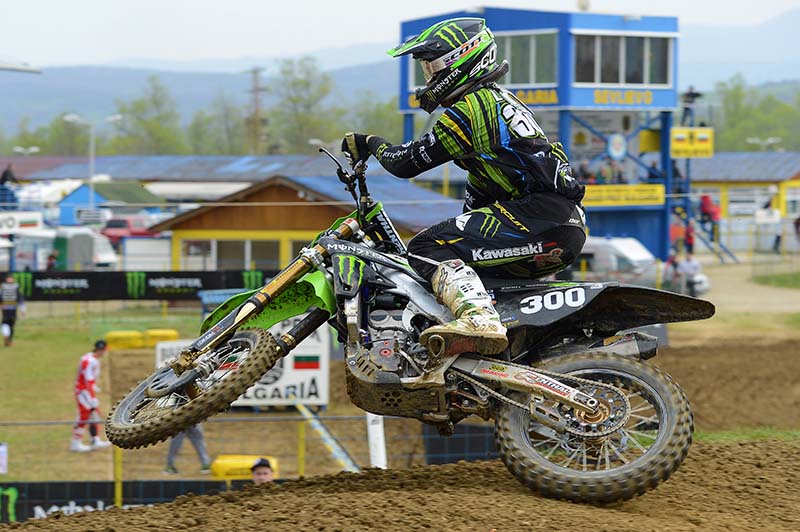 The Italian Lupino got on the box in the MX2 class.
The happiest man on the podium was Italian Alex Lupino The CLS Kawasaki man has had bad starts all year and was also battling broken ribs but an eighth and a fine third in race two was enough to put him on the podium.
Lupino held off a race long attack from Max Anstie and he is having the best season of his career on the CLS Pro Circuit Kawasaki. The Italian is now getting the chance to show what he can do on competitive machine after two years on the underpowered Husky.
In sharp contrast to the CLS team's high of a podium is the low of Jimmy DeCotis failing yet again to score any points. Everyone knew it would be a hard adjustment to the world championship but I don't think anyone thought it would be this hard for Jimmy.
He got away fourth in race one but was already barely hanging on to a top ten when he went down on the first lap. The big problem is DeCotis, once outside the top twenty, simply doesn't have the speed to put himself back in the top twenty. He was lapped by the top three and crashed out with two laps to go.
In race two DeCotis was mid pack and then out of the top twenty again and once more failing to make any advancements back into the points. Once again he was lapped and this time also by his teammate Lupino. Once lapped, Jimmy couldn't keep his teammate in sight for long either – it is a worrying time for all involved.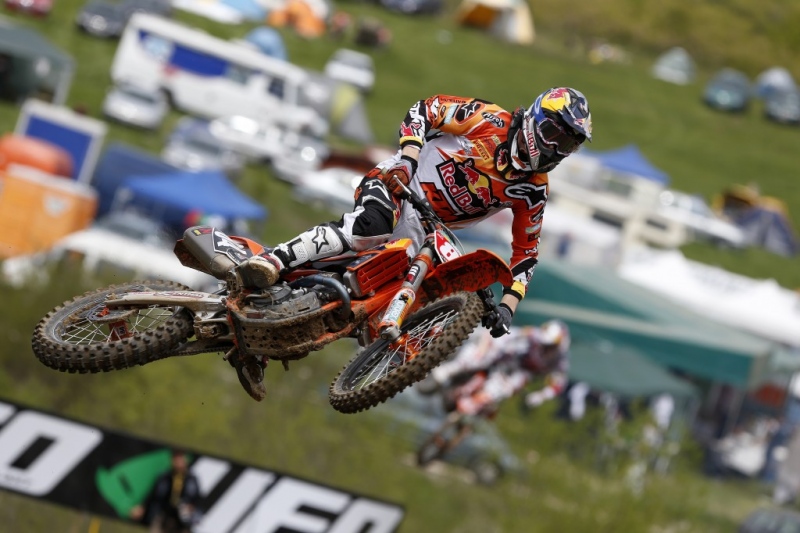 This man is undefeated in the MX2 class- will he lose a moto all year?
DeCotis will have to work extremely hard on his speed, versatility and his fitness in the two weeks off. He has been getting starts and his bike is one of the best in the class, he has all the tools but he just needs to get faster – that is the harsh truth of it. To not score points on that bike will not be acceptable three GPs in row.
Hopefully the two weeks he has now to get better will make the difference, he should be better in Portugal.
It does highlight just how under-rated the riders are in MX2. They may not be on Herlings level but the guys are fast right throw the top twenty and are very evenly matched making starts crucial.
Also bear in mind that when you add in the injured Tonus who should have been a podium regular, Febvre who was second in points until he broke his leg and Tonkov who was top ten are all out injured then the class is pretty deep.
Valentin Teillet was just back from injury in Bulgaria and scored a brilliant third in race one but then crashed out of race two. If they was a way to explain Teillet's career that was it in just one race – fast but crash happy. The Frenchman will be another podium contender when he keeps it on two wheels.
It's Portugal in two weeks for round six, one of the nicest tracks on the calendar and one of Cairoli's favourites. But can Paulin beat him again?
MX1 Overall top ten: Gautier Paulin (FRA, Kawasaki), 47 points; 2. Antonio Cairoli (ITA, KTM), 43 p.; 3. Clement Desalle (BEL, Suzuki), 40 p.; 4. Kevin Strijbos (BEL, Suzuki), 40 p.; 5. Jeremy van Horebeek (BEL, Kawasaki), 29 p.; 6. Tommy Searle (GBR, Kawasaki), 29 p.; 7. Ken de Dycker (BEL, KTM), 28 p.; 8. David Philippaerts (ITA, Honda), 25 p.; 9. Maximilian Nagl (GER, Honda), 25 p.; 10. Davide Guarneri (ITA, KTM), 22 p.;

MX1 Championship top ten: 1. Antonio Cairoli (ITA, KTM), 235 points; 2. Gautier Paulin (FRA, Kawasaki), 195 p.; 3. Clement Desalle (BEL, Suzuki), 189 p.; 4. Ken de Dycker (BEL, KTM), 183 p.; 5. Kevin Strijbos (BEL, Suzuki), 160 p.; 6. Tommy Searle (GBR, Kawasaki), 147 p.; 7. Rui Goncalves (POR, KTM), 109 p.; 8. Maximilian Nagl (GER, Honda), 100 p.; 9. Xavier Boog (FRA, KTM), 90 p.; 10. Evgeny Bobryshev (RUS, Honda), 87 p.;
MX2 Overall top ten: 1. Jeffrey Herlings (NED, KTM), 50 points; 2. Jordi Tixier (FRA, KTM), 44 p.; 3. Alessandro Lupino (ITA, Kawasaki), 33 p.; 4. Jose Butron (ESP, KTM), 32 p.; 5. Max Anstie (GBR, Suzuki), 30 p.; 6. Christophe Charlier (FRA, Yamaha), 30 p.; 7. Glenn Coldenhoff (NED, KTM), 29 p.; 8. Dean Ferris (AUS, Yamaha), 26 p.; 9. Jake Nicholls (GBR, KTM), 22 p.; 10. Valentin Teillet (FRA, Kawasaki), 20 p.;

MX2 Championship top ten: 1. Jeffrey Herlings (NED, KTM), 250 points; 2. Jordi Tixier (FRA, KTM), 185 p.; 3. Glenn Coldenhoff (NED, KTM), 157 p.; 4. Jose Butron (ESP, KTM), 143 p.; 5. Christophe Charlier (FRA, Yamaha), 137 p.; 6. Max Anstie (GBR, Suzuki), 128 p.; 7. Dean Ferris (AUS, Yamaha), 115 p.; 8. Alessandro Lupino (ITA, Kawasaki), 109 p.; 9. Jake Nicholls (GBR, KTM), 104 p.; 10. Romain Febvre (FRA, KTM), 98 p.;