Photos by James Lissimore
Captions by Matthes
Photos by James Lissimore
Captions by Matthes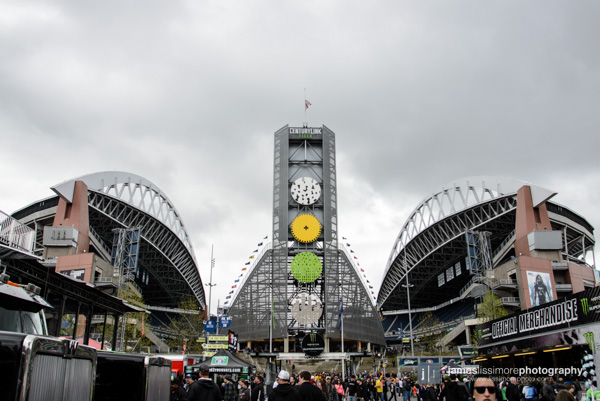 Very nice stadium in Seattle but we do wonder why there can't be at least a retractable roof. I suppose if you're as rich as Paul Allen is (owner of the Seahawks) and all you do is care about football then screw everyone else.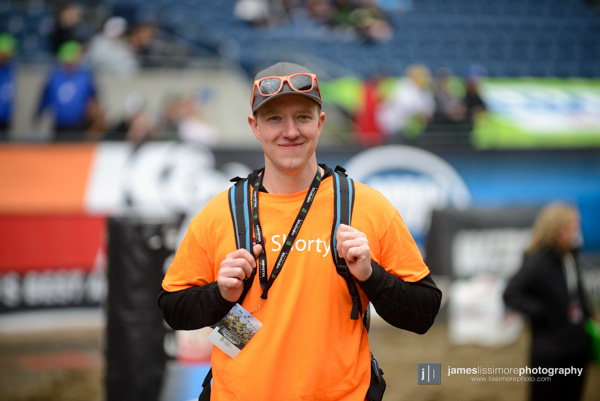 This is Andrew Short superfan Moser and thanks to Weege at Racer X he had full access to everyone and everything. This is not a good thing.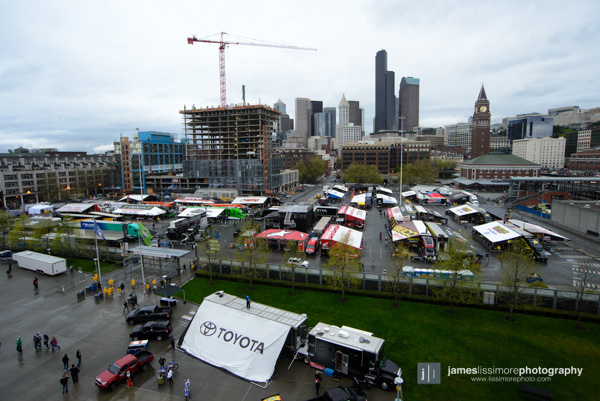 The weather was pretty good, it rained on and off but hey, this is Seattle right?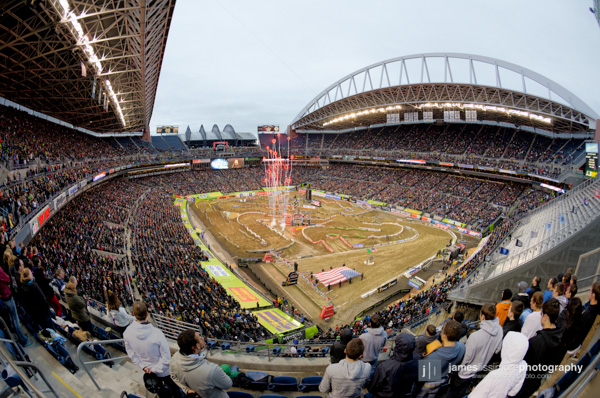 Someone asked me if I thought the crowd would be scared off by the potential for rain. I would think that the Washington natives are hardly scared by some rain.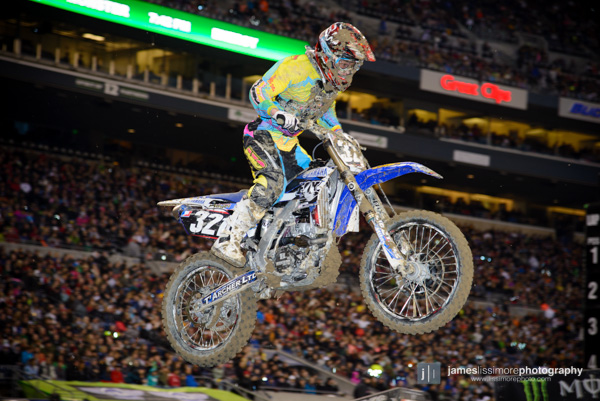 Of course Lissimore, the Canadian, would lead off his report with a rider that didn't make the main but anyways, Canada had someone to cheer for in Broc Hoyer. Hoyer's a Cdn AX champion and easily made the night show but not the main event. Still, a nice showing for the kid and he goes to show you that you can indeed enter a supercross if you're a Canadian racer.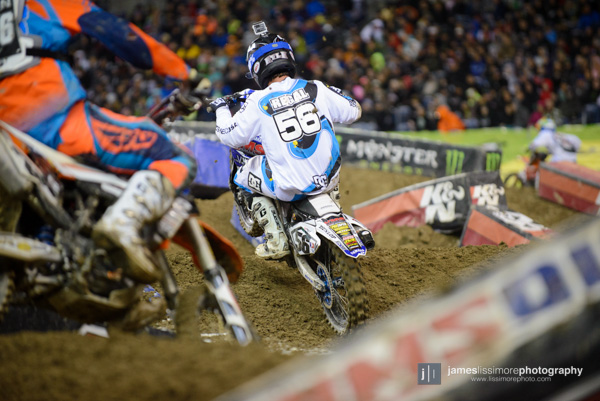 Hey, look who's back! Straight off the oll fields came Kyle Regal on the VMS Yamaha and although he didn't make the main event, he also didn't look that rusty either. And remember Regal has never done that well in supercross anyways. After the race Kyle still didn't know if they were going to go outdoors or not.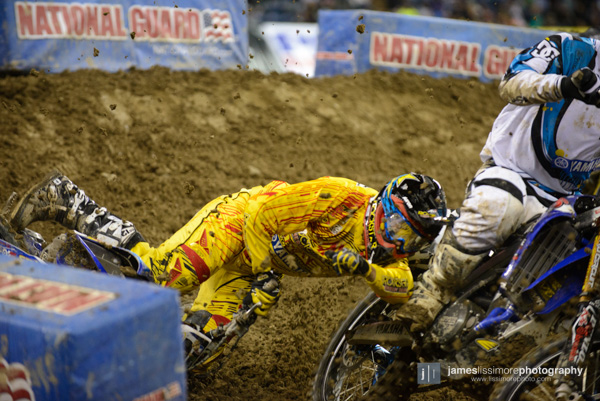 Here's Bobby Kiniry going down and almost getting his arm caught in Regal's bike. Kiniry had a rough night and didn't make the main event.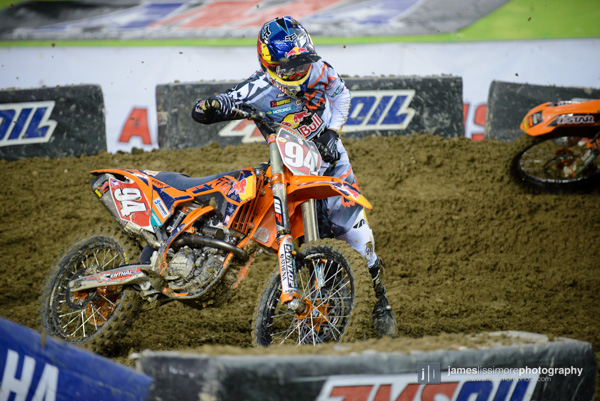 Lissimore captured the only bad part of Ken Roczen's day as he crashed in the heat while up front. In the end though, Kenny rode a great race to stay right there with Eli Tomac and then moved into the number one spot when Tomac crashed.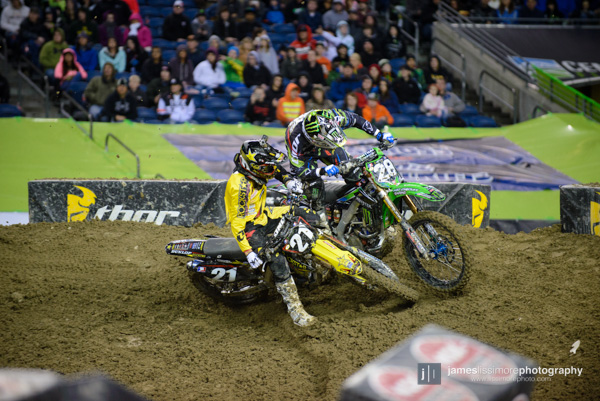 Jason Anderson says hello to Tyla Rattray. The tables would be turned later on as Rattray had a great main event and Anderson crashed his way back to tenth.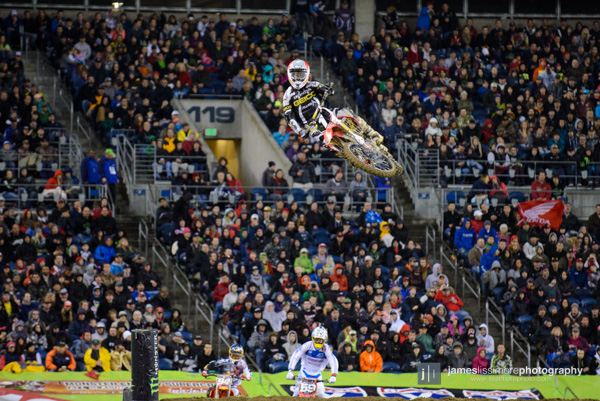 Eli Tomac looked great. In fact he probably should've won the main event. He was going to make up three valuable points on Roczen with two rounds left. It was a done deal! Except it wasn't. Tomac went down hard in the main and somehow still salvaged second but his gap to Roczen is now twenty points.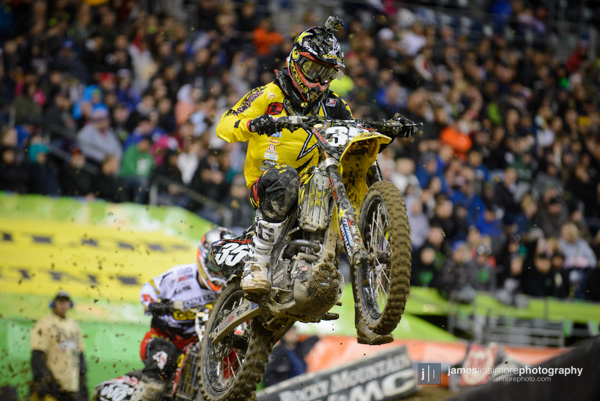 Ryan Sipes was back from an injury and ended up seventh in the main event. With Sipes, you could tell me he won the main and I wouldn't be surprised or you could tell me he didn't qualify and I wouldn't be surprised. He's that unpredictable.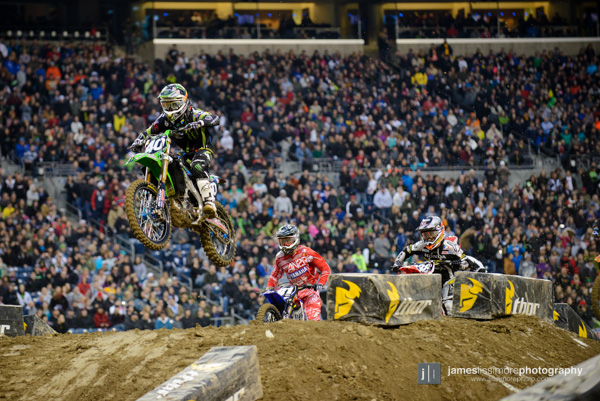 Davalos was fast. Davalos won his heat. Davalos didn't get the start he needed and crashed in the main event. Stop me if you've heard that before.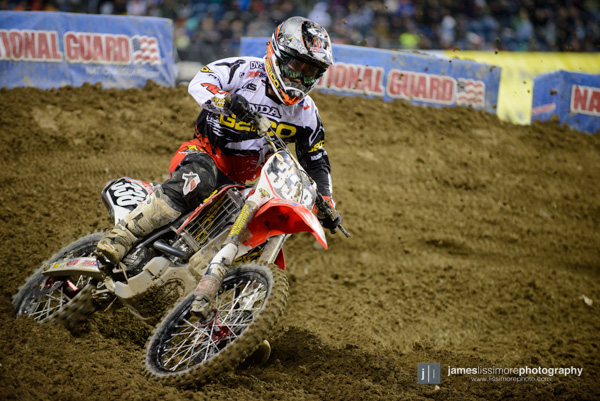 Zach Osborne made his first podium of the year and he had to earn it as Cole Seely was all over him like a Spider Monkey for the last two laps. Nice to see that he's not overrated.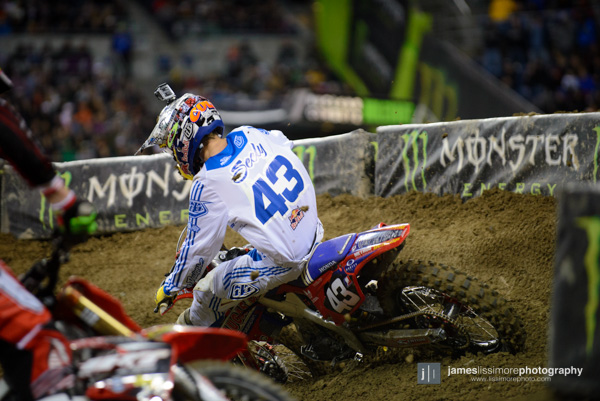 Seely was outside the top ten to start the race and then ripped through the pack to a fourth. The last five laps he was simply on fire.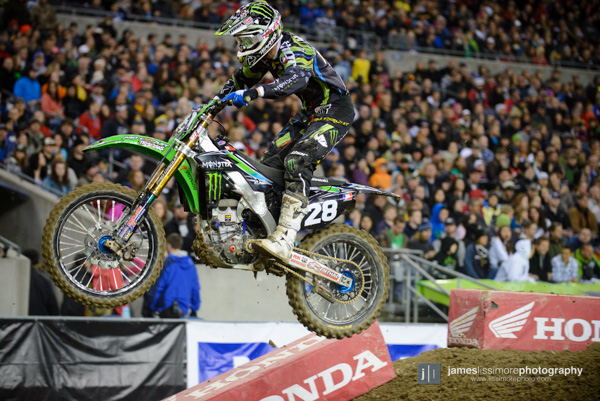 Rattray's fifth place was soley needed over there at the Pro Circuit truck. Seriously, I don't know what Mitch would've done had he not gotten something out of the Seattle.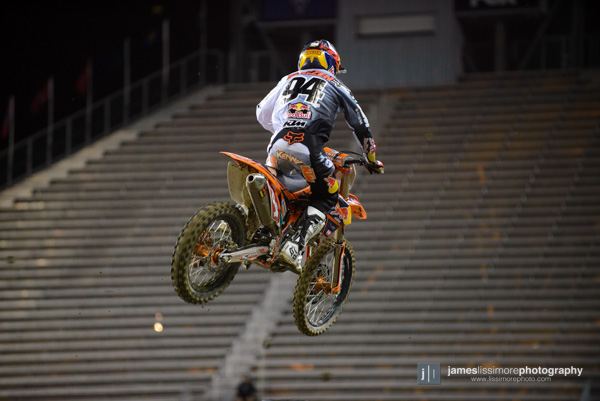 Roczen looks to be a lock to win the 250SX West title here with a 20-point lead with two races left.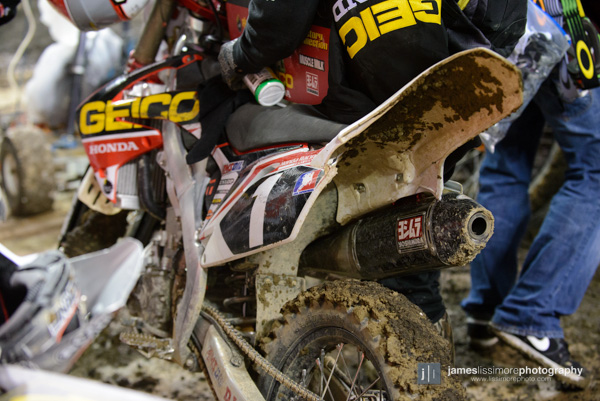 This was the result of Tomac's miscue in the main when he overjumped a jump and hit the face of the next one too soon. A trip over the bars and he actually got a bit lucky, it was a nasty crash.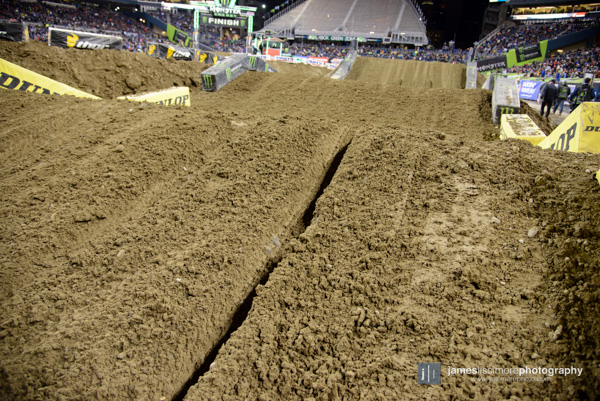 The ruts were deep man. Seriously, really deep.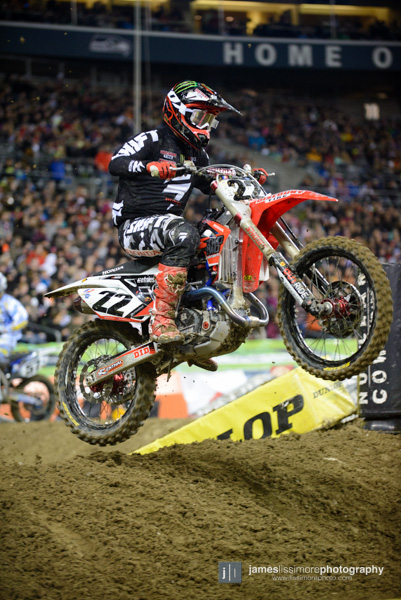 Reed didn't make it out of the first turn. Bad night for the 22.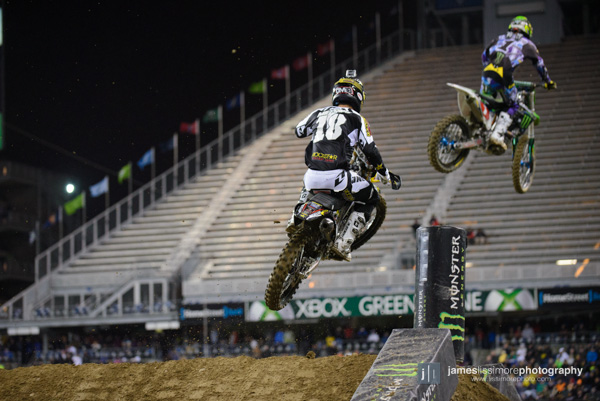 Millsaps was good, won his heat and got on the box. He also passed his way back into second. Not a bad night at all for The Duke. He even got to eat a Jimmy John's sub from the JGR guys at the end of the night.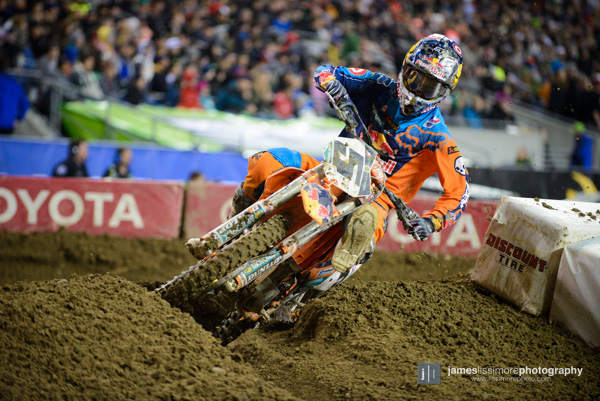 Dungey went down in the first turn and came from pretty much last to a fourth. Great ride by Ryan and reeally, did you expect anything else?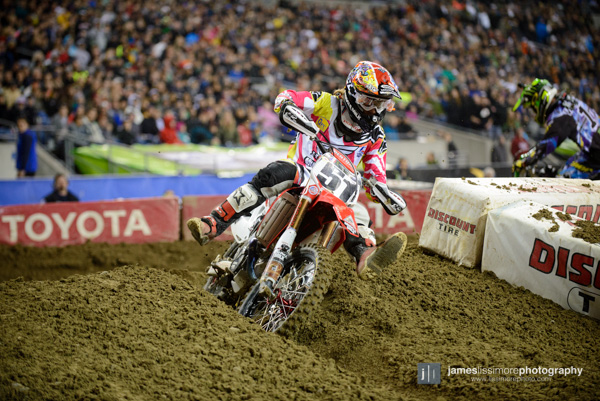 Told you the ruts were deep! They even made race winner Justin Barcia look like a goon at times.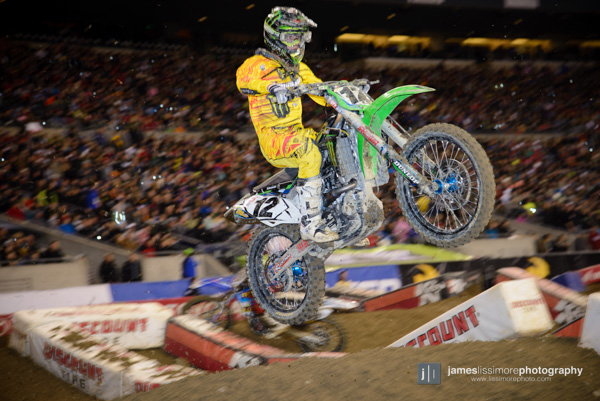 Weimer's best finish in a long time. I bet he's happier.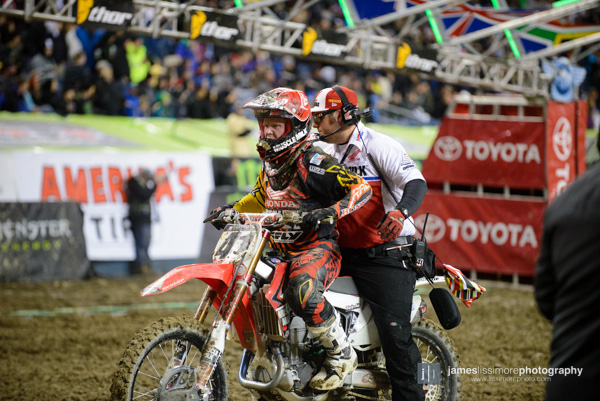 Trey was up there, threw his goggles off, stalled a couple of times, bike was twisted up and he called it a night.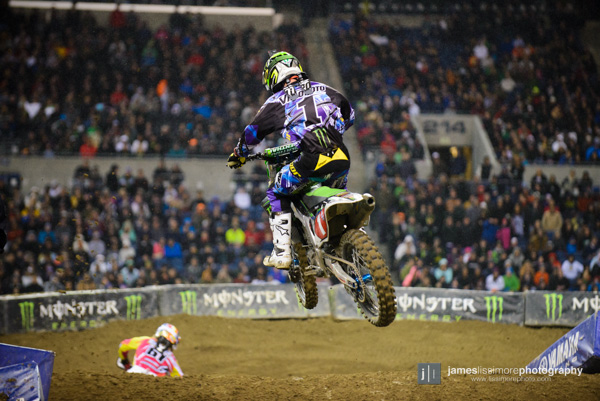 This year's Seattle was better than last year for RV. A solid second place and a 25-point lead with two races left.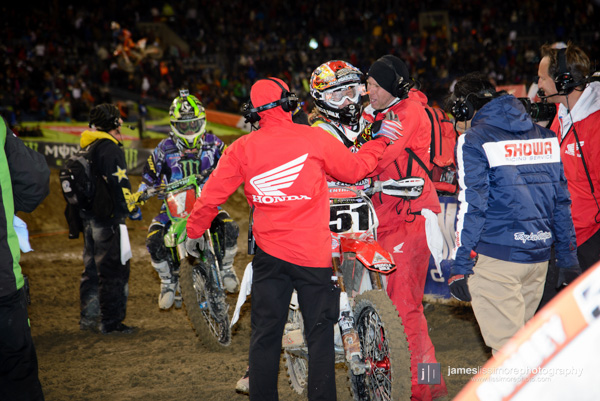 Bam- Bam got his second win of the year and the Honda guys were happy.