Today we've got a mechanic and a VIP co-ordinator
Today we've got a mechanic and a VIP co-ordinator
A Short BTO Sports Team Profile #2
I had the pleasure of getting to hang out with Andrew Short and the BTO Sports – KTM Racing Team at the Seattle Supercross, it's an experience that I don't take for granted and is hard to put into words. I have a tendency to take things a little bit too far so I tried my best to be respectful of the job everyone on the team was doing while I was making waffles, roaming around the semi, drooling on Shorty's bike and explaining the marketing potential of a shake weight. This Short profile isn't about how much fun I had at the Seattle Supercross you can read about that later this week in Moservations.
I wanted to take the opportunity I had to talk with some of the team members and ask what it takes to run a race team. I had a lot of questions about what it takes to get Andrew Short to the race each and every week. We'll look at a couple of team members each day through-out this week to see what happens behind the big BTO Sports tent, I asked the hard hitting questions or at least the questions I wanted answers too. Another big thanks to Andrew Short and the entire BTO Sports Team for tolerating me this weekend, I had a ton of fun and even learned some things.
Perhaps you've heard of Jason Thomas but do you know exactly what he does for the BTO Sports Team? Here's what he had to say and he held the waffles.
Moser: Mr. Jason Thomas what do you do here at BTO Sports now that you're a retired Ironman of Supercross?
Jason Thomas: Well on the weekends for the team I run what's called a BTO VIP Team experience.
I've heard of this before, a couple times, on the Pulpmx show maybe.
Yeah, Yeah
So you're an e-liason for basically superfans right?
Yeah pretty much. Just try to take the pit pass, pit party to the next level. We try to make them feel like part of the team. They get to hang out and do track walk, riders meeting, once practice is over we watch the practice videos and watch the races in the press box and kinda do everything that a crew member would do. You know obviously not working on bikes, but just try to give people a chance to get a perspective that you really can't in any other way.
Besides doing that, I mean that's every weekend basically, but outside of that and organizing it during the week, do you do anything else with the team?
No thats it really. It's a lot of leg work and emails and communication trying to get it all sorted. You just get a lot of emails where it's really not the right program for a person. Whether it is cost or doesn't work out. It is kind of extensive with how much time it takes up.
Paperwork heavy, email heavy?
Yeah. Just time consumption, its part of it.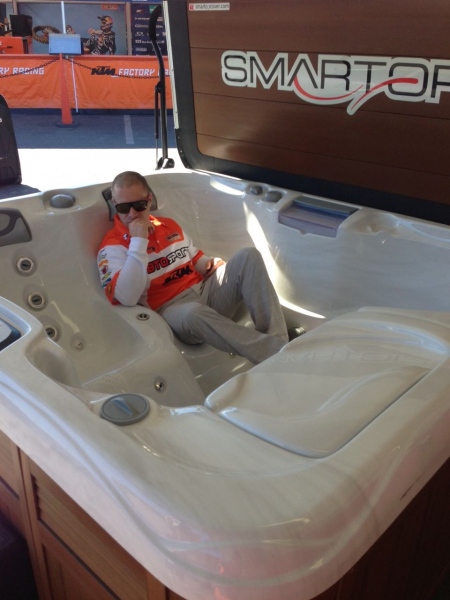 Jason Thomas does his best thinking in a tub. Photo by Matthes
The easy part is on the weekend. You just hang out with the VIP guys right?
Yeah, it gives me a reason to be here. I love coming to the races, so it gave me a way to do it.
It surprises me. I mean you've been on the road a long time now. But you still enjoy doing this every weekend you like coming to the races and being here to watch?
Yeah for sure. I've been going to the races forever. But it's different now where I'm not stressed out or worried. I am just here to have a good time and show my VIP's a good time. A completely different kind of deal for me really. Maybe in a couple years it won't be so much fun for me but for right now I am enjoying it.
So you plan on doing this for the foreseeable future?
Yeah, I have some ideas on things I want to add to the program for next year and make some changes that should enhance it a little bit. I didn't really know what to expect this year but now that I've gotten three or four months under my belt I see some things I could do better and it's going to take some planning on my part but in the offseason I can get it all handled and ready for next year.
How long has BTO Sports been doing the VIP program?
It's been around for awhile, Karsten used to run it who is one of the team owners but we didn't really market it or do any type of promotion for it or get the word out it was just by word of mouth before, so we'd have maybe ten VIP's per year and now we're in the 60's just for Supercross.
You've sold out every week pretty much right?
Yeah there has been maybe one or two openings the whole season.
So you're doing the program for nationals as well?
Yeah and we've never done it for nationals before, but we're going to do it and still trying to perfect how I want the program to be for the nationals since we've never done it there's some questions on where we're going to watch from and some of those types of details I'm working with the promoters on and trying to get ironed out, but it should be good and I'm looking forward to it. Email me at jason36@aol.com if you want in.
You still going to do track walk? That's a long walk.
I think instead of riders meeting we'll do the track walk that morning, the riders meeting is pretty boring and because the outdoors start so early that's really the only time to walk the track.
Thank you for your time Mr. Thomas.
Next up is J.R. Boyd mechanic for Matt Goerke was at Seattle lending a hand to Shorty's mechanic Nate while while his rider recovers from a practice crash.
Moser: We'll start off with this, what's your name?
J.R Boyd: J.R……J.R. Boyd
What's the R stand for?
Richard, John Richard
So John Richard Boyd
Actually John Richard Boyd Jr. so J.R. Jr
Is that the second or?
No just Jr.
But Jr. is like the second right?
I don't know in a way if you want to get technical, but no if you're getting really technical I'm the first.
How did you end up working here at BTO Sports Team.
Our lovely truck driver Alex told me they were looking for a mechanic, and I worked for the Langston Witt Team last year, and as everyone knows they closed up and I was out of a job just sitting on the couch, putting on some weight eating way too much.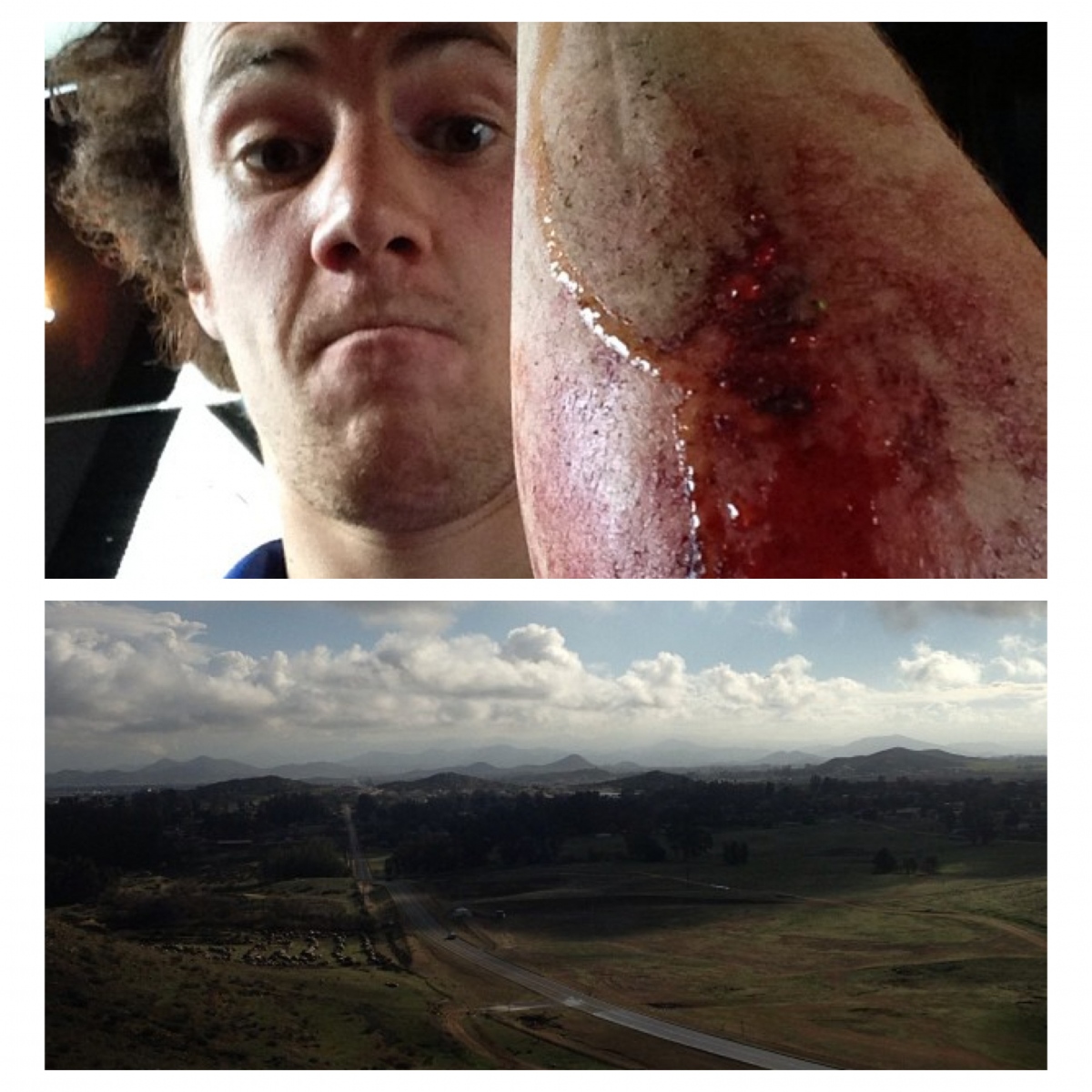 Boyd's got some time on his hands with Goerke's injury. Moser photo.
That's the life of almost every mechanic it seems, great job security. Lets go back, lets get in the time machine, I'm going to guess you used to ride.
I didn't really start riding until I was 17 years old, so I was a bit older and rode until I was about 21 years old and that was about it.
How did you transition into wrenching?
I always liked working on bikes and I'm from Arizona, so I would always go to Phoenix Supercross, I would always take my bike apart and tinker with it and my dad would be mad he'd spend all this money on a bike and I'd always be in the garage taking it apart. I was at the Phoenix Supercross one year and talked to one of the Motorcycle Mechanics Institute guys, and told him I wanted to get into the racing side and he told me don't go to MMI if you want to get on a race team it will never happen. So I went to MMI anyways and then got on a race team, then I went back and found him and said don't ever tell me I can't do anything.
Nice, what team did you first start working with?
I worked with Ryan Clark on Team Solitaire, out of Arizona for like three years almost four years. Then went to work for Alessi for his practice bike program.
When Alessi was riding for what team?
It was his last year on Suzuki and when he was transitioning back to a KTM.
So you were working on a Factory Suzuki in the high desert with the Alessi camp?
Yup inside the compound.
People like to make fun of the Alessi's but they seem like good guys and they love moto.
Sure Tony is a little crazy but what dad doesn't want their kid to excel at whatever they're doing and those guys will always have your back no matter what. If you work for those guys it's like a family and they treat you like part of the family and I still talk to Tony quite a bit. It was definitely an eye opening experience, after working for Ryan Clark for three years I got a little cocky and thought I was going to get a call from a factory team and the phone never rang. Tony gave me a great opportunity to come work for them and it was a definitely a good thing for me.
And after that…
I went to Factory KTM and worked for the off road team for two and a half years.
So with an off road team I assume they have a big impression on motorcycle sales but it's kind of considered a bit of the black sheep of motorcycle racing for whatever reason. How was it? Is there more travel is it more work?
It wasn't too bad. It's a three hour race so you don't have the free practices and timed practices and qualifying so as a mechanic it's kind of like here you go this is your setup, it's obviously going to change a lot over three hours so you kind of ride whatever is comfortable and that's it. It's not like Supercross and Motocross where you're washing the bike after practice and making suspension changes and changing clutches, in off road we find settings that are comfortable and work ok everywhere and they learn how to go fast, they're not really picky and anal like some of these SX/MX guys. Off Road was good I won a championship with Mullans and he was the first American in eight years to win a championship.
So after Factory KTM, where did you go?
I had the brief experience of outdoor mechanic at the Langston Witt Team?
Who did you wrench for over there?
I started off with A.J. Cantanzaro up until about Budd Creek. I had a lot of experience with the KTM 450 from the off road team so they transferred me over to work with Les Smith and I worked with him until he broke his leg at Unadilla.
Last year was the Langston Witt Team running the new KTM 450 design?
Yes the "Dungey" bike.
But then the team folded.
Yup it happens. I was looking around after Monster Cup seeing if anyone was hiring and the truck driver here at BTO said they may need a guy but I didn't hear anything back for quite awhile then kind of out of the blue I was talking with Dungey's mechanic Carlos and he said he put in a good for me with Forrest (one of the BTO team owners). I got the call when I was at the movies with my chick because I didn't really have anything else to do at the time, but got the job.
So where are you living now?
I grew up in Arizona, then moved to California to work with the Alessi's and now I'm in Temecula. The race shop is just around the corner from Factory KTM. We split the shop space with Hoodie from DT1 air filters and that's where we run most of our West coast stuff out of.
So how long have you been with Goerke now?
Since the beginning of Supercross season, actually I started with him just before Thanksgiving.
You guys have had a great year.
Yeah he obviously won the title in Canada last year but a lot of people kind of questioned why they signed him so he came in under the radar and surprised a lot of people but unfortunately had a practice crash this last week. He should be out from what I've heard eight to ten weeks. It's unfortunate we only had three rounds left in Supercross and were only a couple points behind Tickle for top ten in points.
Thanks for your time.