The 3rd place guys in the Seattle LCQ's get their spotlight
The 3rd place guys in the Seattle LCQ's get their spotlight
Just Short 15 Vol. 2- Superfan in Seattle
Photos by: Lissimore
It's that time of year again when I actually attend the Seattle SX and have less information from watching the LCQ live in person than I do when I watch it on TV. I have lots of excuses: I forgot binoculars, it's difficult to watch both the time sheet and the race at the same time, I'm easily distracted so I'll find myself staring at a specific section of the track or following a specific rider around the track for laps at a time, and although I'd never admit it I could maybe use glasses. All the tweeting, and bench racing, while watching the race and live timing that Matthes and Weege manage to do is actually pretty impressive, it must come with practice or they're just good at multi tasking. This year I had the best of intentions it was going to be the year I interviewed the riders in person that came up Just Short but it just wasn't meant to be.
I never even found the privateer pits never saw a sign or anything as to where they might be (I heard they were somewhere inside the convention center). Why they hide the privateers away like a redheaded stepchild is beyond me. They've done it before at the Vegas Supercross too, where is the harm in including them with the pro pits and pit party? Seems like a great way to provide the privateers with an opportunity to give their sponsors a little press and make an impression on some curious fans wandering through the back forty. Long story short I didn't think I had enough time to make it down to the pits and/or find the privateer pits and then all the way back up to my nice warm press box seats with the cold beer before the main events started. I'm not ashamed to say I put my viewing experience ahead of my journalistic integrity, what can I say I'm just a fan in the stands.
#360 Aaron Siminoe
Reno, NV
Kawasaki KX250
Thousand Oaks Powersports/Fly Racing/Dragon
I didn't recall anything notable from the 250F LCQ, shocker I know but even more shocking is my friend that were at the race actually did. Here's what they had to say.
Moser- Anyone remember what happened during the 250F LCQ?
@chris__holliday140- A local kid Trevor Ivey won, I think he's from Pasco WA. @bigred140 A local kid from Tri Cities WA won.
@chris__holliday140- That Tyler Beereman guy was winning but pulled off first lap for no apparent reason, maybe he needed a beer.
@bigred140- That kid was probably on 50's back when we raced.
@konnradkuestmx- Ivey threw out a good shout out to David Lafrance my box up on the box, and I think his sister is dating some fast rider in Tri Cities WA.
Moser- Anyone ever hear of Siminoe?
@buell957- He paid his entry in the form of change. His mom is a dancer. (Editors note I could not confirm nor deny this claim, but I'd guess it's a joke)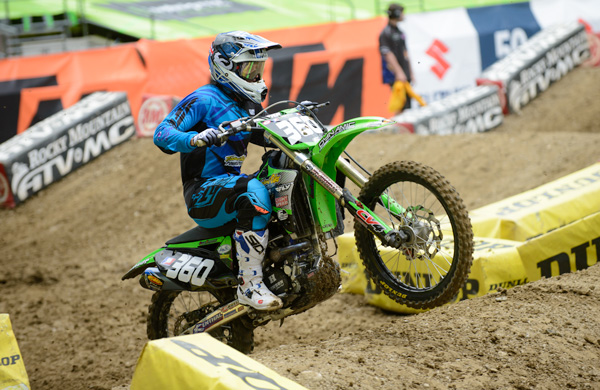 It took nothing "Short" of a miracle to find a picture of Simione
When looking up Siminoe on Instagram @siminoe360 I found out he's dating Sara Bradshaw @motosis1882. I have no idea if there is any kind of relationship to thee Beast from the East but I'm going to run with this (with the minimal amount of research I did do on this it doesn't appear there is an immediate relationship to Damon, yeah but still). If you're a moto fan (everyone reading this) could you imagine dating the daughter of a famous motocross rider, my head is spinning. There are so many possibilities it could be super cool or super creepy. The Beast seems like a very intense and emotional guy so I can't imagine how carving the Turkey on Thanksgiving might go after a couple drinks.
What if she wore a Bradshaw jersey to bed every night, that could give a guy like Weege all sorts of mixed signals. Seriously though I really don't see how this could work out if you loved your girlfriend as much as you loved her dad it's just a recipe for disaster. The only way you could pull this off is if you dated someone named Bradshaw but there wasn't a direct relation so she has you all to herself while you get the satisfaction of knowing somewhere on that family tree their paths cross. Yup I think that Aaron Siminoe may be onto something here. My other thoughts on Siminoe is he's sponsored by Thousand Oaks Powersports, which reminds me of what a badass presence Thousand Oaks Yamaha used to have at the amateur nationals and whatever happened to Jonathan Shimp anyways?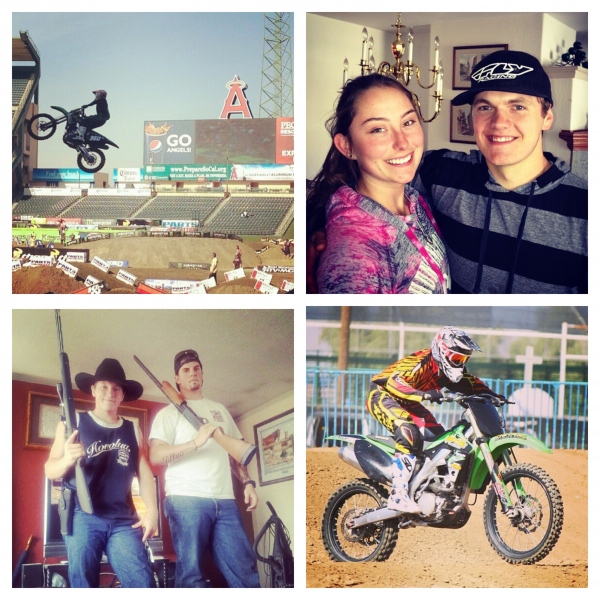 Airing it out at the big A
Miss Bradshaw and Mr. Siminoe
If he was trying to impress the Beast from the East these guns should do the trick
Through the whoops, hips unlocked, elbows bent, Ryno would approve
#56 Kyle Regal
Howell, MI
Yamaha YZ 450F
Valle Motorsports/Yamaha/DC/Rockwell Training Facility
To say there were some tense moments in the 450F LCQ would be an understatement. Shorty went down for the first time in his heat race when he ran into the back of Weimer and for the second time when I saw him go cartwheeling through the whoops on the far side of the track. Lucky for me he jumped up because in my fatigued state I don't know how long I could have held my breath. I did try to break my hat by throwing it as hard as I could against the glass windows in the press box. I followed that up with pounding on the glass as loud as I could with my hands when he pulled the holeshot in the LCQ (those handprints may never come off that glass). Shorty and Tickle both easily pulled away from the pack and even Regal had a good ride in the LCQ with a good gap on 4th but that left him Just Short of the main.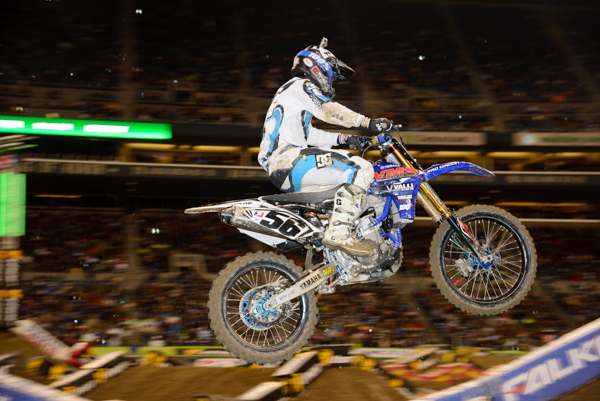 I sure hope Regals step-dad also makes a comeback
Oh Kyle Regal you could have a reality TV show with the ups and downs of your career along with the teen mom you dated. I've lost track of all the teams he's ridden for and he's literally come full circle by now riding for the Valli Yamaha team which he started on as a rookie. If you google Regal you'll instantly get caught up on all sorts of celebrity gossip and anyone and everyone his ex girlfriend the "famous" teen mom Maci Bookout (I can't stand that celebrity garbage and am not going to check to see if I spelled her name right, just send angry emails to Weege) Regals had plenty of breakout rides in his career, his speed has never been an issue, but inconsistency, injuries and lots of what I would assume are off the track personal issues have gotten him to this point.
Regal just started a comeback he's been training at the Rockwell gym and his first Supercross of the season was in Seattle. I called up a buddy of Regals to get a little DOCUMENTATION on what his thoughts were, Mr. Aaron Hansel journalist for RacerX.
Moser- Hey Handsolo, what's up.
Hansel- Moser, what's up.
I'm just driving what are you doing?
What do you mean you called me
Sorry for asking what you were doing bro.
I'm just transcribing an interview.
I was just doing that last night it takes forever.
It's definitely not the best part of being a journalist.
Is there a service that will do that at a reasonable cost?
Yeah it's called an intern.
So I need some information on Kyle Regal, everyone tells me you're buddies.
Well that's a long story but, long story short I don't have his new phone number. But yes I've been labeled as the Kyle Regal guy.
Lets start by trying to remember everyone he's ridden for, he started with Valli right, then….
Well privateer Honda he had some really good finishes. Then BTO, L&M, and a fill in on JGR last year in outdoors.
Was he a fill in on JGR? Well that didn't go well at all. He's done better on a privateer team effort with Merge racing than on well supported teams. Why do you think that is?
I have no idea.
Well as a reporter of the sport. No an expert in the sport of moto what's your opinion on this why are some guys like a Gavin Grayck, Regal or even maybe a Jimmy Albertson do better on a privateer effort then when they're on a team and in theory is should be easier because they have less to worry about?
I think it's different for every guy, but I think it comes down to that some guys are just better on their own program.
What do you mean by that, on their own program? They should have more options available to them when they're on at team with bike setup and parts, maybe it's too many options?
I think some guys do better when they do their own thing because mentally they are in a better place doing it their own way, it's all mental.
How much do you think the bike or equipment has to do with it?
I think Regal has had some of his best finishes on inferior equipment.
Or maybe Merge Racing is really good.
Yeah maybe Merge Racing is just badass.
Wait didn't Regal also fill in on H&H last year?
You could check the results.
That's way too much work, this isn't my livlihood it's more of a hobby. This was Regals first race back right?
Yeah he was working a real job like on a pipeline, before he had the opportunity to come back and race.
You have been a wealth of Regal knowledge. Thanks for your time this is going to require a lot of editing for things that were said off the record.
You recorded this whole thing?
Of course, yeah did I forget to tell you that?
(laughing), well I said a lot without really saying anything.
I'm joking, but I really did record everything.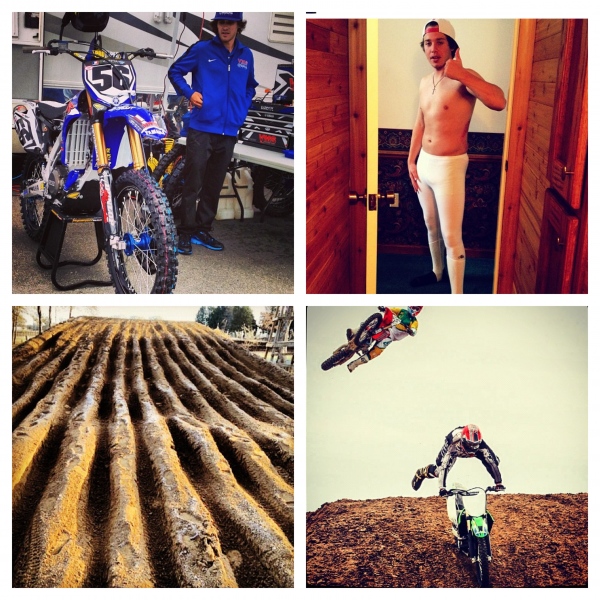 Regals new/old ride
I don't know what's going on in this picture but I want those pants
When supermans go wrong, I'm sure his balls still haven't forgiven him
Those are some gnarly ruts at Regals track called Underground
Thanks for reading this Short recognition of the guys that almost made it.
Moser

Please send any and all comments to jasonw@racerxill.com