Karsten Butler finally speaks
Karsten Butler finally speaks
BTO Sports Profile #3
I had the pleasure of getting to hang out with Andrew Short and the BTO Sports – KTM Racing Team at the Seattle Supercross, it's an experience that I don't take for granted and is hard to put into words. I have a tendency to take things a little bit too far so I tried my best to be respectful of the job everyone on the team was doing while I was making waffles, roaming around the semi, drooling on Shorty's bike and explaining the marketing potential of a shake weight. This Short profile isn't about how much fun I had at the Seattle Supercross you can read about that later this week in Moservations.
I wanted to take the opportunity I had to talk with some of the team members and ask what it takes to run a race team. I had a lot of questions about what it takes to get Andrew Short to the race each and every week. We'll look at a couple of team members each day through-out this week to see what happens behind the big BTO Sports tent, I asked the hard hitting questions or at least the questions I wanted answers too. Another big thanks to Andrew Short and the entire BTO Sports Team for tolerating me this weekend, I had a ton of fun and even learned some things.
What does the B in BTO Sports stand for? I recall on the pulpmx show they said BTO was short for "Be" The One. But maybe it also stands for Butler as in Butler Brothers racing. In all seriousness BTO stands for "buy to order" (Ed Note: No, it actually stands for Be The One but whatever…) but the Butler Brothers team has come a long ways with the help of BTO Sports as the title sponsor. I cornered co owner Karsten Butler in the team semi at Seattle and asked him some questions and he was kind enough to answer them.
Moser: What would your job title be, owner?
Karsten: Owner, manager. Forrest and I kind of split the duties especially back at the office we have the work kind of split up where I handle most of the logistics and orders, travel agent, hotel flights everything for the guys. I do a lot of the smaller stuff but more of the time consuming work and Forrest handles more of the sponsorship duties and stuff like that.
It sounds like you do more of the work
(Laughs), no not necessarily
I'm just joking
Yeah obviously, but Forrest handles the major money sponsors. I handle all the product side of things and parts orders.
So what's it say on your business card or what do you use as a title? CEO, owner, president?
We don't have any titles.
You don't have business cards?
I have a business card that Forrest made for us years and years and years back and I think it just says co owner/assistant manager, that would probably be the best title.
Is your younger brother involved still?
We have two younger brothers, but Forrest and I are the only ones that handle the team. Our younger brother Brandon (not the youngest) comes to a couple races a year and helps out whenever we need it if one of us has to miss a round he will come and help out, so he's still a little bit involved. Our youngest brother Taylor only shows up to watch a couple races a year and hangout.
Do you guys have like a mission statement?
No
Alright so how about what's the goal as a team, you come from a racing background you rode forever?
People sometimes think we had a plan to get here and it wasn't really like that we just raced. Three of us (brothers) raced professionally together and we all went to college and also worked while going to college, to raise money to race. Our parents helped us out through amateur racing but they also made us work and go to school. We were racing pro when we started getting attention and press because we were three brothers and we were always making the night show. We were all about the same speed so we got some attention because of that and Forrest took advantage of it and flew out to California to try and get sponsorships.
That was really the first time we put some money together, it wasn't a lot of money but it was a gear sponsorship and Forrest kind of built it from there learning that side of the business, so that we could continue racing, while we were also going to school and working. As it slowly grew we finally added our first rider which was Doug Dehaan in 2005.
We still didn't have a plan that we were going to turn this into a team and a business we were just racing at the time. It just kept getting bigger, we all started racing late so we were a bit older anyways. Forrest had been injured a lot so he kind of stopped racing first and Brandon and I kept racing as the team grew. Then 2006 was my last year which was just after we got our first semi and had just two riders but it grew pretty quick after that. We added JT to the team in 2006 or maybe 2007.
I think it's admirable what you guys have done, slowly building to where you are at now. It's all too common that everyone wants everything right now, the big semi etc. all right out of the gate, but you didn't get too big too fast and looking back you must be proud of what you've built.
Yeah it's pretty cool. It just kept growing slowly which was the best way for us because we were also learning the proper ways to build a business. It worked out really good and now it's turned into what we do for a living and it's really fun.
At any point did you have a different plan?
We created the team when we were racing 10 years ago and about 5 years into that it started turning into a business so we could see what it was turning into. Forrest has always had specific goals and we've had ideas of where we wanted to be in a couple years down the road. It's really nice to finally get the support that we have this year, we've been working towards that for a long time.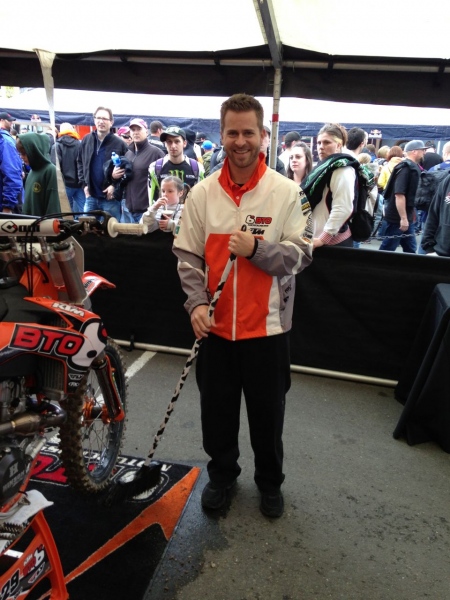 Karsten Butler sweeping up the pits AND in the results. Photo by Moser
The factory KTM support has to be a huge weight off your shoulders, plus having some of the best equipment makes it a lot easier to get some of the best riders. You probably can't put a price tag on something like that.
No you can't, the KTM stuff has been some much more that all of our expectations. We've always been trying to get Factory support and I think it's really been a blessing to finally get it with KTM and Decoster and how he's involved in the entire program and the work and money that they have put into this program while they are also running a team of their own. Also BTO has been with us since 2005 which has kept us around this long, they are like the backbone of the team and now they are partners in the team. BTO has helped us to get to this point but the KTM support has been unreal.
So how many employees do you guys have?
We have 8-10
Do you have a race shop in Florida?
No we have never had a shop of our own. It's varied over the years with different sponsors we had some support from WMR back in the day and that was kind of our race shop. With Michael Byrne over at Chads place, he's been nice enough to let Byrne and JT ride there all the time and keep some of their equipment and let our mechanics work there and stuff. Other than that we don't have our own shop in Florida, we just got a small shop in California next to KTM this year which is the first little shop we've had out here on the West Coast, because we need to have something near KTM and it's been working out really good.
This race team is the foreseeable future and career at this point right?
Yeah this is our career for Forrest and I it's our living, and it's hard to imagine how long it will go but I don't see anything changing for quite awhile. We obviously want to make it as successful as possible and hopefully not have to be gone every weekend of our life away from home but that was a sacrifice we made to get to this point. We just want to keep improving and get to that next level.
So how do you meet JT?
He's from just outside of Gainesville a little tiny town called Melrose, a one stoplight town and when we were just coming into the amateur scene JT was one of the top guys. So we kind of knew who he was but Forrest somehow got hooked up with him practicing in Gainesville, I think JT was in high school at the time and they started riding together. That's pretty much how it grew. I moved up to Gainesville a year or two later and we all just became good friends. JT has lived with us through all our townhouses, and houses, so we've all lived together for over ten years and have known JT now for probably almost 20 years. He's like a brother.
So what did you get your degree in or what type of degree were you steering towards? What was plan B?
My degree was in exercise sports science, like fitness wellness, physical therapy area. I never did anything with it.
That's like most people with a college degree.
We have a small family insurance agency in Miami. That's what my two younger brothers do. Forrest started in that right when he moved home from college and we were still racing. So he still does a little bit of insurance just carrying the business he's had. I'm the only brother that doesn't do any insurance.
You're the black sheep.
Yeah my entire family, my dad and all his brothers and my cousins everyone works in insurance so that would have been plan B.
Do you guys handle Washington State could I get a good rate on homeowners insurance?
Yeah I think so.
How much do you help the riders in the aspect of fitness and training?
It depends on the rider obviously. But Forrest and I have always tried to be really hands on with the riders over the years. When you've been a racer and been through it before it helps give you a little bit different perspective. We don't know all there is to know about nutrition, dieting and training but we like to be involved.
So do you write up nutrition plans and training plans for certain riders?
Somewhat but were aren't giving riders an exact nutrition or training plan we would just like to work with them or with whoever their trainer is at the time. I went to school for that type of stuff but it was a long time ago and you forget that stuff pretty quickly. We just try to apply things we learned from racing and our experiences in addition to what a rider may be doing.
Thanks for your time.
No problem