We're counting them down 15 to 1 folks
We're counting them down 15 to 1 folks
Photos by James Lissimore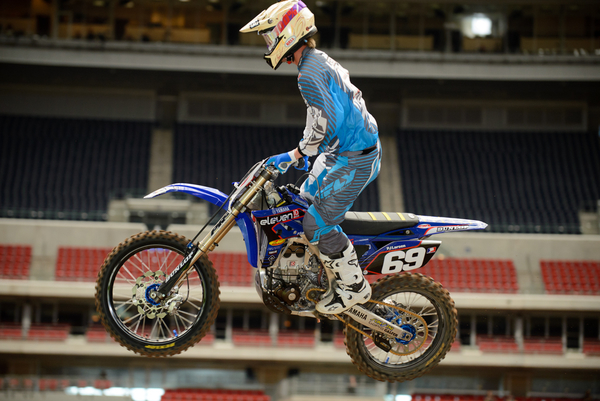 15th place- PJ Larsen. Larsen should have been much higher than 15th but there were a couple of issues that prevented this. One is that he didn't start racing until round three and two is that his team didn't show up for Minneapolis and he wasn't able to race. Yes, I'm serious. He averaged 10 points per race that he did race and if you give him another 30 had he raced the whole season and his team had showed up, he'd be seventh in the points. And imagine what he could do if his team had given him a practice bike! Larsen's a good rider, he's got speed as you can see in his qualifying times. After starting out west as a privateer on a 450, he got better and better over there. It's just too bad he is one of those guys that's on the fringes of making it happen. Until he does, he'll be scraping by.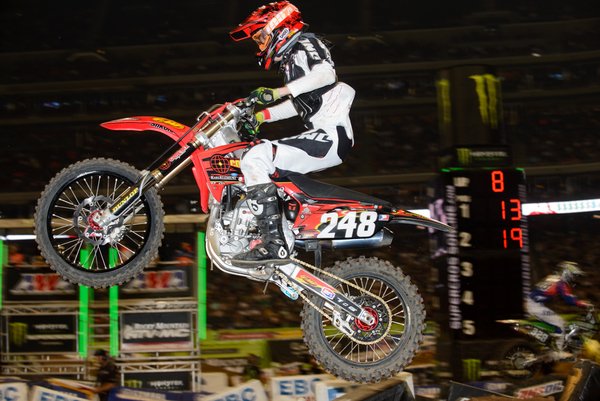 14th place- Mitchell Oldenburg. This kid really came out of nowhere and that's what the 2013 250SX East Series will do for you, make you a star! He's originally from Minnesota but then moved down to Texas and his family owns one of the tracks down there. He's a rookie and at one point he missed a race with a broken collarbone. I was sure I heard that I heard that and then, boom, he was back after only one race missed. Anyways for a dude that I guarantee you 74% of the pits had never heard of, he had a good season.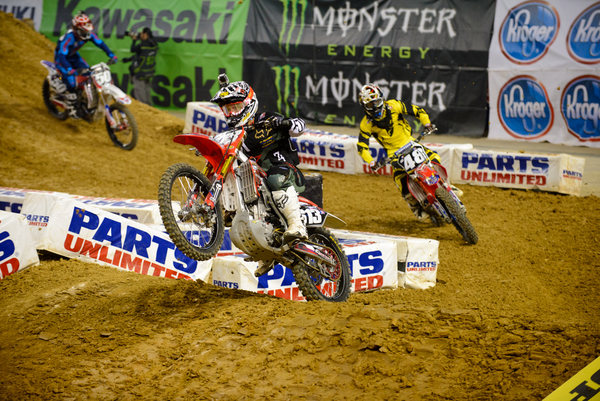 13th place- Jimmy Decotis. Jimmy Deeeeeee was a total privateer in the class and he bailed early for a ride in the GP's that, although it's early, is looking like it's going to be a disaster. Decotis lost all of last year to a serious knee injury so this was his comeback season for him and he was doing ok. His starts have always been his strong suit and they were there at times for him. At other times, he looked like he could've been in better shape. Still he's got sx skills for sure and he was on his own so his tenth in the points before he left was solid.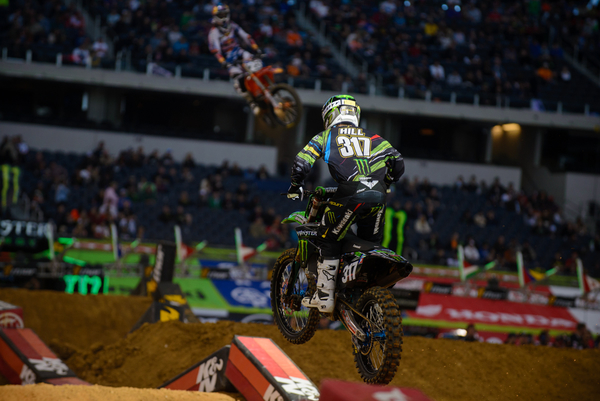 12th place- Justin Hill. Josh's little brother was a curious choice for a Pro Circuit ride (at least to the people that I know that follow amateur moto) but he showed that he had the stuff with his rides. At least before he got injured. It could be just me but I hold a rider on a PC or GEICO team to a higher standard in supercross because the bike and team are so good. But even still, Hill's supercross season was going ok, he was averaging an 8th place finish through the five races he was healthy at. And he was coming off a year where he barely rode at all due to injury. It wasn't a home run for Mitch Payton but it also wasn't a single either, the juries out on Hill for now.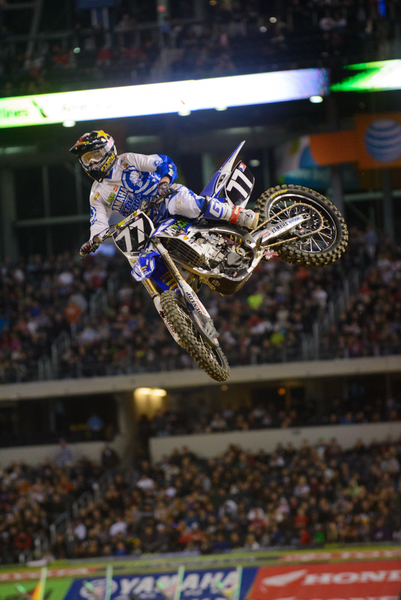 11th place- Jeremy Martin. If you were counting rookies, there's no doubt that Jeremy Martin before he got hurt (what was it with this coast? Martin got hurt, Dean Wilson got hurt, Zach Bell got hurt, Bogle and Alex Martin didn't even start) was the best out of everyone. And somehow Martin didn't even qualify for the first main event of the year. Jeremy was fast, he was almost always on the board for qualifying and he made a podium at Daytona. Despite somehow thinking that I don't like him for some reason (thanks RC and Dungey!) I think this kid had a bright future. He's got speed and although he's a little sketchy, the speed is the hard part to have. Too bad he got hurt, he was gunning for top three before then.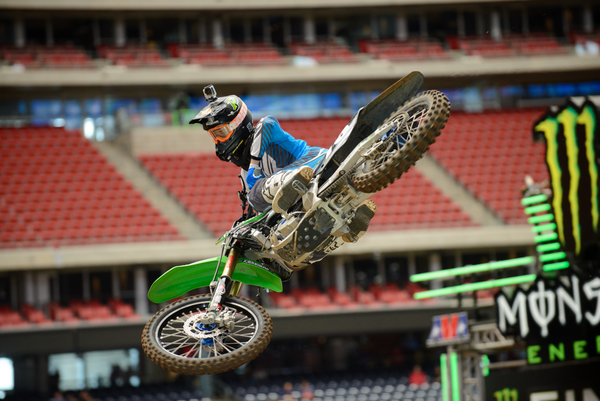 10th place- AJ Catanzaro. AJ got a fourth at Indy and missed a main event as well which indicates how up and down his season was. This placing is a career best for him and he was under the radar out there most nights. A top ten is nothing to sneeze at. Catanzaro average 9 points a race, which is an 11th, and he ended up 10th in the points so there you go.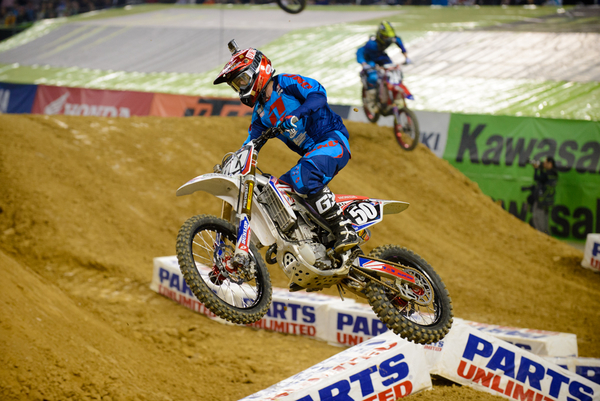 9th place- Kyle Peters. There were a lot of industry people that were pointing out how bad the 250SX East coast was by pointing out Kyle Peter's finishes but I strongly disagree with that (however if you want to say that the coast was weak for other reasons, I'm fine with that) as Peters was pretty good before, wait for it, getting injured. Dropped by Star Racing, Kyle got back on Hondas with help from AG Motorsports and got a 2nd and a 4th and was sixth in the points before the injury. And that was with missing one main because of, well, because of being a 250SX rider. Peters is a good starter, he looked to be in shape and you can see that he's solid. It's just too bad he got hurt and perhaps the best part of his year was THIS awesome press release where we were assured he was fine and had no broken bones but wouldn't be racing anymore.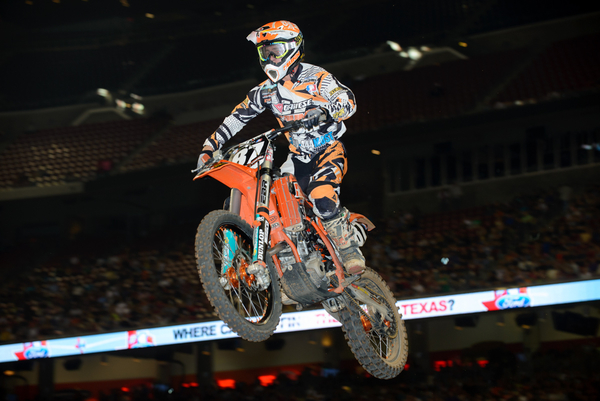 8th place- Lance Vincent. Vincent was one of only seven riders to make every main event so it's appropriate that he's 8th in the points. His average finish was a 9th so he overachieved a bit with this spot but not by much. Vincent was a good starter and at the start of this series he was getting the starts and being more impressive than he was at the end of it. But at the end of the series he wasn't as flashy but finished better so that's the conundrum for Lance- go balls out and impress for a bit before crashing or be steady and not stand out as much. I know what's safer for his health.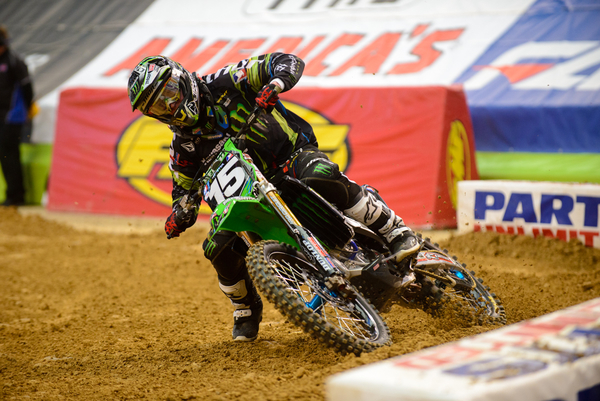 7th place- Dean Wilson. Wow, what a disastrous season for Deano. I would have bet a lot of money that he would have won this title and he was looking good after he won the first race by being the fastest rider all day. But then he got beat by Hahn two races in a row and faded badly at Daytona. The next round he crashed out and that was it for Dean. Even if he had stayed in the series, it looked like he was going to be in for a battle- it might have been for the best that he got hurt as losing to Hahn and Musquin wasn't in the plans for him or for his team. I don't know what happened to Dean, maybe over confidence, maybe he wasn't in the best of shape- something happened and it wasn't good. Wilson is now the all-time winningest 125/250SX rider who did not win a title.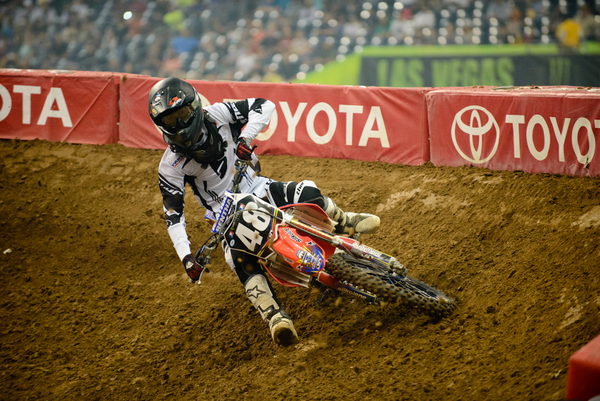 6th place- Cole Thompson. Well, on one hand it's great that Cole, a Canadian not scared to compete in America, is repping the maple leaf well and finished in this position. But, on the other hand I felt like Thompson could've done better. He was up there at the first round and on fire when he went down hard and DNF'd. From there he didn't ride that next week and didn't do that well. That left him kicking and scratching his way out of a hole. With the weakness of the east, Thompson should've been closer to the box in my opinion. I know he loves his set-up and all, he had a couple of companies that don't have a lot of experience in supercross doing his stuff so perhaps his bike could've been better. Either way, 6th place is awesome for a privateer but I think he's got the talent to do better. No, I know he does.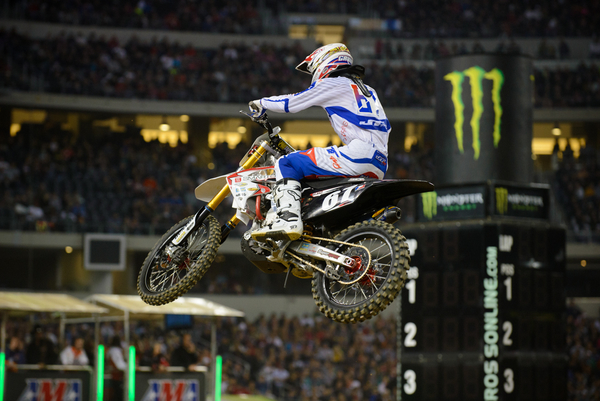 5th place- Gavin Faith. Faith shocked the world when he came out of the gate at the first round and won the heat race straight up. Those were the expectations that Faith immediately established but he couldn't do it again. He did holeshot and lead in Vegas so close it off with a bang. Gavin was consistent throughout the series and would've had fourth if not for a DNF at Daytona. He's a big kid and is probably giving up a bit of horses out there but you can see he's got good skill, technically he's very strong and should probably be in the 450's with his size but hey, what are you gonna do?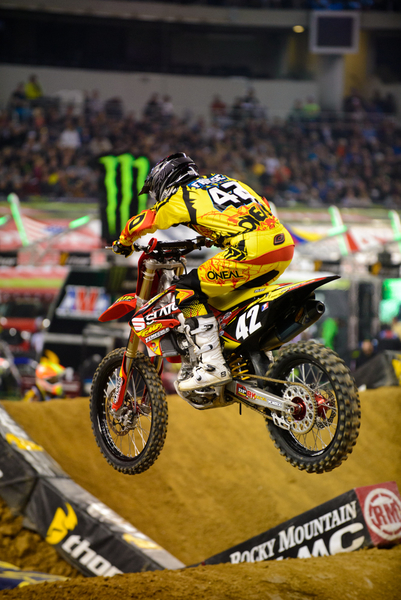 4th place- Vince Friese. What a surprise here. Or is it? Maybe we should've known what was up when Friese raced the west coast 450's and was in every main and sometimes creeping up towards the top ten. Friese let his riding do the talking this year and you could see the results. A career best for Vince and on his bike, with his team, this is an awesome performance. I don't know if it will get him a better ride or not but Vince didn't luck into this finish.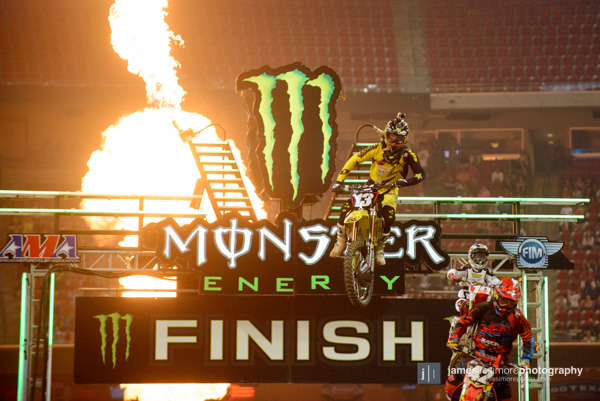 3rd place- Blake Wharton. I can't figure Wharton out. He's now approaching that "Is he still in that class?" status and he's got to figure out how to get more consistent than he is now. Wharton won a race (three wins in his career) but going to the races each week you were never "OMG look at Wharton" as Blake was out there. He's fast, he's a good rider but he's missing…something. He's got to be more aggressive (despite Tyler Bowers crying bloody murder for Blake's move in Minneapolis, it wasn't anything dirty and Blake should do that more) or faster or…something. Sometimes guys get set into this work ethic mode and money making mode and they're happy to just do that. Sometimes that fire to be better just isn't there. I'm not saying this is the case with Blake but don't you feel like he can give more?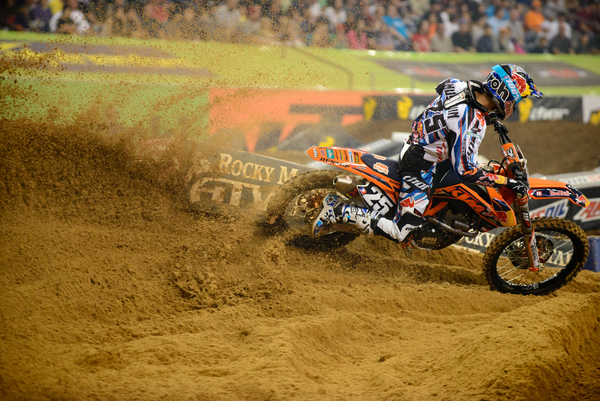 2nd place- Marvin Musquin. "Moving" Marvin "The Marv Attack" Musquin had a great year and if he tells his grand children that he was better than anyone in the class this year, I don't have a problem with that. He won four races to Hahn's two. It was just the very first race that cost him when he went down in the first and turn and then sort of rode uninspired from there. At Houston he made an uncharacteristic mistake that hurt him as well although he recovered for a podium. In a way, it's fine that Musquin didn't win the title because he would've been kicked out, now next year he's immediately established as one of the favorites no matter what coast he ends up racing. A very technical rider, if he gets the start and has a clean track he's tough to beat. When he's back there and getting roughed up, he's got a tougher time.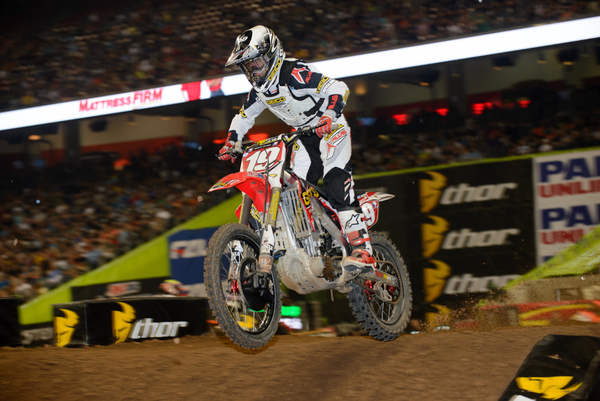 1st places- Wil Hahn. I've got a theory that it's pretty damm tough to win a championship the same year that you win your first race. Look it up, it's true. Not many racers have done that before. It's a gradual climb for a title guy and one where he has to learn what to do (and conversely, what not to do). Hahn managed to do it though, he won his first race as a pro and then went on to win the title. It's got to be a little disconcerting that he only won two races and they were a long time ago but he never made it off the podium either. And remember, he was buried at Indianapolis, those kinds of rides are the ones that win you titles. Congrats to Hahn and his team of being the rider with the most points at the end of the title but if you're asking me if he was the best rider in the series, I'd say flip a coin between him and Musquin.