Report from the GP of Brazil, return of the Superfinal!
Report from the GP of Brazil, return of the Superfinal!
Herlings wins but loses!
Report by Jonathan McCready
Photo by Youthstream and KTM Images courtesy of Ray Archer
Jeffrey Herlings lost his perfect moto win streak this season after first turn crash in the superfinal meant he could only come back to second place in his class – but he still won the overall!
The moto streak breaker was underrated Spaniard Jose Butron who won his first ever moto and has went third in the series after yet another superb ride!
It was a superb track in Brazil, with a big enthusiastic crowd seated in the grandstands around the natural amphitheatre that even had a theme park close by!
The rain threatened all weekend and despite some attempts it didn't get in the way of the racing and the track held up well. With everything from slightly supercross style jumps to hills and natural off cambers, the track had something for everyone and was a real challenge for the riders.
Herlings had earlier taken a bad start in moto one but eventually found his way to the front, passing countryman Glenn Coldenhoff with only seven minute to go. It was yet another exciting come from behind ride for Herlings and another brilliant ride from Coldenhoff.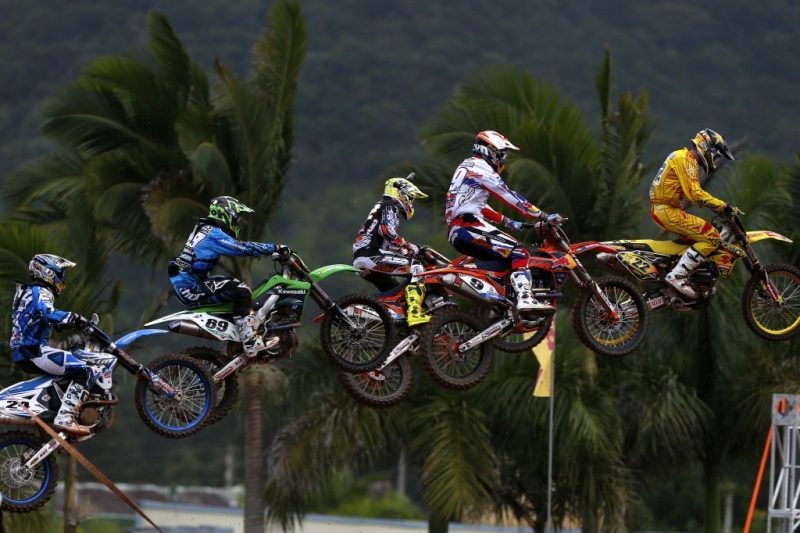 The flying colors of the GP riders down in Brazil.
The MX2 GPs are seeing a whole gaggle of young riders rising in confidence this season and all have an eye on winning the world title in 2014!
Coldenhoff crashed in turn one of the superfinal and knocked six spokes out of his front wheel and broke his throttle cable, he came into the pits got fixed up and rode all the way back to 12th in MX2 to still claim fourth overall!
Jordi Tixier took advantage of Coldenhoff's misfortune and claimed third overall after getting third in the his class in the superfinal.
Jake Nicholls took a fine third place in moto one but again luck deserted him in race two with another DNF. But at least Jake knows the speed is there again! Fellow Brit Mel Pocock had the best ride of his career in moto one with a brilliant fifth, he could now give team leader Dean Ferris something to think about for the rest of the year!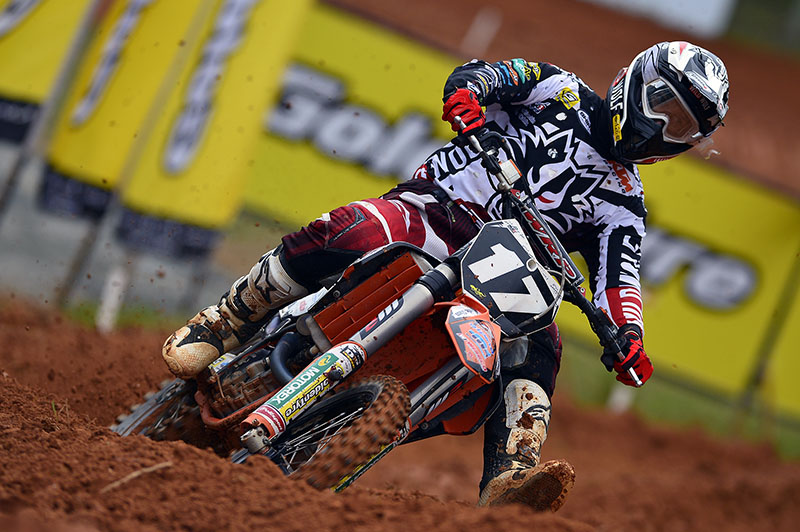 The Spainard Butron has been very impressive this year.
Alex Tonkov lead moto one for a good few laps and is yet another rider who is really starting to fulfil the promise people saw in him a couple of years ago. The young Russian left home at 15 to live in Belgium and now a couple of years later that dedication is starting to pay dividends.
Max Anstie had another disappointing day on a track that should have suited him. Max needs to get his starts sorted and find some consistency. This is third year in the class and ever year he has hovered around sixth or seventh place in the standings. Max has the talent to be at least top five and he has to be getting frustrated at his lack of improvement especially after showing glimpses of fantastic raw speed.
American Jimmy DeCotis finally got some GP points..but he was still at the back of the GP regulars and his lap times reflect that. He will need to find something extra in France if he is to get points again when riders outside the top fifteen in the series come back to play! Hopefully getting points on the board will give him the confidence he needs to turn his season around.
In MX1 Tony Cairoli was back in business. The Italian had a poor qualifying race on the Saturday but wasn't in the mood to have any more poor races on Sunday. He holeshot and checked out in race one after his rivals just got buried in the top ten.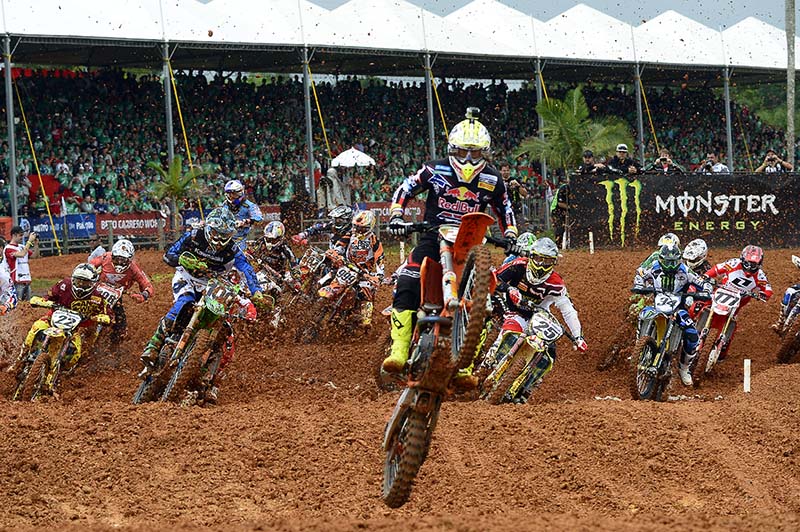 Yeah, that's right Cairoli won again.
In the superfinal Cairoli had to hunt down an impressive Kevin Strijbos but eventually Cairoli wore down the Belgian and passed Strijbos at the end to win by two seconds.
Second place in the standings Gauitie Paulin had, for his recent high standards, a disappointing day. Paulin suffered to bad starts and that meant he didn't see Cairoli all day. He battled through to fourth in each moto and rode well but Cairoli put a lot of points on Paulin and the twelve points that the Frenchman left on the table by letting Cairoli win the previous two second motos are looking costly now.
Clement Desalle was still sore from his big crash in Portugal but he rode well and fought hard for second overall. Desalle is still trying to walk the tight rope of speed and consistency but his raw speed is better than last year.
Kevin Strijbos' second moto ride to second vaulted him up to third overall and it was quite an improvement from ninth the week before. Both Strijbos and Desalle are now looking forward to racing the next two US Nationals in Colorado and Tennessee!
Max Nagl had his best ride of the year. He won the qualifying heat on Sunday and came from an average start to second place in moto one. He was seventh in race two but still scored fourth overall and has now proven to himself that he can win on a Honda.
Jeremy Van Horebeek had yet another good ride despite poor starts for sixth overall. The Belgian is getting faster every weekend and a podium might not be far away.
Fellow MX2 rookie Tommy Searle could only manage an eighth overall with his broken finger and Searle is looking forward to healing up and getting ready for France where he has always ridden well. But Searle is having more difficulties adapting to MX1 that many imagined and is still looking for his first podium.