All the talk after two rounds is, rightfully so, the impenetrable force that is RV2.
All the talk after two rounds is, rightfully so, the impenetrable force that is RV2.
Photos By: Simon Cudby
It started as a snarky tongue in cheek comment in bench racing circles after Hangtown. Following his performance in Lakewood Colorado, the eyebrows are lifting and those half-jokes are turning into wager-talks. I find it hard to argue against the possibility of Ryan Villopoto going undefeated if it weren't for the craziness that is Motocross. As mind-blowingly aggressive as he is and with a rabid dog approach to the track, there are still just too many variables which are completely out of his control that could quickly turn those tables. Mechanicals being the most obvious, secondly is the insanity that is the first turn twice each round; and of course the inherent danger of racing the high-flying, massive horsepower making bikes on the treacherous outdoor tracks.
The fact that anyone has gone undefeated in this sport is ludicrous due to the mechanical failure issue alone. Look at Justin Brayton, two races in and he has two mechanicals. It's just such a game of roulette when it comes to the reliability of the machines when they are put through the rigors of elite level racing.
I remember a time when Ryan Villopoto was described by some as not flashy or not a real exciting rider to watch. I thought it was ridiculous then and blasphemous now. He attacks the track like no rider I can remember. When I watch him, I just think of how much he hates it all. The track, his competition, the sacrifices made to be at that level and more than anything, losing. Of course he doesn't actually hate his competition, they are more of a formality. Obstacles in his way, on his way to the only thing that matters, the payoff for all of his blood, sweat, broken bones, diet and tears. The W.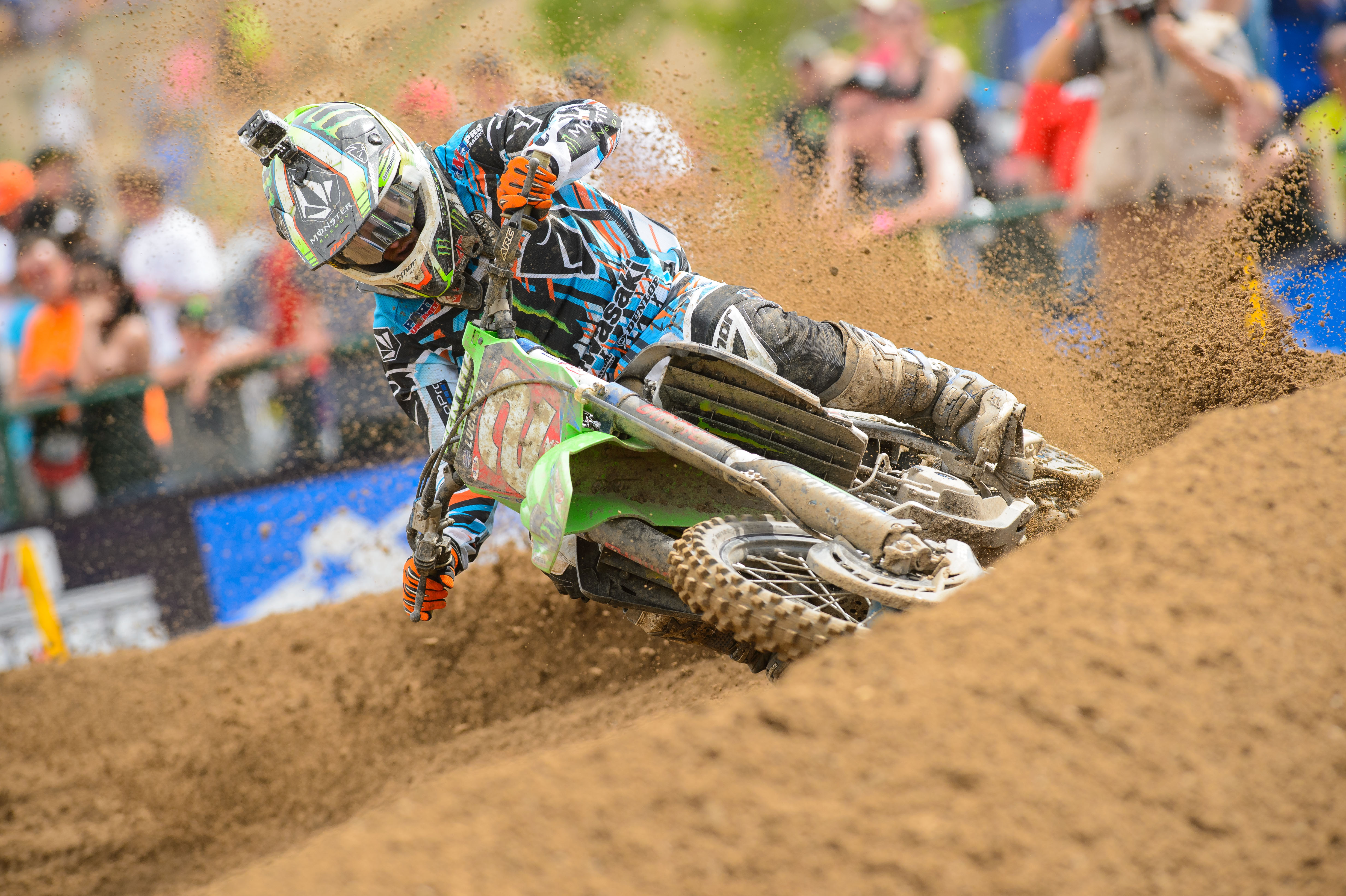 Impressive doesn't begin to describe the Villopoto clinic.
There is truly no rider who's visual presence on a track speaks more to determination and fight than RV. He looks like every lap of every race is the last one of his life. Nothing is left on the table. Win or die trying. It's very inspirational.
I'm not going to go claiming an undefeated season if for no other reason I hate jinxing people and yes, I believe in jinxes; even though I feel ridiculous for doing so. Just enjoy it, watching the guy who is probably only second to RC for hating losing more than anyone ever. When all is said and done, perhaps first.
Ryan Dungey wrapped up Lakewood in typical fashion. 2-2, when RV is in the picture and keeping RV honest right to the end. He's still all smiles on the podium but it's looking a lot like 2010 Supercross again right now with regard to the Ryan's. Last year it was all Dungey outdoors after James did his wrist, in 2010 Supercross RV was a slow starter but as they moved passed the midpoint of the series, RV found something and started clicking off convincing wins and Dungey started seeing chips in his own foundation. Since then both Dungey and Villopoto have both upped their games to nearly superhuman levels. Dungey uses school-perfected technique and longevity to find speed, whereas RV rides how he feels most comfortable, finds injury from time to time but goes faster than anyone else when he keeps it vertical. The Dunge has been passed by RV in 2 of 4 moto's without reciprocation yet.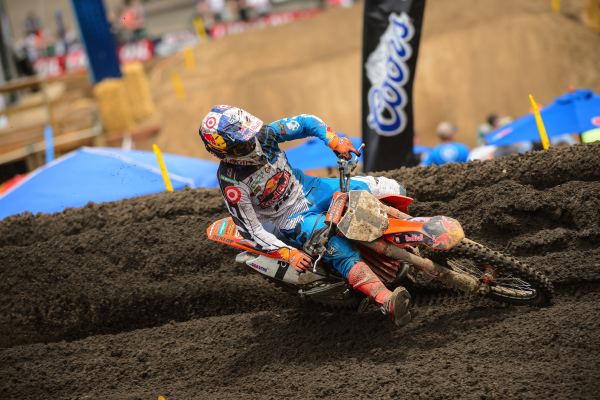 Dungey keeping the "2" honest as always.
Justin Barcia is picking up where he left off with his limited 450 rides of 2011, with the Ryan's. He looks good, great really but look who he is up against. For his rookie series, sitting third in points is pretty damn honorable. Especially for "boy strength".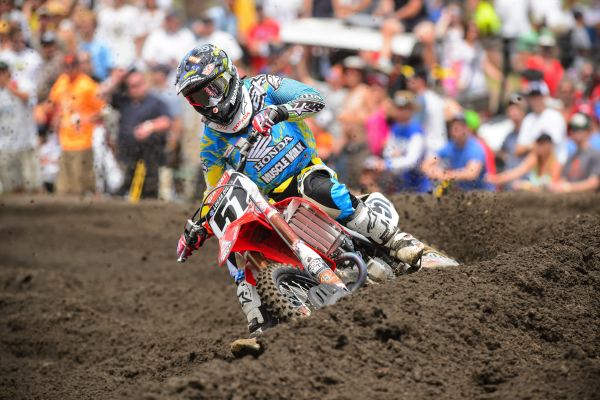 Barcia is picking up where he left off in 2011 on the 450.
Mike Alessi came out of his shell a bit but where is the Mike who was runner-up to JS7 and The GOAT in 2006? Remember the post-race interviews when he would comment on pulling the holeshot and just trying to keep them honest in the end? He's keeping 4th and 5th place honest thus far in 2013. I refuse to believe that bike he is racing is not as good as the KTM he raced in 2006. Mike is better than this, for crap-sakes he won a moto last year!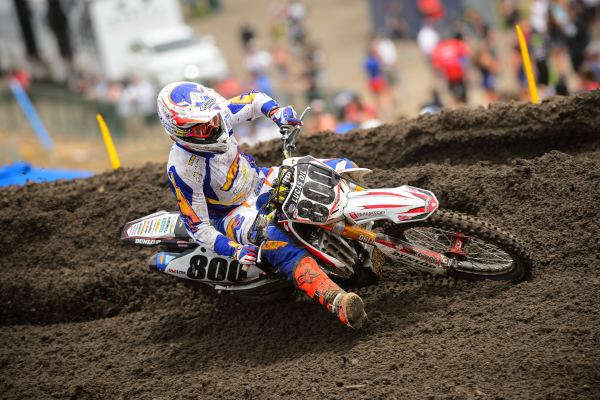 MIke is better than he's been. Not sure what's up.
Clement DeSalle was the most highly touted GP entry this weekend and while he was good, the rumors of him falling off a bit since his last visit at Unadilla in 2010, were true. He was very impressive but not a threat for the W as he was at the Dilla.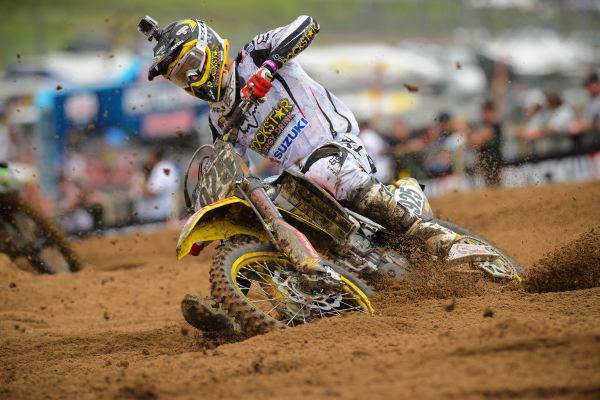 The MX Panda represented the GP's well in Lakewood.
James had a dreadful first moto, crashing multiple times and ending up 15th. He rallied in moto 2 for 3rd but that is simply not going to cut it when, at a minimum Ryan Dungey is in the field. Add Villopoto and the light in the tunnel is nearly a pinhole. He's certainly not the James Stewart of 2008 but is it his knee, wrist, head, setup? That book will be a New York Times bestseller when written.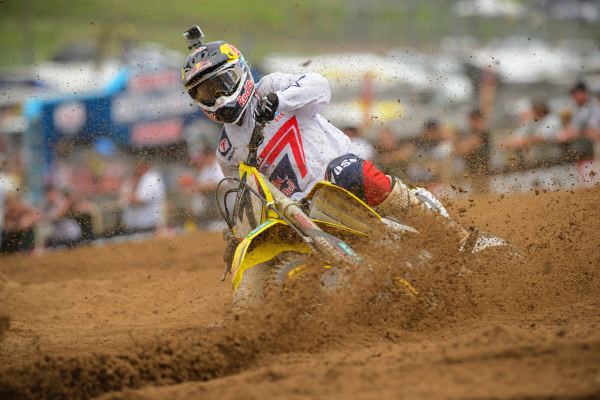 JS7 righted the ship in moto 2 but moto 1 cost him dearly.
Dean WIlson fared better in Lakewood but he is suffering from the results of a injury-riddled Supercross season and big bike migration out of those injuries. Not ideal conditions to move to the big boy class. I expect Dean to settle in around 7th by the end of the series and begin fresh for 2014. Wow, two races in and I'm looking ahead to 2014 for Dean already. Some would call me a hater I suppose.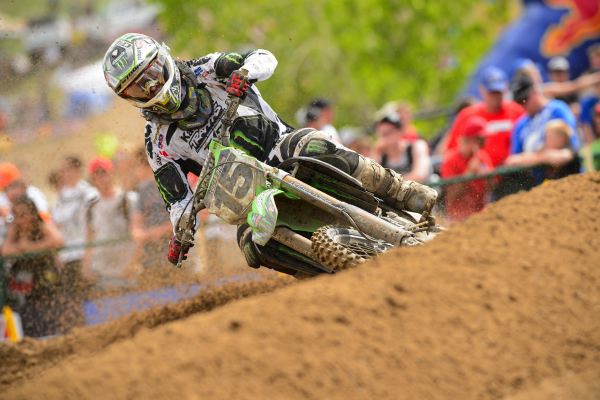 Wilson is still coming to grips with the big bike and his return from injury.
Was there a solar eclipse, or did we pass through some strange new galactic orbit? I only ask because somebody, TLD actually, built a bike that could carry through Malcolm Stewart to two moto finishes in the same day! 9-11 for 11th overall is a bit of a slap in the face but the fact that his bike finished both moto's is a huge win in my eyes. There's momentum to be built from here.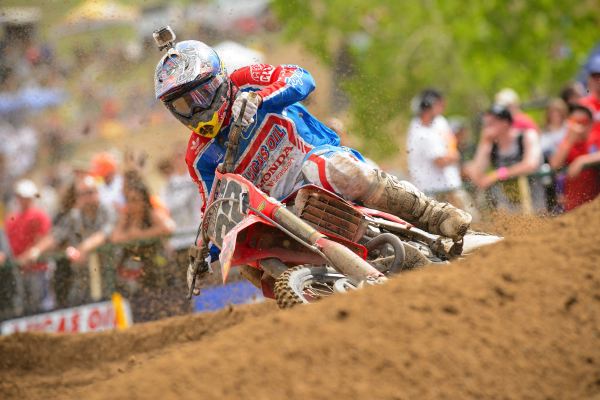 Finally a bike that can withstand Mookie Fever for two motos.
Josh Grant going 8-18 for 12th is a far cry from the enigmatic rides of his past. One of them even coming here at Lakewood in 2010 when he straight beat the seemingly unbeatable Dungey, then later at Red Bud that year. I'm not giving up hope for another break out ride from Grant. I guess it wouldn't be a break out ride anymore, more of a throwback ride. Whatever you want to call it, I think Josh can do it with just a little more confidence.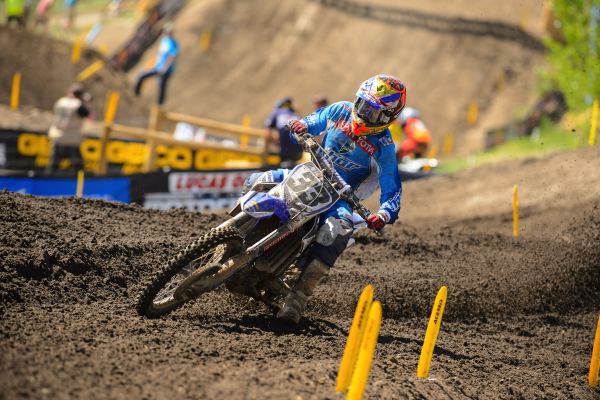 Josh Grant needs to build some more confidence to get back to his form.
Not an awesome Lakewood for Weston Peick but 13-14 for 13th is still on his side for deserving a ride. There are a lot of paid riders finishing behind him. I thought the deal was that "results are what matter"? Like most things with Weston, he's proving that most teams don't believe in it. Ridiculous.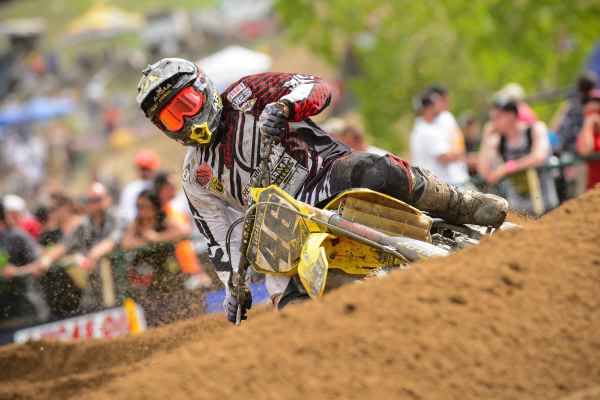 Somebody take this guy east.
250
Eli Tomac was the best 250 rider in Colorado. He didn't pull the first moto win but before making a small mistake in the waning corners, he was putting serious pressure on Ken for the win. Moto-two was check out time and he wasn't waiting for the front desk to call in the pressure (sorry). It sets up an interesting storyline for the series debut at Muddy Creek. Will Eli carry the momentum with another win or will Ken dig deep and put an end to it straight away?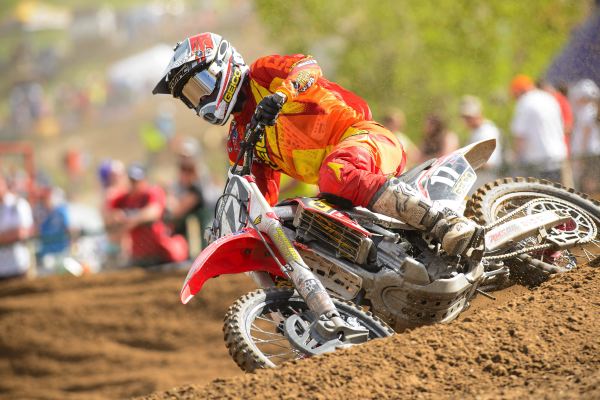 Eli finally showed his home fans just how gnarly the younger Tomac is.
Ken looked a little deflated on the podium but I guess that's par for the course in the thin air of Colorado? Actually, his comments were more telling. He admitted that he had nothing for Eli in moto-two. He's no doubt using Eli's Colorado heritage as the justification for Eli's stellar ride. We'll see at Muddy Creek if he actually believes it. 2-OA is nothing to get crazy over when you're still the points leader with 20 moto's to go.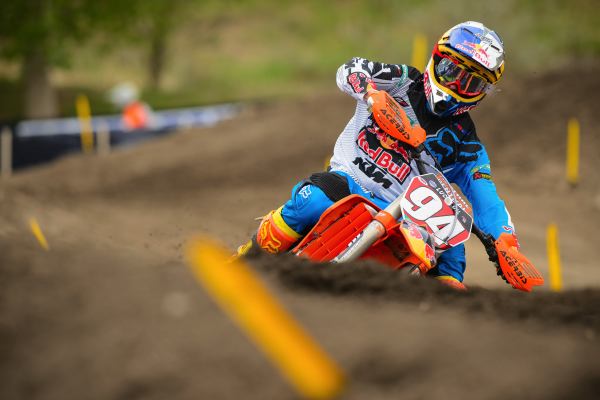 Ken wasn't happy on the podium but he retains the red background.
Zach Osborne gets the feel good award for Lakewood. As I have written before, when you 6-2 for 3-OA, you're living right. Zach has been fighting for this finish since his re-debut in American racing. In Supercross poor starts and early injuries kept his results at bay, so coming into outdoors, he had put a lot of pressure on himself. Rightfully so. He knows he's capable of consistent podium finishes and that's what he expects of himself. Maybe now with the results on paper he will let some of that pressure he puts on himself slide off his shoulders and just ride the way he knows how. He will be better for it.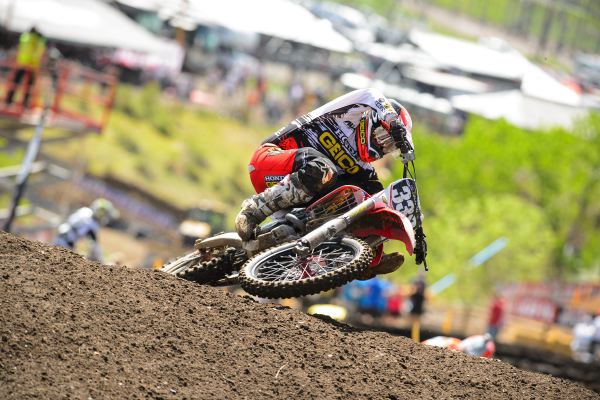 Classic Osborne right there.
It's apparent now that Blake Baggett wasn't bullshitting in pre-series interviews when he claimed his wrist was an X-factor. It's mobility is diminished and he's not sure of how long he can go full-out. Time will tell if it's just a "get used to it" thing or a "try again in 2014" thing.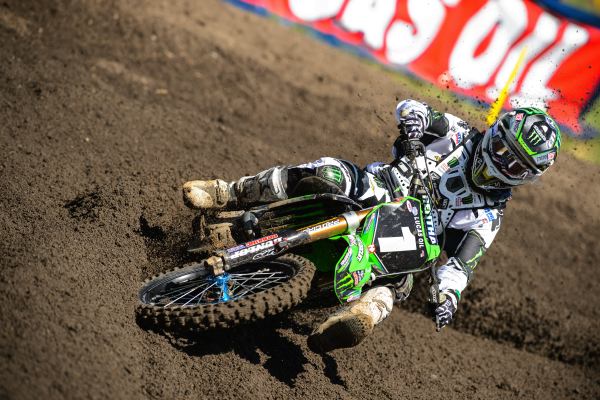 Blake doesn't look to be near the level he was last season thus far. Will the wrist be ok?
Man, I am super pumped to see that Cooper Webb is indeed the real deal in his first two races. Although his second moto result doesn't show it, Cooper's third in moto-one squashes all doubts as to his legitimacy. We have yet to see Adam Cianciarulo's debut due to illness but I have to say, I'm not sure I would have expected AC to have a podium at this point. Hopefully AC kicks that illness and enters the series soon because as superficial as the Cianciarulo/Webb comparison is at this point, I can't deny I'm still highly intrigued by that storyline.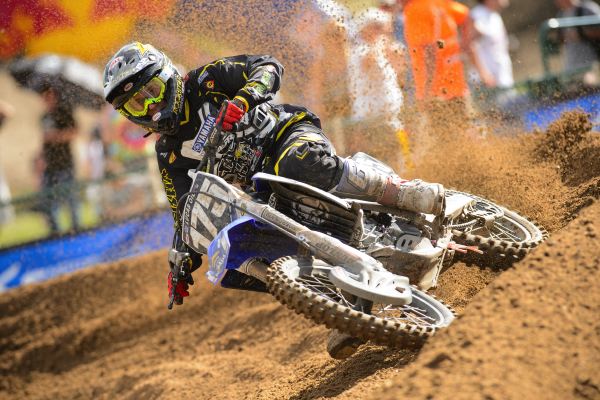 Cooper Webb is fitting right in the Pro ranks through two rounds.
The series is headed east, now lets get pumped up for some great dirt and evolving race-plots. Muddy Creek!