Three interesting interviews from Muddy Creek
Three interesting interviews from Muddy Creek
Photos by Stephen Kane
James Stewart
Pulpmx: What'd you think of the day? Looked like you were in the battle for most of the day. You had guys in front of you and behind you. It was intense all day.
James Stewart: Yeah, I don't know how intense was I. I had one of the probably worst days of my career. I qualified 17th in practice. Actually I thought I put in two laps. If you would have told me I was 17th I would have just packed up and went. And then we were just making some changes to the bike. We had to take the stabilizer off between practice and the first moto, so that was different just because it was so tough. Then I just didn't have the flow.
Do you feel that you chased setup all day?
I don't know if I chased setup. I think it was 25% setup, 75% me. It was just from the first practice there was something about this track that I was completely lost. I couldn't get in my corners. I just really couldn't do anything. It was frustrating for sure. It was frustrating coming back and telling the team that. I'm like, dude, I just didn't have it. Seriously.
But you've been here before. But maybe that doesn't even matter? Mike Alessi said he thought it helped him when he was a kid being here.
Yeah, I've been here. I probably rode better… I'd probably beat myself on an 80, 125. I definitely know when Mike Brown raced me, when I raced Mike Brown, I was going to, I would have beat myself today on that, on a 125, before I turned pro. But again, I don't really think it helped me. The track was so different. I think it was really narrow. It was cool. It was cool to be in a new venue and all that stuff but the track was narrow. They definitely way over-watered it.
No one liked the wood chips.
No, the wood chips…because all it did was it was just like three feet of dirt and then it was just hard pack underneath. It's almost like they should have dug it up and then put the wood chips and then dug it up again. But, no excuses. Like I said, I just didn't have not Stewy moments. I just didn't have nothing.
Yeah, 17th qualifying. I thought Roger Larsen (Seven gear guy) was riding the bike.
It looked like it. Even the race, even in the race. I had one good scrub, which I'm going to Instagram it, on the second moto on Alessi. But besides that Rojay rode the first moto and Ratto rode the second one.
I didn't see it, but RV was jumping that downhill double and then someone was tweeting me that you also were doing it.
Yeah, I did it the first moto. What happened, I over jumped it, the tabletop, and I was so far outside so I just went ahead and launched it. Then I did it a few times the second moto. But again, it wouldn't have mattered.
That's not a Stewie moment?
No, that's not a Steway moment. The second lap when I passed Alessi back, that's a Stewy moment. Show him the photos.
We've seen a lot of these photos from you. If you're impressed it must be really something. (James shows me a photo of him scrubbing like mad next to Mike Alessi)
Chad Reed
Pulpmx: Muddy Creek, the best race of the year. Something's going on; you're trying to work it out, you're trying to feel it. It's not the Chad Reed that we know out there on the track but at least it's the best one of the year.
Chad Reed: Yeah, stellar day. Really stepped it up today, went 15-13.
Do you feel a little bit better though or no, not at all?
No, I feel horrible. I don't want to be here. But like I wrote on Twitter the other day and I put it out there for my fans is, you know what I realized last year and what I realize more again this year is Saturdays they drop the gate whether you're ready or not. And in a perfect world it would be nice to take two, three weeks off and get healthy and come back. But we're a single-rider team. We've got sponsors to keep happy. I'm coming off of a pathetic Supercross season and it's even worse outdoors. So I'm trying to stay positive, trying to take it week by week and get my head above water.
I honestly think that it's not going to be any better next week. Hopefully the week off will allow us to try to get back into a normal program and hopefully have a shot at it after the break. What do we got, Budds Creek? So, I don't know. That's the honest truth. It's just we don't have anything to give right now. It's frustrating and it sucks to even talk to the media because it's just like, what do you say? The honest truth is I don't have anything to give. I got issues. I don't need to let the world know what my issues are, but there's issues and we're dealing with them the best we can. Sure, it'd be nice to have a miracle and have it all fixed overnight but it's going to take time. If I had to try to predict when things will start to turn around I think that after the break we'll start to be back towards the front of the pack.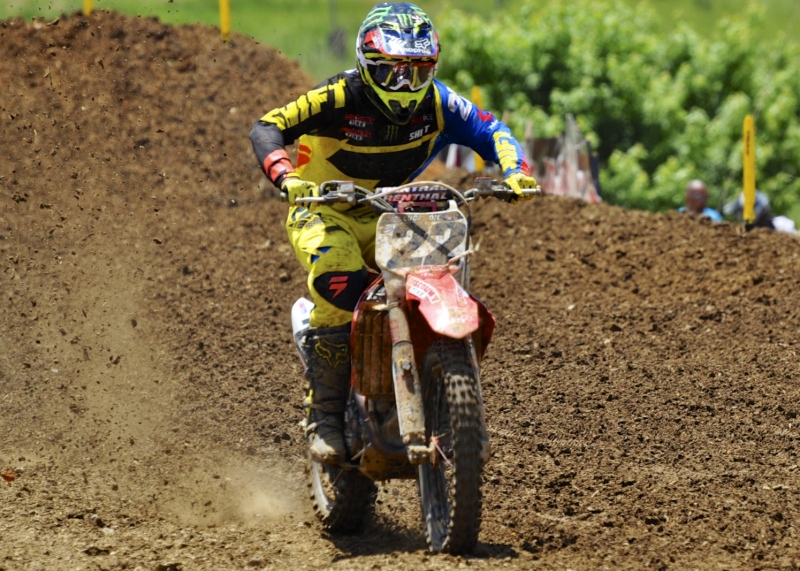 Chad Reed had his best national of the year and it still wasn't very good.
What'd you think of the track?
I think 2nd moto the track come around. It sucked because Barnett is heavily involved. Love the guy. He built my personal tracks. But I would say that coming out here and riding practice it was the worst track I've ever ridden as a professional athlete. Just…whoever bought wood chips and whatever, I would love to know the money and just… go burn it. Go and put it on a bonfire and literally waste that money next year and don't put wood chips on the race track. Let's race a hard-pack track. Yeah, okay, none of us really love hard pack. It's nice to go to a nice, fluffy, loamy track, but none of us, I can promise you, none of us as riders like coming to places where it's rock hard underneath and then you go and put a bunch of wood chips on top and then you water the crap out of it and it's literally like riding a muddy garden for the first half of the day. And then it all pushes off and then it's just nasty, hard, shitty ruts. So yeah, hopefully they learn a lot today.
I'd like to say that to run an American National, AMA National, you don't have to add sand. You don't have to add wood chips. Don't quote me, but I'm pretty sure that in the AMA rulebook it doesn't require you to do that. So let's leave that shit off the racetrack next year and try to… The layout wasn't amazing, but I think it come around. I think everybody will agree, everyone I talked to, we all felt that we should have probably brought CRF150S and RV wanted to do super-mini. It seemed like it come around. At first it was skeptical I think but for the most part it came around. The triple was massive. I can tell you that; I was really surprised that the Lites guys were doing it. It was pretty much everything I had in 3rd gear.
Yeah, Shorty said he was scared!
I wasn't scared of it but… I was really surprised. Those Lites guys bikes must haul ass, I can tell you that, because my 450 I was pretty much 3rd gear, everything I had. So yeah, impressive.
Thanks for doing this interview. I know you said you had nothing to say. I appreciate you doing it. Hopefully after the break Budds Creek we'll see the Chad Reed we're used to seeing, because this sucks. The rider needs to tell the owner that he needs some time off.
And then the boss is in there cooking dinner. She's a tough boss.
Ken Roczen
Pulpmx: Still a good day today. Great first moto and second moto. Maybe not what you want, but yeah, just chipping away.
Ken Roczen: Yeah, the first moto was pretty good. Ended up being 5th on the start, fought my way all the way up, and then just stayed there the whole time. Had a good recovery in-between the motos and felt actually pretty good for the second moto. My start was horrible though; I was about mid-pack and then fought my way up there and went down pretty good up there.
Oh, did you? I thought you just tipped over.
Oh, no, my rear end slid out and then I caught a bump and then I jumped off the bike. I mean, I wouldn't say it was a super gnarly crash. As bad as it went it couldn't have gone any better, but still went down and so my whole boot unbuckled. I'm not going to talk too much about that. It was definitely a distraction but I tried to forget about it and not let it bother me as much. Actually rode pretty good. Got all the way up to 3rd. I could have been the overall. Happy about that. And then did another mistake – ran off the track. So Blake Baggett came by; that was about two laps before the end. So Blake went by and so I ended up being 4th in that moto. It dropped me all the way to third on the podium.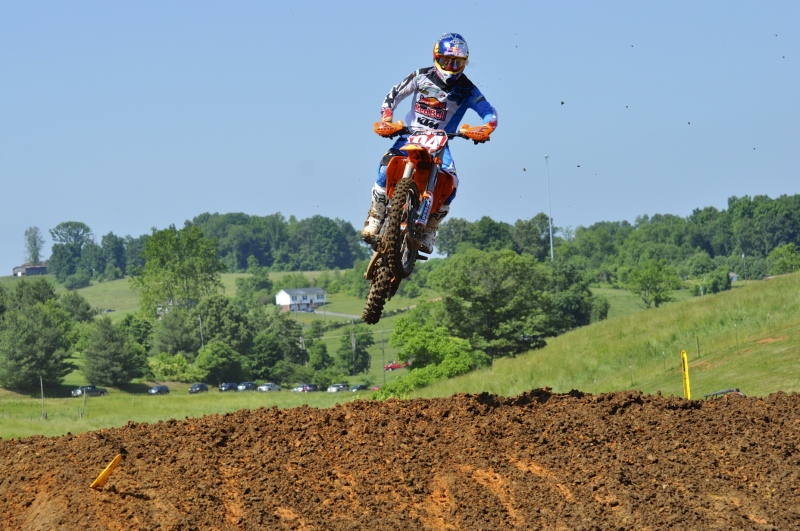 Kenny Roczen has won four out of the six motos this year.
It was a crazy moto for you; up, down, sideways, crashing, boot, Zach Osborne on you at the end…
Yeah, it was horrible. I felt good fitness-wise. For sure we can get a little better but I can't go too hard right now because it's in-between the race. We're barely home three days and I don't want to do too much right there. But I actually felt pretty good on the bike. I can't complain. I'm still happy. I think KTM can't ask for anything more. Marvin won, Dungey won, I got 3rd…
Well the question guys like me in the media are asking, last year you led the second most laps. You only got one moto win. You did get caught at the end of some races. So we're watching to see if you've improved. Lakewood we're like, oh, maybe not. But I think today, way more humid, hotter, still no break. I think you answered that you are in better shape than last year.
Oh, yeah, for sure. I honestly…it's not 100%. I could be way stronger honestly; I feel that myself. But I still try to enjoy life next to that. So many people…
You're what, 18, 19?
Nineteen now. There's so many days out there where I could do so much more and I would probably be so much better in shape and everything. I could probably be a lot better, but for right now I just still try to enjoy it. It's still working pretty good. Compared to last year I don't think I'm as bad as last year. I think I improved a lot. We can get a lot better but for right now I think there's a lot of people out there that do a lot more training but it's good for me to see that it works. I'm still up there. I always try to choose a good spot to put in work and then good spots to take it off a little bit.
I like that. Good honest answer. Good job.