Change is a weird thing. It can be good or bad, welcomed or looked upon as an impostor. Ironically, it can also be the same.
Change is a weird thing. It can be good or bad, welcomed or looked upon as an impostor. Ironically, it can also be the same.
Photos by: Stephen Kane
In our beloved sport of professional Motocross and Supercross, change is almost categorically agreed upon to be a negative. That is, by different sects of the industry and that is wholly dependent upon each sect's perspective. If you are a member of team personnel, it's standard to resist anything that hasn't been in place since before you came into your position as part of said team. This typically involves race format changes, sanctioning body machinery requirements and anything else which is altered that you have no control over. Where riders are concerned it's customary to stand in opposition to anything which threatens the comfort level they have achieved through years of standards, practices and routine. This could be drastic changes to bike design which is common every few years (can you say 2009 and 2013 CRF450, 2010 YZ450 or heaven-forbid the initial "Suzukasaki" 250F's), race day program alterations (the switch to MX on Saturday gave everyone in and around the sport heart palpitations) and of course adding tracks to a familiar schedule. Taking that last point a step further, adding a track which has been around for years, with familiarity to some, retro-fitting it drastically; essentially making it the monkey wrench for all.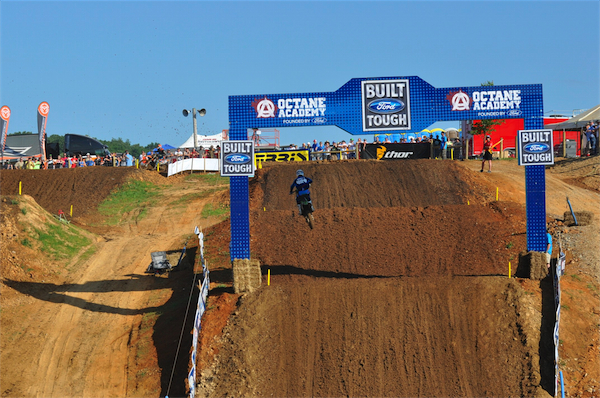 The monstrous step-up triple at Muddy Creek. No 22 references please.
Coming into Muddy Creek, the only racers with any sort of advantage were those who could consider it a hometown race and benefitted from the added crowd support. Namely, Zach Osborne and Cooper Webb. Although, the crowd support was where the advantage began, and ended. The track had been altered greatly from what they had known of the venue prior. Not only were obstacles added and the routing and flow changed, the track-preparation which has become commonplace throughout the National schedule, made certain the Muddy Creek visit was alien to all. Cooper and Zach included.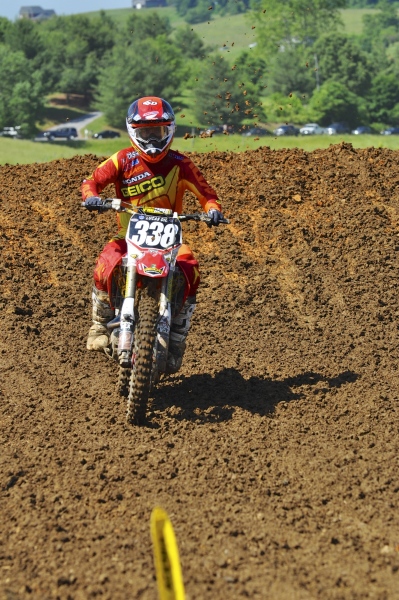 Zach Osborne fared pretty well at the familiar, though alien, Muddy Creek.
The preparation of the National tracks over the last handful of years, since MX Sports took control of them in fact, has been a bit of a polarizing issue. There's no question, MX Sports stepping in and leading Motocross since 2009 has benefitted the sport greatly. Some of the changes they have instated were bold and very controversial. At the time they were made, many were screaming bloody murder and absolutely convinced the changes were going to result in the death of outdoor motocross. The institution and history of the sport were being sullied and looked upon as nothing less than blasphemous. Moving the races from a two-day format with the fireworks on Sunday, to a single-Saturday program, gave old schoolers heart problems. With the volume of the complaints, you'd assume there were actually a few deaths resulting from the announcement. Fans were THAT infuriated by the announcement. I'm not going to touch upon the TV-package here, there are far too many factors involved there outside the control of MX Sports but suffice to say; the more MX Sports tries to do to improve it, the more it results in bitching and disdain amongst fans.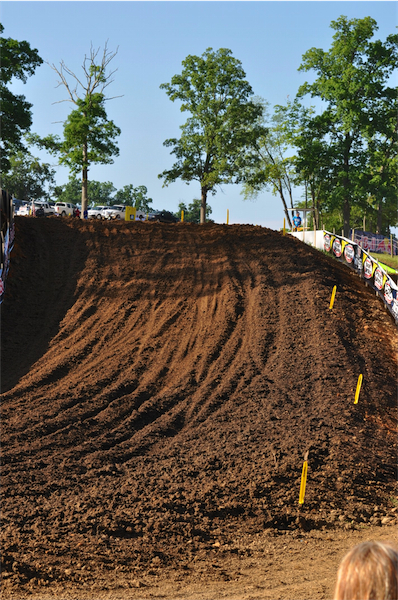 Is this Red Bud or Muddy Creek?
The loss of Glen Helen, years old now, was another highly volatile issue which still boils the blood of many to this day. Adding to the fire in that controversy were the venues which have since been added; all (but Muddy Creek) which thus far have been man-made tracks on flat plots of land (Freestone, Pala, Elsinore and the soon to be seen Miller Motorsports). This is generally considered the biggest possible atrocity in the hearts and minds of old school MX-fans. In their heads, to add even one man-made obstacle to a motocross track is pure disgust but to include a fully man-made track to the Professional schedule is an abomination. The Glen Helen controversy simply came down to MX Sports raising the criteria for what a National-calibur facility offered and put in to improve the event for both participants and fans alike. Glen Helen didn't want to play ball and that was that. I absolutely feel that Glen Helen not being on the schedule is a big loss. Although it was a dust-bowl, rock hard race surface, it offered a unique and historic view that no other approaches still. It could never be a Red Bud but that's the idea… or could it?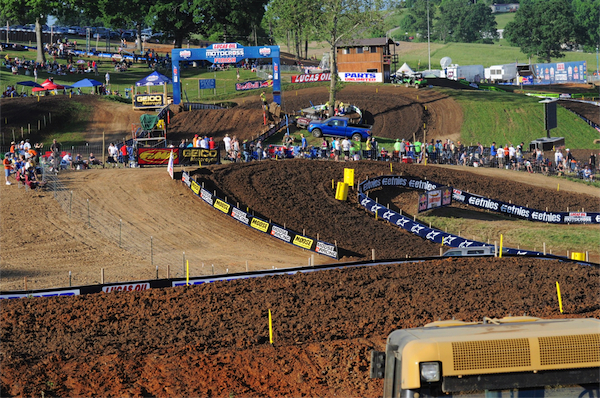 There's no denying, this looks like a dream to rip but we're aching for some uniqueness in the Nationals.
This brings me to my point. It is by no means a unique point of view, Matthes as a matter of fact has harped on it many times; track prep. It seems like a few years back, Red Bud added mulch to their dirt and disc'd it deep, which led to riders raving about how good Red Bud was. Here we are a few years later and it seems like every National track is adding mulch or saw dust and ripping and watering into uniform monotony. I get that keeping the dust down for fans and television is a key priority but taking the uniformity of the prep to the level it's at now is too far. A leopard can't be forced to change it's spots and when a stubbornly hard-pack track is wrestled into a loamy top-dress, you end up with an inconsistent surface throughout the day which is frustrating to riders and teams. In addition to frustrating them, the series becomes a bit stale with no track offering advantages for any riders who excel on a particular surface. It's cookie-cutter, middle-of-the-road average. Red Bud adding mulch may have been the worst example for other tracks to try to follow at the onset. Red Bud has long been considered the holy-grail of MX in terms of dirt and prep, therefore tracks already lagging in what their native soil had to offer could only result in a watered-down representation of that which made them unique in the first place. We want to see unique stops on the schedule, not subtle variations of the same track from one week to the next. As it stands currently, mother nature is the only tool available that introduces a pure unpredictability from venue to venue and she rarely attends on the weekends that matter. The recent announcement of Southwick dropping from the schedule after this year leaves an open spot for a true sand track somewhere in the schedule and I really hope whatever is added, is sand and left sand. Not churned and massaged into more of the sameness we've now been beat over the head with.
MX Sports has been a great benefit to professional motocross in so many facets, I just hope that they are seeing the error in their ways when it comes to the monotony of the track preparation. We want to see the native soils and the riders who excel in them. Keep the dust down, the mulch in the flower beds and the saw dust in particle board or whatever the hell else saw dust is used for.