Congrats to the #101!
Congrats to the #101!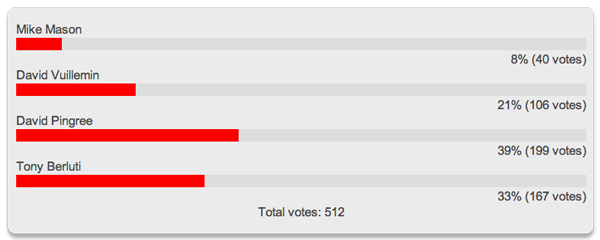 The results don't lie. Sorry Mason, our fans are jerks.
Since our beloved Kenneth Watson left the Pulpmx Show we have decided to go a route where we have different co-hosts each week. I felt like at times the show was getting a bit stale with the same opinions/stories/fights each week so why not get some different voices in there to spice things up. And it's gone better than we thought it would as listeners are up, the co-hosts are keeping it fresh and we're enjoying ourselves more and more on the show.
With that in mind, we wanted to hear what you guys thought. We get a lot of feedback from emails, Twitter, fans at the races about the different guys we've had on and it's all over the map. Some hate and love each guy, there's no figuring it out and that's probably the best thing to do- don't overthink it.
So we ran this poll on Pulpmx.com for about a month and got a nice cross-section of votes and the results are in- no one likes The Mad Dog Mike Mason!
Not really but it's staggering to see how poor he ranked as his positive feedback from Twitter and emails were as much as anyones else's. To be fair to the Mad Dog, he hasn't been on that much so it's a small sample size.
Congrats to David Pingree on his close win over Tony Berluti, it's not a 125 West SX championship but it's pretty damm close.
Thanks to those that voted!