A nightmare season for JT
A nightmare season for JT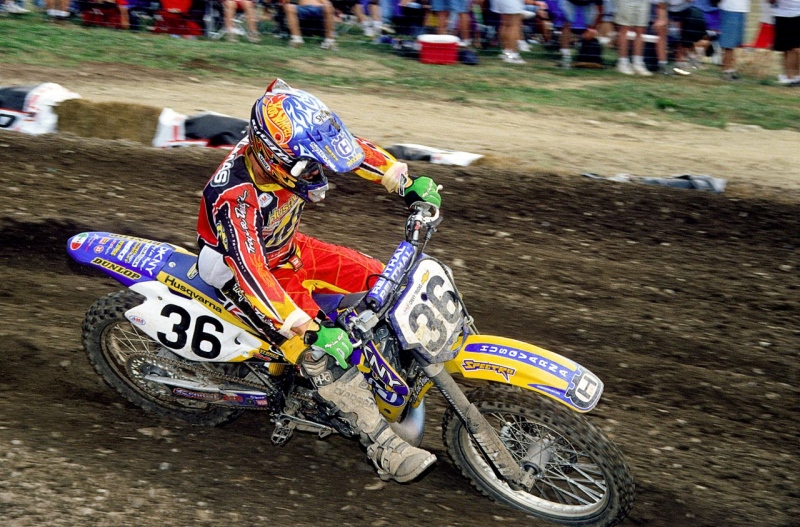 "The year was 2001 and I was on a DKNY/Fast by Ferracci Husqvarna 250 2 stroke. Coming into 2001, my career was going well. I had a great 2000 campaign, finishing top 15 in the 250 Supercross championship and setting a record with 10 double main events in a row. I started the outdoor series running top 10-12 and then accepted an offer to go to Canada for Blackfoot Honda. After spending the summer in America's top hat, I came back down and scored a career high 7thplace in the final moto of the year at Steel City. It was at Steel City that Eraldo Ferracci stepped up and made me an offer for 2001 on a factory Husky. Being a naïve kid, I completely lowballed myself on the deal. I had leverage coming off a good season and Eraldo really wanted me on his bike. I was excited about the opportunity and turned down a solid offer from Blackfoot to do AMA SX and then return to Canada. I had done really well in the US and was improving and saw no reason to not go full bore after a full season in America in 2001. One of my biggest mistakes in that off season was agreeing to a deal without testing the Husky. My Blackfoot bike was simply awesome. Tom Morgan had our motors competitive with almost any factory effort out there and I was very comfortable with the setup. Had I tested the Husky back to back with my Honda, I would have either A) asked for twice as much money or B) just signed my Honda Canada contract. Hindsight is 20/20 I suppose.
I spent the next few months waiting for my Husky to get to Florida and it was nowhere to be found. I should have taken this as a sign. When my bike finally did show up, it was sometime in November, way late for proper testing and training. I didn't actually even test anything until one week before the first supercross which is pretty comical to expect any kind of results. Most of the supercross season followed this same pattern. I was unprepared and the team was in over its head. All of the staff had come over from the Ducati road race team and had little to no experience with motocross. Our suspension technician absolutely hated motocross and was a real pleasure to work with. Most of the guys had no interest in what we were doing really, they were just going through the motions once the transition from road to dirt was passed down by Ferracci. This same lack of enthusiasm emanated down into the riders as we all felt that we were on inferior bikes and most would laugh about having ridden a friend's bike during the week and wishing they could race that bike instead.
The only one really excited was Eraldo. Even though we were all doing horribly, with the exception of Travis Preston's Houston win, he always seemed to be having a good time. Honestly, the 125 guys weren't doing too bad to be fair. Husqvarna had a 125 GP team in Europe that was doing development so they had some settings to draw from. For the 250 guys like myself, we were completely guessing as to where to go with the bike. I was relatively inexperienced with testing, we had no base settings from the previous year and our team technicians were more qualified to setup a Ducati 996 than a Husky 250. In other words, it was the blind leading the blind. By the time summer came around, I was pretty much over it. After doing so well in 2000, I was struggling to do much of anything in 2001 and the effort on my end declined as well. It's tough to stay motivated when it seems as though everything is uphill before the gate even drops. I really just wanted to finish the year and move on. My outdoor season was actually quite a bit better than supercross but that was more just due to fitness than anything else. There were no breakout rides like in 2000. In fact, I am not even sure how I did as well as I did with all of the DNF issues I had. At one point, I ran out of gas in 5 straight motos due to a malfunctioning check valve in the gas tank hose. At about the 15 minute mark, the bike would start boiling the fuel (due to vapor lock) and the carburetor would dump excess fuel out the overflow. I actually had a great weekend going at Budds Creek and would have finished both motos inside the top ten had I not run out of fuel in the waning minutes. The team finally solved the issue after 5 consecutive DNF's only to DNF the 6thmoto when the crankshaft said no mas.
Another of the many issues were swingarms. The main weld tying the swingarm together apparently was faulty on all of the swingarms made that year. I ended up going through 17 swingarms in that outdoor season and there were a few weekends where it had to be replaced after practice and then again in between motos. This was just how the season went. If I was actually riding well, the bike would break. If the bike actually did stay together, I usually was riding poorly. It was a long year to say the least and one of those decisions that you look back on and wish for the chance to change. Signing that Husky contract is honestly one of my only regrets in my career. I made a poor decision and paid a heavy price. Coming into 2001, I had a plethora of options. Coming out of 2001, I basically had none. All of the interest and potential I had built up was completely erased by a year of mediocrity.
Looking back on that year, as much as I regret going that direction, we did have a lot of fun. Chris Gosselaar was always causing some kind of trouble and Steve Lamson was great to learn from. Eraldo was hilarious and also a huge pain in the ass. Sometimes learning experiences aren't much fun and this was definitely one for that category. I have since learned to think long and hard about what choices I make and what consequences they can carry. Luckily, after a year or two I was able to get another chance and make good on a long career after that. I often wonder where I would have ended up if I had signed that Honda Canada contract. Maybe things would have been completely different. Maybe I would have avoided a ton of frustration and disappointment. Although maybe, just maybe, I wouldn't have gotten to live out the career I did. Sometimes the tougher road is the only path to where one needs to be. Even though that year was nothing I would ever want to go through again, knowing it was just one step towards what would be an amazing 17 years makes it all seem ok. One word of advice though, if you happen to see a 2001 Husky 250 on Craigslist and it seems like a great deal, do yourself a favor and move along. Or at least buy a few extra swingarms."