One new winner, one old winner
One new winner, one old winner
Italian GP
Paulin beats Cairoli in Italy!
Report by Jonathan McCready
Pictures by KTM Images/Ray Archer and YS
The classic old school track provided two young winners.
Frenchman Gautier Paulin had the best race of his career in Italy. A strong third in race one was followed by a straight up win against Cairoli in race two. Paulin has lost numerous second motos this season to Cairoli and when the Italian started his late race charge for the lead in the second moto on Sunday it looked like Paulin would lose again.
But not this time! Paulin showed the fight of a potential world champion, held off Cairoli and the noise of the home crowd to take an outstanding win. Paulin's tears on the podium demonstrated just how big of a win this was mentally. To beat Cairoli like that in front of his own supporters might just mean the missing piece of the puzzle has been found by Paulin to go for this title. Stefan Everts even took the time to congratulate the Frenchman such was the magnitude of his win.
Cairoli meanwhile had a poor day. He holeshot race won but crashed twice and could only claim fourth place. Cairoli didn't look comfortable at all on the hilly, slippery track and cut a frustrated figure after race one.
In race two Cairoli got into second early looking to chase Paulin only to drop back to fifth but this time with no crash! Then Cairoli found his flow and reeled Paulin in but, despite some serious attacks, he could not find a way passed and was forced to accept second in the race and third overall.
Second overall was an impressively consistent Ken De Dycker who had a strong second place in race one and a third in race two. De Dycker is back on form after a couple of so-so Grand Prix.
MX1 rookie Jeremy Van Horebeek is flying. Fourth overall and at the front all weekend Van Horebeek now has the pace of the leaders, he just needs to believe in himself all the way if he wants to get a podium or even a moto win. The speed is there now but you feel the factory Kawasaki man still gets intimidated if the big names are behind him.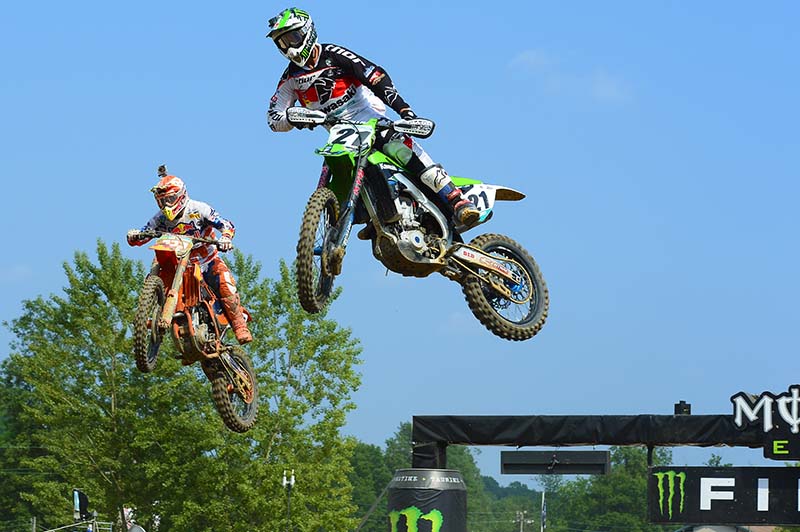 Some great racing in Maggoria that saw Paulin come out on top.
Clement Desalle dominated moto one, and even though rivals Paulin had a bad start and Cairoli crashed twice it was still one of the best rides for Desalle in a long, long time and he won by almost ten seconds. Then in moto two it all went wrong when he got a bad start. He was up to fifth holding off a determined Tommy Searle when, on the last lap Desalle had a mechanical that gave him a devastating DNF and virtually killed his outside chances of the championship. It was the ultimate up and down day for the Belgian.
Max Nagl is riding really well – honest! But he just can't get out of the gate near the front and he never sees the leaders all race. He really needs a start and will be searching for a set up to do it in the weekend off.
Kevin Strijbos has struggled since coming back from the USA and has been finishing in the lower half of the top ten even when he has got good starts. With crashes by Boog and Searle plus the mechanical from Desalle, Strijbos still managed to claim a sixth overall.
In MX2 Jeffrey Herlings won again and he has not lost a GP overall all year. Herlings though found it tough going on the tricky track and his greatest challenge came from Alex Tonkov.
Yes, the Russian teenager had the race of his life in Italy. He won the qualifier and held Herlings off for a long time in moto one. But then Tonkov crashed out spectacularly at the finish line on the last lap trying to reclaim second spot from Butron. Tonkov's bike actually crossed the line but unfortunately Tonkov was not on it at the time and he was relegated to 22nd position after all that hard work!
Not deterred Tonkov holeshot again and once Herlings got past, Tonkov kept the Dutchman honest for over twenty minutes. But then he fell into the clutches of Italian hero Alex Lupino.
Lupino finally got a good start in race two and stayed fairly close to the lead duo of Tonkov and Herlings. Lupino saw Tonkov getting tired in the closing laps and cheered on by a huge crowd, stepped it up to pass Tonkov with two laps to go and take a memorable podium in front of a delirious crowd. It was the best moment of Lupino's career so far and a moment he will never, ever forget.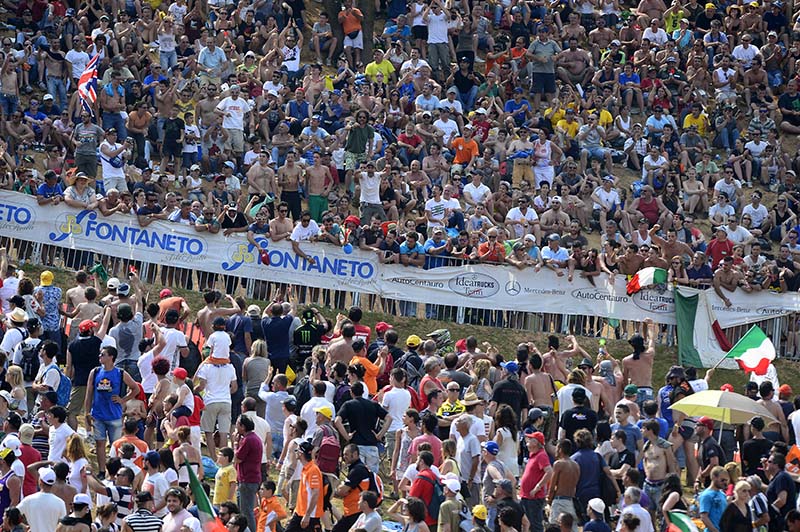 The Italian fans were out in force to see an AC222 victory but they were denied.
Jose Butron was fifth in race two but still claimed second overall in what has been a fantastic season for the KTM Silver Action rider. Butron is a fighter and just never gives up. He has been the revelation of the season so far.
Jordi Tixier rode well and was right behind both Tonkov and Lupino at the end of moto two in fourth. Tixier has been struggling with his starts lately so hasn't shown the speed he had in rounds three and four of the season but he is still second in the championship and has admitted he is already thinking about 2014 and going for the world title.
Brit Jake Nicholls had another good performance in fifth overall and has vaulted himself back up to seventh in the championship. Jake now has the speed and consistency and his championship placing could well rise again before the end of the year.
Jimmy DeCotis had what appears to be his last GP for the CLS Kawasaki team. Jimmy yet again couldn't get to grips with the track and was never in points contention. It was a sad end to an eye opening and tough adventure for the American.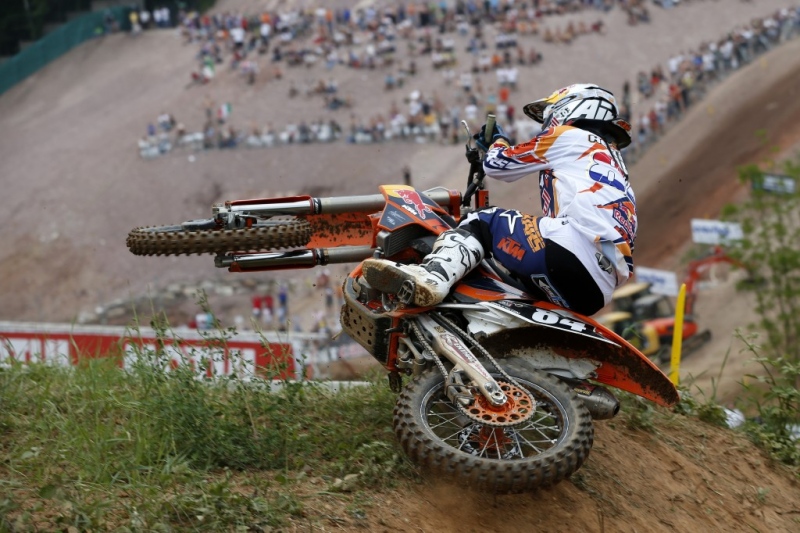 Yawn, Herlings won again in the MX2 class.
Michael Leib made a controversial return to GP racing riding a Gariboldi Honda instead of the Suzuki he seemed to be destined to ride all year. Leib was 16th fastest in timed qualification but a crash on his shoulder in warm up and not being totally happy with bike set up meant Leib did not compete in the two points paying motos.
Let's talk about the track – what a track! Hills, off cambers, floating corner jumps, ruts. This place had every things and it took all the riders skill and concrentration to maintain consistent speed around it without a big mistake. The crowd were packed in like sardines and they loved every minute of it with two Italians on the podium.
Hopefully Maggiora will be around for years to come – it was a resounding success.
MX1 Overall top ten: 1. Gautier Paulin (FRA, Kawasaki), 45 points; 2. Ken de Dycker (BEL, KTM), 42 p.; 3. Antonio Cairoli (ITA, KTM), 40 p.; 4. Jeremy van Horebeek (BEL, Kawasaki), 34 p.; 5. Maximilian Nagl (GER, Honda), 30 p.; 6. Kevin Strijbos (BEL, Suzuki), 28 p.; 7. Tommy Searle (GBR, Kawasaki), 27 p.; 8. Davide Guarneri (ITA, KTM), 25 p.; 9. Xavier Boog (FRA, KTM), 25 p.; 10. Clement Desalle (BEL, Suzuki), 25 p.;
MX1 Championship top ten: 1. Antonio Cairoli (ITA, KTM), 417 points; 2. Gautier Paulin (FRA, Kawasaki), 366 p.; 3. Clement Desalle (BEL, Suzuki), 334 p.; 4. Ken de Dycker (BEL, KTM), 319 p.; 5. Kevin Strijbos (BEL, Suzuki), 271 p.; 6. Tommy Searle (GBR, Kawasaki), 266 p.; 7. Maximilian Nagl (GER, Honda), 220 p.; 8. Jeremy van Horebeek (BEL, Kawasaki), 205 p.; 9. Rui Goncalves (POR, KTM), 180 p.; 10. David Philippaerts (ITA, Honda), 145 p.;
MX2 Overall top ten: 1. Jeffrey Herlings (NED, KTM), 50 points; 2. Jose Butron (ESP, KTM), 38 p.; 3. Alessandro Lupino (ITA, Kawasaki), 37 p.; 4. Jordi Tixier (FRA, KTM), 36 p.; 5. Jake Nicholls (GBR, KTM), 33 p.; 6. Christophe Charlier (FRA, Yamaha), 31 p.; 7. Dean Ferris (AUS, Yamaha), 28 p.; 8. Petar Petrov (BUL, Yamaha), 23 p.; 9. Glenn Coldenhoff (NED, KTM), 23 p.; 10. Alexander Tonkov (RUS, Honda), 20 p.;
MX2 Championship top ten: 1. Jeffrey Herlings (NED, KTM), 447 points; 2. Jordi Tixier (FRA, KTM), 323 p.; 3. Jose Butron (ESP, KTM), 285 p.; 4. Christophe Charlier (FRA, Yamaha), 261 p.; 5. Glenn Coldenhoff (NED, KTM), 260 p.; 6. Dean Ferris (AUS, Yamaha), 225 p.; 7. Jake Nicholls (GBR, KTM), 214 p.; 8. Max Anstie (GBR, Suzuki), 201 p.; 9. Alessandro Lupino (ITA, Kawasaki), 199 p.; 10. Dylan Ferrandis (FRA, Kawasaki), 159 p.;