It's Latvia GP time!
It's Latvia GP time!
KTM dominate in Latvia!
Article by Jonathan McCready
Photos by YS and Ray Archer/KTM Images
The once sandy but recently hard pack Latvia circuit was brought back to its sandy best again for 2013. The club brought in more sand to help bring back the circuit to its original soft terrain. The Kegums circuit will host the Nations next year and it is a brilliant track that the majority of riders seem to enjoy. The track isn't Lommel or Leirop – not at all, as it has a hard base with square edge bumps but the sandier surface on top is there.
Jeffrey Herlings was back to his dominating best in Latvia. After losing a moto at the round before in Sweden, it seemed that the young MX2 riders were closing the gap but in Latvia no-one really had a chance – Herlings was awesome.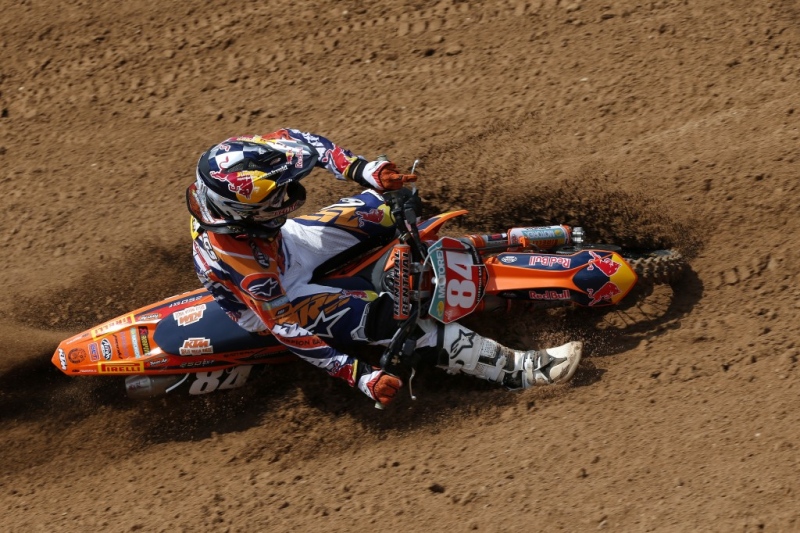 Yup, Herlings won again in Latvia.
After struggling with arm pump in the first ten minutes of race one, Herlings relaxed won both races by over forty seconds. The interesting thing about Herlings is that he doesn't settle when he has a big lead, he just keeps pushing for more similar to when Carmichael and Stewart were dominant at a similar age. Herlings work ethic and motivation is preventing him from getting complacent this year but will he have the same motivation to win in 2014?
Jose Butron is getting stronger and stronger. The Spaniard doesn't have the greatest style but his determination and increasing confidence evidenced by his starts and helping him to be a regular podium contender and Butron has his eyes set on second in the championship. He will also be a popular pick for teams looking to recruit his services next season.
Jordi Tixier should have been second but bad starts and crashed relegated him to third overall bu the kid was fast! Tixier, who is probably most disappointed that Herlings will stay in MX2, as he would have been the favourite for the title, will have to start trying to beat Herlings for the rest of the season. But he needs to get the starts to challenge him and cut out the mistakes that he sometimes makes. On raw speed Tixier is currently the best of the rest but the rest are catching up.
Finally Petar Petrov delivered! The talented teenage Bulgarian has been threatening to breakthrough for the past couple of years, but aside from some top tens here and there, was never really a major force. However in the second moto in Latvia he produced a fine fourth place on the Van Beers Yamaha that also saw him get fourth overall. Petrov held off some good guys to do it and he may now be added to the increasing number of riders on the same pace battling for podiums behind Herlings.
Romain Febvre has found it tough in his comeback after his broken leg but in Latvia he finally started to run in the top positions again and finished fifth overall. Febvre was second in the championship before his injury and looked like he was only going to get quicker and now his fitness and confidence are returning he could soon be back on that level. A podium could be on the horizon for Febrve and the Jacky Marten team who will move to Husqvarna machinery next year with Febvre as their main rider.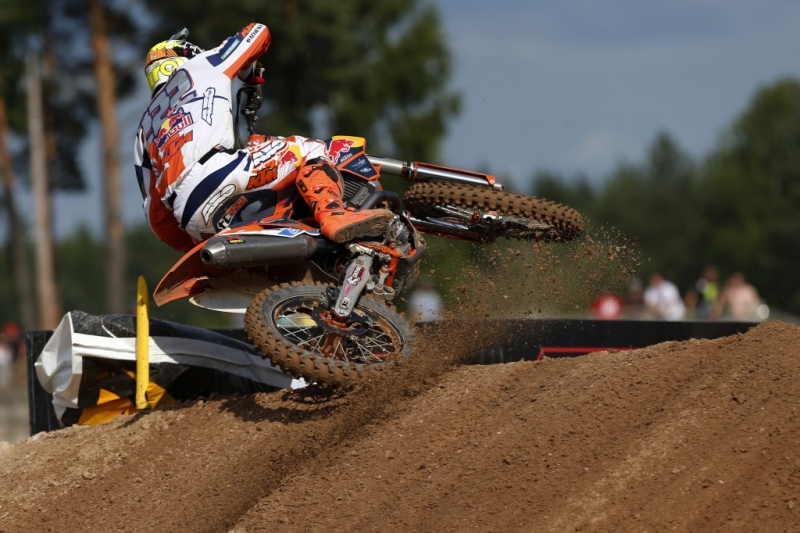 Yup, AC222 won again.
In MX1 it was the KTM show. Ken De Dycker dominated race one, running away from Cairoli to win by ten seconds but Cairoli won race two with De Dycker not quite able to get on terms long enough to make a pass.
In race Cairoli was involved in some controversy at the start of the the first moto when both the defending champion and Paulin came into turn one side by side. Cairoli didn't turn and kept going straight colliding with his championship rival's front wheel, putting Paulin on the floor. Whether it was a racing incident or accidently on purpose remains up for debate.
Paulin got back up and rode the whole way back to fifth in a very impressive ride, but in race two he started sixth and only finished fourth – maybe Paulin needs to race angry every week!
Clement Desalle did what he has been doing in recent weeks. He is riding well but not well enough to win. Desalle can't seem to match the pace of the leaders., be it Paulin, De Dycker or Cairoli but is always there in the third to fifth range. Desalle is still searching for that little bit extra to beat Cairoli straight up like Paulin and De Dycker have on their day.
The MX1 rookies were impressive. Jeremy Van Horebeek was fifth overall and is really becoming a force to be reckoned with on the big bike. He was on his teammate Paulin's pace all day and you feel the confidence and aggression that he needs is coming bit by bit. A race win or podium isn't out of the question.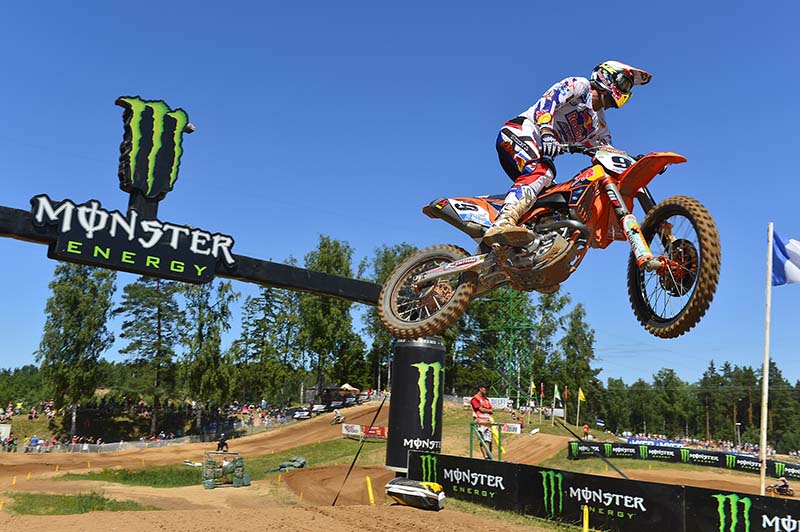 Cairoli's KTM teammate Ken de Dycker had a great race for second overall in MX1.
Tommy Searle is nearly there. His sixth overall doesn't show it but in truth with better starts Tommy should have been on the podium and maybe even challenging for the win. Searle got caught in the first turn pile up caused by Cairoli in race one and came through to seventh and onto the back of Strijbos in an impressively aggressive ride. In race two he was trying to pass Desalle for third after a mediocre start but stalled and was relegated to sixth. At times though, Searle was running the fastest laps during the race and he will have been given a big confidence boost, his aggression is back and he seems to have figured out how to ride the 450 at the intensity it takes to win.
The series now heads to Finland for the first time in nearly twenty years. It will be a new track for everyone but could favour the sand experts.
MX1 Overall top ten: 1. Antonio Cairoli (ITA, KTM), 47 points; 2. Ken de Dycker (BEL, KTM), 47 p.; 3. Clement Desalle (BEL, Suzuki), 40 p.; 4. Gautier Paulin (FRA, Kawasaki), 34 p.; 5. Jeremy van Horebeek (BEL, Kawasaki), 34 p.; 6. Tommy Searle (GBR, Kawasaki), 29 p.; 7. Kevin Strijbos (BEL, Suzuki), 29 p.; 8. Rui Goncalves (POR, KTM), 23 p.; 9. Maximilian Nagl (GER, Honda), 19 p.; 10. Joel Roelants (BEL, Yamaha), 18 p.;
MX1 Championship top ten: 1. Antonio Cairoli (ITA, KTM), 514 points; 2. Gautier Paulin (FRA, Kawasaki), 432 p.; 3. Clement Desalle (BEL, Suzuki), 414 p.; 4. Ken de Dycker (BEL, KTM), 406 p.; 5. Kevin Strijbos (BEL, Suzuki), 327 p.; 6. Tommy Searle (GBR, Kawasaki), 318 p.; 7. Maximilian Nagl (GER, Honda), 272 p.; 8. Jeremy van Horebeek (BEL, Kawasaki), 271 p.; 9. Rui Goncalves (POR, KTM), 203 p.; 10. Davide Guarneri (ITA, KTM), 186 p.;
MX2 Overall top ten: 1. Jeffrey Herlings (NED, KTM), 50 points; 2. Jose Butron (ESP, KTM), 42 p.; 3. Jordi Tixier (FRA, KTM), 40 p.; 4. Petar Petrov (BUL, Yamaha), 31 p.; 5. Romain Febvre (FRA, KTM), 30 p.; 6. Dylan Ferrandis (FRA, Kawasaki), 24 p.; 7. Glenn Coldenhoff (NED, KTM), 22 p.; 8. Jake Nicholls (GBR, KTM), 20 p.; 9. Harri Kullas (FIN, KTM), 18 p.; 10. Jason Clermont (FRA, Kawasaki), 18 p.;
MX2 Championship top ten: 1. Jeffrey Herlings (NED, KTM), 542 points; 2. Jordi Tixier (FRA, KTM), 403 p.; 3. Jose Butron (ESP, KTM), 353 p.; 4. Christophe Charlier (FRA, Yamaha), 322 p.; 5. Glenn Coldenhoff (NED, KTM), 304 p.; 6. Dean Ferris (AUS, Yamaha), 273 p.; 7. Jake Nicholls (GBR, KTM), 272 p.; 8. Alessandro Lupino (ITA, Kawasaki), 244 p.; 9. Max Anstie (GBR, Suzuki), 228 p.; 10. Petar Petrov (BUL, Yamaha), 196 p.; 1