Our sport is interesting when it comes to the parental units.
Our sport is interesting when it comes to the parental units.
Swizcore: Motocross is a pretty unique sport when compared to other motor-sport disciplines. People often like to make the mistake of comparing "our sport" (please stop ruining it Weege) to NASCAR. Major fail. At a grass roots level, motocross is the exact same as it is at the professional level when speaking of the equipment. The elite teams may have data bikes and un-obtanium but the majority of the 40 bikes on the gate in the Nationals are as accessible as how much money you are capable of throwing at it. Simply stated, motocross at the grass roots level is as close to it's elite brethren as it gets. As such, the graduation path from grass roots to professional is unique in it's own right when compared to other motor-sports. 3 and 4 year old kids can manage to ride dirt bikes, unlike car-based motor-sports, or even road racing two-wheeled disciplines. Although there are venues for youngsters to get comfortable on pint-sized sport bikes, it's the extremely early accessibility that adds to motocross being in a world all it's own in the realm of motor-sports. With that extremely young demographic comes a strong parental involvement and responsibility. One which has proven to be poisonous in some instances or strong and impenetrable in others. One thing is certain, when a parent remains in the picture after an amateur makes the leap to the pro ranks, they will be judged, criticized and peered at from the sidelines.
Is this fair? Acceptable? As I said, motocross is unique, so I don't think it's as simple as drawing examples from other motor-sports. In most instances of highly successful amateur motocrossers, they spend more time with their parents than the majority of most children and those bonds are difficult to break, let alone cold turkey due to the signing of a pro contract; especially with the current eligible age being set at 16. You see it's a catch 22. With motocross being accessible to 4 year olds and the rigors on the body, the "peak" age is much lower and the "window" of opportunity, much smaller than these other sports. By age 16 these kids are like confined stallions who have finally found an open gate to break through. If the eligible age were 18… well, we pretty much know what would happen were that the case, right? So anyway, it's just craziness to ponder granting your 16 year old total freedom, far from home. Therein lies the murky problem. You can't just release them at 16 when the contract is signed, hence begins the gray area of hovering around. The team wondering when the parent will pro-actively step aside and the parent thinking their team-role is as justified as ever. But is it?
Matthes: I'm not sure which side you're favoring here in you're opening salvo but you have a point, no doubt about it. Whether it's TV ratings, salaries, sponsors-whatever, I never like comparing our sport (stop ruining it Weege) to traditional stick and ball sports- that's truly apples to oranges (I probably am guilty of it at times but I swear I try not to) but I do feel that you can compare our sport to other motorsports and in talking to drivers, sponsors, agents, trainers- basically a bunch of people that cross over to other motorsports- it seems that fathers and mothers are just as prevalent in those sports as ours. So when it comes to motorsports, dads (some moms) are an issue for lots of teams. So the argument that I hear from some people about how they don't see agents and parents in the dugout or on the sidelines, etc just doesn't hold water. You DO see them on NASCAR races with headsets, oftentimes the dad is the spotter for the kid.
But where is that line that dads should straddle between being a concerned parent that knows their child well and being a complete asshole and hurting their kid?
And no, I'm not talking about Tony Alessi- at least right now. MCR owner Mike Genova trusts Tony and has him on the team as the crew chief, Tony is working hard on the team and making decisions on the racing stuff as he's supposed to be as a crew chief. So although he's hurt his son Mike in the past with teams, he's onboard now and working hard for Mike- who seems to love having his dad there. That's what he's told me anyways and I didn't see a shock collar on him at the time.
So yeah, back to the deal. What is too far? I can't tell you how many teams have told me over the years that the dad of a rider is just too much. They don't want the drama and headaches hiring a rider so they just go to the next guy who doesn't have the overbearing dad. There are countless stories of dads really verbally abusing their kids (or worse, I heard one top amateur kid years ago used to get assaulted after bad motos) and the teams are all wary of this. It doesn't take long to get a reputation in the pits and some guys, they have them.
Here's the thing that most dads don't get. The team wants results just as much as the rider. It benefits them to have a rider do well just as much as the rider themselves. Maybe the equipment or sponsors don't line up with what the dad thinks is best for their kid but too bad, your eyes were open going into the deal. Why a dad would think that a team is out to not help their kid perform at his highest level is beyond me.
I've had the coolest dads ever around (Nick Wey's dad Terry is so awesome, I wish he could adopt me) and I've been around dads that have said flat out to me that the bike is the problem- they can see it from the stands. I've had dads try to modify factory bikes during the week (one of them used a sanding wheel to "lighten" up the bike- yes I'm serious) and I've seen or heard it all.
Note to dads- just stay on the sidelines, wear a team shirt, enjoy the cold beverages and once the kid is 18- let him make the decisions. And oh yeah, NO HEADSETS.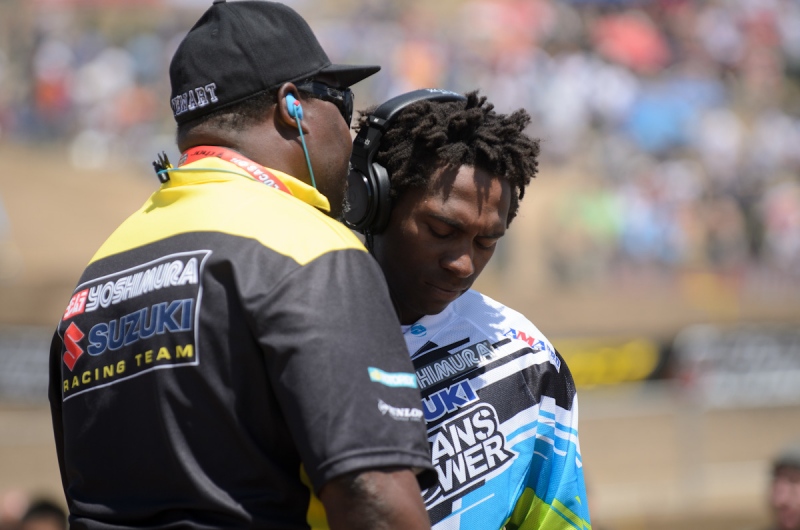 James Stewart Sr has been a fixture at the races since Jr turned pro.
Swizcore: Yes, in my preamble I was focusing more on setting an objective view and concluding with a question but I am in full agreement with the Dad's stepping away from juniors program once in the pro ranks.
To clarify, I'm not suggesting Dad gets cut out completely. After all, junior has a good 6 days each week where they are not competing and each day has it's own challenges not associated with racing that a 16 or 17 year old would absolutely benefit from having said Dad around. On race-day though, let the team do their job and see what level junior is capable of in the hands of those who put not only their faith in him but the pocketbook behind him.
And then, as you said, when 18 comes, well that's when Dad finds out what he's really worth. Junior is an independent citizen and capable of voting and all. Does he keep in line and make the right decisions or do all those years of commitment to moto preparedness hit a wall and the other shoe drops? Well Dad, that has a lot to do with you. If you need to remain in his face beyond 18, you are the one who came up short and perhaps you should go find a mirror to yell at instead of your prodigous racer?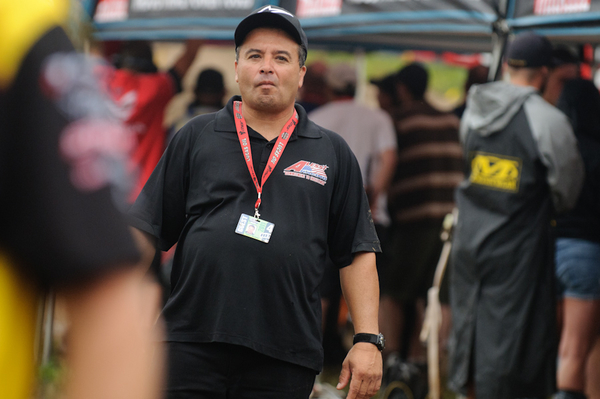 Tony Alessi has been there for Mike every step along the way and now has a bigger role than ever in #800's career.
Matthes: Most of the dads have a problem with that "turning 18 and becoming a man" thing. There's so many kid/parent relationships that have been ruined by finances, success or lack of success it's not even funny. And in extreme cases, like with Lusk, Bradshaw and Huffman, the kids are estranged from their parents and it's all over racing. It's a real shame, no doubt about it.
There's no doubt that there are more horror stories (perhaps "horror" is a bit extreme, maybe "bad news") than good ones no doubt about it. Amazingly enough, Tony Alessi's relationship with Mike, at this point-not years ago-is actually not as bad as you may think. Mike chooses to have Tony around and as I said, Tony has a real live job on the team. No, it's some of the other riders in the pits, some top guys, whose relationship with pops has been torn apart over racing and finances. And of course the girlfriends and wives get in-between everything and have the rider's ears and chaos ensues. I've been on the circuit since 1996 and have seen the same problems afflict different riders through the years. You can almost set your clock to it.
If there's one thing that's guaranteed though, it's that the "daddy issues" have always been there and they will always keep being there unless something that's very fundamental in our sport (dad taking son racing for 15 years before turning pro) changes and I just don't see that happening.
Rinse, wash, repeat- it's all been done before.