Some surprise winners! Actually, we're just kidding
Some surprise winners! Actually, we're just kidding
Herlings and Cairoli at the double!
Article by Jonathan McCready
Pictures by YS and Ray Archer/KTM Images
Jeffrey Herlings and Antonio Cairoli dominated their respective classes on the rough sandy circuit of Hyvinkaa in Finland.
Herlings romped to two 45 second wins over his competition to take a record equalling 12th overall victory in a season, and he surely must be favourite to break Stefan Everts' record at the next round!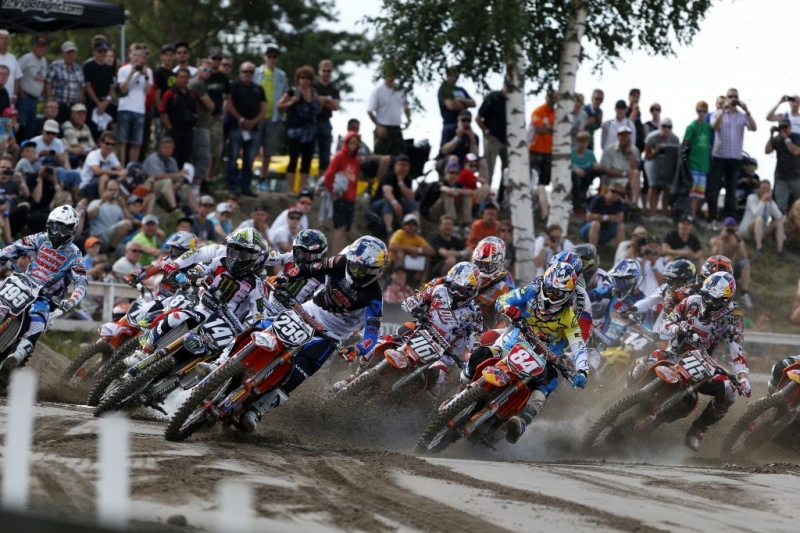 The MX2 start.
After a crash in his qualifying race and only finishing ninth Herlings turned up when it mattered, got two decent starts and quickly went into the lead. Quite simply no rider in the world is going to touch him on a track like this.
Behind him was Australia's most in form rider, Dean Ferris. The tough, single minded Aussie bounced back from a few mid top ten results to claim second place on the podium and he did it in style with good starts and consistent riding. Ferris could be a key player in the MX2 class come MXDN time for Australia.
Jordi Tixier was really fast but a crash in race one meant he had to come from way way back to fifth position in a brilliant ride. He was second in race two and cemented himself as the second best rider in the class. France might have to choose between Musquin and Tixier for the Des Nations and Musquin might just get the nod based on experience, or they could put Musquin on the 350 and have Tixier in MX2. Either way, France yet again have a number or riders to choose from even if MX1 rider Steven Frossard might not be available.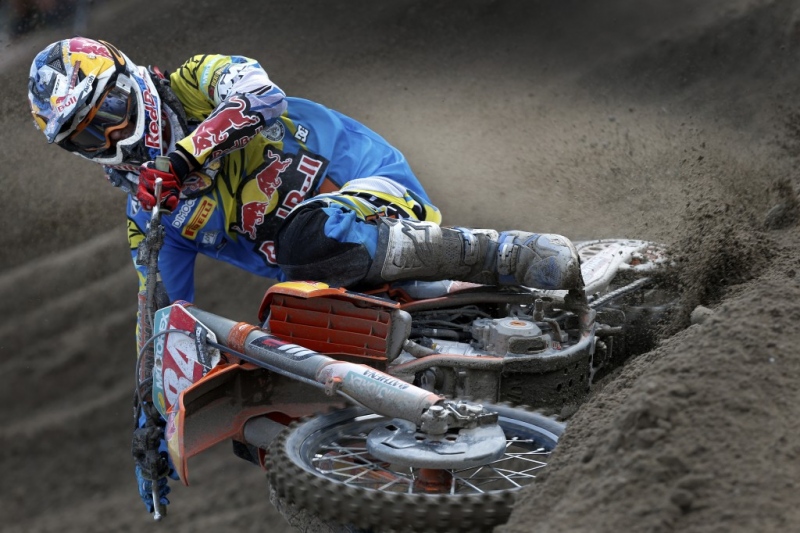 Yep, he won again. With the MX2 title-winning rule abolished, get used to Herlings dominating.
Spaniard Jose Burton and Russian Alex Tonkov again rode well and rounded out the top five on the podium. Both riders will be hot property for next season's factory teams.
Sixth overall was homeboy Harri Kullas. The talented Finn recently swictched from Gariboldi Honda to a privateer KTM team and his move was justified in what was his best performance of the year. Hopefully this will give Kullas some confidence and he can deliver on the promise he showed a couple of years ago.
MX1 was an aggressive affair!
In race one Antonio Cairoli chased Clement Desalle for thirty frustrating minutes before making an aggressive block pass that resulted in Desalle being lucky to stay on the bike. Desalle of course didn't retaliate and let Cairoli get away to a comfortable win claiming the pass was hard but fair.
In race two Cairoli passed early leader Kevin Strijbos and romped off to an easy win leaving the battles and the take outs behind him.
In race two Tommy Searle had come from a bad start to catch Desalle in the last ten minutes, Searle made the pass and then caught Strijbos for second only to drag Desalle and Paulin with him. Desalle then went to T-bone Searle and punted Searle off the track! Luckily Searle stayed on the bike and got back on the circuit ahead of the Belgian. But Desalle wasn't finished and tried again, this time completely taking Searle out and retaking third place. Searle hit his head hard and had to pit for new goggles such was the impact. He wasn't happy and the FIM gave Desalle a warning for his self-confessed "Dirty" riding.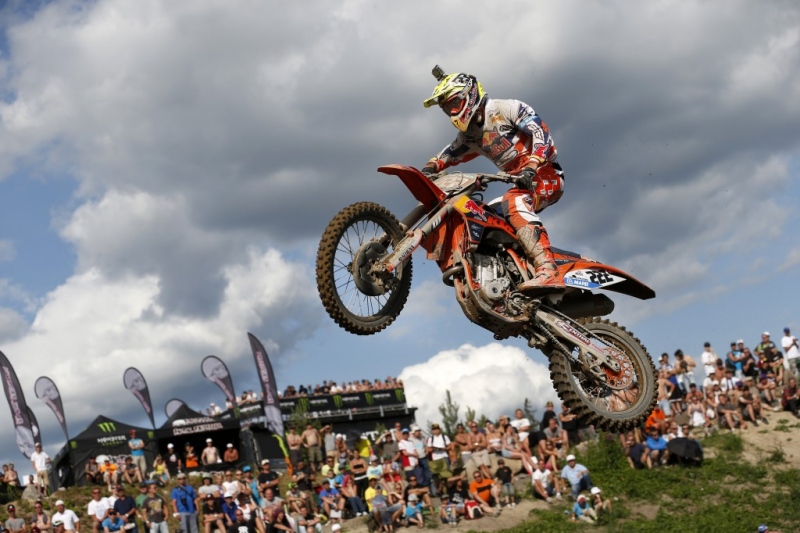 After looking a little vulnerable a few races back, AC222 has this MX1 class in control.
Desalle claimed Searle started it and he finished it, but maybe Desalle should show the same fight in paying Cairoli back instead of Searle. Cairoli is the one they all have to beat but they are tripping over themselves, ultimately holding each other back.
Desalle was second overall and Kevin Strijbos was finally back on the podium too. Strijbos has been off form ever since he came back to America but with two good starts Strijbos rediscovered his speed to post a fifth and second place and stayed out of the way of the aggressive racing just behind him.
Gautier Paulin has went completely off the boil. Mediocre starts netted him a fourth and sixth and that isn't ever going to win you a world championship against Cairoli who is virtually never outside the top three.
Tommy Searle is Cairoli's nearest threat right now in terms of raw speed, but he hasn't got out of the gate with the Italian to prove it. When he does Searle will not back down, he has his confidence back and is riding the 450 with his old aggressive 250 style and is hauling ass! Searle is staying with the CLS Pro Circuit team in 2014 and he will be expecting to challenge for the title next year.
Jeremy Van Horebeek is also flying. He has really found his form the last few weeks and his speed is now on par with his teammate Gautier Paulin. Van Horebeek will be in demand this season by the factory teams.
Other riders who are looking at GP rides include the AMA based Tyla Rattray and Dean Wilson, (who was in Finland watching) Blake Baggett has also mentioned he would like to race a GP season so it looks like we may see some top GP teams go after some big names in the AMA scene as each team aside from Kawasaki in MX1 is looking for a rider to challenge the KTM domination of Herlings and Cairoli.
But right now it is all about how Searle will retaliate against Desalle in Germany in two weeks? And will anyone have the nerve to fight Cairoli with same aggression that the world champ has dished out the last two weeks!? It could get rough…
MX1 Overall top ten: 1. Antonio Cairoli (ITA, KTM), 50 points; 2. Clement Desalle (BEL, Suzuki), 42 p.; 3. Kevin Strijbos (BEL, Suzuki), 38 p.; 4. Ken de Dycker (BEL, KTM), 35 p.; 5. Jeremy van Horebeek (BEL, Kawasaki), 34 p.; 6. Gautier Paulin (FRA, Kawasaki), 33 p.; 7. Rui Goncalves (POR, KTM), 27 p.; 8. Evgeny Bobryshev (RUS, Honda), 27 p.; 9. Maximilian Nagl (GER, Honda), 24 p.; 10. Joel Roelants (BEL, Yamaha), 22 p.;
MX1 Championship top ten: 1. Antonio Cairoli (ITA, KTM), 564 points; 2. Gautier Paulin (FRA, Kawasaki), 465 p.; 3. Clement Desalle (BEL, Suzuki), 456 p.; 4. Ken de Dycker (BEL, KTM), 441 p.; 5. Kevin Strijbos (BEL, Suzuki), 365 p.; 6. Tommy Searle (GBR, Kawasaki), 337 p.; 7. Jeremy van Horebeek (BEL, Kawasaki), 305 p.; 8. Maximilian Nagl (GER, Honda), 296 p.; 9. Rui Goncalves (POR, KTM), 230 p.; 10. Davide Guarneri (ITA, KTM), 195 p.;
MX2 Overall top ten: 1. Jeffrey Herlings (NED, KTM), 50 points; 2. Dean Ferris (AUS, Yamaha), 40 p.; 3. Jordi Tixier (FRA, KTM), 38 p.; 4. Jose Butron (ESP, KTM), 30 p.; 5. Aleksandr Tonkov (RUS, Honda), 26 p.; 6. Harri Kullas (FIN, KTM), 25 p.; 7. Petar Petrov (BUL, Yamaha), 25 p.; 8. Max Anstie (GBR, Suzuki), 24 p.; 9. Glenn Coldenhoff (NED, KTM), 22 p.; 10. Christophe Charlier (FRA, Yamaha), 21 p.;
MX2 Championship top ten: 1. Jeffrey Herlings (NED, KTM), 592 points; 2. Jordi Tixier (FRA, KTM), 441 p.; 3. Jose Butron (ESP, KTM), 383 p.; 4. Christophe Charlier (FRA, Yamaha), 343 p.; 5. Glenn Coldenhoff (NED, KTM), 326 p.; 6. Dean Ferris (AUS, Yamaha), 313 p.; 7. Jake Nicholls (GBR, KTM), 292 p.; 8. Alessandro Lupino (ITA, Kawasaki), 259 p.; 9. Max Anstie (GBR, Suzuki), 252 p.; 10. Petar Petrov (BUL, Yamaha), 221 p.;