A trip back in time courtesy of Mike Sweeney
A trip back in time courtesy of Mike Sweeney
Hi everyone, from the late 80s through the mid 90s I was a contributing photographer for Hi-Torque Publications (MXA and Dirt Bike magazine). The photos that you see here were never published and have been stored as 35mm slides for the last 15-20 years. A month or so ago, I finally got around to purchasing a quality scanner and the journey began, going through these images has been a revelation, as I haven't looked at any of them since I put them away and had only seen them as tiny little 35mm slides. Scanning them, then seeing the images on a computer screen has been like seeing them for the first time, they stir up lots of great memories, and bring back a great era for motocross, lots of bright color, big characters and of course, some true legends of the sport.I hope you enjoy viewing them as much as I have-Mike Sweeney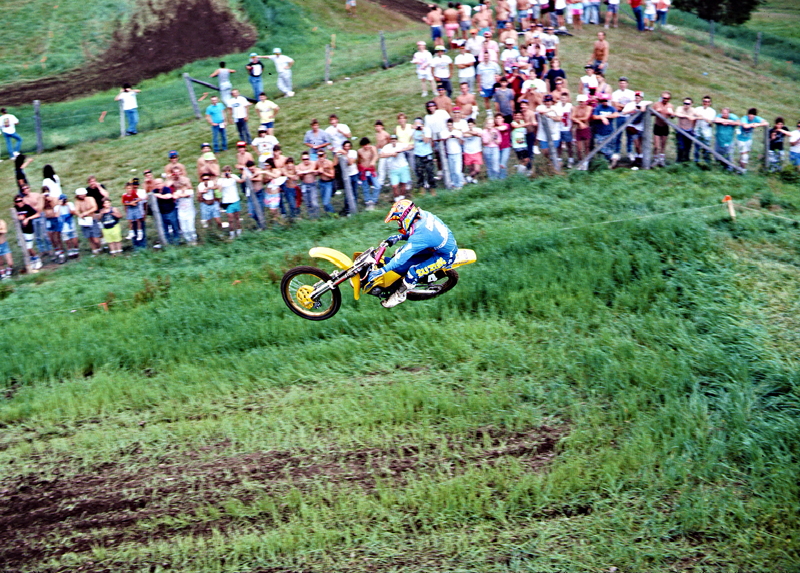 Sweeney- "Guy Cooper crossing up out of Gravity Cavity. This photo is one of my personal favorites because it nicely illustrates the old Unadilla which only got raced on once or twice a year. After the last race of the season the owners would disc the track and put it back to sleep for a year, the grass would grow until it was knee high and wouldn't get "cut" until the next race when, at the start of practice, the riders would literally mow the track with their bikes. I shot this from the announcers tower as Guy flew under and you can nicely see the track at about mid practice, still lots of grass!"
Matthes- "This photo is from the final round of the 1990 125 national of the year. Coops and Mike Kiedrowski went into a winner-take-all battle for the national championship. Of course Cooper had been getting a lot of help from Mike Larocco and Larry Ward who were moved down to the 125's when the series went to 500's and were pulling over left and right for Coop. The series was full of drama as Cooper DNF'd a moto with three rounds left to give Kied the points lead. The next race the riders went 1-2, 2-1 and the race after that Cooper won both motos. The final round saw Cooper win the first moto (Larocco second and Kied third) and go 4 points ahead of MX Kied for the title. In the last moto Mike Kiedrowski checked out and was on his way to defending his title. Kiedrowski was going to win by one point. Uh yeah, not so much because second place Larocco was "caught and passed" by Cooper with two laps to go and Cooper won the title by one point. So by getting in between the two guys in the first moto and getting caught and passed by Cooper in the second moto, Mike Larocco had a lot to do with the 1990 title.
Anyways yeah I've heard about Unadilla being so mint for the riders that the mechanics had to literally pull grass from the radiators after practice so the bike wouldn't overheat. Then I went there for the first time in 1996 and it was beat down and rocky. I never got to see the pristine Unadilla and I never will get to see it. Too bad. Anyways, sweet photo!"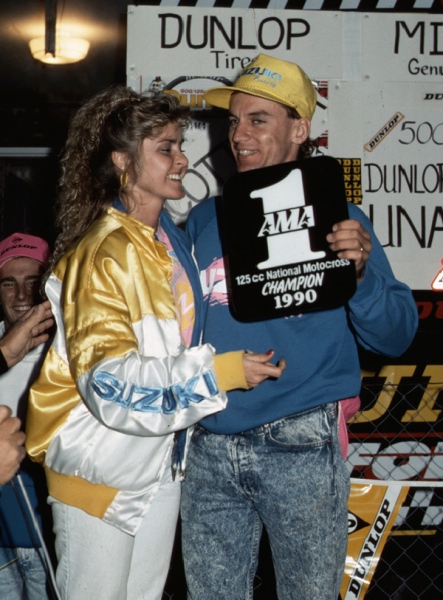 Coop with the number one plate that he worked so hard to get for so many years.