Sometimes you can't always get what you want
Sometimes you can't always get what you want
By Isaac Scoggin
Photos by Simon Cudby
The race we all wanted to see took place at Millville's Spring Creek National and all went perfectly to plan, except the main contenders battling for Championship points didn't produce. It was a weird day from start to finish with the weather being much cooler than normal, not to mention the track prep being different. Everything was there to produce the best racing of the year but the battles of the most importance remain a mirage floating just beyond our reach. The racing is always frothy with anticipation above all else, but we were had once again. Left feeling a more subtle high than expected, as time passes it starts to sink in, we got a thrill, but it was a cheap one. Don't get me wrong, I love watching new faces win and to see the usual front runners struggle to gain momentum is a powerful stimulate in itself; however, the race of all importance in both classes left us alone and panting, as if we had woken from a dirty dream in a cold sweat. That is a phantom climax, and that is what we experienced at Millville this past weekend. The racing was intense, the battles raged galore, but in the end we were left wanting the real thing!
I know what you are think…the racing was incredible and more than made up for the lack of tension between the four horseman of moto. No, no, no, it simply will not do to have opportunities striped from our grasps by seeming acts of God, and in Dungey's case it happens over and over again. We (the fans) had been worked up by the foreplay of Villopoto going down on the first lap in a circumstance that could very easily had ended his run at a second 450 MX title. The idea of Dungey making up points in the Championship and finding ourselves with a great title fight again had many a fans innocently aroused. By motos end we were flustered and embarrassed that we had been lead on as Dungey finished one position ahead of Villopoto. It was a great ride by both men after the struggles they had overcome, and no one wants to see either one of them hurt. But something has to happen in order for the points gap to have major shrinkage, and at this point, shrinkage is the goal. When darkness engulfed the track formerly known as deep, rough and sandy the title fight looks similar to the way it appeared when the day began, and I feel used.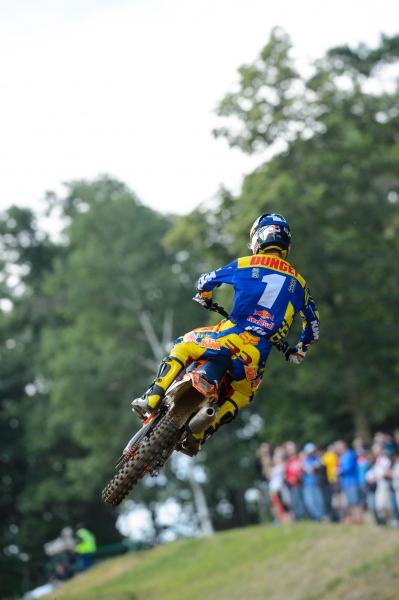 Dungey needed to have a better day than he did with RV's problems.
The actual racing that took place up front throughout the day…now that was worth getting excited about. We have a guy people love to hate, a guy people love or hate depending on their religious views, and a guy people love to hate depending on if he puts your rider on the ground or not. I am speaking of Stewart, Canard, and Barcia. If it had been any of the first three or so rounds I would have guessed Barcia to inch away from the group and pick up a big W. I know Stewart has been riding really well lately, but Barcia and Canard have been putting on great rides moto after moto as they fight through the pack. Their starts have been terrible and subsequently have been the downfall of every moto for several races now. Canard, you could just see how he became a 250 outdoor Champion with the determination he showed both motos. His willingness to push the edge and go faster as the race wore on was impressive, and in what universe does Canard beat a healthy James Stewart? That question obviously has answers, but it still takes a while to sink in. I don't know if Villopoto or Dungey could have put moves on them all at the end of the first race because they were straight hard up for a moto win.
With Stewart you know the whole team exhaled a sigh of relief because he at least won one race in both series now. James is always impressive in the way he rides and I have always said no one is smoother than James. Unfortunately, he is smooth up until he eats it hard, and it leaves you scratching your head as to how it happened. I thought maybe he would fall apart towards the end of the race with the pressure being applied by Canard but he held tough, and I agree with JT that it was mental for Stewart. In his mind he is better than Canard and there is no way he will lose a race win to him, but with Dungey and Villopoto the fight would have been much less on his end. It is sad to think that Stewart feels those two are out of his league right now, but James has enough confidence stashed away to pull it out when needed and grab a win or two. It will be interesting to see if he can strap-on any momentum going into Unadilla and mix it up with the Ryans.
The battle we were all counting on to get our endorphins pumping throughout our systems came to an acrobatic halt when Roczen got over-excited going for the lead. As he lie on the ground all emotions dropped to a depressed state, and nothing against Kenny, but you just knew he was done for the moto. He is no Ryan Dungey that is for sure. Dungey will try to ride with one wheel if he has to, but Roczen is all about rest and recuperation for the second moto. He won the SX Championship with that same state of mind so who am I to say he is wrong? It looked painful and it was also painful to everyone not named Eli Tomac. We were within one point of a royal duel and even if they didn't battle each other for the win, it would still have been great for them to continue to trade moto wins and the points lead. The second moto was a valiant effort on his part to put wind back in his sails, but Tomac has everything going his way right now…except starts. I hope Roczen does not feel inadequate with his performance and will be ready come Unadilla to give Tomac a real challenge. After all, we have seen Tomac throw away the SX title when we thought he had it in the bag, it could happen again.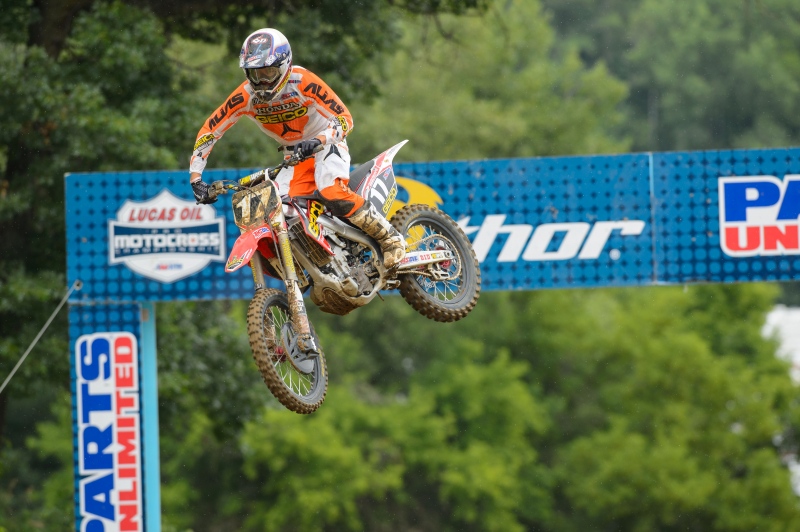 Tomac's got a nice lead in the points after Roczen's crash at Millville.
The track itself is considered one of the top two tracks on the circuit along with Red Bud. Another phantom emotion can be contributed to the track not living up to it's normal standards of prep, and therefore, racing. It was slippery, shiny underneath a little sand, and not rutty at all. The breaking bumps were not as big as they normally get, and the choices of places to experiment with lines to pass were slim to none. It was a let down on one hand but on the other we had close racing because it was hard for these top guys to make up time. No ruts, no mistakes, no massive bumps, not as much of a physical race, and you have the ingredients for close racing, but not much in the way of passing. The only real mistakes came from the likes of Dungey, Villopoto, and Roczen. And they were instances of some level of intervention to prevent the climax we were all hoping for from this National. We were looking for "the big bang", but instead we got a "fizzle and pop." Maybe it will be a blessing in disguise, and it will just prolong the final spray of champagne? Maybe this track did us a favor and better, close racing lies ahead? Maybe this was just an instance of us fans spraying this race with pump, and now we must wait it out to see what unfolds?
The climax of the season may have actually come and gone without any real bar banging between the top two in points in both classes. If that is the case it will be a lack-luster lover of a season come final moto. The drop of the gate always brings with it a level of excitement, but at this race it was nearly raging. Blood pumping, sweat rolling, nervous excitement of anticipation of a climax fitting to the situation of each Championship, but in the end it was all for not. The mirage of what might have been stings greatly and it leaves us in a clear state of reflection that the season may be winding down before we want it to. As anticlimactic as it was for the frontrunners, it was the opposite for a few who found a breakthrough, with a little help from the weather, the track, and a mistake or two. If we are lucky the other competitors will turn up the heat and we may find ourselves subject to multiple climaxes come seasons end. So get yourself ready, pop a pill if you need to, get up and ready because come Unadilla we need to be back in the game. Anything can happen.