Herlings and Desalle dominate in Czcheo
Herlings and Desalle dominate in Czcheo
Herlings lifts his second world title!
Article by Jonathan McCready
Pictures by YS and Ray Archer/KTM Images
Jeffrey Herlings became a two time world champion at only 18 years old in the Czech Republic after taking yet another double victory.
Herlings has won all 14 GPs this year and is continuing to rewrite the record books as he looks to win the three remaining rounds and have a clean sweep of the MX2 GP series.
Extremely motivated and hard working, Herlings is simply a phenomenon. He has grown up a lot in the last two years and added the mental strength and maturity he had been missing. His motivation is at an all time high and Everts has even had to tell Herlings to work less hard to avoid burn out.
Although many will criticise his decision to remain in MX2 next year, it is important to remember that he is only 18, and will still only be 20 when he moves up to MX1 in 2015 – the age Eli Tomac is now racing in the 250 class. He will have plenty of time in MX1 and he wants to go for a hat trick of titles in MX2 first. Time will tell if his decision is the right one.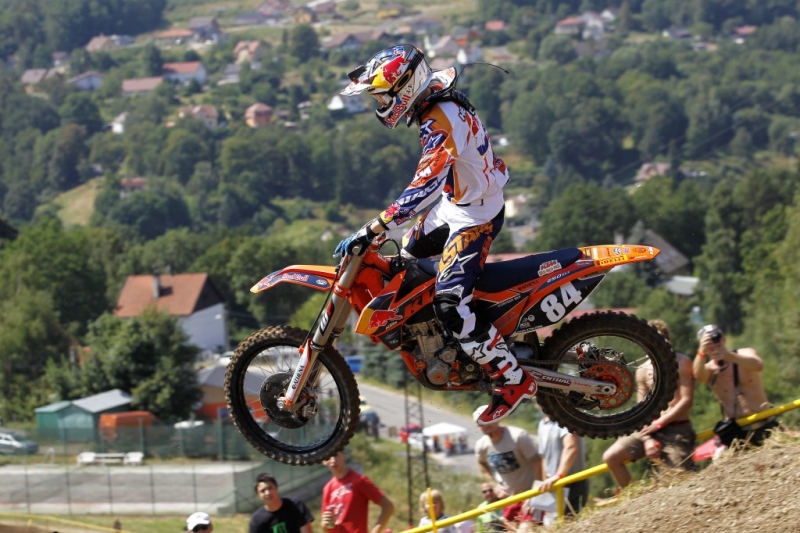 Herlings won the GP and in the process clinched another World Title this weekend.
Second overall was Christophe Charlier who has really shown some good form since getting picked in the French Des Nations team. He is also motivated to try and steal third place in the championship from Jose Butron ad if he continues this form he may have a chance of making up the 31 points.
It was also a great weekend for Russian Alex Tonkov. The Esta Honda rider grabbed his first career podium with third overall and also walked away with a factory Husqvarna contract for MX2 in 2014. Provided the bikes are up to standard Tonkov, with the guidance from Jacky Martens, should go to the next level next season.
CLS Kawasaki's Alex Lupino was flying and his second place in the first moto was one of his best rides of the year. Lupino looked likely for the podium until he got taken out in race two and had to fight his way through from the back of the field.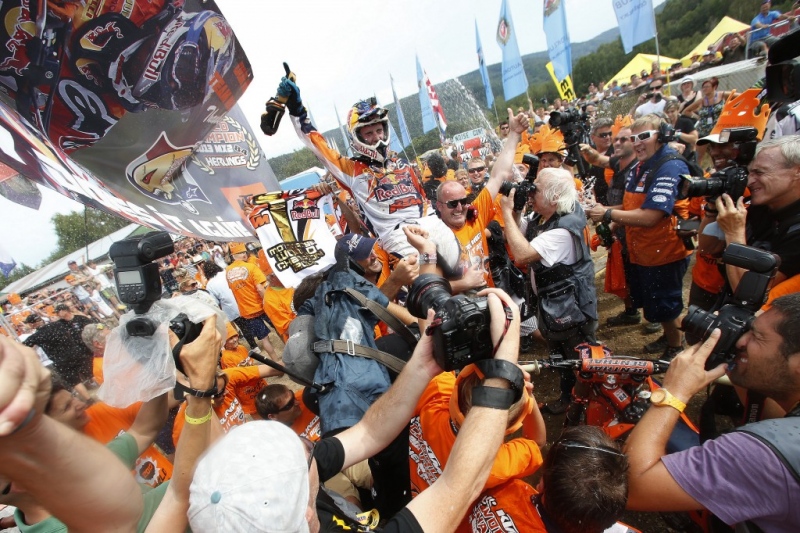 Here he is, the hero of the day.
Second place in the championship Jordi Tixier had a disappointing day in fifth overall. The factory KTM rider never looked comfortable with the track and his relatively poor results helped Herlings clinch the title here.
In MX1 it was all about Clement Desalle. The Suzuki rider is finally back on form and has won three of the last four motos. It is all a bit late for the championship but it will give Desalle confidence and aid his position as he talks to teams for 2014.
It was a Suzuki 1-2 on the podium after Kevin Strijbos claimed second overall with 2-4 scores. Strijbos has always went well at this track and won here in 2007. Kevin has come back on form the last two weeks, and beat Ken De Dycker in both motos in front of MXDN team manager Joel Smets. The Belgian team will be announced this weekend and Strijbos may just have earnt his place with this ride.
At one point it was a Belgian 1-2-3-4 in the first MX1 moto until Kawasaki's Jeremy Van Horebeek went down and damaged his front wheel. But the MX1 rookie rebounded with a brilliant second in race two only six seconds behind Desalle. It was a performance that showed Van Horebeek's true potential and maybe being the only factory Kawi there made Van Horebeek step up to the plate.
It is widely presumed Jeremy will be given the MX2 bike to ride for Belgium and if he can show this form Belgium have a shot at the title, should eh Americans have problems.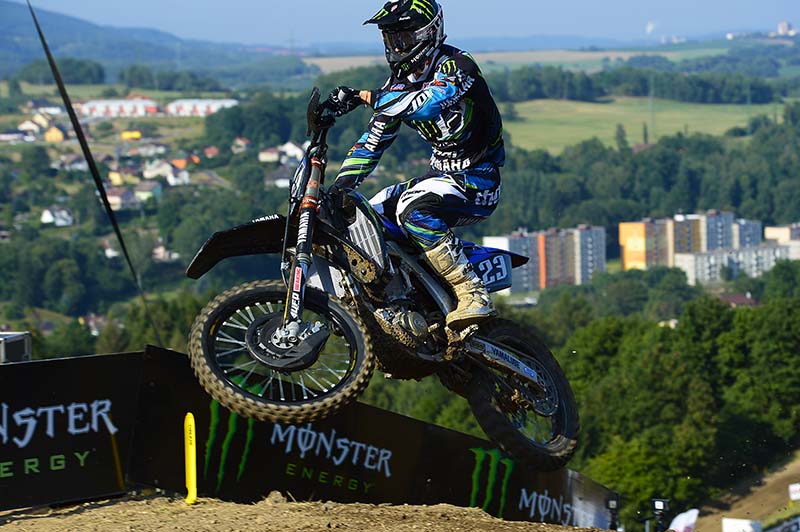 The Frenchman Charlier had a strong day in getting second overall.
Evgeny Bobreyshev was finally on the podium! After a season full of niggling injuries the big Russian finally delivered in front of his japenese bosses and put the Red machine where it is meant to be every weekend – up front. Bobreyshev though needs to remain injury free if he is to ever achieve his potential but it was good to see him back on the box and it meant a Russian on the podium in each class!
Ken De Dycker was fourth after showing some good speed but also inconsistent lap times after fading back at the end of both motos – but he still beat his teammate.
Antonio Cairoli had his worst GP of the year – but was still fifth overall! The Italian does not like the slippery off camber circuit in Czecho and he will like it even less after the weekend. Cairoli stalled in race one but did come back to the battle for second only for the rain to come and Cairoli settled for fourth.
In race two it was expected Cairoli would go for the win but an aggressive pass on Van Horebeek went wrong and Cairoli ended up on the ground and remounted in 14th place. He came back to sixth but it was not the same Cairoli we had seen in previous rounds.
Cairoli lost 18 points in the series but still holds a commanding lead over Desalle and should wrap his title up either at the next round on Belgium or more likely the British GP at Matterly Basin.
The MX1 class however was missing a host of top riders due to injury. The Ice One racing team will be without Xavier Boog for the rest of the year, while Rui Goncalves was also missing at the Czech Republic but should be back in Belgium.
Factory Kawasaki were missing Gautier Paulin after is concussion in Germany and it is still unknown when he will return. Factory Honda were without Max Nagl who has been diagnosed with Epstein barr syndrome and it leaves both France and Germany sweating on their MX1 riders for the MXDN in September. While Factory Yamaha rider Steven Frossard is still MIA after his latest injury and may or may not be back by the end of the season.
The next round of the series is in Belgium in two weeks and you can be sure Desalle will be doing everything to prevent Cairoli from lifting the title there!
MX1 Overall top ten: 1. Clement Desalle (BEL, Suzuki), 50 points; 2. Kevin Strijbos (BEL, Suzuki), 40 p.; 3. Evgeny Bobryshev (RUS, Honda), 36 p.; 4. Ken de Dycker (BEL, KTM), 35 p.; 5. Antonio Cairoli (ITA, KTM), 32 p.; 6. Tommy Searle (GBR, Kawasaki), 29 p.; 7. David Philippaerts (ITA, Honda), 26 p.; 8. Jeremy van Horebeek (BEL, Kawasaki), 24 p.; 9. Shaun Simpson (GBR, Yamaha), 24 p.; 10. Tanel Leok (EST, TM), 24 p.;
MX1 Championship top ten: 1. Antonio Cairoli (ITA, KTM), 643 points; 2. Clement Desalle (BEL, Suzuki), 553 p.; 3. Ken de Dycker (BEL, KTM), 514 p.; 4. Gautier Paulin (FRA, Kawasaki), 465 p.; 5. Kevin Strijbos (BEL, Suzuki), 437 p.; 6. Tommy Searle (GBR, Kawasaki), 404 p.; 7. Jeremy van Horebeek (BEL, Kawasaki), 351 p.; 8. Maximilian Nagl (GER, Honda), 314 p.; 9. David Philippaerts (ITA, Honda), 245 p.; 10. Evgeny Bobryshev (RUS, Honda), 238 p.;
MX2 Overall top ten: 1. Jeffrey Herlings (NED, KTM), 50 points; 2. Christophe Charlier (FRA, Yamaha), 40 p.; 3. Aleksandr Tonkov (RUS, Honda), 38 p.; 4. Alessandro Lupino (ITA, Kawasaki), 35 p.; 5. Jordi Tixier (FRA, KTM), 32 p.; 6. Dylan Ferrandis (FRA, Kawasaki), 28 p.; 7. Jake Nicholls (GBR, KTM), 27 p.; 8. Petar Petrov (BUL, Yamaha), 24 p.; 9. Jose Butron (ESP, KTM), 20 p.; 10. Romain Febvre (FRA, KTM), 19 p.;
MX2 Championship top ten: 1. Jeffrey Herlings (NED, KTM), 692 points; 2. Jordi Tixier (FRA, KTM), 515 p.; 3. Jose Butron (ESP, KTM), 436 p.; 4. Christophe Charlier (FRA, Yamaha), 405 p.; 5. Glenn Coldenhoff (NED, KTM), 377 p.; 6. Dean Ferris (AUS, Yamaha), 359 p.; 7. Jake Nicholls (GBR, KTM), 345 p.; 8. Alessandro Lupino (ITA, Kawasaki), 294 p.; 9. Max Anstie (GBR, Suzuki), 282 p.; 10. Petar Petrov (BUL, Yamaha), 262 p.;