2013 has embodied the greatest disparity between top amateurs entering the pro ranks and seasoned pro's filling the gates each weekend in the MX2 class.
2013 has embodied the greatest disparity between top amateurs entering the pro ranks and seasoned pro's filling the gates each weekend in the MX2 class.
Photos by: Simon Cudby
Before I get into the meat and potatoes of my point this week, I want to hit on the track. Unadilla is the track on the current National circuit with the most history. In most any bench racing discussions revolving around Unadilla, one of the first talking points is always how back in the day, the track started out as long grass in practice and would eventually get shaped back into the treacherous, rocky, natural-terrain menace which saw so many historic races. It wasn't even that long ago that this was the case. I was talking to a buddy today who mentioned less than a decade ago how he would come back from practice with weeds wrapped around his front axle. Now this idea sounds super core and cool but it doesn't portray the sport to the masses as having mainstream appeal, so it's understandable why they don't let the bikes do the mowing anymore.
It looks nothing like the 'Dilla of old but it's still a beautiful sight.
The changes made following gravity-cavity looked great. Great for viewing and a real tangible benefit to the racing flow. I am a little bummed to see the advancements in race craft taking the mega-launches out of gravity-cavity and keeping the riders lower to the ground. Definitely smarter but I miss the big air to flat landings nonetheless. It reminds me of one of my favorite MX photos ever, from Gainesville when Kehoe absolutely pinned it out of the pit, over the finish to launch to absolutely ball-shriveling heights. Legend.
The Rookies
Across the board when amateurs make the step to pro racing, we hear "I just want to have fun, put in two solid motos, see where I am at and build on it". Perhaps the delivery is different but that sentiment is unchallenged and for good reason, it's sound advice. If only it were true.
Let me digress.
When Justin Barcia turned pro at Glen Helen in 2009 and lead the most laps all day before fading to 6th OA, amateurs must have been raising their eyebrows and feeling pretty good. A year later when Eli Tomac turned pro at Hangtown and nailed down the OA win, again, the rising crop of amateurs could justifiably have been feeling vindicated and saucy. Perhaps these breakout performances were what left some media members voicing a resounding "ehhhhh" as we saw the 2011 and 2012 Horizon Award winners from Loretta Lynn's, Justin Bogle and Zach Bell enter the pro ranks with less spectacular starts. Well, actually Zach Bell holeshot 2 motos of his first four as a professional, so let me readdress that sentence to say "less spectacular finishes".
Now I will try to tie my point together. The maiden performances by both Barcia and Tomac, coupled mildly by the Bell holeshots and laps led(and of course the likes of Stewart in years past), create some pretty lofty hopes in the minds of not only team personnel but the riders themselves for their own pro debuts. These highly-optimistic thoughts will never be vocalized if for no other reason, fear of pressure building to the cracking-point in the minds of the rookies. In the back of all of their minds though, fans alike, are the guarded hopes of a breakout, prodigious pro debut. So while all outward communications are aimed at rational, level headed expectations of "keeping calm and carrying on", it appears to me that when the gate drops, those subdued thoughts of optimism are targeted with adrenaline and can actually have a negative affect. We see results and confidence swing on a pendulum in motocross; for a pro debut you can add inexperience, unfamiliarity and preparation as X-factors above and beyond all of the elements the riders have no control over. To say the deck is stacked against them is a ridiculous understatement.
For all of the success Horizon Award winners and of course undecorated rookies may see prior to their pro debut, the discrepancy between elite amateur racing and pro racing has never been greater. We always hear from recent amateur graduates how they have one or two true threats in their big amateur races, whereas the pro class is crazy speed throughout the points and even beyond. Think about that for a minute. These rookies are coming from shorter motos where they likely only need to ride at peak intensity for 2/3 of their moto's duration, to 30+2 where they are maxed out for the duration. They can't possibly be adequately prepared.
Adam has been buckeling down and battling through a less than warm welcome to pro racing with a mature approach.
Adam Cianciarulo is in the best position to nullify this preparation gap due to his program being developed alongside the most mind blowing champion in recent years, Ryan Villopoto. Adam's progress received a stifling hit though with his food poisoning bout prior to Hangtown. Adam's aggressive timeline to join pro racing also didn't do him any favors, in my opinion, due to him having very limited race experience on the 250f as well as his smaller size. I'll be the first to admit though, that Adam's size has been the least of his deficiencies thus far. If he can get better starts and run at max intensity for the duration of the motos, he'll be fine. He's fine right now but making his pro debut in the midst of the outdoor series following an emaciating sickness is a damn tough wall to scale.
Now that we have moved past the hype surrounding Adam's debut, it's been looking pretty much as I expected. He keeps a positive attitude, learns every moto, has kept out of the Webb comparison-drama and focuses on himself. I applaud him of his humble approach to his pro entry. Prior to Hangtown I was hoping he'd wait another year. Primarily because I was hoping he'd cash-in on his hype-machine with rookie season wins and title contention. I thought his decision to make the jump now was premature but clearly he had the bigger picture view and I had the immediacy in mind. He's doing it right.
Cooper Webb has been solid through much of the year in an intensely competitive class.
Cooper Webb, like Adam, has attacked his rookie series with an ideal mindset. He doesn't buy into the head to head comparisons created primarily by fans between he and AC. He's had some rough crashes and shown that he will dig deep even when he's hurting pretty good.
This weekend marked the debut of 2013 Horizon Award winner, Matt Bisceglia for Geico Honda and Shane McElrath for the TLD squad. I assure you, following the first half of the race, both riders must have been thinking "holy mother of God, this is absolute insanity". Like I wrote earlier, these guys are used to being top dogs in the cream of the amateur crop and to step into the fire of the pro class where there are nearly 20 guys who are as good as them; but accustomed to the pace and duration, is a serious shock to the system. I have no doubt both riders will figure it out as they have great personnel surrounding them with loads of experience, not to mention the talent of their teammates which they'll become more accustomed to during the week.
Winning the "Horizon Award" from Loretta's has been almost a Madden-Curse at Unadilla the last two years.
Stepping into a series at any point after it has begun is a real trial but when it is compounded by being your entry to pro racing; the forces against you are mind-numbing. The fact that Matt and Shane left Unadilla healthy is a solid start. The intensity of this field for the duration of the moto's has never been higher. It's bouncing off the rev-limiter, redlining and detonating from gate drop to checkered flag. I've never been more happy to never have had a shot at being a pro motocrosser than now.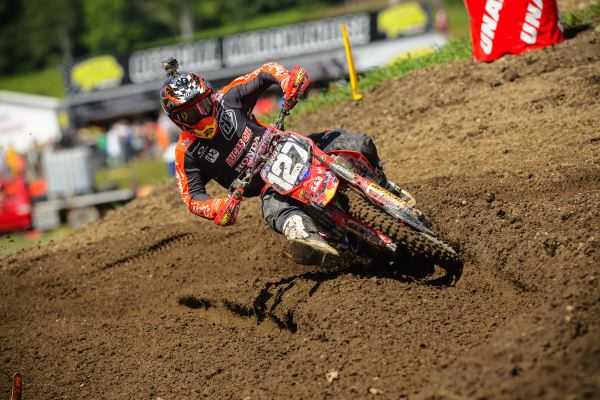 Shane McElrath followed through on his claimed intentions for his debut.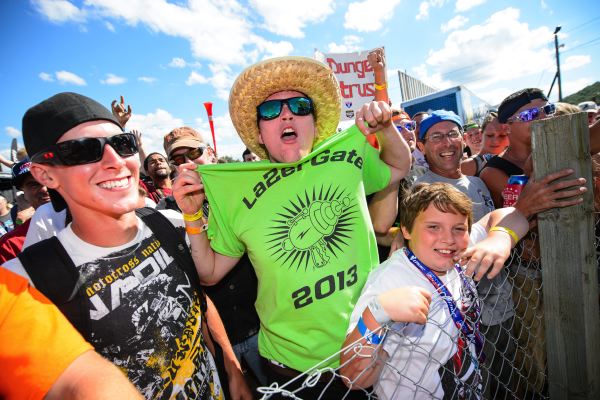 Photo of the year.