This is cruel reminder about how comebacks rarely work
This is cruel reminder about how comebacks rarely work
Hi everyone, from the late 80s through the mid 90s I was a contributing photographer for Hi-Torque Publications (MXA and Dirt Bike magazine). The photos that you see here were never published and have been stored as 35mm slides for the last 15-20 years. A month or so ago, I finally got around to purchasing a quality scanner and the journey began, going through these images has been a revelation, as I haven't looked at any of them since I put them away and had only seen them as tiny little 35mm slides. Scanning them, then seeing the images on a computer screen has been like seeing them for the first time, they stir up lots of great memories, and bring back a great era for motocross, lots of bright color, big characters and of course, some true legends of the sport.I hope you enjoy viewing them as much as I have-Mike Sweeney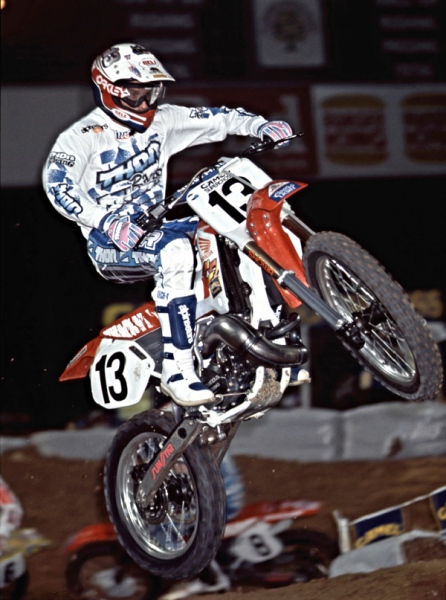 Sweeney- "Short story behind this one, It was Orlando 1991-I was shooting the heat races and noticed this cool little seat bump double that RJ was doing so I caught him shortly after take off. Stanton wound up winning followed by Bradshaw and LaRocco. Had a great time covering this race, stayed with Mike Koger and Chris Hultner who were at the time working for MXA and doing a bang up job.
We wound up hanging out with Chicken and I think Denny Stephenson and Buddy Antunez, I remember we went to Sea World and Chicken damn near got kicked out for messing around with the dolphins, actually maybe he did get kicked out, and we all left, can't remember, there was also a bit of bumper tag in the rental cars at a drive thru that resulted in an un-named racer jumping up and down on the hood of a car while it was still in line, pretty hilarious stuff, that crew always had fun."
Blazier- "This week's MX captured is a real rare bird indeed- Ricky Johnson in supercross 1991. To be honest, virtually any picture of RJ from '91 is rare enough, because he only made it to the sixth round before calling it quits for good at the Daytona Supercross. Just the sight of the Bad Boy in that awful THOR crap is enough to give me the chills. In my mind, RJ will always be a Fox Racing guy. He made Fox gear the gear to have in the late 80's and will always be associated with their rise to the top. The move to JT was a royal bummer, but I can live with the Bad Boy stuff he wore in '89. His appearance in THOR gear, however, was just an assault to everything that is right and holy.
In fairness, I will say that this particular THOR combo is not too bad and far less offensive than the stupid Fast Boys chain link crap that made me want to gouge my eyes out every time I saw a picture of him in it. It is like watching that great football player switch teams for that one last broken down year before being booted out of the league for good. It is sad and just not right my friends.
Other than the RJ's gear, the other unique thing about this pic from '91 is Ricky's Factory Honda. At the first round, Team Honda actually ran the funky stock '91 graphics on their works bikes with the simple edition of a Camel Supercross sticker. By round two, they had ditched the overdone stock decals for their traditional Honda wing and HRC decal combo. In my opinion, this simple edition transformed these works Honda's from funky looking, to some of the best looking bikes on the track in'91. I'm still not sure who thought it was a good idea to put zebra stripes on the seat, but that is a discussion for another column."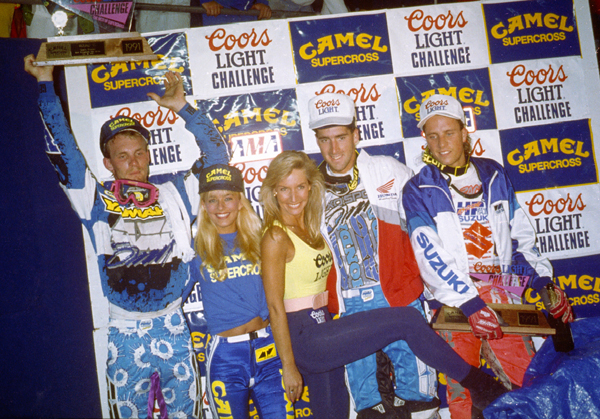 Matthes- "Nice podium shot here with Bradshaw, Stanton and Larocco. The trophy girls were a bit trashy too. I like that, it's like they're straight out of a Whitesnake video or something. What's the over/under on how many riders hooked up with them? 83? Anyways, you don't see Johnson on the podium here because this was 1991 and RJ went DNF-10-10-10-8 through five rounds and then his wrist locked on him a couple of times causing massive crashes. That was it, an unglorious end for a glorious rider. He retired right then and there.
The photo above was from the opener at Orlando and this is what Cycle News had to say about Johnson's race:
Johnson's hope of turning two injury-plagued seasons around got off to to a good start when he led the first heat but ended prematurely on the last lap of the main when his chain derailed in a rut approaching the triple.
"I was pretty fortunate to walk away from that" said Johnson "I didn't feel like I was riding great but I see room for improvement and see the capacity in me for making those improvements
So on top of the jacked up wrist, he had his chain come off also. Great. RJ must've wondered what black cat he had lit on fire to deserve all this "luck" that had been coming his way. And I agree with Blazier, although this THOR stuff is ok, generally the FAST BOYZ stuff was horrid looking- even for 1992 standards. I don't blame Rick, he was trying to cash out. I remember that he signed a Bridgestone tire deal in '91 even though his other Honda teammates ran Dunlops.
Thanks to Tony and Mike for contributing to this thread. Good times.