Scott sent us a super cool 2014 media kit with a sample of their new goggles to check out so we put Fred's brother (not really) Matthew Durst, on the case to bring you the scoop on the goods.
Scott sent us a super cool 2014 media kit with a sample of their new goggles to check out so we put Fred's brother (not really) Matthew Durst, on the case to bring you the scoop on the goods.
By Matthew Durst
Packaging/Care
When I received my goggles, they came in a Scott Goggle Case, which were all individually held in its own goggle sleeve. It holds 5 pairs of goggles, along with four small mesh pockets and one large pocket to hold tear offs. The Scott Goggle Case is a hard foam, not metal or plastic, but definitely durable enough to carry to and from the track. Each built in divider can be removed with velcro and also has pockets on either side to hold multiple lenses for each goggle. This is definitely the way that goggles are meant to be handled and stored. If you care about your goggles, this is a must "Add to the Cart"!
Click here for a video overview of the Scott Goggle Case.
Some of the goggles that I tried on came equipped with the revolutionary Fit System. If you are not familiar with the Fit System, it is found on the Tyrant, Hustle, Split OTG and Tyrant/Hustle Film System goggles. The patented Fit System allows you, the rider, to custom fit the goggle frame to compliment your unique facial features. I quickly grabbed the Fit System screwdriver (included) and with a couple clicks, I had the goggle fitting perfectly.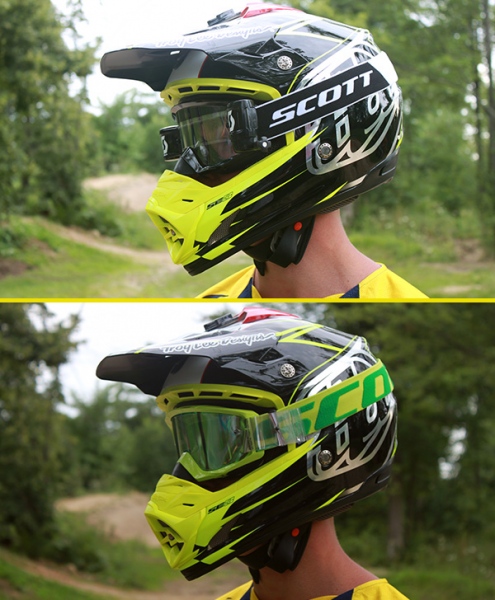 Top- Tyrant w/Tyrant Film System
Bottom- Tyrant
Goggles
-Tyrant & Hustle Goggle
These frames have a wider and narrower feel, which is different than I am used to. However, I actually found myself liking these frames the more I rode with them as I feel I could see more out of the corner of my eye without being distracted by frame edges or tear off posts. The only complaint about these goggles is that I feel like it did not cover enough of my face, which would allow roost to find its way into my helmet. I ride a TLD SE3 helmet, which already has a small eye port so I don't feel like a different helmet would change the situation much. The removable nose piece is definitely something that I would use with this goggle frame. The Recoil XI Pro covered a much larger portion of my face around my cheek area.
-Tyrant Film System
Scott's Film System goggle has a new anti-stick grid, which I found to have a very easy and smooth pull. I was disappointed to find that there were no tear-off posts available on the roll off system, which I like to use for the start. But on a positive note, I couldn't notice the goggle having any extra weight added to it with the Film System attached. The lens itself is blacked-out across the top, which I found helped focus my attention to where the film strip lays.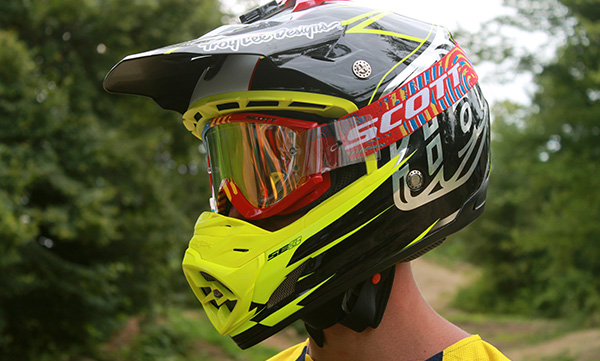 Recoil Xi Pro
-Recoil XI Pro
This goggle comes with 3-Layer face foam. Needless to say, you won't have to steal Grandma's Maxi with this setup. If you found yourself liking the Scott 89 lineup, these are the most comparable frame and would be an easy transition. Compared to the other goggles in the line-up, I noticed the tear-off posts in my peripheral view, due to a less widened frame. However, due to the less widened frame, there is more coverage on my face to protect me from roost, which I loved.
-Split OTG
I was pleased to find that Scott made a goggle for rider's that wear glasses. It was great to know that Scott was putting an effort into making a frame available to please every riders' needs. I don't personally wear glasses but the Split OTG goggle has a deeper frame to allow a better fit for a person who wears glasses.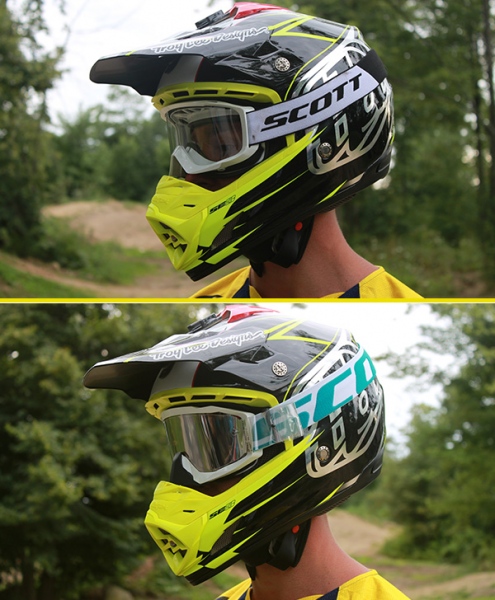 Top- Split OTG
Bottom- Hustle
Tear-Offs
Each laminate pack comes with two in-lens tear off posts and a strap post. There are laminated tear-offs that are compatible with the Tyrant, Hustle and Split OTG goggles. There is another pack of tear-offs that are only compatible with the Recoil XI Pro goggle. Some riders may find this as a hindrance due to the fact that they will need to purchase various types of tear-offs. I normally wear EKS Brand goggles and they have a one size fits all tear-off for every style goggle. This just makes for one less thing to worry about when headed to the track.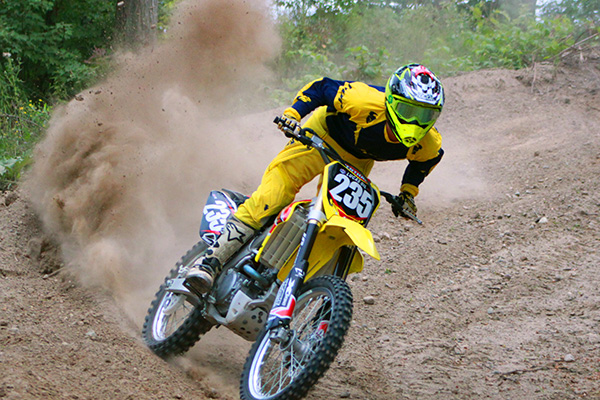 Color coordination is key.
In Conclusion
Overall, I was very pleased with the Scott goggles I had tested. If we're being honest your goggle selection is not going to shave tenths off your lap time. Basically, what you are looking for is a comfortable fit with a good amount of protection. I'm sure most riders are similar to me, in that, you aren't thinking about your goggles while you are racing. Unless you are RV1 at A1. I was definitely pleased with the form, fit and function in the various goggle types which is why Scott is one of the leaders in the goggle industry.