Lake Elsinore featured a lot of riders that came up just short. Moser profiles two of them
Lake Elsinore featured a lot of riders that came up just short. Moser profiles two of them
Shortcomings #12 Vol 2
All good things must come to an end, even things that are short. I can't believe the season is over already, it seems like only yesterday I was scrolling through the results from Hangtown looking for DNF's and/or someone who had come up short of expectations. There were lots of shortcomings and short goings this year and I did my best to document them in a short and sweet manner. Long story short my goal was quality over quantity, so to speak. This national season seemed to go by fast, I don't know if it was the short race day format or the season coming to an end earlier than normal, maybe I'm just getting old and life is gaining momentum. That's enough deep life retrospect.
At Lake Elsinore Filthy Phil and Alex Martin both had DNF's in the 2nd moto, they happen to be buddies so it seemed appropriate to feature them in the last shortcomings of the year.
#37 Alex Martin – Rock River Yamaha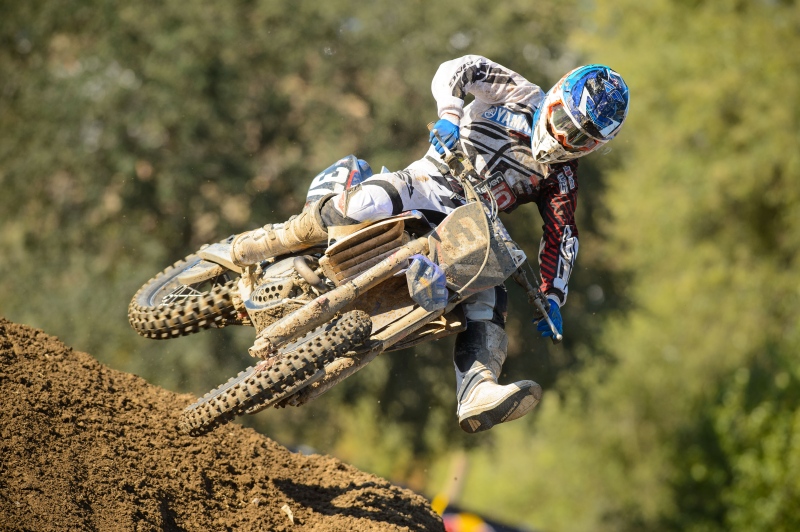 So Troll loves to run maybe his nickname should be Forrest. Cudby photo
#49 Filthy Phil – N-FAB (no Ridgeline parts) Yamaha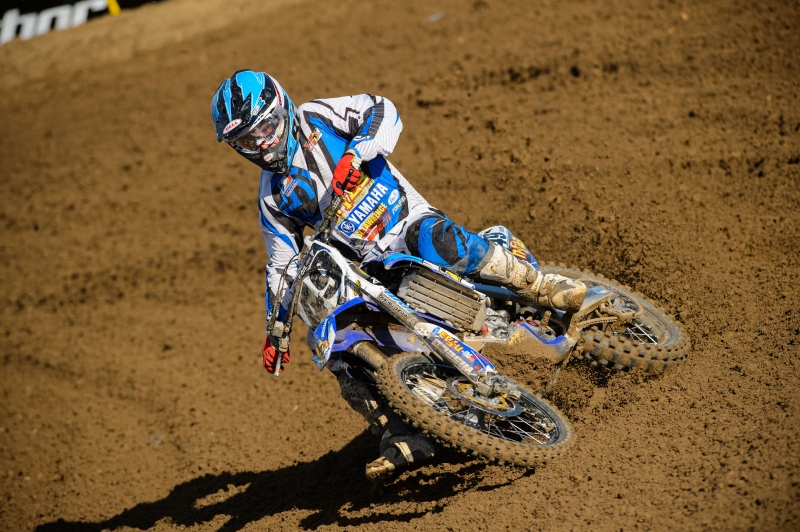 Phil Filthy is the clear leader of team triples for 2013. Cudby photo
Matthes isn't just driving the Filthy Phil bandwagon he's also shouting about it on a loud speaker to everyone. Matthes team triples this year has been Filthy Phil and Weston Peick, but Filthy really pulled ahead in the outdoors and rightfully so was awarded with Matthes spraying Filthy pump everywhere. Who better to go to for information about what happened in the 2nd moto #beingthere.
Moser: What happened to Filthy and Troll in the 2nd moto both DNF'd?
Matthes: I'll ask, standby. Phil says "Troll had shit luck, flat tire 1st moto and bike started to go kaboom in 2nd moto.
What happened to Filthy's bike?
Phil said "I don't know, it had to be something electrical it wouldn't start then it just shut off when I landed off the big Redbull double in the back"
It's always an electrical issue. Send me Osbourne's number I'll ask him about Troll and Filthy. Those guys are like the effing three amigos.
Yes they are.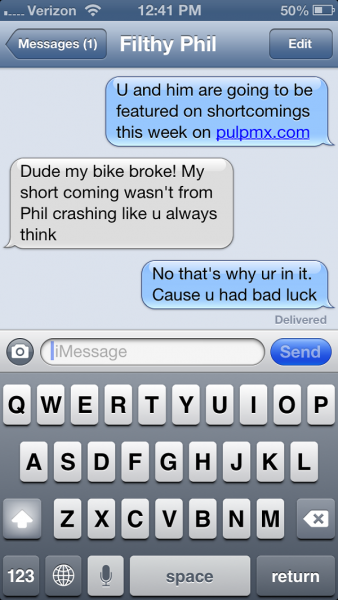 Screen shot of Matthes's phone- Nice 3rd person reference there Filthy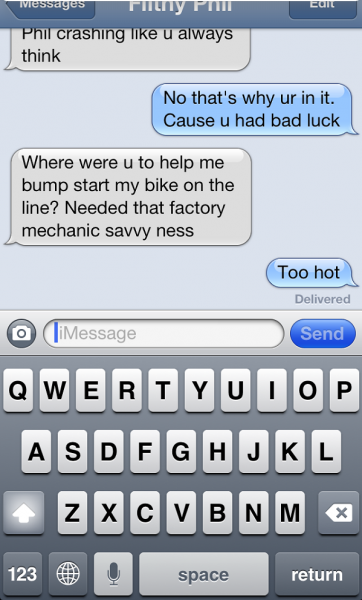 Once again Matthes shows us his dedication
Moser: I got this number in a truck stop bathroom stall, said you're a sure thing.
Zach Osbourne: It's the person that used to have this number. I get this all the time. Who is this?
What are you wearing? I heard a rumor you might be coming back to twitter any truth to that?
I'm wearing nothing and no I'm not coming back to twitter. I heard you drive a family trickster is that true?
I may or may not have a woody.
I guessed who this was by googling the area code and answering your awkward questions.
Googling the area code was a cleaver idea but I assumed the commings and woods gave it away. I'm featuring your two BFF's in Shortcomings this week on PulpMX.
Alex and Phil?
No your other two BFF's. Yes Alex and Phil. I need some insight if you have time today.
Ok lets do it.
All right who's faster at ClubMX, Troll or Phil?
Phil always. Phil is normally faster than me at ClubMX.
You just blew my wig back, why are you so slow there? Do you do that interval thing while practicing motos? So Troll gets to start with a gap then you and Phil chase him down?
Intervals are basically like doing sprints for 2 hours. It's our hardest of the week. Normally I own Phil on that day.
You guys are like the three best friends that anyone could have. So what's the long story short on how you became buddies.
Basically I'm the referee between Phil and Alex and they both hate me! I have known Phil for ages and we just became really good friends in the past few years. As for Alex, I have only known him for three years and we've became friends. Sometimes we butt heads but we all want the best for each other at the end of the day. I must say that most jokes fall on troll though because he has a real blonde streak in him.
Can you name one thing each of them excels at on the track and one thing they suck at and needs improvement?
Alex has really good form on the track but it's also a big downfall for him because when he isn't perfect he gets super frustrated. As for Phil he's really good at grinding it out when it's hard and hot and miserable mostly because he loves to be miserable. His biggest downfall would be that he moans constantly about everything.
Phil has complained in every interview I have ever heard or read. Is he like that all the time, does anything ever make him happy?
He has his moments. Normally Ben & Jerrys makes him smile momentarily.
So Troll is the scapegoat of the group, you're the money, what's Phil? The funny guy, every group needs a funny guy?
He's the one we feel sorry for and also the drill sergeant motivator.
Have you ever thought about using some of your Geico money to start a team for your buddies to ride on? It could be called Team Uni (like Unibrow)
If I was a millionaire I would definitely hire them to ride on Team Uni.
Lance Armstrong said it wasn't about the bike but if you put Troll and Phil on Geico level equipment how would it impact their results? Be honest.
I would think they would improve some. The thing that would help Phil and Troll the most would be the simplicity and consistency of a program with the backing like Geico.
Lets say you and I go on a bender. Things escalate quickly and we end up in jail. Who are you calling to bail us out, Troll or Phil.
Phil.
Who picks up the tab more, Phil or Troll?
Nobody every picks up the tab. Always separate tabs and Phil makes sure that's known as soon as you sit down.
Who pulls more chicks?
Neither could pull a chick if their life depended on it.
Who would you rather share a hotel room with?
I would spend the money to get my own room.
Tit's has made it clear he would leave almost anyone in a burning building but if you could save only one of them who do you carry out to safety?
I would just leave them both.
Tit's will love that answer. Name something they are better at than you.
They are both far better than me at running.
All right last question I've bothered you enough for one day. Tell me a random fact about each of them, something that most people don't know.
Phil is a 90 year old man trapped in a 24 year olds body. Troll is obsessed with running; he would rather run than eat.
Thanks again for your time and I'll apologize in advance for the drunk and inappropriate texts that you will now receive at random because I have your phone number.
(Laughs) it's totally cool.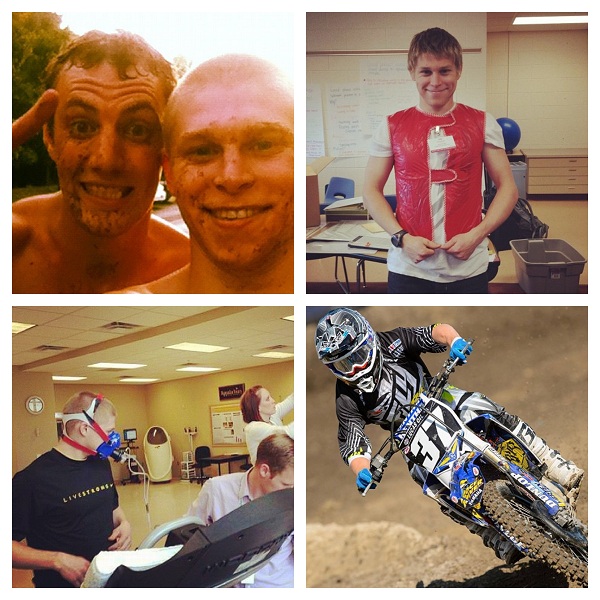 Couple of buddies, Troll and Filthy, all filthy in this picture
Troll doing his best Michael Jackson impersonation
Osbourn says Troll has perfect riding style and this picture supports that theory, elbows up, chin centered over the bars, hips unlocked, looking ahead.
There is a lot of debate whether the VO2 max test is relevant to moto, but regardless I think it's interesting.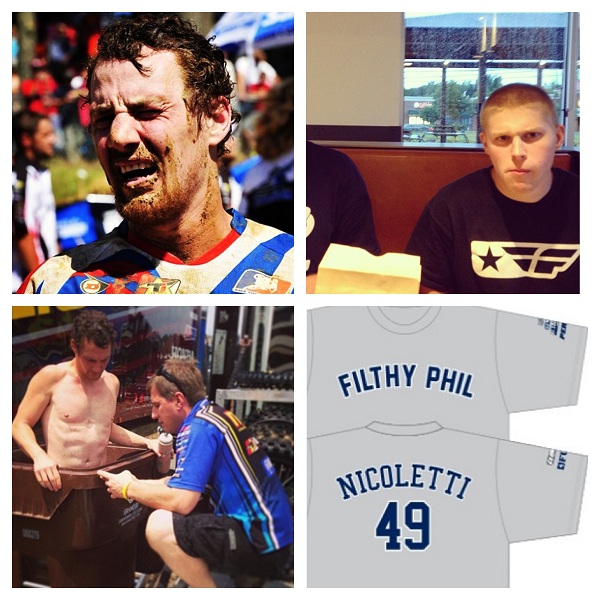 Phil always smiling
Lunch with Troll they no doubt went Dutch on the bills
Phil and Alan Brown access the amount of shrinkage due to his ice bath
Filthy has tee shirts made? Who knew? Go buy one!
Thanks to all 29 of you for reading shortcomings this year, and don't forget to email Weege with any compliments and complaints.
Moser
Please send any and all comments to jasonw@racerxill.com