The greatest Canadian rider ever and here's what he did
The greatest Canadian rider ever and here's what he did
Let's face it, the last thing some of you want to read from me is more about Ross Pederson. My childhood hero, many times a lone, brave Canadian racing against the very best of the best in America, has been discussed a time or three on this website. There's even an entire sub-section devoted to all things Ross right HERE
But too bad, it's my website and I'll do what I want. Swizcore tried to talk me out of it by insisting that the "Rollerball 101" course I make him take every year is enough but I'm not having it.
What I wanted to do was really narrow down Pederson's achievements for your reading pleasure. You know all about the general awesomeness of The Ross but you may be wondering, "What exactly are Rollerball's greatest feats?"
Or you may not be but we're plowing forward on this. It's too late to stop this train, it's rolling down the tracks full speed ahead. And with that, let's get to listing the greatest feats of The Ross with a little help from a couple of friends. And these are in no particular order in case you're wondering.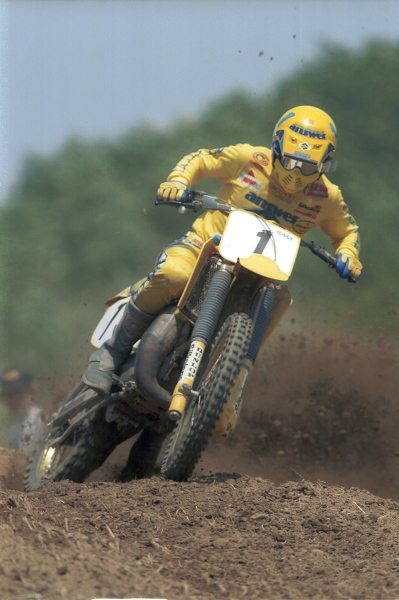 The classic form of the Rollerball. A Bill Petro photo
10- Franken-Bike Wins!
This one is gnarly. Pederson started his career in the early 80's on Kawasaki (he raced Can-Am's before Kawasaki's but let's just forget about that) but switched to Suzuki for the '82 season. From there he was Suzuki for the rest of his career except for a two-year span on Yamaha's ('86 and '87). But one of the things about Suzuki is that after 1984, they quit making RM500's (yes, in the USA 1983 was the last year for the RM500 but for whatever reason Canada and Europe got an '84 version but you guys down south didn't miss anything. It wasn't like they did anything to the bike outside of new graphics) and when he went back to Suzuki in 1988, he still had to race 500's.
Enter the Franken-Bike RM/CR500 thing that Ross raced and won one Canadian title on. If there's one bike that putting a bigger motor in wouldn't work, it was probably the early-90's Suzuki's.(Here's what his mechanic from 1988 to 1991 Dave Gowland had to say about the Frankenbike-"The bike was horrible (laughs). He had Scratch build it, he was a guy who used to own a Yamaha dealership in Medicine Hat. It was a cluster." Safe to say that if a guy named Scratch build you a bike, it's probably not that good).
The RM's back then were twitchy, nimble, tight turners and putting in a beast of a 500 motor was, I imagine, a very scary machine to race. And the stats back it up, from '88 on Ross raced four 500 national series (he missed '89 due to injury-more on that later) and was only able to bring home one crown (in '91) on the Franken-bike. It must have been really, really bad.
9- I Kicked Ass Once Again. And I'm Done
1993 was the last year for Pederson. The supercross game was catching up to him and he just wasn't into all the jumping at this point. In his early 30's and with a few extra pounds on his massive frame, Pederson regrouped and took one last run at the Canadian titles. Like Rocky answering the bell for the 12th round, Ross gathered everything he had in him to try and fight off the kids like Jean-Sebastian Roy, Doug Dehaan and his still-in-his-prime-rival Carl Vaillancourt. Ross didn't do much USA stuff at this point but finished 13th overall at Gainesville and 26th at Daytona so he clearly had something left in the tank.
And yes, he did it. That summer he took home the 125 and 250 national titles in hard fought battles. And that was it- he was done. He came, he saw, he kicked ass for 13 years and he walked away a winner. Not many riders can say that. What a hero.
8-18 in 21
During the reign of Ross, there was a six year span where Rollerball went eighteen for twenty one in championships won. Eighteen! Much like the AMA nationals, the Canadian series saw some different formats over the years. For four or five years in the early 80's it consisted of three classes in a day and 30 minute plus 2 lap motos. And a lot of racers would race six motos in a day. Yes, we're serious. But not a lot of racers could do what Ross could and win them all. Except for, you know, Ross. Later on the series became two classes a day but there would still be 6 rounds for all three size bikes (don't ask me how they did this, I have no clue).
And at the height of his powers Ross swept all three championships five times and in one six year run, he lost three titles. The 1981 125 to Terry Hofoss (no clue what happened, gimme a break as I was playing with Star Wars figures in a sand box in Manitoba), the 1984 500 series to Mike Harnden (I got Mike to give me a recap of what it was like beating Ross in '84–"After finishing 2nd in the 1981 250 Outdoor National Championship, 2nd in the 1982 Canadian Supercross Championship, and 2nd in the 1983 500's, all behind the Rollerball, I was lucky to win the first moto at the second round in Edmonton, AB in 1984" said Mike "Yes, Pederson was leading that moto, but he threw a chain a few yards after the white flag, and I won that moto. The series was only four rounds in 1984, and each race was two motos of 40 min. + 2 laps.") which made Ross very angry.
He also lost a 1985 125 title to Doug Hoover (in a short series you couldn't have a DNF and Ross had one but full props to Hoover as the last title came down to the last race and "The Sweeper"-Hoover's nickname- won the race outright to win the crown). Any size bike, any number of motos- Pederson racked up the wins.
Harnden left me with this note, hopefully he wasn't attaching a rope to the shower curtain rod "Did you know that the year I managed to beat him for the 1984 500 Title, he had his highest income year of his MX career? I heard he made 600K. I earned less than 10% of that amount that season."
It's ok Mike. Breathe and relax.
7-World Stage? No Problem!
In this world of step-up talk, Ross had a dream to step up and race the World Championships at some point. Although he never got to fulfill that aspiration (Kawasaki UK had interest in him somewhere around '87 but he crashed in Sweden the week before he was supposed to go ride the bike and lost a kidney), he did perform on the world stage whenever he raced a Grand Prix. On both sides of the border (unbelievably there used to be Canadian GP's which should tell you just how far down Canadian motocross has fallen present day. If someone told me they were going to have a GP in Canada in 2014 I would call the cops to come arrest the person who told me that. We can't have crazy people running around) Pederson put in some stellar rides against the world's best. How good?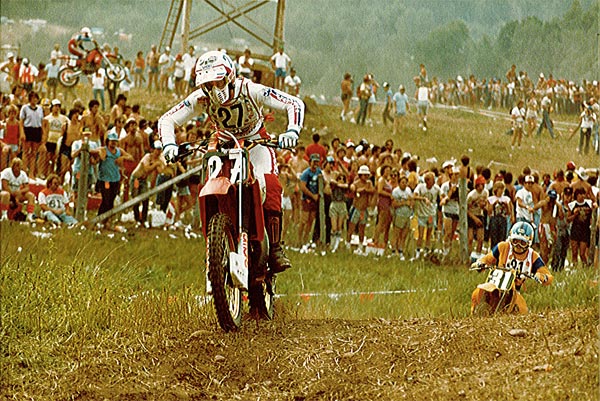 Here's Ross (#31) at the '83 USGP chasing down David Bailey. He would go on to go 5-6 on the day.
1983 250 USGP Unadilla-qualifies third fastest and gets 6th overall with 5-6 moto scores on production Suzuki.
1983 250 Canadian GP, Quebec- Goes 3-4 and beats defending World Champion Danny Laporte for 4th overall
1984 500 Canadian GP, Moto Park- Riding a production RM 500 against works Hondas, Kawasaki's and others he passes multi-time World Champion Andre Malherbe for second in the first moto but his silencer falls off and he ends up fourth. Second moto he ended up fifth for fourth overall. HE FINISHED FOURTH OVERALL AT A GP ON AN RM 500. Just wanted to put that in all caps so you could get it.
1991 500 USGP, Glen Helen- Riding the Franken-Bike, Ross doesn't qualify. Let's just move on.
(On that note, thank you Cycle News for allowing me to pay $5 for a year to read every issue you've ever had. I would probably pay $500 but let's keep it to $5. You've allowed me to read all these race reports from 30 years ago. Help me, I need a life.)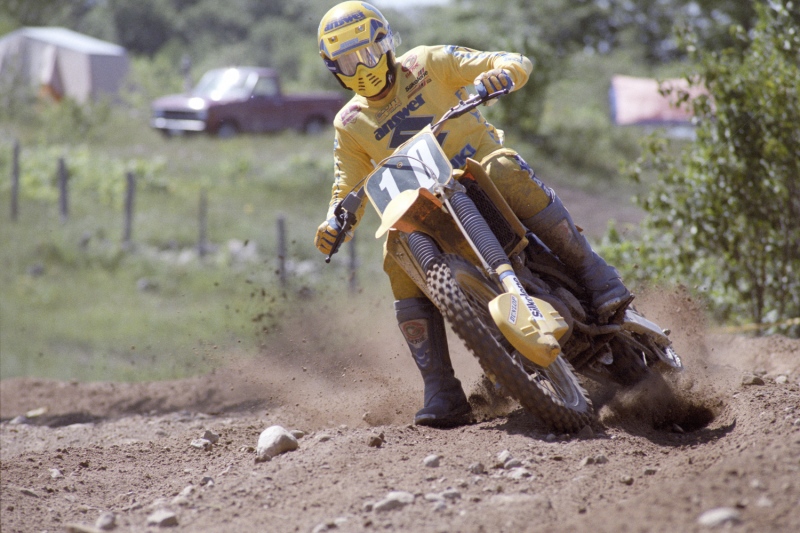 Ross was always great at the USGP's, here he is at a race the week before the Canadian GP where some Euro's showed up to get ready and Pederson won. A Bill Petro photo
6-He Sucked at Jumping but He Still Won
Gary Bailey won't ever put up a video of Pederson jumping and try to get his students to emulate anything Pederson did. Nope, even though Ross won plenty of radical jump contests in all these arenacrosses I went to as a kid (weird, because somehow Pederson would always beat these American guys like Larry Brooks, Jim Holley, Jeff Hicks etc even though the Americans would CLEARLY have better moves. I wonder if it had anything to do with the fact that it went off applause…hey wait!) jumping was never a strong suit for him. But every year there would be more and more American stars coming up to race supercross in Canada (don't laugh, we used to have four and five round series up there) Pederson would always give them a run and sometimes beat'em all. Again, this is a man who got ninth in the 1987 250SX points so I'm not trying to frame him as a complete buffoon here but he wasn't that good at the, you know, jumps. Damon Bradshaw came up and raced the 1988 Toronto SX as a 15-year old and said that Ross tried to take him out in practice.
5-Podiums AMA Nationals
In a feat that has still never been topped by any Canadian racer (don't give me the "Darcy Lange podiumed a sx" talk because that was a regional series. Don't get me wrong, great job by Lange but it's not even on the same planet as Pederson's rides) Ross Pederson scored seven top five's in AMA nationals and incredibly three podiums. And this was as a total privateer down in the USA against works bikes and the world's best riders. Ross's career ride might be in 1987 at Hangtown when he finished third overall in 250's (Rollerball's other two podiums were in the 500's-admittitly a weaker class than 125's and 250's back then) behind Rick Johnson and Jeff Ward. He beat Johnny O'Mara, Ron Lechien and many others.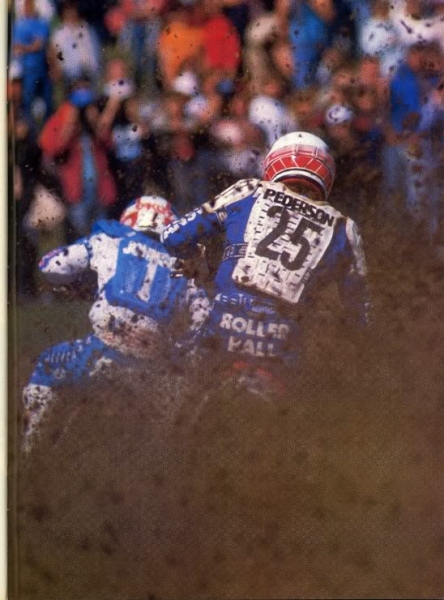 Rollerball chases after Rick Johnson at Hangtown '87 in this MXA photo
Pederson's greatest year in the USA (remember he always had to race the Canadian series and could never commit to a full American schedule) was without a doubt 1987 on the Yamaha tuned by Marshall Plumb. As we said he scored 3rd at Hangtown on the 250, a 5th at Southwick in 250's and again made the podium on the YZ490 at Red Bud. He ended the year 9th in points in supercross (with nine top ten's) despite missing one race, 8th in points in 250MX despite missing one race and got 18th in 500MX with only racing two races out of six.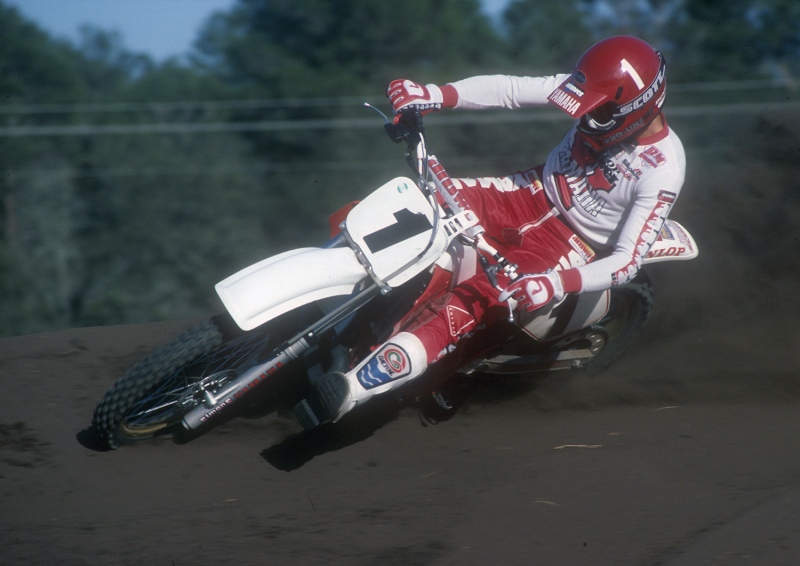 Rollerball's two greatest years, to me anyways, were the ones he had when he switched to Yamaha. A Bill Petro photo
4-We Call Them "The Dark Years"
Yeah, things get a little weird here and I was there to witness it. Sort of. Pederson jumped from Yamaha to Suzuki in 1988 and had a bit of a off year in that he lost two out of three titles in Canada. A British Columbia rider named Al Dyck (who had some real talent on a bike. Watching him ride compared to Ross was a little like watching a hummingbird next to a 747- they couldn't have gone about racing a motorcycle any different than they did) came and won 125's in 1988.
His mechanic that year Gowland told me how close Ross did come to winning that 125 title. "He broke his leg right before the last national while practicing. We go to the last round in Mission, British Columbia and we didn't decide to go until the last possible instant" Gowland, who is the team manager of Rockstar Racing, told me at a recent national "He was trying his hardest to fight the pain but it was the Wednesday before the race when he broke it! We almost weren't going to go but I pleaded with him to try and we didn't leave until the last minute and drove through the night to get there. We pulled into BC and stayed at Rick Sheren's house that next day.He rode and won the 250 title but he lost the 125 title to Dyck on that day. It was pretty amazing he even rode!"
We used to get the Montreal Supercross live on TV every year, only problem was it was in French but anyways in 1987 a Yamaha mounted Dyck won the main in a massive mudder and a in a massive upset. Rain or shine, Pederson just never lost but on this night Dyck took it to him. It was the first sign that this Dyck kid was for real and a threat to Rollerball. And in another loss, his old nemesis Hoover took the 500 crown. There were some cracks developing in Pederson's armor no doubt about it.
This was the first year that I can remember going to our Manitoba pro national and seeing Roller struggle a bit. We always had it at a Lommel-type sand track (serious) and usually Pederson's speed and (especially) fitness would wear guys down but in '88 my dad proclaimed on the way home that Ross's days of winning were coming to an end. He couldn't have been more wrong (my dad is also the same guy that bet my buddy Greg $50 that Magic Johnson would be dead in a year once he announced he had AIDS. Yeah, he was a little off as Magic seems to be better than ever in 2013. Greg finally got his money three years ago).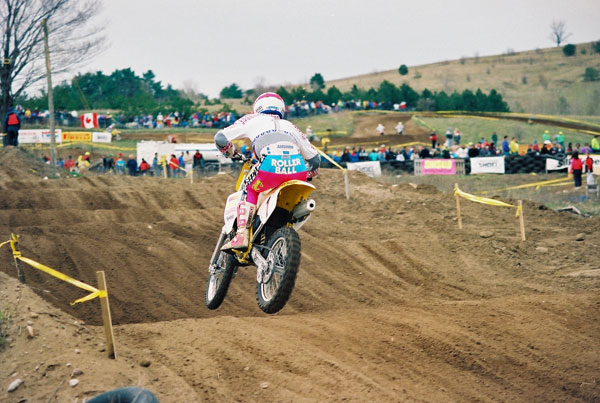 Here's Ross in the early 90's doing what he did best. Lead races. A Wil de Clerq photo.
So he was a tad vulnerable in 1988 and then the 1989 season opened with Ross again not 100% on his game. He showed up at this Saskatoon Mini-Stade race to get some extra cash while doing the nationals. It was a Friday and Saturday night thing and I was actually there racing 80's (It was at this place the year after THIS awesome YouTube video). Ross swept the pro class on Friday night and went out to celebrate his accomplishment. Now I wasn't there (being as how I was 15) but word is Ross was hitting on a chick whose boyfriend/husband didn't appreciate it. When things got heated the bouncers stepped in and Ross tried to fight them also. It didn't work out so well.
They beat him down (and the rumor is at one point he also got thrown through a plate glass window) and Pederson's injuries were significant enough that he missed the rest of the year. Ding-dong, the king is dead (or at least beaten severely and picking glass out of skull) and Dyck went on to sweep all three classes and Ross was done. At least I took the win on Saturday night in the 80cc expert class to hopefully give Ross some inspiration.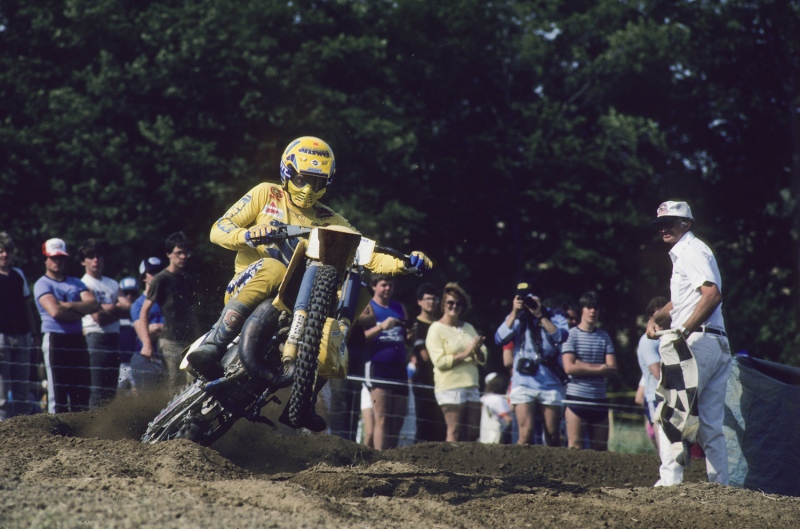 Checkers are out and Ross wheelies across. Pretty standard fare. A Bill Petro photo
3-Don't Call it a Comeback!
Wearing number 7 (which was really weird for him and a result of him having to miss the last half of the 1989 nationals) Ross showed back up and took two out of three classesin 1990 (either didn't race 500's or had his franken-bike) to announce to Dyck, Vaillancourt and whomever else thought he was done that the new boss was the same as the old boss. In fact Ross was maybe never better as he took nine more titles before hanging it up in 1993. All in all it was 30 national motocross championships for Pederson.
2- Dave Gowland's Number One Feat and Race in his Years of Working for Ross
"The greatest thing I saw him do was he had to go in for double knee surgery. ACL's, MCL's and meniscus everything. I drive him to the hospital and he calls me that afternoon to tell me he's done. He's got his machines hooked up to these machines to help recovery and all that. He asks me to hand him his pants and that we need to go for dinner! He takes his legs out of these machines and we go to Olive Garden. We leave the hospital and everything. We come back and they're all looking for him! All the nurses are freaking out about him being out of bed. So he stayed there for the night and then checked out in the morning.
Within three days he was swimming and starting to rehab. He's doing everything just a few days later which amazed all the doctors!"
Yeah, he was tough. So what about a race that stood out for you Dave?
"The greatest race of his that stood out for me was one where I didn't work for him. In 1991 I went to go work for his arch-rival Carl Vaillancort and it was near the end of Ross's career. He was getting up there, you know. So he comes to Quebec to race Carl, in Carl's home province and you know the way he was, the way he worked and wanted to prove his point. I think he rode all three classes and won every moto that day. And this was later on, he wasn't the same guy in his prime. He wasn't perfect anymore but on that day he rode spectacular."
1– He Wore Cooperalls
Yeah, it never caught on but early on in his career Ross was a pioneer in the over-the-boot pants that we saw hit the scene in the late '90's. Develped from hockey, the pants were a shell you slid over a protective girdle-thing. Yeah, that's right. Ross wasn't big on form, he cared about function bro.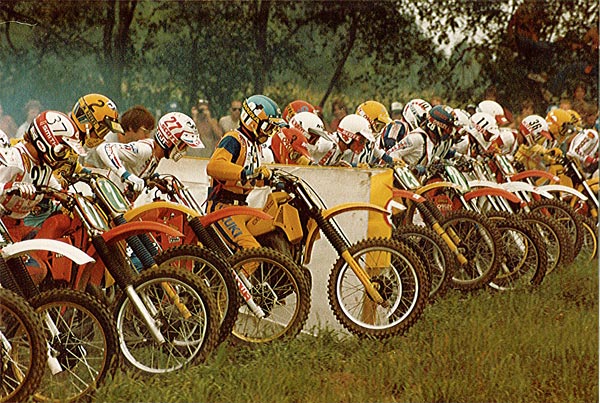 Ross getting the jump on everyone at the 1983 Unadilla USGP and yes, he's wearing Cooperalls.
There you have it, maybe you learned something, maybe you didn't.
Hope you enjoyed reading this as much as I did writing it.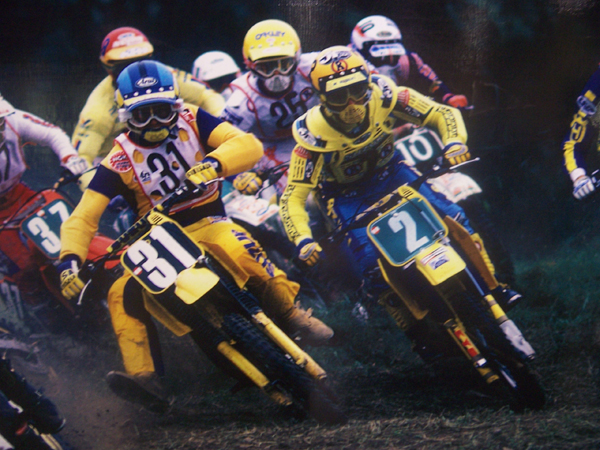 Cooperalls bro.