Part one of two- the managers are rated by Matthes
Part one of two- the managers are rated by Matthes
They say that you can judge a team by its leader. The alpha-dog of the group sets the tone, makes the decisions and tries to guide his or her team to the top. In motocross, this would be the team manager. There are a lot of things that the managers do in our sport. Work with the riders, organize and decide on testing, communicate with the OEM on changes being made/desired, make sure the crew of mechanics, suspension guys, engine guys, test mechanics, truck drivers and anyone and everyone else are taken care of and know what the schedule is. Meet with and solve any problems with the promoters and so on and so forth.
As a guy that's been on a few teams (six of them to be exact) in his time, I know a thing or two of what goes on behind the scenes. A team manager is important bro, it really is. The amount of time everyone on a team spends with each other is insane and if you don't have a leader that knows what they're doing or isn't a nice guy, well that doesn't make day-to-day life very much fun. I've long said that one of the hire teams get wrong is the manager- hiring a buddy or do it just because you own the team doesn't always work. You've got to have someone who has credibility and you'll get respect. And also, not being a dick about stuff helps also.
So anyways, I thought I'd break down the team managers in the pits and try to make sense of who they are and the job they're doing. They're graded on two levels- respect and intimidation because like the mob, is there any other level to grade them on?
So with that in mind, let's get this thing done.
Team Honda Muscle Milk: Dan Betley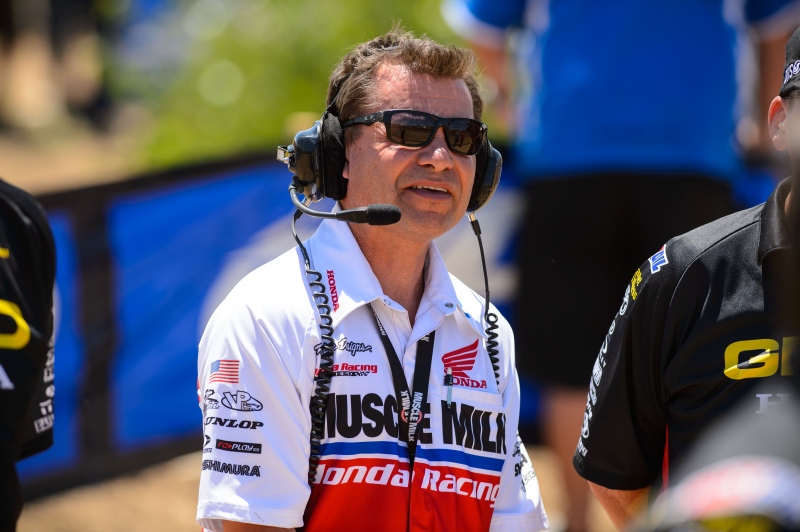 Look up old school in the dictionary and you'll find a shot of Dan Betley. Photo by Cudby
Betley's a no-nonsense type of guy that's in his second year of being the team manager after the departure of Erik Kehoe. I like the hire, as a former mechanic to Jeff Stanton Dan's won a butt-load of titles and he did it in the box van days. He had to be organized and hard working-things that you don't always get when you hire ex-riders for the manager position. Usually a mechanic knows everything that goes on behind the scenes and can understand what it takes, a lot of riders have no clue. Betley was the motor guy for Honda after being a mechanic and before managing so he's very sharp on the technical part of what's going on with the machine and that skill can really help him with riders.
Anyways, Dan does not sugarcoat anything at all, ever. Bonus points for him living through Team Honda in the 90's when all the riders and mechanics hated each other. Like 'Nam, that experience has got to harden a man.
If you're a rider on his team, go ahead and ask Dan a question- just be ready to get a truthful answer.
RESPECT LEVEL- 4 Clipboards out of 5 (He's pretty gnarly)
INTIMIDATION LEVEL- 4 Clipboards out of 5 (I imagine an angry Dan Betley would probably make me cry)
Toyota JGR Yamaha: Jeremy Albrecht
Albrecht, like Betley, is a multi-time title winning mechanic and also one of the best interviews in the sport. J-Bone is a nice guy and also like Betley, he's honest sometimes to a fault. He was hand picked by owner Coy Gibbs while still a mechanic at Factory Kawasaki and seven years later he's still at it. Again, Albrecht knows what it takes to be a successful team both good and bad. He's told me he uses something from all his managers at Kawasaki to guide him nowadays, even the ones he didn't really like all that much.
Bonus points for Albrecht in that he appeared in the movie Fresno Smooth but I'm sure at this point he wishes that he didn't. There are only so many times some fan can ask him to reenact his "Filthy white trash hookers" line before one loses it and throttles said fan.
Some curious rider choices by the team over the years (Josh Hansen, Cody Cooper) have hurt Albrecht and the JGR crew but they're one of the best teams in the pits, no doubt about it. Albrecht presents a rational though process when it comes to dealing with riders and doesn't baby them. Something that may bite him one day because in this sport, the tail (rider) wags the dog (team).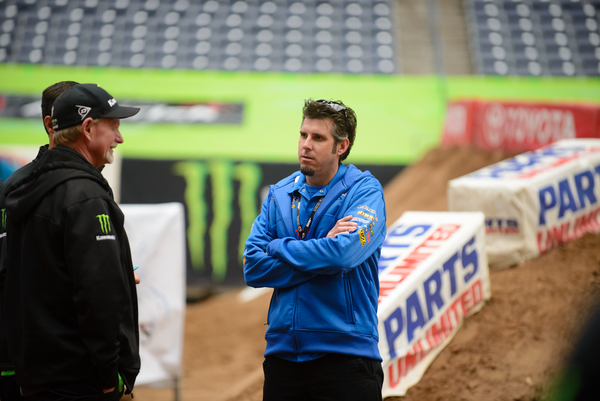 Some shaky rider selections have come back to haunt Albrecht but he's one of the best managers in the sport. Lissimore photo
RESPECT LEVEL- 3 Clipboards out of 5 (Lack of great results as a manager set Jeremy back a clipboard)
INTIMIDATION LEVEL- 3 Clipboards out of 5 (He's too nice of a guy, I don't think I've ever seen him get really mad)
Monster Energy Pro Circuit- Mitch Payton
What can you say? Maybe the most successful team manager/owner in the history of the sport, Payton oozes respect. To be fair to this ranking, he's not always been a team manager as he used Jimmy Perry, Dave Osterman and Alley Semar among others over the years but he's taken the reigns back in the last few years and works closely with Bones Bacon, his chief suspension man, to manage the team.
A major power player in the industry, Payton's involved in just about everything that goes on in the sport, works with the OEM's, AMA, Feld, MX Sports- you name it and Mitch has been consulted on it. Just about every top rider has him on speed dial and good luck getting him in a one on one meeting unless you're A list material.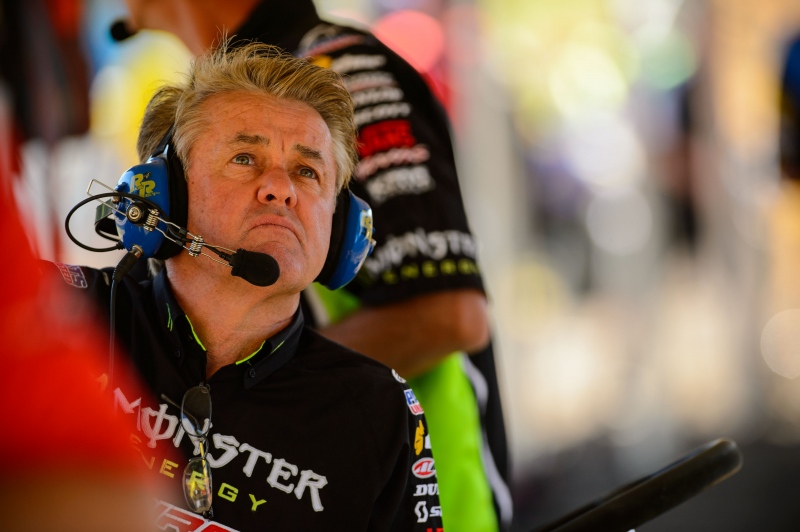 What hasn't Payton done in the sport? He's so far inside the inner circle of the sport, he's actually out. Cudby photo
Payton's scouted, signed and been involved with just about every legend in the sport since the mid-80's and he's taken ordinary riders and through great equipment, team bonding, pressure and sometimes lots of yelling, gotten great results out of them (except for Bobby Bonds, that didn't work). There's no doubt that Payton's softened over the years but he's still the man, still commands respect and his team is where you want to be. Trust me.
RESPECT LEVEL- 5 Clipboards out of 5 (If it was possible to give more than 5, he would have it)
INTIMIDATION LEVEL- 5 Clipboards out of 5 (C'mon, you knew this right?)
Troy Lee Designs: Tyler Keefe
One of the youngest guys on here, Tyler used to race pro and got the job when his dad Bill decided he had enough of the managing life. And truthfully, some people probably just thought he was just holding the chair for a higher-profile guy once Troy got done in the paint booth.
Well here it is a few years later and Keefe's still guiding a squad that includes sx winners and a Stewart which can also sometimes be tough. Tyler's young enough to know what the riders are going through and he's obviously a hard worker to keep the team going and produce some good results. I'll let the whole "Not hiring Colton Facciotti" thing not drag down his rating and he gets bonus points for having to deal with Cole Seely's agent.
RESPECT LEVEL- 3 Clipboards out of 5
INTIMIDATION LEVEL- 2 Clipboards out of 5 (Tyler's pretty young and really nice, I don't think he's intimidating at all to be honest)
Yoshimura Suzuki: Mike Webb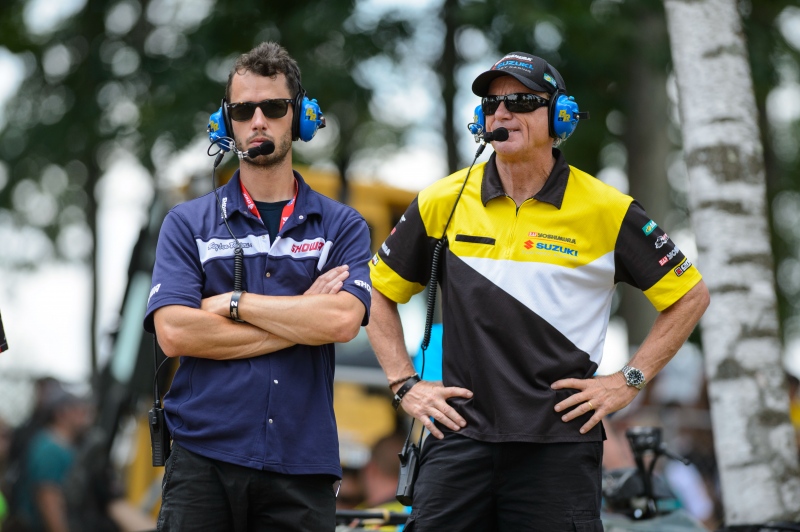 Mike Webb (right) watches his rider out on the track while trying to not smile. Cudby photo
Webb's the brother of Tom "The Wolfman" Webb, a personal friend of Joey from Friends as well as the long-time manager of Suzuki off-road before this gig. He's also a very friendly guy with a laid-back style of managing. I'm sure the thought that we're all out there curing cancer has never crossed Webb's mind, he knows what this is all about. At the same time, managing James Stewart isn't easy with all the people in his entourage and the truck becomes a little bit of Team Stewart and a more uptight manager might not handle this well. Webb deals with it as he doesn't have a big ego and doesn't need to be "the man" on the team.
I felt sorry for Mike when he took over the team after Roger Decoster left and Ryan Dungey pretty much rejected him because the prettier girl was over at KTM. And then of course Dungey had the chain come off and the fuel issue at Texas that really did Webb no favors with Team Dungey. No matter, he got Stewart signed, made the move from Suzuki to Yoshimura control, handled everyone and everything and got some wins along the way. If you have a chance to go talk to Webb one time, do it and you'll be rewarded with some laughs.
RESPECT LEVEL- 4 Clipboards out of 5 (He almost got bumped up one clipboard for his sense of humor)
INTIMIDATION LEVEL- 3 Clipboards out of 5 ( Again, he's got a great sense of humor, he was an off-road guy forever and those guys are just happy to be there)
Star Yamaha: Steve Lamson
Brand new this year is Lamson in place of Ryan Morais over at Star Yamaha (Morais didn't get canned like the last two guys,Alan Brown and Doug Schopinsky, did. He just left for what he felt was a better gig at KTM. This just in- Star's had a lot of managers!) Lammy, one of the very best 125MX riders EVER, was managing Team Tedder as well as MDK Racing a while ago. Steve's one of the friendliest guys around and there is exactly zero ego with him which is pretty amazing considering all he accomplished in this sport. In talking to many riders, mechanics and sponsors who have worked with the team in the past, the hardest thing for Lamson is going to be dealing with the one guy he can't get rid of- the owner. He's not a patient guy so Lamson's going to have to run around trying to calm him down while at the same time try to get the best out of Cooper Webb and Jeremy Martin- two rising stars. A major drawback to Lammy being the manager is the kids he's managing were playing in the sandbox when he was winning 125 nationals and now allow me to set myself on fire.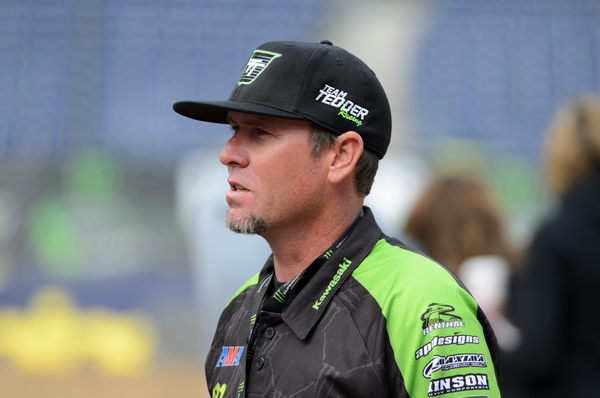 One of the nicest guys in the pits, Steve Lamson's got a new job for 2014. Lissimore shot
RESPECT LEVEL- 3 Clipboards out of 5 (never having a lot of success as a manager hurts Lammy and he's in his first year at Star)
INTIMIDATION LEVEL- 2 Clipboards out of 5 (You ever talked to Lammy? Just the fact that his nickname is Lammy should be enough to realize that he's not scary. He's way too nice of a guy also.)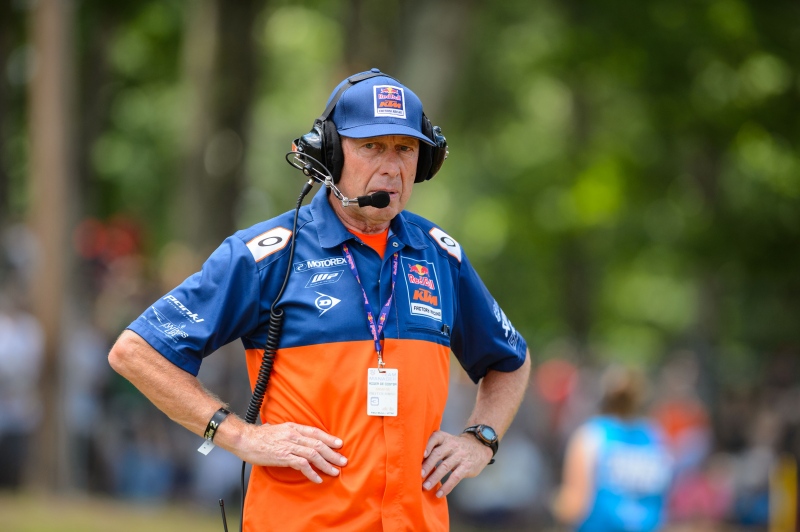 DeCoster is so untouchable in the sport, he should change his name to Elliot Ness. Cudby photo
Red Bull KTM: Roger DeCoster
He's "The Man" for his racing accomplishments and has literally been right there as America started producing the best riders in the world and dominating motocross. He's a part of American motocross history as a part of three teams- Honda, Suzuki and now KTM. Although I do think his accomplishments as a manager are a bit overrated (if you're going to give him major props for Dungey and Carmichael it would only be fair to count the missteps like McGrath in '97 or all the crappy Suzuki riders over the years) he's still, like Payton, a MAJOR player in the pits today. He's a rare manager where as a part World Champion he understands what the riders are thinking and then as well he's a very good machinist and can fabricate parts. After wandering in the woods lost like a little child for years, KTM got instant respectability when they wooed DeCoster over a few years back. DeCoster is also a no-bullshit kind of guy who's secure in his job and status. He's sometimes honest to a fault but in the end, he's one of the best out there. But this just in, he doesn't walk on water.
RESPECT LEVEL- 5 Clipboards out of 5 (He's American motocross history for God's sake!)
INTIMIDATION LEVEL- 4 Clipboards out of 5 (He's a pretty nice guy and I can't see him losing his shit but as a mechanic or rider at KTM you know he's got ultimate power on the entire operation and can fire you at any moment so that's pretty intimidating right?)
STAY TUNED FOR PART 2 ON FRIDAY