Some of the big guys talk about A2
Some of the big guys talk about A2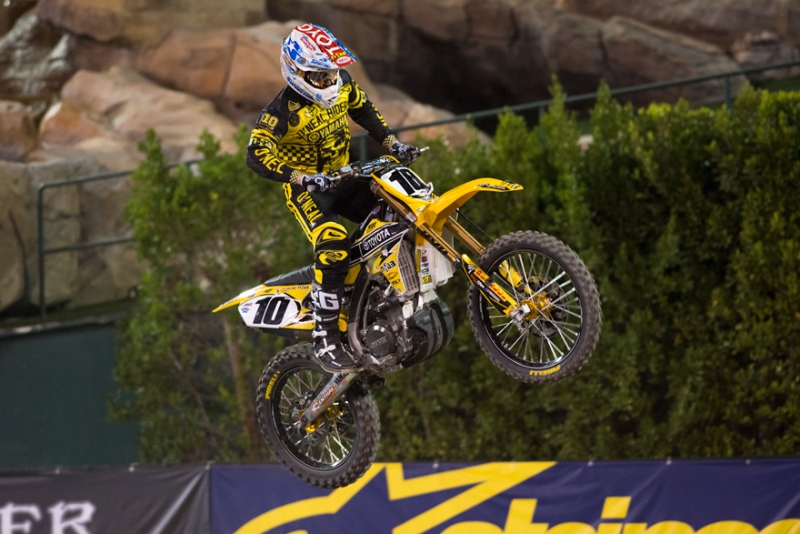 Brayton used his retro powers to get a strong fourth.
JGR Yamaha's Justin Brayton
There was lots of stuff going on up front. And the heat race. This Phoenix thing has helped you out a lot. Great job tonight.
Yeah, Phoenix I think helped me but also the pre-season and preparation and just making up my mind and hiring Ramsey and getting a new bike. I think there's just a lot of things that honestly have come together. I think my Anaheim 1 ride even gets overlooked a lot, coming from the back to qualify in the heat. Main event I battled Barcia the whole time. So I feel like I'm there. I feel like where we want to be. Little bit bummed on tonight, to be on Chad for most of the race and then when RV ended up crashing he cut in front of me, not intentional at all, but I couldn't do the rhythm after the finish. And then they got three, four, five second gap. So that was a little bummer, but still happy with fourth. I can't be too bummed about it. I was in that lead group the whole race.
Dungey goes down, you get by him, he doesn't catch you and then nothing. RV doesn't catch you.
Yeah. And like I said, I was right behind Chad the whole race until that had happened with RV. So I was there to maybe capitalize on Roczen and Stewart if I would have stayed a little bit closer but I didn't. Still some good things from that race.
Guys I talked to said the track was breaking down pretty bad. What'd you think?
The track was breaking down really, really bad.
Brief laps tonight.
I had J-Bone look at a couple of the sections. There was that one, that turning three, the triple-triple section before the small set of whoops, it was tough. In the heat race I could really turn with my front end and turn down and stuff like that. In the main event it was just, you couldn't really do anything with it. The tops of the berms were blown off. For some reason I struggle in those conditions. I'm excited to get to some tracks with some ruts where you can turn with the front end.
I was telling J-Bone, he's like, "all you guys are idiots. You're saying Brayton's riding great and the bike looks good. Our bike's always been good!" He was all bitter. But I think the bike looks great. It looks really good. Maybe it's just the rider, but J-Bone didn't think so.
I think our bike is definitely better than last year for sure. There were times when I would feel like I'd go all in and I would get a 9th. Some of it was me, some of it was the bike. Some maybe technique and things like that. But I'm having a lot of fun on the motorcycle and there's something to be said about that, where you can put it wherever you want, you can go through the whoops however you want. Tonight the section after the triple into the whoops, it had like a roller and I felt like I could basically jump that roller into the whoops and be totally fine. J-Bone's right; our bikes have been good, but for sure this year's bike is better. They gave us a better package to start with.
When do you go back home? I know you've been out in California. I'm not sure if you like that. Are you looking forward to going back?
No, I actually really enjoy California right now. It's just so consistent with training and riding. I can work with Nate Dog two or three days a week. But I'll go back the week before Atlanta, I'm planning on.
And your buddy Cole Seely pulled it through. Great job for him. That had to have been heart-breaking and I'm sure you're tight with him and that's a good job by him.
Yeah, I was pumped to see Cole finally win. He can say he has been the best guy but I think he has been. He's just made a couple mistakes and got a couple seconds. But he's in it to win it I think for sure, the championship.
Congratulations on being the early surprise of the 2014 season. I'm sure you're really stoked on that.
Thanks.
*****
Weston Peick
Did you ride all week?
No, I didn't ride all week.
So you pile-drive yourself in Phoenix. Gnarly, coughing up blood as you said on the Pulp Show. Now you come out and get a 7th. How does that work?
It's just determination and the whole team has busted their ass this year to get a solid foundation and we've done it. I can't let everybody down three weeks in a row. You just have to fight through it. I didn't get to ride all week. I finally got to train one day in the gym on Friday just to kind of get my heart rate somewhat out of a coma. Just struggled in the first two practices and kind of pulled it together the third practice. Just had an awesome main event. I knew the track was going to break down and people were going to make mistakes so I just kind of kept it on two wheels and worked my way solid.
You and Josh Hill had war going on out there. I didn't watch all 20 but the times I saw it was intense.
It was good, definitely. He put some pressure on me but you can't break me in a race because I've been trained not to break under pressure, so it's kind of hard to do that. He was riding awesome. He had a few faster sections than I did but I kind of pulled him in the others so it kind of equaled out. So it ended up being pretty even.
Was there a chance you weren't going to race this weekend or you weren't sure? Maybe not race into 7th. How bad was it?
It was pretty bad because my lungs were pretty screwed up. My hip was messed up and my wrist was bothering me a lot. I knew I was going to race no matter what. I just kind of have to. I got to make money. That's how this truck stays on the road. There was no not racing unless something was absolutely so bad to where I couldn't ride. If I could walk and I can talk then it's pretty much I'm racing.
I thought you were really good in the bowl turns. It looked like you were coming into them a little harder and you were catching guys at the entrance to them. I don't know if you agree or not but it looked like you were charging.
Yeah, definitely. Buddy Antunez was working with me a lot on corner speed and entrance speed and all that kind of stuff. It's definitely my corner speed is fast. That's kind of a key factor of Supercross. It's been helpful.
****
GEICO Honda's Zach Osborne
Really bad luck with the hay bale going over. But then again your starts are putting you in that position, so that's maybe the number one thing we've got to work on.
For sure. I should have never been in the position to get in the hay bale situation. If you can't start up there you can't race up there. As competitive as it is right now there's just no way to make up any kind of time. So you have to start in the front.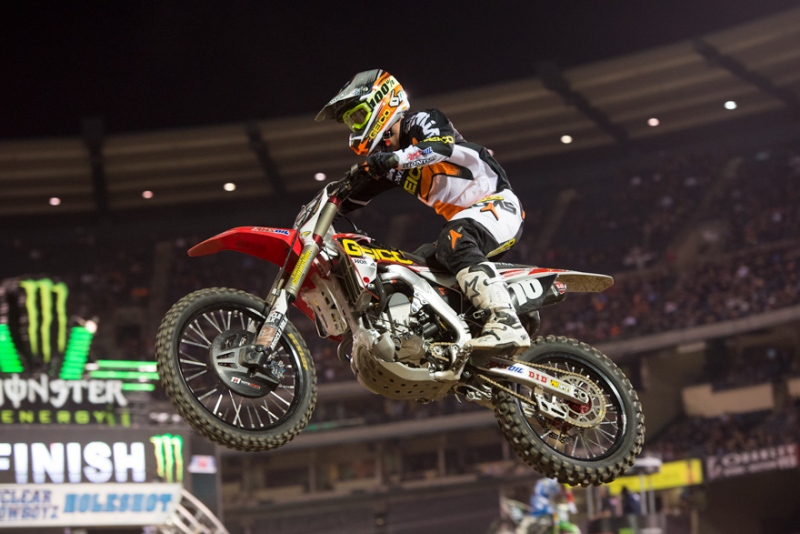 Osborne wasn't happy about his Anaheim 2
Heat race, that was going to look like a gnarly crash but you bounced up. Were you okay from that? What happened there?
It wasn't that bad. I think the bike got the worst of that. Kind of stepped off a little bit. I got a little bit mixed up on the old rhythm because I was a little more worried about turn three because they changed it after practice and I kind of got ahead of myself and fell down.
My sources tell me that you feel like this track's pretty technical. Talk about it a little bit.
I thought it was good. It was a little one line-y, but at the same time I thought there was a lot of little quirky stuff that you had to do right to be fast on it. I thought it was good.
Pretty bummed right now?
Yup. That's probably an understatement. To start 3-3 and then get an 8th that was not even like a comeback, good 8th. I rode like a turd and I probably should have gotten 4th or 5th at worst, even after the hay bale deal. But it's too late now.
You just really got to burn through some clutches this week.
Yeah, some starts.
*****
Troy Lee Designs Cole Seely
I think this is your 3rd or 4th win, but maybe this feels the best. This was the statement by you.
Yeah, for sure. I've led almost every lap of the series so far and I haven't had a win yet, so it feels good to finally secure one. I got some breathing room there in the beginning. Rode really as fast as I could and sprinted in the beginning throughout the middle of the moto. Then around lap 12, 13 I knew I had some breathing room so I just really focused on hitting my marks, not making any mistakes, and almost riding conservative but still at a fast pace to where I knew he wasn't going to catch me. He wasn't going to be able to do any last lap shenanigans like he's been doing. Just so excited. At the end of the day that's all that really matters, getting a W out of it. So excited. So much has gone into this. I'm a veteran now, I feel like I'm an old guy in the class. It feels good to get some top two while I'm out there.
The losses that he passed you at, it's not like you were tired or struggling. If you look at your lap times they were as good as ever. He rode great. Tip of the hat to him. So it's not like you were really sucking or anything. You were really good. He just was slightly better. So I guess maybe now you can show it again. You're strong for the whole thing.
Yeah, I wouldn't even say that he was better. We're both top notch right now. Both of us are going so fast, so any little mistake from either one of us is huge for the other guy. Anaheim 1, he got lucky with the lappers. Phoenix, I made a stupid mistake in the sand. I think it says a lot. We're running really fast lap times and we're gapping those guys really big. We're both hauling out there.
Us experts, we talked Dean Wilson, Osborne, we talked about you being our guy, but you two are leaving everybody else in your wake. So that's got to be good.
It feels good. I really did my homework this year going into this season. I knew I was going to be fast. I know Wilson has speed, I know Osborne has speed, and I knew Jason had speed, but I never expected us two to be that much further away from the rest of the pack. I really enjoy racing Jason. When the checkered flag goes we're shaking hands. I think he has respect for me and I have respect for him. I think that's how it needs to be when you're racing somebody that fast.
Tricky track tonight, and again where you excelled at. You're good at rhythms, you're good at putting your front tire down. That tabletop section was good. What'd you think about it?
It was tough all day long. One thing that really bummed me out was it was kind of unprofessional… I don't know whose call it was. I know it wasn't Dirt Wurx's call, but they changed the track after practice. Nobody had practice…
Osborne just mentioned that.
Yeah, and that's not cool. Somebody could have really gotten hurt not knowing that section.
What'd they do?
It was a rhythm section where we were going on, on to two tables and then off and we jumped through a turn. We wouldn't cut the turn because they put a pole up. We would jump through the turn just because the line was there. They just knocked the lip out so we ended up having to roll out of the section. Then we started going 2,3,1. I think Jason was the first one to do it, maybe Hill, go 3-3. And I hadn't done it going into the main. I looked at it on the parade lap and I think around lap 4 I went for it. Which is a scary thing to do when you're leading a main. I think from my experience and being in this sport for so long I was able to kind of adapt to that but it was tough. I really would appreciate it if they wouldn't do that anymore.
Well great job. Fantastic. Clutch win. You showed a lot tonight.
Thank you.
****
Team Two-Two's Chad Reed
Congratulations, man. Anaheim 3, retro night, you and Stew, going for the win. I couldn't believe it.
I think that was more retro than retro weekend I guess.
That line coming out of that turn onto those tables. Really, when did you find it? What did you think about it? It definitely helped you out. It was a good move.
Everybody was doing it all night long except for the main. You didn't watch the races?
I need to go back and review the film.
You should give up the hotdogs and watch the racing.
C'mon a lot of guys were rolling inside.
I had the luxury of getting through the whoops real good, and then Brayton was behind me. Brayton was the guy who I actually seen doing it earlier in practice and it worked for him in the heat. He kind of forced RV to have to go there. So I was just trying to hit the whoops hard to kind of tow him into that, otherwise he would give up too much. So yeah, I didn't have anybody, the front guys were always kind of fighting in there. I always had a little bit of a gap so I was able to kind of open it up and it worked. I think I passed or at least got beside Kenny there.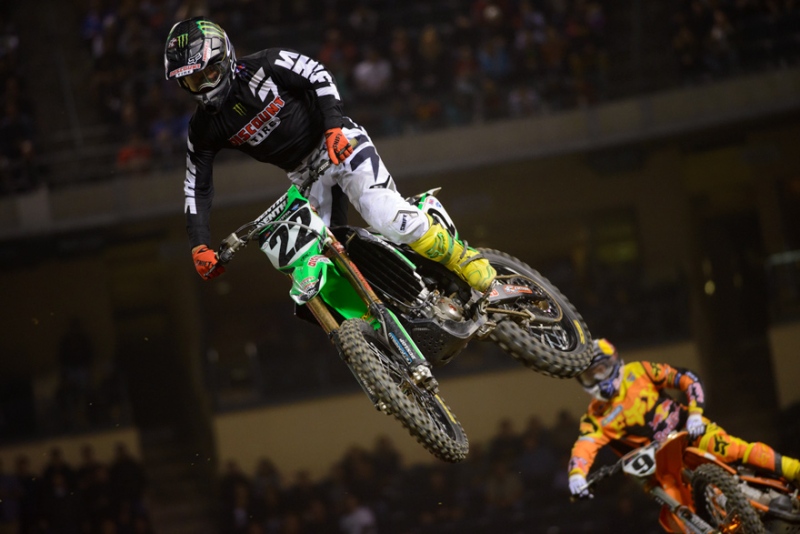 Reed scored an unlikely win at Anaheim.
Yeah, you got three guys there.
So it was a good line. It started working. It was hard. It was sketchy. I had to go from 3rd in the whoops down to 1st and do it in 1st and back up to 2nd, so it was tough.
I was thinking after you got in the lead, I'm like, can he go outside? Is he going to worry about getting stuffed? But you pulled it off.
Yeah, I think kind of when I got to Stew you could kind of just see that my lines and the pace was good. I just wanted to put a pass on him, make it clean, and just try to get a little bit of a gap. So that was kind of what I shot for and it worked out for me.
About lap 5, I think the fastest lap of the night of everybody was on lap 5. You caught up and then you lost some time and dropped back a little bit, and then you made the regroup to get the win. What'd you change or what happened? What went on?
I kind of yo-yoed. I struggled all night in the first sector, which is from the finish through the on-offs, the corner double, and then after that turn I just totally sucked it up there. So I was trying to follow those guys, trying to just loosen up and ride that section better. Evidently I got to Stew and rode that section the best that I had all night and finally did it fast when I passed him. When Dungey went down, Dungey actually jacked me because when he got up he come back across the track and I had to kind of roll that whole section. Kind of lost contact with those guys and then was able to ride back onto them. I was kind of on Roczen and Villopoto and I just tried to go with the Champ, really. You obviously know Ryan's going to go to the front so just tried to do that.
You didn't have a good Phoenix. Did you change anything from there to here?
It's just, what do you do? I've had so many bad Phoenixes over the years. Honestly this year, the feeling I have with the bike and my fitness and everything like that it feels more like '12 and I was good. I was 2nd place at the first one, sucked it up in Phoenix with like a 7th, and then came back and won Anaheim 3. It was actually L.A. that year, would have been Anaheim 2, but round 3. So it's no surprise for me. I rode horrible last week but the track kind of has always been like that for me. I just tried to come back and just ride solid. I don't think I was the best guy out there. I think had Dungey not have crashed I think it would have been difficult to catch him. Seemed like he was gone. But other than that it was a solid night.
I don't know if you're giving yourself enough credit. How satisfying is it? I know it's cliche and all that but it's got to feel pretty good. Here you are again, doing it again, rebounding again. Everyone writes you off, and here you are again, on top.
I just want to put myself in a position to win races and challenge for the title. Like I said, I feel like we've done a rewind to '12 and I have that feeling again. So I just want to progress from this, learn from it, know what we did, and just move forward. Be there week in and week out and have a shot at it in Vegas. It's gratifying to know that you made so many changes, you worked so hard. Honestly 41 wins, a lot of those wins came easy, on little sleep. This one just came with so much hard work. I just worked my ass off this off-season, as did the team. It just seemed like it was a hard-earned win. So it was an emotional one.
Unofficially, MC got the loudest cheers out of all the champions. I think you were 2nd. And that's saying something for an Australian dude. You got more than RC, more than James. Again, very unofficial, but the crowd was digging it.
It was fun. Those last two laps felt good. The crowd got really into it and it was fun. Honestly the most motivating thing for me this week was last week when we were on the plane home, my son said to me, "dad, you were slow like JT." I can't go down like that. So I had to pull it out this week and give the kid a win.