It's easy to get caught up in the microcosms of each weekend's action.
It's easy to get caught up in the microcosms of each weekend's action.
Photos by: THEE James Lissimore
The off-season in this sport is oh so short for the racers but for us fans, there is honestly no off-season at all. From the moment the checkers wave to wrap-up another round of battle, we begin our debates, interpretations and predictions for the implications moving forward from that night's results. It's so easy to get caught up in the details of each round of the series, that we can literally forget to take a breath and inhale the uniquity of the season as a whole.
We are five-rounds-down in this 2014 Supercross season and it could very literally turn out to be the most exhilarating we have ever witnessed. I can't think of a better time for this Live TV broadcast to make it's move to Fox Sports. It was a crapshoot for us as fans. Speed held the reigns for years and I think we'd all give them a passing grade but the times we heard fans making public declarations of a broadcast which nailed it, was few and far between. It was the action on the track which made or didn't make a broadcast a "win". Now we've got not only breathtaking race action every weekend, we've got a broadcast package which does more for making the sport look truly legitimized than any package before. It really pains my heart to make that statement as Art Eckman and Dave Despain called the races that sucked me into this sport as a kid. As an aside, can you imagine the criticism those guys would receive today if they were calling the races still? I mean, the GOAT and Fro can't escape a weekend without getting called out for some monotonous on-air faux-pas, Art and Dave would be the perfect bookends to Erv Braunin the stadium. Holy cow would that ever be a leap backwards. Anyhow, bravo Fox. I can't think of a change they've made that hasn't been a noticeable improvement. Bonus points for bringing on Troy Adamitis for the expose`s that have aired at select rounds. Troy gets the riders to open up like no one else and his ability to tell a story with motion-media is unrivaled.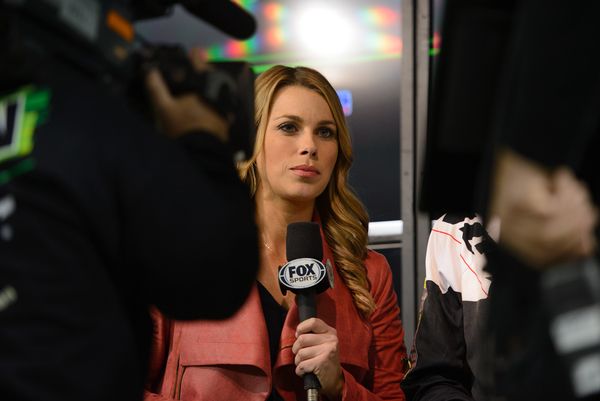 Fox has stepped into SX with a strong rookie-effort.
I've got every Bar to Bar released since the start and I can tell you without exception, every single release begins with some reference to that season being "the best season ever". It's really something. I mean if you're of the belief that every year the racing progresses and the sport is elevated, that could indeed be true. If we're judging a season's greatness based on the number of legitimate possible race-winners, that's a different story. Perhaps this is a bad week to get into a discussion on those who have a shot at winning a race? Settle down all you panty-bunchers but there are indeed racers who's only shot at winning a main is if there are multiple mechanical and injury-based DNF's by the elite. Yes, the elite. All 22 riders who make the main event gate are amazing badasses but that doesn't mean they are all created equal. Just like all walks of life, even the top .095% can be further divided into levels of prowess and capability. Getting back to my point, this season, just like the last 5 at least has been regularly referred to as possibly the best ever. I'm here to say, I fully believe this is the best season I have ever witnessed.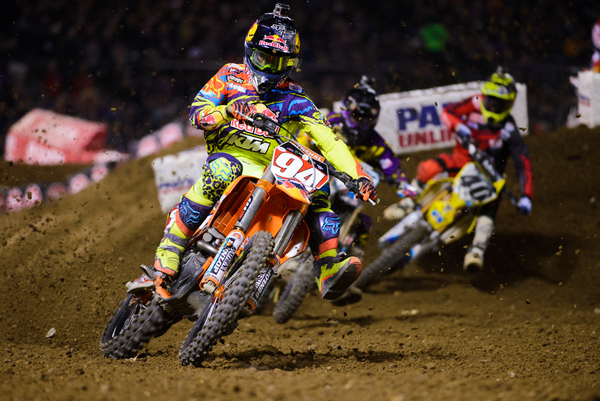 Roczen's A1 win was a shock to the series and a hell of a way to kick off the year.
Before the series RV was rightfully so, considered the favorite. Three titles in a row and just as motivated as ever, thanks in part to new training partner, Roczen. Roczen came in with the spunk we have come to expect of the German-import, claiming from the beginning, he was not looking to secure podiums alone in his rookie 450 effort. Nope, he wanted wins and he wasn't shy about the fact. If there was a mic up to his mouth, he was claiming this fact. Bold. Well, it was bold until about lap 16 of A1 when the possibility became a very attainable fact. That's introduction #1 of an unexpected race-winner to add to the list of those who were expected to garner W's in 2014. The other names most fans expected to capture the flag this year? Villopoto, Dungey, Barcia, Stewart… Reed. Lets be honest though, by a show of hands, how many really believed Reed would win a race this series? I'm betting if there are 200 hands up right now, there would be less than 2 up if I asked you how many expected him to win 2 of the first 5 races. I don't play favorites in racing. My rule is what's best for the racing excitement is what I want to see happen. It just so happens that Chad Reed winning 2 of the first 5 rounds in his 11th year in the class is about as inspiring a story as it gets. Roczen's win, also inspiring as hell. Mrs.Swizzle on the other hand, has no shame in admitting to being a huge CR22 fan.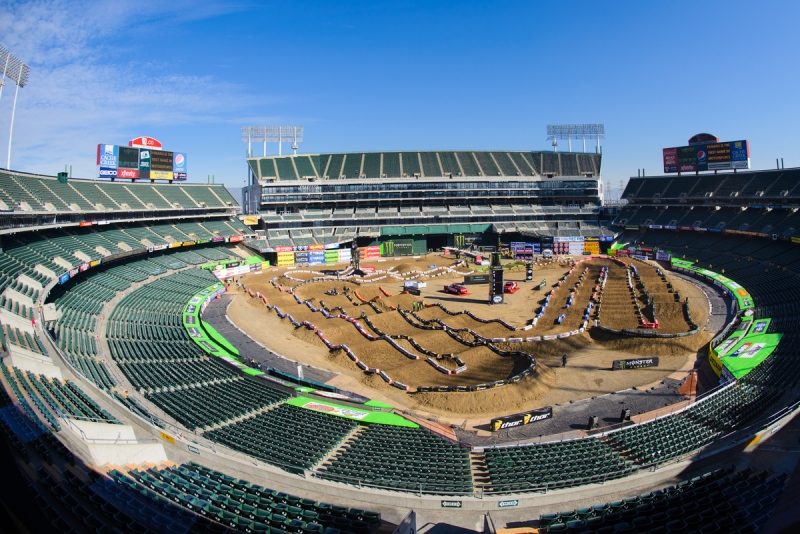 By and large, the racers agree the tracks are reaching over-simplification.
Some people look at Reeds two-wins and ask what's wrong with Dungey, Barcia and Stewart? If Chad can win, surely "The Fastest Man on the Planet", "The Perennial Podium" and "Lightning in a Bottle" have been having troubles, right? While they have indeed each experienced a hiccup or two thus far, their failure to capitalize in five-races speaks more to a comment Chad Reed made in a RacerX interview, than their errors. I was thrown for a loop when Chad stated that "I don't feel like the pace is any different than when I raced Ricky". If this is in-fact the reality, my whole world has been throw into upheaval. No progress!? Race tracks which tighten up competition by over-simplification of obstacles? I hate the notion but I gotta be honest, the on-track race action as a result through 5-rounds makes it hard for me to really complain about it. The one issue this concept and execution has a major impact on is of course the start. Starts have always been a huge "key to the race" but when the tracks are dumbed down to insure rider safety and competitive-parity as opposed to rewarding the better riders with better results, I say the formula is still in search of a zero-sum. Put simply, simplifying the tracks is not the ultimate answer.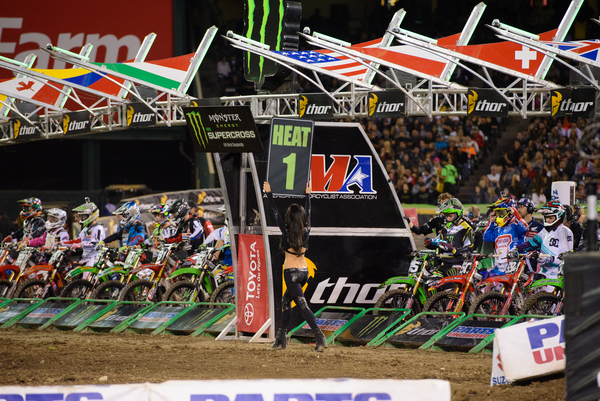 The track designs make this part of the race mean more than it ever has. For better or worse, you decide.
I don't know what the ultimate formula is but until someone steps up with it, I'll enjoy these races where the start is step-1, and mistake-free riding is step-2, to a win. A smorgasbord of race-winners and varying results over the course of a 17 round series is exactly what will help this sport appeal to the masses and by extension, outside sponsors.
Take a step back, breath deep, look up into the ether of Supercross as a whole since its inception; this series is off to one of the best starts ever. Pretty good right? Now add this in, Trey Canard and Davi Millsaps will be making their debuts in shot order. Breath it in… all of it and appreciate it, in the moment. It's exactly like Ferris Bueller said, "The Supercross Series flies by pretty fast, if you don't stop and look around once in a while, you could miss it". Nailed it.