Privateer Adam Enticknap's debut column here on Pulp cronicling life on the road
Privateer Adam Enticknap's debut column here on Pulp cronicling life on the road
THE #7 DEUCE-DEUCE
By Adam Enticknap
Photos by James Lissimore
i am all about KEEPING IT REAL! My ride through sx has started from the bottom by all means but I am working my way to the top. I love this sport, I love the atmosphere, I love the crowd, I love the butterflies and most of all I love hitting whoops and throwing whips!!!! I am the 7 deuce deuce and if you've met me you wouldn't forget me! Now that we're through my little intro lets get to keeping it real!
First of all–Anaheim 3, sick track, flowed well but the dirt straight up sucked! For me the jumps were good, whoops were big and claimed some fools plus a Will Hahn handle bar! Best part of A3 I would have to say is the BAD ASS step-up double by the managers tower! Every time I hit that jump I was completely stoked head to toe! Worst part of A3 for sure had to be a tie between the dirt and the crappy start! Not only was it 50ft but if you were outside, there was absolutely NO CHANCE! Some of the hardest parts about sx are the things you don't see from the stands! One of the first things i struggle with is gate selection, picking a good gate at supercross is so key!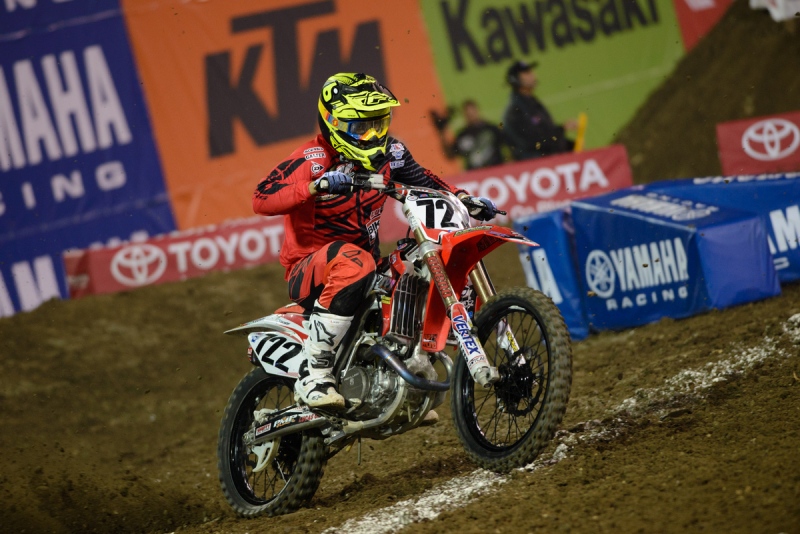 Enticknap is just one of those guys you have to cheer for. Stay tuned for more updates. Lissimore photo
At Anaheim the dirt on the start is so hard and slick that you have to make sure you get a bomb line! Things to look for are- is there a fat chuck hole after the gate? Is it straight? Is it inside? Is the dirt good? And lastly, where have the holeshots been coming from? First before that though, in my case, is did you get a good enough practice time to attempt a good gate pick, which is difficult! When I don't get the practice time I need it's all about doing what you can with what you got! Race the shit out of that heat race son! Doing good in the heat is so important, good gate pick for the semi is where it's at ! Eight of the fastest guys are gone out of the line up! You don't ever really think about it but if you can get an even number finish, you're a little better off. This is because odd numbers go to semi 2# and evens numbers to semi 1# ! for those of you who don't know they only take 4 in the HEAT so 5th place in both HEATS go together in semi 2#! Sometimes this sport is about the math!
If you don't make it out of the semi its all about the LCQ takeout/sprint session! Shit gets real, REAL QUICK! If you don't get a top 6 start you're pretty much done. My biggest issue of the weekend was getting caught behind slower riders and following their pace! With these shorter races its all about pinning your body and bike to the limit for a short time and getting great starts!!! With that being said the 7 deuce deuce got a shit start and ended my night early following a rider for 8th place. I'M PISSED! The 7 deuce deuce is coming to the home of the Chargers this weekend to lay down some sick starts and some flossy laps to put my TPJ, FLY, VIKING BAIT, CAL COAST PLUMBING, TOKYO MODS CRF450r in the main event !!!! Thanks for reading this session of the #7deucedeuce keeping it REALLL! Hit me up on twitter if you want to say what up! @Aenticknap722